FanCentro : Bonnie Rotten   Brazzers : Bonnie Rotten Sex Scenes   Kink : Bonnie Rotten BDSM Content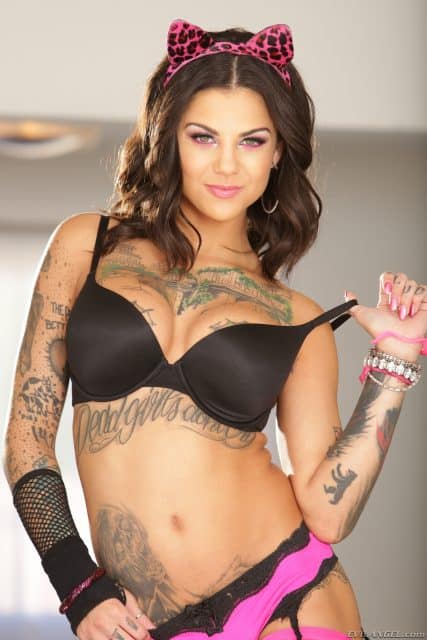 Personal Info
Name : Bonnie Rotten
Date of Birth: May 9th, 1993
Home Town : Hamilton/ Cincinnati, Ohio (US)
Measurements : 34DD – 24 – 32
Height : 5'7 (1.70m)
Hair Colour : Black
Eye Colour : Hazel
Shoe Size : Women's 7.5 (US)
Tattoos: Over 30 tattoos! A full list of Bonnie's body art can be found within the "Bonnie Rotten : Entire Tattoo Collection" chapter of this bio
Years Active : 2012 – present
Number of Scenes : 201+ (as performer), 18+ (as director)
Love tattoos, rock chicks and all things BDSM? Then you'll love Bonnie Rotten! This black-haired beauty was born in Hamilton, Ohio, of Italian, German, Polish and Jewish descent. Raised by her doting grandparents, Alaina Antoinette Hicks evolved from a small town girl into Bonnie Rotten, a brazen tattooed starlet famous for her work as an alluring fetish model, professional domme, performer, producer, feature dancer and director.
Despite her humble beginnings, Bonnie always had a saucy sexual streak. In previous interviews Bonnie has divulged how her first sexual experience occurred when she was 12 years old with a 13 year old boy and that she experienced her first sexual encounter with multiple male partners when she was 16 years old. Describing these younger years in previous interviews, Bonnie has divulged how;
"I was very promiscuous up until the time I left Ohio. I was banging everybody and having sex with all of my girlfriends, all that fun kind of stuff".
When Bonnie turned 18 years old she decide to use her unique edge, captivating looks and distinctive talents to carve out a niche for herself within the adult entertainment industry. In fact, on her 18th birthday Bonnie started working as a stripper using the stage name "Dixie". During this time Bonnie's signature routine was wearing an American flag bikini and dancing exclusively to Southern rock tunes.
After winning the Miss Dead Indiana Beauty Pageant at the Indianapolis Days of the Dead horror convention, Bonnie began to pose as a fetish model for Girls and Corpses magazine. Bonnie's previous work experience as a model for car and motorcycle shows equipped her with the flexibility, poise and confidence needed to enthral and entertain fans in their droves.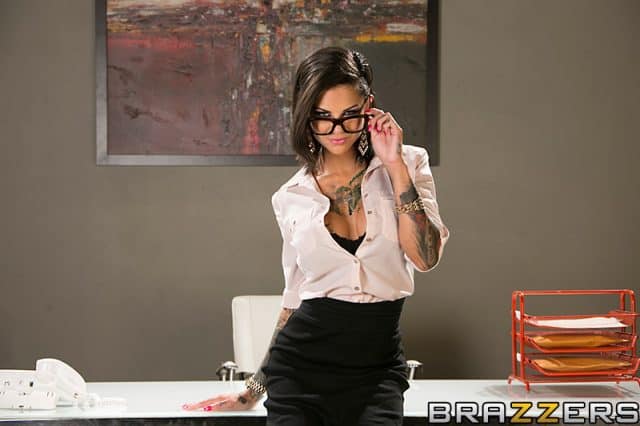 Bonnie Rotten : Entire Tattoo Collection
Fuelled by her initial stripping and modelling successes, Bonnie decided to enhance her natural assets and underwent breast implants surgery in September 2012. In addition to this cosmetic procedure Bonnie has also amassed an impressive collective of tattoos. Amongst her diverse array of body art includes; a pin-up style zombie on to the back of her right leg which inspired her stage name Bonnie Rotten, and two detailed spider-web patterns tattooed onto both of her breasts. According to a 2013 Impulse Gamer interview, Bonnie provided the following list of all her tattoos to date;
"(In reference to Friday the 13th my knuckles say "Camp Blud")
1428 on the inside of her right arm is the address to the house on Nightmare on Elm Street)
(Leatherface III: LEFT half sleeve reading "the saw is family")
(zombie alter-ego Bonnie Rotten, on her right leg)
(the myth of the apple and the razor blade with a serpent on her left arm)
(large stomach tattoo of a zombie from the Night of The Living Dead: Beginning comic book)
RIGHT ARM – is a sleeve of things I love, Rat Fink, Her great grandmother's name "Odessa", lyrics from the 1980s thrash metal band Kreator "the promise of a better future is a lie". Sailor pin-up girl and a cross in my arm pit.
LEFT LEG – Frank Sinatra tattoo (she claims to be 'in love with him forever :p')
RIGHT LEG – Halloween scenery, Plank from "Ed, Edd n Eddy"
CHEST – The Hanging Gardens of Babylon
RIBS – "dead girls don't cry" in reference to the Nekromantix and psychobilly band.
BACK – bearded lady
LEFT FOOT – Hillbillydevil that reads "If you aint sinnin you aint winnin" an Important Bonnie Rotten quote!
HANDS – "UNTIL DEATH", "CAMP BLUD", the side reads "Demon Seed" and top includes "13" and the Spade symbol."
Rotten has claimed that her favourite tattoo is the one on her stomach, featuring a zombie from the comic book Night of the Living Dead: The Beginning, Issue 1. It was her first ever tattoo and took 13 hours to complete. In addition to the above list, Rotten also has a spider web on each of her breasts with the areola as the centre of each web".
However, Bonnie is by no means finished with body art! In fact, during a recent interview, Bonnie announced her plans to have a ringmaster tattooed on her right shoulder. Can we expect to see any more Bonnie Rotten tattoos in the years to come? Only time will tell!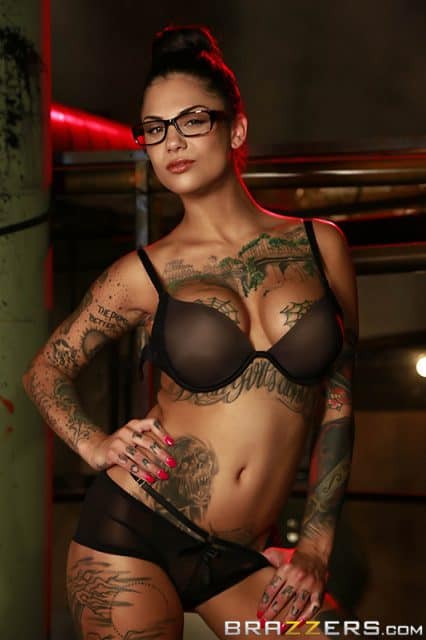 Bonnie Rotten : Awards and Nominations
In 2012, Bonnie decided to capitalise upon the success of her modelling shoots and stripping jobs by pursuing a career within the adult film industry. With the help of professional porn star Nina Hartley, Bonnie was able to secure her first adult film shoots and in so doing began to pave the way for tattooed starlets achieving mainstream recognition within the adult entertainment industry.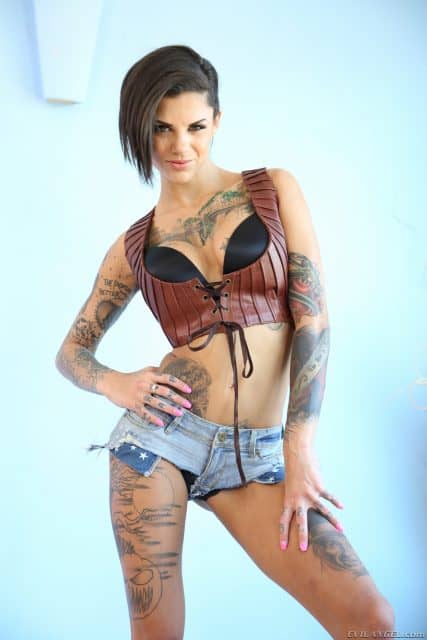 Within a few short months of filming pornographic productions, Bonnie had attracted a massive fan following within the adult entertainment industry. Fans were initially introduced to Bonnie's alternative style when Digital Sin productions produced two feature releases which centred around her; Meet Bonnie (2012) and The Gangbang of Bonnie Rotten (2013). Both productions were directed by Eddie Powell and starred prominent male porn stars including Tommy Pistol and Mick Blue. It was also during this time that Bonnie was taught her 'signature squirting move' by popular porn star Veronica Avluv.
Throughout her adult film career Bonnie has made a name for herself as sexually adventurous and multi-talented performer; happy to film all experiment with all manner of femdom, fetish and BDSM content. In fact, since April 2012 Bonnie has filmed a wide range of femdom and BDSM content for the fetish porn site Kink.com. Bonnie's first ever sex scene for Kink.com was Bonnie Rotten – Tamed Whore by JP for their popular Device Bondage web series. Bonnie soon began to feature within a vairety of Kink.com shoots for their Everything Butt, Sex and Submission, and Foot Worhsip web series as well as multiple Kink.com collaborations with Evil Angel and Elegant Angel.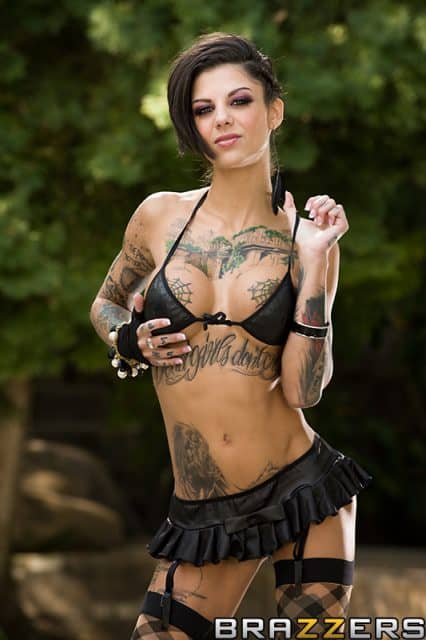 Some of Bonnie's fan-favourite Kink.com fetish shoots include her Bonnie Rotten: Uncontrollable Squirting Orgasms! scenes for Kink.com's Device Bondage web series in December 2013, her epic fantasy role play scenes with James Deen titled The Good, The Bad and The Rotten: 19 Year Old, Anal, Epic Squirting, Rough Sex and Bondage which were distributed in April 2014, and the June 2015 production The Cum Exchange which featured Bonnie in multiple squirt scenes with Dani Daniels but to name a few! Bonnie's most recent Kink.com fetish shoot was a squirt scene with her friend and mentor Veronica Avluv. Titled Squirtwoman: Bonnie Rotten and Veronica Avluv, this Kink.com shoot was distributed in July 2016 and served as the first installment in Elegant Angel's highly anticipated reboot of their successful squirt series.
Shooting these DVD feature releases, alongside appearing in a multitude of BDSM web scenes for Kink.com, earned Bonnie numerous adult film award nominations. In fact, within merely two years of working within the adult film industry Bonnie Rotten became the first ever alternative porn star to win the "Female Performer of the Year" accolade at the 2014 AVN awards. All in all Bonnie has won a total of 14 out of 52 adult film award nominations to date. An extensive list of her notable adult film award wins and nominations has been provided below;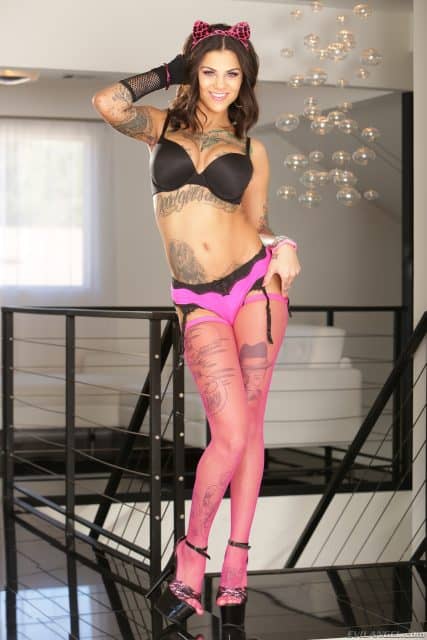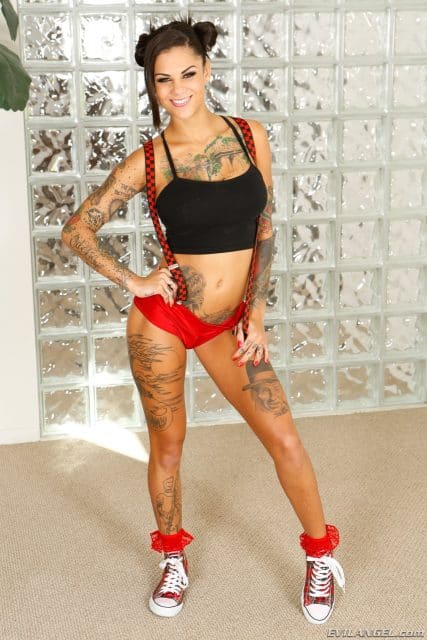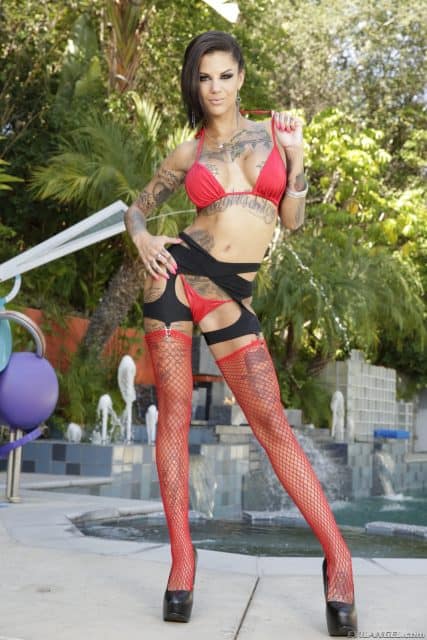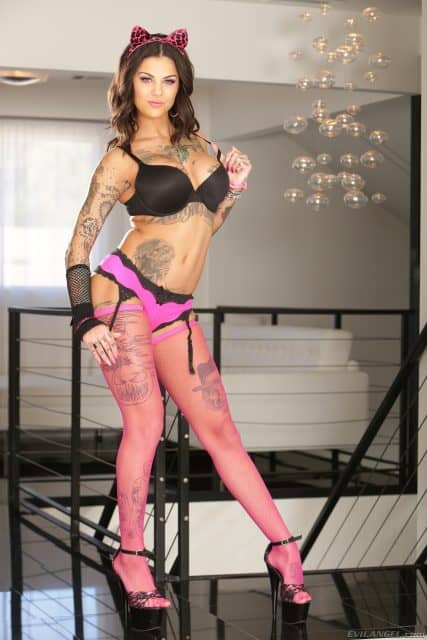 Bonnie Rotten : International Publicity Tours & Popular Productions
After achieving landmark successes as an alternative adult film performer, Bonnie decided to turn her hand to directing. As such, in 2014 Bonnie directed and performed the role of Max Candy within the porn remake of the 1991 Robert De Niro thriller Cape Fear. When asking about this upcoming production in an AVN press release, Bonnie enthused about the opportunity to pay tribute to a Robert De Niro classic;
"I really love Robert De Niro, and I thought this is a really great movie that he did, and he's such a creep and so crazy in it, and I figured, 'Hey, I'm a creep and I'm crazy so let's do it!' But in a good way, a nice creepy way".
Titled Cape Fear XXX, this Dream Zone Entertainment production earned Bonnie numerous AVN, XRCO and Inked award nominations including "Best Director – Parody", "Best Actress", "Best Parody Release" as well as "Best Girl-Girl Scene" for her performance with Jodi Taylor.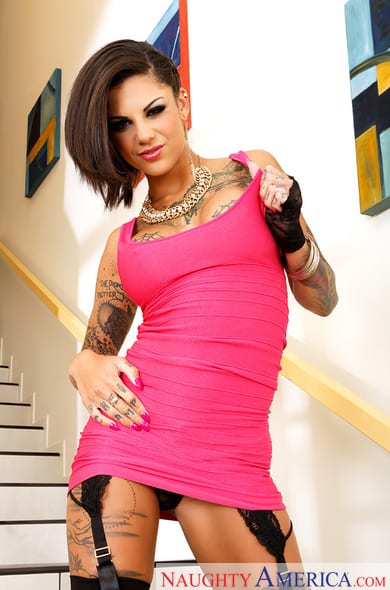 To promote this feature release and her additional upcoming projects, Bonnie embarked on an international publicity tour in September 2014. Described as "the most ambitious thing I've ever done in my life", Bonnie was able to broaden her cultural horizons and meet her international fan base during visits to Switzerland, Germany, Spain and South Africa .
Whilst visiting Germany during her global publicity tour, German-based organization Digital Sports Innovation released a new line of Bonnie Rotten erotic figurines. These 5icnh, 12 inch and 14inch figurines were available in Schoolgirl, Bondage, Rollergirl and Sexy Bonnie editions. Ecstatic about this lucrative business opportunity, Bonnie exclaimed in an AVN press release;
"I have my own action figures!…I always dreamed I would have one and now I have four!".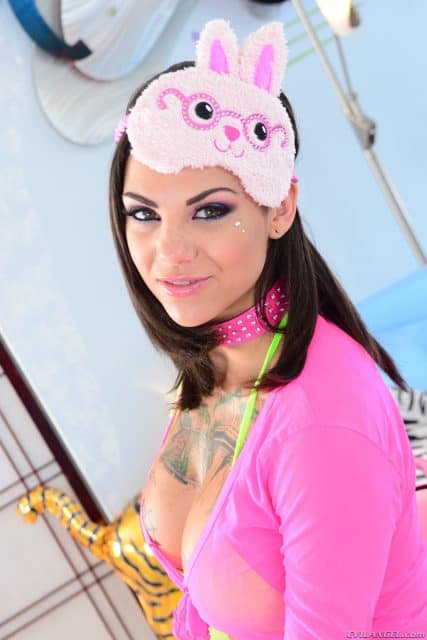 The commercial success of these erotic figurines resulted in sex toy manufacturers Pipedream Products launching a twelve piece "Bonnie Rotten Signature Collection" which included inflatable dolls, handheld strokers, make-a-porno kits, squirting masturbators and even a "Bonnie Rotten Fantasy Fuck Doll" that is adorned with all of Bonnie's iconic tattoos! Talking about this new product line in a February 2015 AVN press release, Pipedream Products director of digital marketing, Brian Sofer, stated;
"Bonnie is one of the biggest names in adult. She's on top of her game right now, and she's teamed up with the biggest name in novelties…We're excited to offer her collection to the rest of the world and we encourage customers to get their orders in while supplies last".
Upon returning home from her international publicity tour, Bonnie didn't waste any time and proceeded to promote her upcoming projects at home via a raunchy display in the heart of Manhattan. Commuters on the subway and tourists in Times Square and Washington Square Park were introduced to the wonders of Bonnie Rotten when they caught a glimpse of this tattooed starlet completely topless!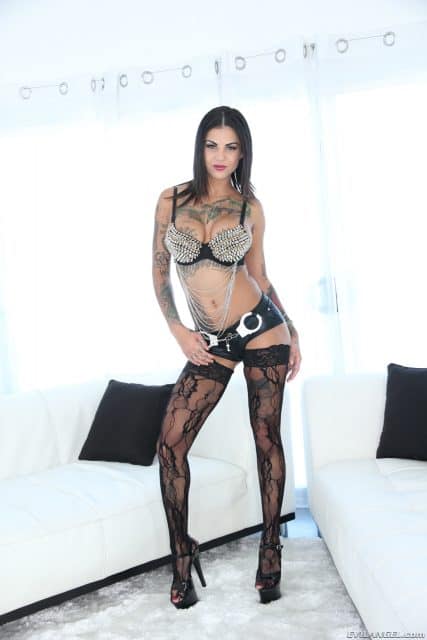 During this time Bonnie also visited Jamaica to attend Hedonism in October 2014 alongside fellow feature dancers and adult film performers Alexis Texas and Tegan Presley. Prior to departing on this trip, Bonnie exclaimed;
"I'm so excited! I'm going with Tegan Presley, Alexis Texas and Monique Alexander. We're going to Negril, Jamaica for Hedonism II from October 1-8. And we're basically going to host the party. And we go to the after-parties every night and hang out with everybody. And we'll host seminars so we'll be talking to people and answering questions about sex. It's going to be crazy!".
Following her US and international publicity tours, in June 2015 Bonnie signed an exclusive sponsorship and promotional deal with daily fantasy sports organisation Draftster. Company CEO David Joseph expressed;
"We are thrilled to be working with Bonnie. She has an enormous following and is a big fan of fantasy sports. She is a very active and savvy player on Draftster.com and this is a fresh, new way for her to interact with her fans on an intimate level while bolstering the awareness of Draftster…There has always been an unspoken link between these two industries. We wanted to take a progressive approach and make the connection. Men love women, sports and money—and Draftster embraces this by giving our players all three".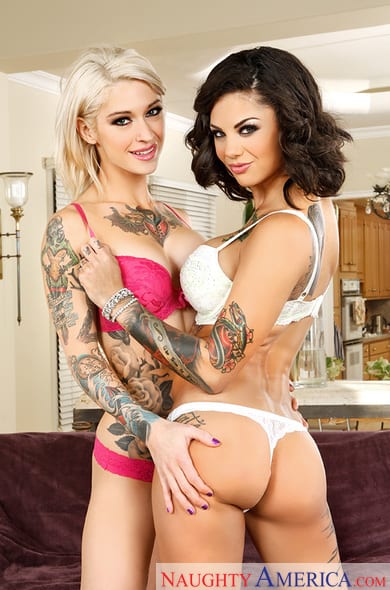 Kleio Valentien and Bonnie Rotten – Naughty America
This sponsorship deal marked the first of its kind between an adult entertainment performer and a fantasy sports company. Excited about this new opportunity, Bonnie exclaimed that;
"I'm very excited about joining the Draftster family. Having been a big Dodgers fan, I can't wait for this promotion to begin and meet and greet with fellow sports fans. I have been actively playing on Draftster.com for some time and now and being given the opportunity to publicly endorse the platform and be an active part of the team is a dream come true".
Bonnie's first role as the new poster girl for Draftster was promoting "Bonnie Rotten's Baseball Derby"; a contest wherein the first 2,500 contestants to sign up for the Draftster fantasy football draft online event received a free all-access membership pass to adult entertainment site Brazzers.com. Moreover, contestants who signed up for the draft also had the chance to win an all-expenses-paid trip to Los Angeles to go on a date with Bonnie Rotten herself!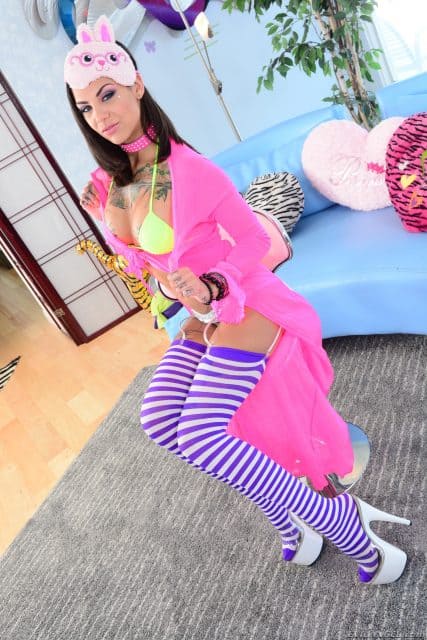 In addition to these sponsorship deals, in 2015 Bonnie also shared the spotlight with Joanna Angel when they both posed for the cover of Inked magazine's September issue. The two most tattooed starlets in the adult film industry both enthused about the opportunity to take centre stage for this major publication within an AVN press release, with Bonnie conveying how;
"Being on the cover of Inked is awesome! We had a really fun shoot followed by me running around topless in NYC the next day. I'm super happy with how the photos turned out—they show a very fun, playful side of myself, and I have been getting a big response from fans that like the cover".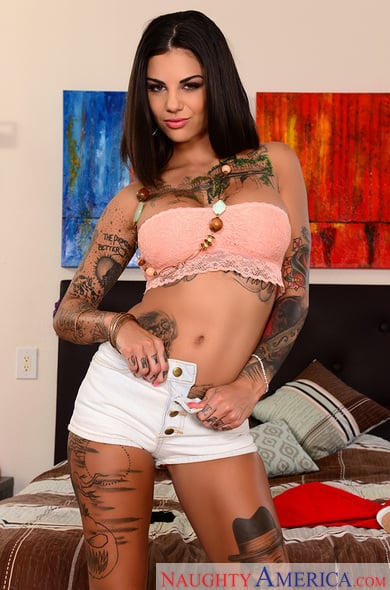 Bonnie Rotten : Directing Debut
In 2014 Bonnie signed a distribution deal with Girlfriends Films and successfully established her own production company; Mental Beauty, Inc. During the same year, Bonnie made her directorial debut with the film To the Core which was swiftly followed by another directing role on Sisters of Anarchy which she shot in collaboration with Digital Playground. Discussing her directing projects in a Taboo interview, Bonnie explained that;
"Being a director is amazing. It is more stressful than showing up getting banged and getting a pay check. There are a lot of responsibilities that I have now that I can't slip up on… Well, I have a production company as you know and Elegant Angel distributes my movies… so I want to grow as a director and do more and more challenging things. Also to get amazing sexual acts from talent… that's important to me!".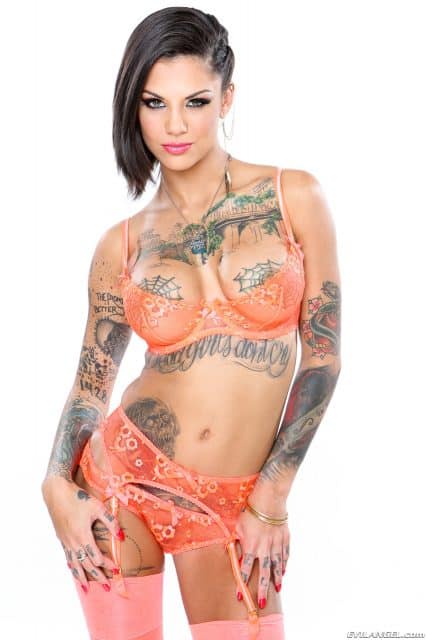 Since 2014 Bonnie has directed over 17 pornproductions in collaboration with Juicy Entertainment, Elegant Angel, Girlfriends Films, Dream Zone Entertainment and Digital Playground. Some of Bonnie' shottest directorial projects include Bonnie Rotten Loves Bitches, Bonnieland: A Gangbang Fantasy, Cape Fear XXX, To The Core, Sisters of Anarchy, Natural Youth, Ink'd Squirt, Rotten in Palma De Mallorca, Spain, and Legs Ass and Lingerie. Bonnie performed in many of these feature releases as well as directing them. It doesn't get much better than that!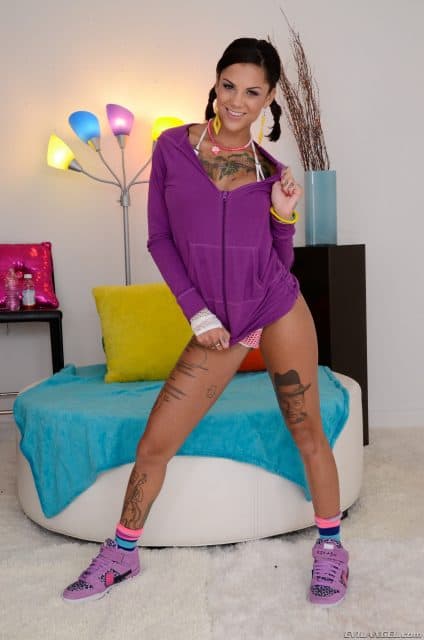 Bonnie Rotten : Court Case Against Max Hardcore
Although she has achieved multiple adult entertainment industry, Bonnie has also had to endure a lengthy legal battle with adult film director Max Hardcore. It all began in 2014 when Bonnie filed a lawsuit against adult film director Paul Little aka Max Hardcore in Cook County, Illinois, alleging that he had unlawfully released a scene which the two had shot for the unreleased film Fuck Puppets 2.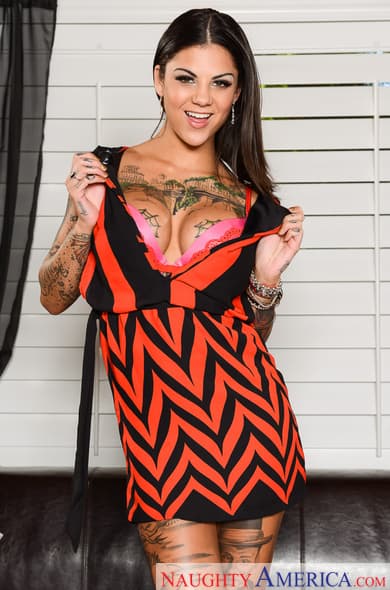 In July 2014 Max Hardcore responded by filing a lawsuit against Bonnie in the Los Angeles Superior Court. As recorded by the Courthouse News Service;
" Little claims the actress is trying to repudiate a January 2012 artists agreement that gave him permission to use her performance in an adult film he acted in and produced. Little claims that Hicks received a 'substantial benefit' from appearing in his film, 'Fuck Puppets 2'…
Hicks without justification, breached the agreement by repudiating the contract and demanded that plaintiff Little cease and desist from using her performance in the adult film that plaintiff Little produced," the complaint states. Though Hicks continues to exploit her performance in the movie, she sued Little in Cook County, Illinois for appropriation of identity and defamation, claiming she never gave Little permission to use her performance in the film, Little says. In that lawsuit, obtained from the Courthouse News Service database, Hicks claims that Little tweeted images and links to a scene in the porn flick, along with several comments, including: I partied with Bonnie Rotten before she got into the business'….
'Videos produced by and featuring defendant Little, who performs under the stage name Max Hardcore frequently depict forced sex, degrading language and vomiting and urination' the Cook County lawsuit says. In the Cook County filing, Hick says that Little was convicted in Florida on obscenity charges in 2008 and says that the scene in which she appears contained 'numerous examples' of degrading and humiliating conduct. But in his July 3 complaint, Little says: 'Defendant Hicks brought her action in a state court in the State of Illinois despite the fact the agreement that she signed was entered into in California, her performance that was required under the contract was in California and she identified herself in the complaint filed in state court in Illinois as a resident of the State of California'. Little wants a judge to find the agreement is binding, plus damages and costs".
As matters stand, the case remains unresolved. However, Bonnie has not let this legal battle impact her ongoing adult film projects and public appearances. For instance, in October 2015 Bonnie signed a feature dance deal with The Lee Network which will see her performing in high-end gentlemen's clubs across the country.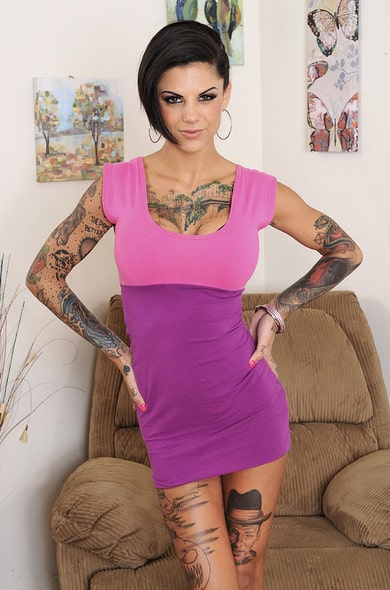 Bonnie Rotten : Music Video Appearances and Upcoming Projects
In addition to her feature dancing and pornographic production talents, Bonnie has also appeared in numerous mainstream music videos. Among her most notable appearances include a role alongside Asphyxia Noir and London Keyes in the 2013 single "Kiss Land" for The Weekend and a role within the 2014 music video for LA band Piece by Piece which also starred Terror drummer Nick Jett.
Bonnie also remains a regular feature within XXX-rated publications; having been named within CNBC's famous "The Dirty Dozen: Porn's Most Popular Stars" list in 2014, being ranked fifth within LA Weekly's "10 Porn Stars Who Could Be the Next Jenna Jameson" in 2013 and being referred to as "Porn's Current It Girl" in a 2014 article published within The Daily Beast.
Although Bonnie keeps her private life confidential, she could not help sharing her joy in July 2015 when she announced her engagement via Twitter exclaiming;
"Just 20 mins ago the love of my life just asked me to marry him!!!!! I am so over joyed and excited to spend the rest of my life with you".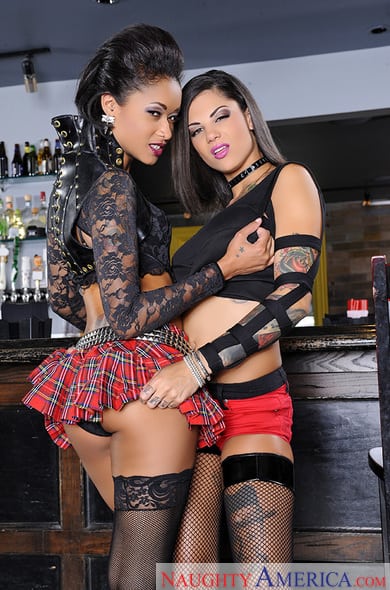 Skin Diamond and Bonnie Rotten at Naughty America
As matters stand, Bonnie is happily married and gave birth to her first child, a daughter, in 2015. In response to criticisms about raising a family whilst working within the adult entertainment industry Bonnie brazenly stated;
"Lol, people talking shit cus I did porn and I'm having a baby. I did what I needed to create a life for myself and my family. I had a respectful high level career where I succeeded everything I ever wanted to and achieved all I needed while being healthy and safe…
I  have no shame in what I did. Will it be hard to explain when my kid is grown yes. It will. But I am prepared for that. My child will live a fantastic life with me and its father and family around it. It won't interfere with my child's life it will be so far in the past, it won't matter…
The dumb insults are shallow and narrow minded and stupid. If that's all you can say think of something else".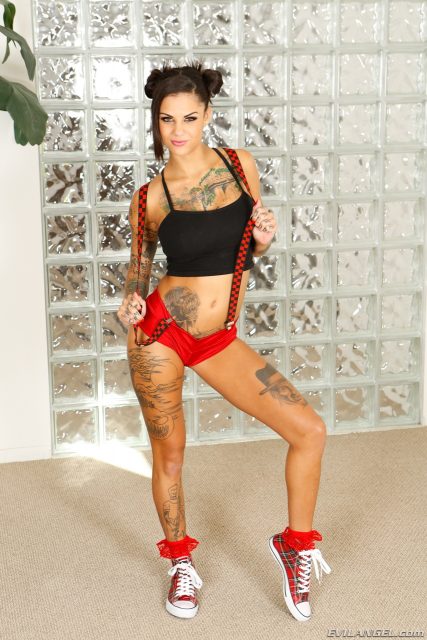 As well as enjoying family life and the thrills of a thriving her adult film career, Bonnie has always possessed a love for skateboarding and has often discussed her personal passions of sex and skateboarding during interviews. For instance, Bonnie explained in a 2014 VICE interview;
"Ever since the tender age of 12 the two things I've loved more than anything in this world, the only two constants in my life for the past 25 years, have been sex and skateboarding. I don't claim to be very good at either, but after writing about both exclusively for more than 15 years I've become somewhat of an authority on the matters and I've always said the similarities between skateboarding and the porn world are uncanny".
For now, Bonnie continues to pursue her directing projects and sex toy line "Bonnie Rotten Black Label" whilst raising a family. Bonnie has also created her own reality series titled "Meet the Rottens: From Porn To Norm"  and in the summer of 2018 she was signed as a Brazzers contract girl. Could this be the start of a fantastic comeback career? We sure hope so!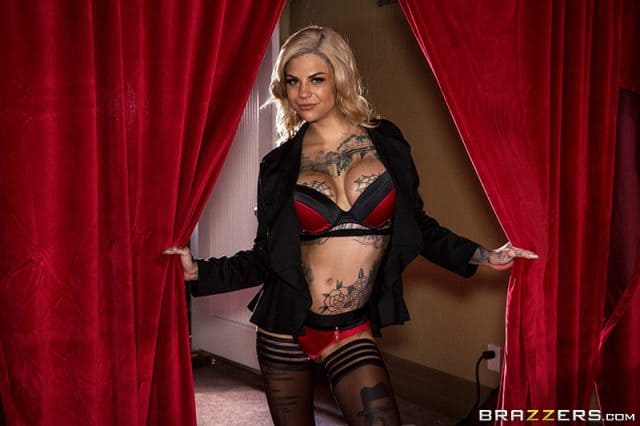 Keen to stay connected on all of Bonnie's upcoming projects and hottest sex scenes? Then use the links provided below to stay connected with terrifically tattooed porn superstar Bonnie Rotten!
Social Networks
Official Website : Bonnierotten.com
Twitter : @thebonnierotten
FanCentro : Bonnie Rotten
Brazzers : Bonnie Rotten at Brazzers
Devil's Film : Bonnie Rotten at Devil's Film
Digital Playground : Bonnie Rotten's Digital Playground Movies
Evil Angel : Bonnie Rotten at Evil Angel
Kink Profile : Bonnie Rotten's BDSM, Femdom & Fetish Content
New Sensations : Bonnie Rotten at Digital Sin/New Sensations
Naughty America : Bonnie Rotten at Naughty America
IMDB Profile : Bonnie Rotten Filmography
The Nude : Bonnie Rotten at Nude.EU