Twitter : @AlexDeLaFlor   Camsoda : Alexdelaflor   Twistys : Alex De La Flor Sex Scenes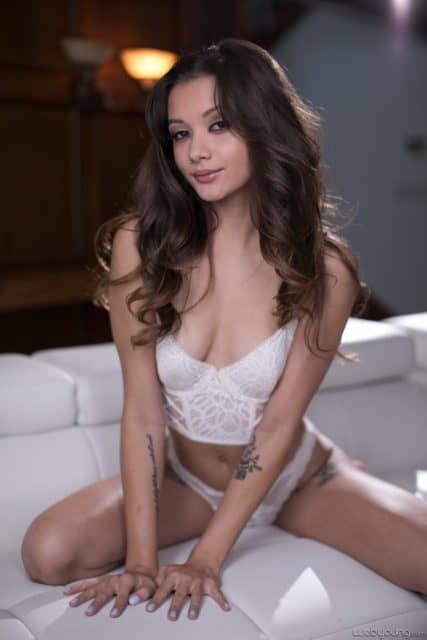 Alex De La Flor – Glamour – Girlsway
Personal Info
Name : Alex De La Flor
Date of Birth : June 26th
Hometown : Frederick, Maryland (US)
Measurements : 32C – 24 – 32
Height : 5'2 (1.57m)
Hair Colour : Brunette
Eye Colour : Hazel
Tattoos : A heart with a bee and honeycombs inside it and a honey dipper with honey dripping from it on her upper right thigh, script along the inside of her right forearm, a pair of hands on her upper left thigh, a girl's face on the outside of her upper left arm with 'I want love/or death' script above and beneath it, a girl's face on the outside of her left forearm with 'baby' script beneath it, 'Remedia Amotis' script on the back of her left hip, 'IV' Roman numerals on the back of her left arm (just above her elbow), a floral design on her right side (next to her breast), a design in the centre of her upper back, 'I will meet you in the meadow' script along the inside of her upper left bicep, a design on the inside of her left forearm, 'Everything Was Beautiful & Nothing Hurt' script on the back of her left thigh and a braille tattoo with a Garden Wall design above it
Piercings : Right nostril
Shoe Size : Women's 5 (US)
Years Active : 2017 – present
Alex De La Flor is a fan-favorite solo and girl/girl porn star, glamour model and cam girl who made her adult film industry debut in early 2017. Alex has already been named as Penthouse magazine's "Pet of the Month" for January 2018 and Twistys' "Treat of the Month" for August 2018. Definitely one to watch out for in the years to come!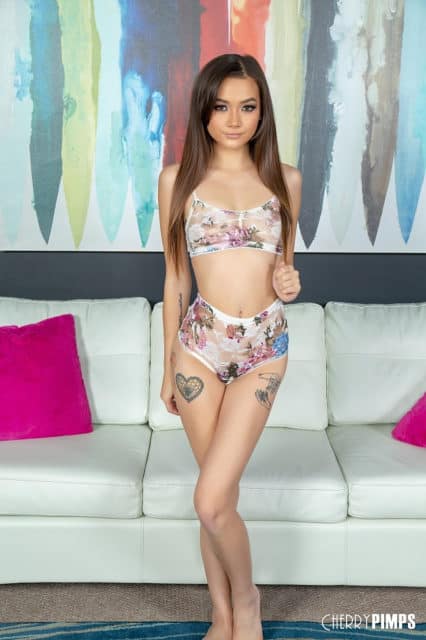 Alex De La Flor – Cherry Pimps/Wild On Cam
Alex De La Flor : Adult Film Career
Originally from Frederick, Maryland, and currently based in Los Angeles, California, Alex has Filipina heritage and she first started working in the adult entertainment industry in January 2017. You may be surprised to learn that Alex used to be self-conscious about her body. As Alex explained in her January 2018 Penthouse interview;
"I used to be really self-conscious about my boobs. One day I was on a hike with a photographer friend, and when we got to the top of the cliff he started taking pictures of me. I suddenly had the urge to take my top off. Maybe it was being in nature, but that's how I got over my boob self-consciousness".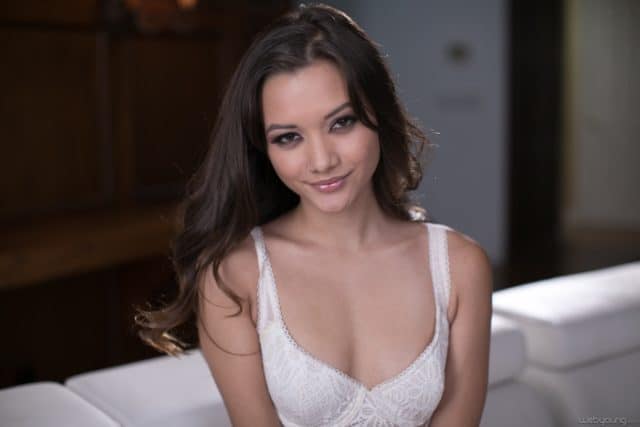 Alex De La Flor – Glamour – Girlsway
A landmark moment in Alex's adult film career occurred in early 2018 when she responded to an open call for models via Penthouse's Twitter feed. Before you know it, Alex was featured on the front cover of Penthouse magazine as their "Pet of the Month" for January 2018! For her Penthouse Pet photo shoot, Alex posed nude on a 1994 Harley-Davidson FXR and in a 1970s Chevy pickup. Alex loved posing for Penthouse and enthusiastically stated in her January 2018 Penthouse interview that;
"I loved it. That first shoot was amazing. This is going to sound weird, but it reminded me of my grandparents' house. They always had old bikes around and loved old cars. It was like I was going back to my roots a bit…I am so excited [about being a Penthouse Pet]. I nearly cried when you told me! I think I'm still in denial over it, because the whole thing happened so randomly. I just replied to an open call for models on the Penthouse Twitter feed. I thought if all these other women can send their photos in, why can't I? I'm so glad I did it".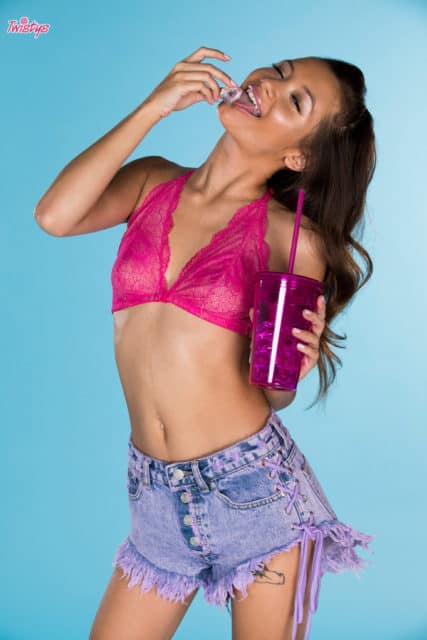 Alex De La Flor in Sip On This – Twistys
Spurred on by the success of her Penthouse Pet photo shoot, Alex posed for her first nude shoot for Playboy Plus in April 2018. Alex has starred in a trio of Playboy Plus nude shoots – Hitchin' A Ride, Pleasure Cove and Magic Hour – which were all released in April 2018. During this time Alex also started shooting some sizzling solo scenes for the fan-favorite porn network Twistys. We recommend checking out Alex's sultry Bathe In Her Light, Candy Warhol, Between The Pages and Sip On This solo scenes which were all released via Twistys in August 2018. When you watch this sizzling scenes, you'll understand why Alex was named as their "Treat of the Month" for August 2018!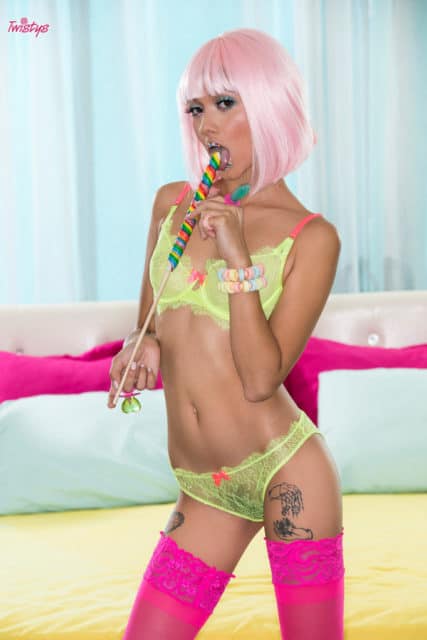 Alex De La Flor in Candy Warhol – Twistys
Want to know the best part? Alex has continued to collaborate with Twistys on some steamy girl/girl scenes. We recommend checking out Alex's raunchy Naked Baking role-play with Britney Light in August 2018, her saucy Give Me Some Sugar shoot with Katana in October 2018 and her kinky Costume Caper scene with Ryan Keely in October 2018. Fans of Alex's lusty lesbian collaborations will also love watching her scintillating Towel Girl 2 three-way with Nicolette Shea and Romi Rain that was uploaded via Reality Kings in October 2018, her seductive Oiling Up The Secretary office role-play with Isabelle Deltore which was promoted via Fantasy Massage in October 2018 and her hot Petite Hotties Alex and Cecilia Live scene that was first broadcast via Cherry Pimps' Wild On Cam web channel in November 2018.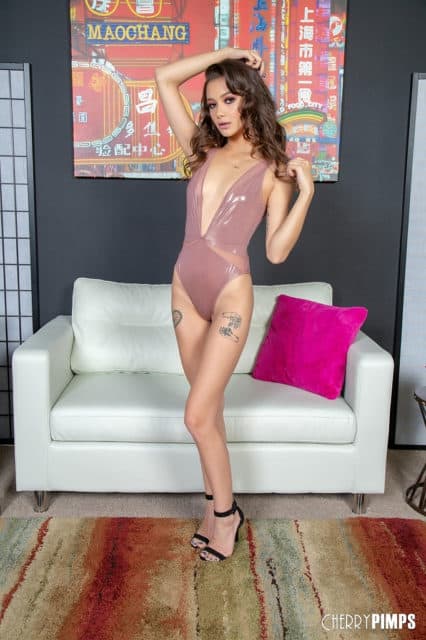 Alex De La Flor – Cherry Pimps/Wild On Cam
Wait, there's even more! Alex has also treated fans to an intensely alluring Doggy De La Flor virtual reality sex experience that was promoted via Babe VR in September 2018, she shared a kinky Scary Movie Night scene with Samantha Hayes which was unveiled via Girlsway on Halloween 2018, she filmed a titillating Girls Gone Pink three-way with Jade Baker and Jenna Sativa which was uploaded in October 2018 and she has also starred alongside Daisy Marie and Britney Amber in some sizzling Fluidity and The Sessions: Part 9 scenes that were both released via Babes.com in October 2018. Must see sex scenes for Alex De La Flor fans!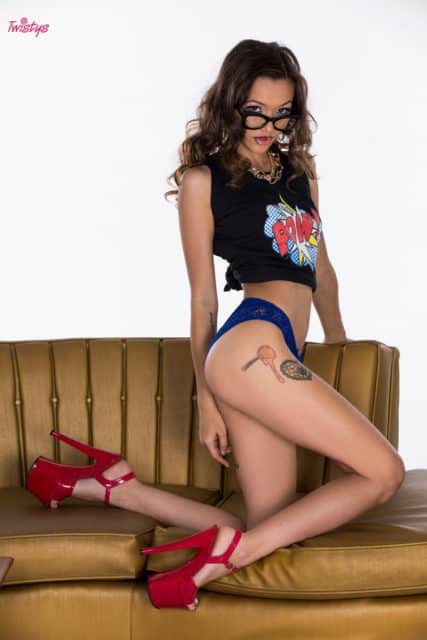 Alex De La Flor in Between The Pages – Twistys
When she isn't starring in these sensational sex scenes, Alex enjoys hosting lusty live cam shows via Camsoda (under the screen name 'Alexdelaflor'), Chaturbate (as 'Alexdelaflor') and MyFreeCams (as 'Alexdelaflor'). Alex loves  interacting her fans in this manner and is currently working on a new membership website. After all, as Alex mentioned via her official website;
"I love to orgasm as much as I love to laugh, in my opinion there's nothing more tantalizing than a woman embracing her sexuality. I love everything about being alive – even if my tastes are a little finer. While I do enjoy indulging in materialism, I do still consider myself quite spiritual. I want to learn about every person that crosses my path, I want to become intimate with their souls".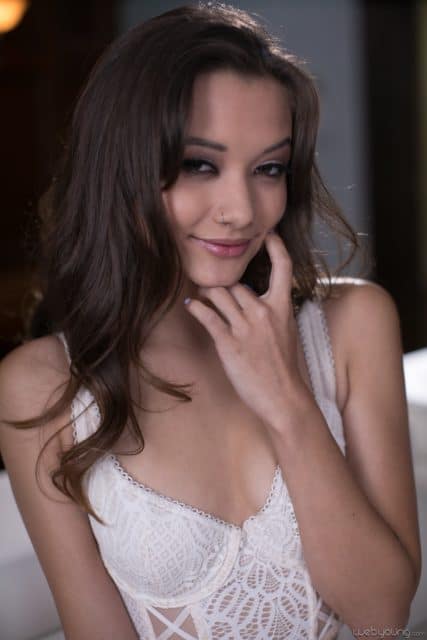 Alex De La Flor – Glamour – Girlsway
Keen to stay connected with rapidly rising starlet Alex De La Flor? Then use the links provided below to discover all of Alex's hottest sex scenes, exclusive web content and upcoming live cam shows!
Social Networks
Twitter : @AlexDeLaFlor
Instagram : @thealexdelaflor
Babe VR : Alex De La Flor's Doggy De La Flor VR Scene
Camsoda : Alexdelaflor
Babes : Alex De La Flor at Babes.com
Chaturbate : Alexdelaflor
Fantasy Massage : Alex De La Flor at Fantasy Massage
Girlsway : Alex De La Flor at Girlsway
Mofos : Alex De La Flor at Mofos
MyFreeCams : Alexdelaflor
Reality Kings : Alex De La Flor at Reality Kings
Twistys : Alex De La Flor at Twistys
Wild On Cam : Alex De La Flor at Cherry Pimps/Wild On Cam
Official Website : AlexDeLaFlor.com