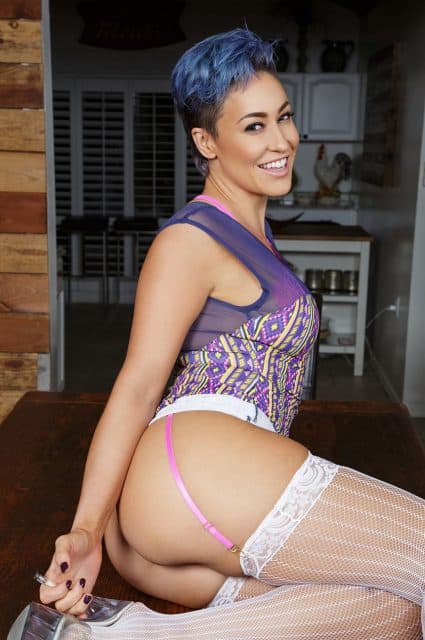 Ryan Keely in Bird's Ry View – Babe VR
Ryan Keely – Personal Info
Name : Ryan Keely
Date of Birth : July 2nd
Hometown : Seattle, Washington (US)
Measurements : 36E – 26 – 38
Height : 5'9 (1.75m)
Hair Colour : Blonde/Brunette
Eye Colour : Brown
Years Active : 2006 – present
Number of Scenes : 150+
Ryan Keely is a critically acclaimed adult film star, feature dancer, writer and sex educator who began taking the adult industry by storm in 2006. Famous for her seductive girl/girl scenes and sultry solo shoots, Ryan Keely remains a fan-favorite performer who was named Penthouse "Pet of the Month" for October 2009 and "Pet of the Year Runner-Up" for 2011.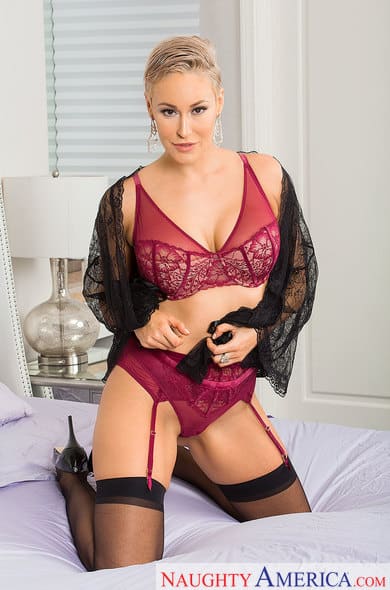 Ryan Keely in My Friend's Hot Mom – Naughty America
So where did it all begin? Born and raised in Seattle, Washington, Ryan Keely has mixed Cuban and Irish heritage. Growing up, Ryan has described herself as 'the weird girl' and divulged during her January 2016 Fleshbot interview that;
"I was the weird girl. I hung out by myself in the library, or with the stoners and the burnouts. But I also did theater and hung out with other theater kids, dated them as well. Some of my early boyfriends may or may not have been straight…I was a HUGE porn fan before I got into the industry. The first porn I really got into was Dreamquest".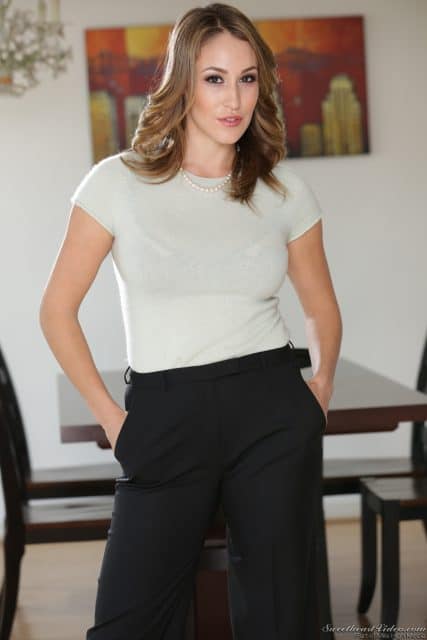 Lesbian Babysitters #9 – Sweetheart Video – Mile High Media Galleries
When she was 18 years old Ryan Keely moved to San Diego, California, and started working at the Hustler Hollywood adult video store. Before long, Ryan had forged various industry connections and started working as a recruiter for porn shoots. Whilst managing these girls Ryan honed her skills and before you know it she was working behind the scenes in Los Angeles as a production assistant and photographer.
Wondering how busty beauty Ryan Keely went from working behind the scenes to performing in porn? It's simple – Ryan Keely felt there was a lack of content showing real orgasms. So she decided to fill this gap in the market! Talking about these motivations within her January 2016 Fleshbot interview, Ryan explained how;
"When I was 18, I got a job in a porn store in San Diego, mostly for the discount…You can't be good at porn if you aren't passionate about what you do. I started performing because I wasn't seeing enough content with real orgasms. So I decided to cum hard on camera".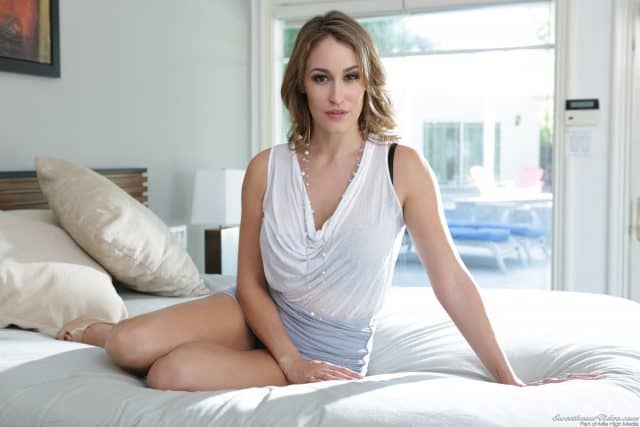 Girls Kissing Girls #12 – Sweetheart Video – Mile High Media Galleries
Ryan Keely : Adult Film Career
Ryan Keely first started working in the adult film industry in 2006 and some of her earliest porn productions include Crush: Lipstick Lovers (2006) for Hustler Video, her Hot Newcomer solo shoot for Kink.com's Fucking Machines web series in December 2007, Girlvana 4 (2008) for Zero Tolerance and the Evil Angel production Girls Love Girls #3 (2008).
Right from the start, Ryan Keely began to attract an avid fan following due to her alluring solo shoots and authentic girl/girl scenes. We recommend checking out Ryan's scene with Samantha Ryan in Girl Play (2009) for Elegant Angel that was nominated for "Best All-Girl Release" at the 2010 AVN Awards, her steamy scene with Aiden Ashley in LA Lesbians (2012) for Wicked Pictures, her thrilling three-way with Dani Daniels and Vanessa Veracruz in the All Girl Cam House production Lesbian Latina Heat (2012) and her poolside romp with Sinn Sage in Lesbo Pool Party (2012) for 3rd Degree that was nominated for "Best All-Girl Release" at the 2013 AVN Awards.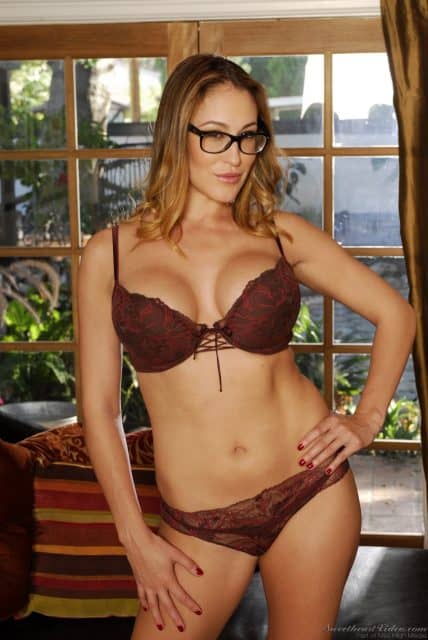 Ryan Keely in Lesbian Office Seductions #7 – Sweetheart Video – Mile High Media Galleries
Over the years, Ryan Keely became one of the most popular performers to shoot for the award-winning all-girl production company Girlfriends Films. Fans of Ryan Keely will love watching her scenes with India Summer in Lesbian House Hunters #2 (2010) and Net Skirts 2.0 (2010), her solo shoot in All Natural Glamor Solos #1 (2011) which won "Best Solo Release" at the 2012 AVN Awards as well as earning Ryan Keely a notable "Best Solo Sex Scene" nomination, her raunchy role-play with Olive Glass in Lesbian Legal #12 (2017) and her kinky shoot with Shyla Jennings in Net Skirts 17.0 (2017).
Just can't get enough of Ryan Keely's amazing girl/girl scenes? Well then you have to check out her titillating scenes with Dana Vespoli and Jessie Andrews in the Sweetheart Video sequel release Lesbian Babysitters #9 (2013), her kinky collaboration with Angel Smalls in Kittens and Cougars #12 (2017) for Zero Tolerance that was nominated for "Best Older Woman/Younger Girl Movie" at the 2018 AVN Awards, her raunchy Conjugal Visions role-play with Jade Symz that was released via Twistys in March 2018 and her saucy shoot with Emma Hix in Hustler's Cheating Lesbian MILFs (2018).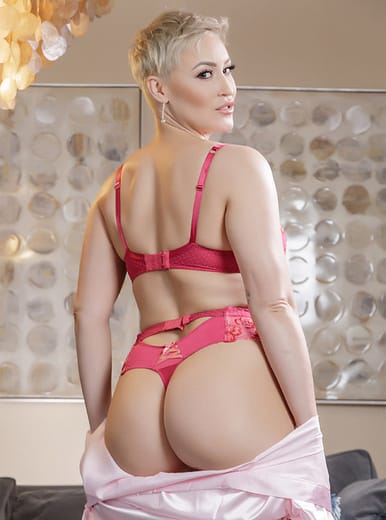 Ryan Keely in I'm Not A Regular Mom I'm A Cool Mom – Brazzers
Many of Ryan Keely's hottest girl/girl scenes were filmed with Jelena Jensen. Our top picks? They'd have to been Ryan and Jelena's sensational scenes in Women Seeking Women #69 (2011), I Kiss Girls #2 (2012) and Women Seeking Women #103 (2014) as well as their raunchy Hardcore Massage shoot that was featured in the Brazzers DVD compilation title Hot and Mean #8 (2013) which was nominated for "All-Girl Release of the Year" at the 2014 XBIZ Awards.
Most notably, Ryan and Jelena shared a scintillating scene in Tammy Sands' Girlfriends Films production Me and My Girlfriend #1 (2012) that was nominated for "Best Girl/Girl Sex Scene" and "Best All-Girl Release" at the 2013 AVN Awards. Ryan Keely was thrilled to receive this notable nomination and enthusiastically stated in her January 2016 Fleshbot interview that;
"I wasn't even aware I was nominated! That's awesome! Having have romantic intercourse with Jelena is a goddamn gift. It's nice to know that the fans or whoever is in charge picked up on our chemistry and passion…Jelena Jensen, forever and always. She's smart, gorgeous and I will always be a little intimidated by her. I feel so lucky every time I even get to kiss her".
Want to know the best part? Blonde bombshell Ryan Keely continues to receive a wealth of coveted industry accolades including;
2009: Penthouse winner "Pet of the Month – October 2009"
2011: Penthouse winner "Pet of the Year Runner-Up"
2011: AVN Awards nominee "Best Girl/Girl Sex Scene" Women Seeking Women #63 (with Zoe Voss)
2012: AVN Awards nominee "Best Solo Sex Scene" All Natural: Glamour Solos
2013: AVN Awards nominee "Best Girl/Girl Sex Scene" Me and My Girlfriend (with Jelena Jensen)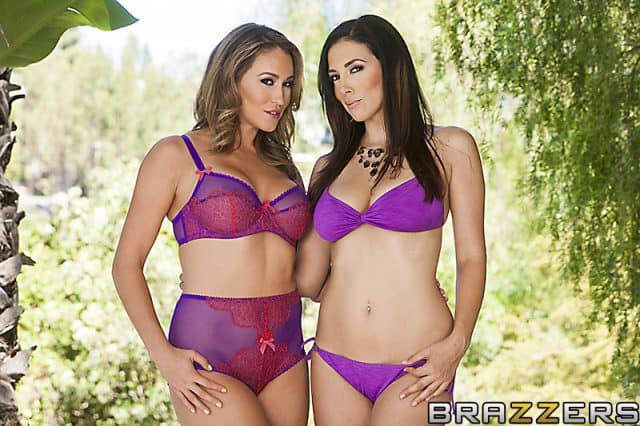 Ryan Keely and Jelena Jensen in Hardcore Massage – Brazzers
Ryan Keely : Penthouse Pet & Sex Educator
A landmark moment in Ryan Keely's adult film career occurred in October 2009 when she was named as Penthouse magazine's "Pet of the Month". Big booty pornstar Ryan Keely was also named as the official "Pet of the Year Runner-Up" for 2011. Ryan Keely was thrilled to receive this coveted accolade and especially the diamond encrusted key necklace that came with it! As Ryan Keely eagerly expressed in a February 2011 AVN press release;
"No one has ever given me diamonds before. I'm never, ever going to take this off, and this year is going to be the best ever! I want to keep working hard and representing Penthouse magazine while having an absolute blast. Being loved this much by the Penthouse readers is all kinds of awesome!".
Throughout her adult film career, Ryan Keely remained a key part of Penthouse magazine. In fact, she was appointed as Penthouse's "Official Beer Sommelier" after receiving the title of "Certified Beer Server" through the Cicerone beer sommelier certification program. Ryan Keely also starred in several Penthouse productions including Techno Sluts (2012) that showcased Ryan in a hot scene with Christy Mack, Pinned Up Pussies (2013) within which Ryan shared a saucy shoot with Elle Alexandra and most recently Corrupted By An Angel (2017) which enabled Ryan to pair up with alt. porn superstar Joanna Angel.

Ryan Keely at VR Bangers
Most notably, Ryan Keely wrote a sex and dating advice column for Penthouse Forum titled The Dirty Details. Furthermore, statuesque stunner Ryan Keely enjoyed writing this column for Penthouse and highlighted during her August 2011 Rock 'N' Roll Ghost interview how;
"I look really hard and try to find a focused, all-inclusive answer that can help people through the majority of the situation.  I always encourage people to follow up…I'm not perfect and the best part of my column is that it's always pushing me to learn about things that I wouldn't necessarily know about on my own.  I have an extensive collection of sex education books.  I ask other experts as well to come up with a solid answer.  That's what I love about my column…
People are more comfortable talking about a sex act, it doesn't mean that they're actually more comfortable WITH the sex act.  I feel that a lot of people are putting on a big show about talking about sexuality when they're not as comfortable with it as they like people to believe they are.  I think that's caused by a large rift in the sex education system and the sexuality on TV.  What's really inspired me in my sex education and in the great books that I've read is to connect sexuality with spirituality and I believe that's a message that's not being taught anywhere…
Sex is an incredibly intense and incredibly spiritual experience.  Very few people scream out God's name anywhere except in the bedroom.  No matter what high power or lack of a high power you believe in, it's a moving experience, and one that can shake you to your core.  Treating it like something that's cheap, I don't think necessarily respects the act in the way that it should be.  Although I am no longer a Catholic and currently claim Atheism as my religion, I was raised Catholic and I was raised in the Catholic tradition.
One of the things I loved about going to Catholic school and Catholic sex education is that they taught the reason that you abstain until marriage is that your sexuality is such an amazing, powerful gift that it shouldn't be cheapened by throwing it around.  And it was so spiritual and so intense that it should only be shared with one special person.  Clearly I don't believe that by being an adult performer.  (laughs)  I do think that there's some truth in the fact that our sexuality is a special gift and should be respected".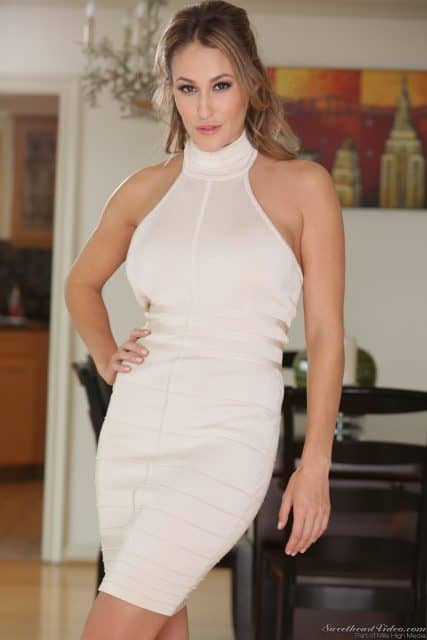 Ryan Keely in Lesbian Babysitters #9 – Sweetheart Video – Mile High Media Galleries
You may be interested to learn that Ryan Keely has always been a sex educator who used to run her own pick-up artist seminar; Porn Star Sex Life. Moreover, as fan-favorite pornstar Ryan Keely explained during her August 2011 Rock 'N' Roll Ghost interview;
"I've always taught sex ed.  I'm definitely self-educated.  I haven't seen fit to go to college yet.  I'm much more interested in an honorary degree than earning one.  (laughs) I started working with women and couples at a very early age in San Diego where part of my job was being exceptionally knowledgeable on all of the sex products and books on the market and learning to apply that knowledge to each individual couple.
From that, my passion and interest has always grown and remained solid.  The past year, just because of popular request, seeing my body of work, Penthouse asked me to write the column, which I now do exclusively.  I sold my company doing seminars because I don't have time, but I'd love to go back and do that in the future…
I love dealing with individuals on a one-on-one, face-to-face basis.  And as much as I love doing my column I don't get enough interaction with people with highly specific problems.  Sometimes a sex problem takes more than thirteen hundred to fifteen hundred words I have of column space".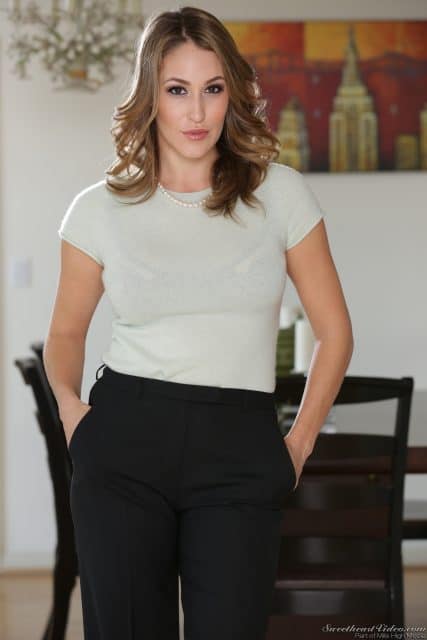 Lesbian Babysitters #9 – Sweetheart Video – Mile High Media Galleries
In fact, in April 2011 Ryan Keely was invited to Wesleyan University in Connecticut to be a guest speaker for their Unlocking Porn panel alongside director Candida Royalle and sex educator Jamye Waxman. During this insightful panel Ryan discussed her adult film career origins, a day in her life as a porn star as well as highlighting the perils of piracy and its devastating impact on the industry as a whole. Moreover, blonde beauty Ryan Keely was honoured to be invited to participate in this panel and commented in an AVN press release that;
"I'm so honored that the students of Wesleyan College value my thoughts and opinions…Speaking with the legendary Candida Royalle and being introduced by luminary Jamye Waxman was truly an amazing experience. I want to thank Unlocked magazine for hosting an unforgettable evening".
During this time, Ryan Keely was also hired as head of Fleshlight Girls Division in its business development department. In this role Ryan worked closely with the ladies of Fleshlight and brand development; collaborating on market and technology research, strategy formulations, new product development, planning and management, marketing, advertising and promotion planning, launch and implementation and so much more! Furthermore, sexy tall pornstar Ryan Keely was honored to take on this important role and enthused in an AVN press release how;
"I am honored to work with and endorse one of the most unique products on the adult toy market.  Fleshlight is a brand that represents quality, function and fantasy…Fleshlight has done a remarkable job signing an extraordinary roster of adult talent and I'm excited at the opportunity to head up the Fleshlight Ladies Division and work closely with all of the girls to continue branding Fleshlight as the most paramount product available for men".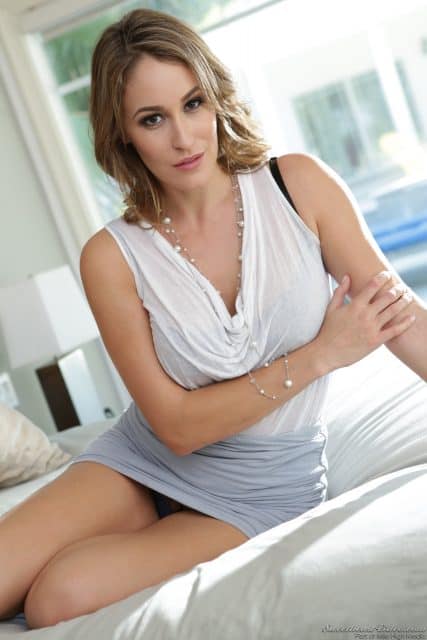 Girls Kissing Girls #12 – Sweetheart Video – Mile High Media Galleries
Ryan Keely : Mainstream Media Projects & Presenting Roles
In 2012 Ryan Keely retired from performing in porn productions. Don't worry, crossover star Ryan Keely continued thrilling adult film fans! In fact, Ryan started to host Playboy TV's Jukebox Live, she made multiple guest hosting appearances on Playboy Radio, KSEX Radio and Vivid Radio, and she launched an independent geek culture themed podcast. Ryan was also a guest editor for Fleshbot in October 2011 and wrote several articles for them including Ryan Keely's Top Ten Porn Movies.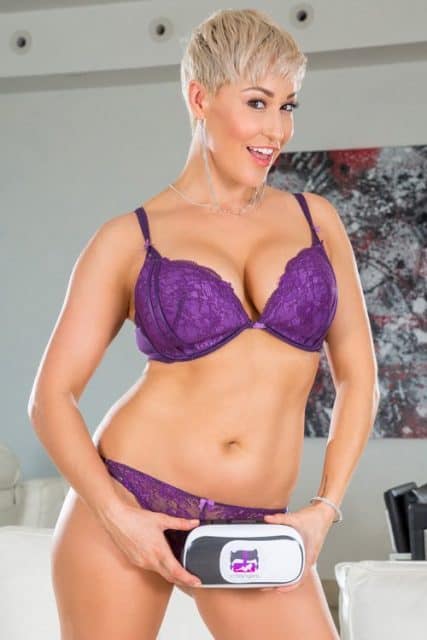 Ryan Keely at VR Bangers
During this time, Ryan Keely collaborated on various mainstream media projects such as appearing in the comedy/horror movie Girls Gone Dead (2012), the comedy film Cavemen (2013) and the mystery/thriller Geeks (2014). Ryan also interviewed Resident Evil: Afterlife director Paul W.S. Anderson for IGN.com in August 2010. Moreover, Ryan Keely joined Nikki Benz, Sasha Grey, Tera Patrick, Justine Joli and Heather Vandeven in playing characters for the 2012 video game Saints Row: The Third and she even appeared in the MTV short Escalation alongside director M. Night Shyamalan and Josh Horowitz. This short film parodied Shyamalan's horror movie Devil and featured Ryan, Josh and M. Night trapped in an elevator together. Furthermore, Ryan Keely enjoyed collaborating on this spoof project and commented in an August 2010 AVN press release that;
"I was humbled, honored and excited to work with Josh Horowitz and M. Night Shyamalan…I don't think I've ever laughed so hard in one afternoon. Making the spoof was an unforgettable experience".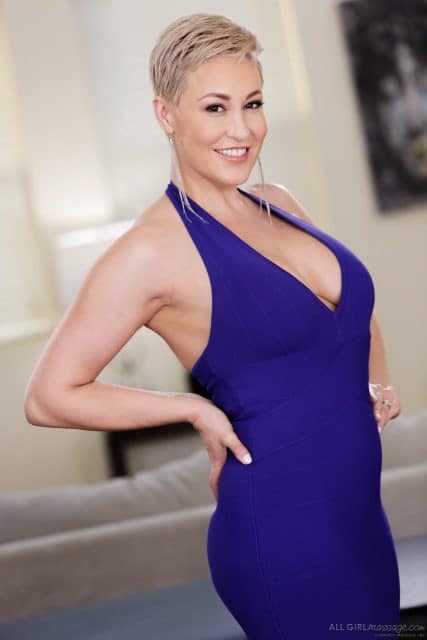 Ryan Keely in Mom Keeps Touching Me – All Girl Massage – Fantasy Massage Galleries
So what's the secret to Ryan Keely's success? Well, when cute cropped hair pornstar Ryan Keely was asked about her career longevity during her August 2011 Rock 'N' Roll Ghost interview, she highlighted how;
"No matter what job have, no matter what industry you work in there's going to be parts of it you don't like.  You take the good with the bad. The one reason I keep working in adult…I was in a taxi cab with Jiz Lee, who is an amazing transgender performer, and we were talking about another performer.  And normally when girls talk about another girl, they're tearing her down.  But in this instance we could think of nothing but nice things to say about that girl. 
And in 95 – 98% of the conversations I have about other women in this industry, it's 'oh my gosh, she's amazing, she's wonderful, I can't wait to work with her.'  And in no other industry do you have that solidarity between women and that much support.  I couldn't work in fashion or any other industry and get that on a daily basis".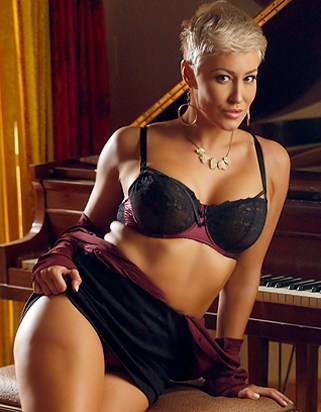 Ryan Keely in Women Loving Girls #3 – New Sensations
Ryan Keely : Hardcore Debut & Recent Releases
Much to the joy of her global fan base, Ryan Keely decided to return to performing in porn in late 2017 and for the first time ever Ryan started shooting hardcore scenes! Ryan's first ever boy/girl scene was a saucy Ryan Keely Contracts A Cock scene with Keiran Lee that was unveiled via Brazzers in January 2018. Since then Ryan has starred in many fan-favorite Brazzers productions including a sizzling Getting Her Happy Ending scene with Jordi El Nino Polla in March 2018, a hot I'm Not A Regular Mom I'm A Cool Mom role-play with Xander Corvus in April 2018 and some scintillating Progress Report and Product Placement In Her Pussy scenes with Johnny Sins that were unveiled via Brazzers in April and July 2018.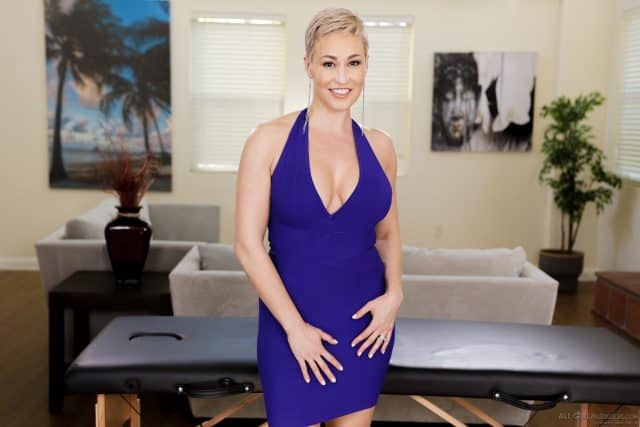 Ryan Keely in Mom Keeps Touching Me – All Girl Massage – Fantasy Massage Galleries
You'll be happy to hear that Ryan Keely continued to star in many hot hardcore scenes. Our top picks? They'd have to be Ryan Keely's compelling Second Parents shoot with Khloe Kapri and Tommy Gunn that was filmed for Bree Mills' Pure Taboo network in May 2018 and her thrilling BDSM three-way with Eliza Jane and Tommy Pistol that was released via Kink.com in July 2018 as part of their Families Tied web series.
Moreover, Ryan Keely shared an intensely alluring Tonight's Girlfriend scene with Mike Mancini in April 2018, she has starred in the 3rd Degree DVD Squirting MILFs (2018) alongside Alexis Fawx, Olivia Austin and Richelle Ryan, and she filmed an incredibly immersive Bird's Ry View virtual reality sex scene that was released via Babe VR in December 2017.
If you loved Ryan Keely's intensely alluring Bird's Ry View VR porn scene then you'll want to check out her VR Bangers World Cup Experience. First launched in June 2018, this World Cup inspired VR tournament showcased Ryan as referee to captivating competitors Lola Fae, Daizy Cooper, Chloe Foster, Alexis Avery, Jane Wilde, Kenzie Reeves, Ember Snow, Zoey Foxx, Alexa Nova, Emily Blacc and Devon Green.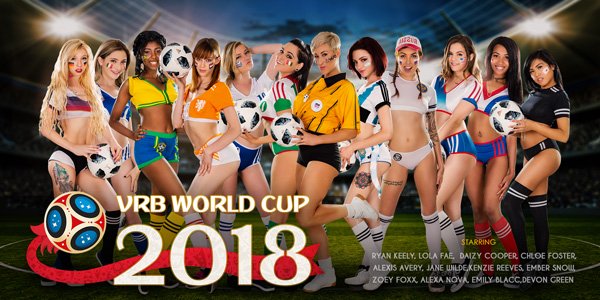 VRB World Cup 2018 – VR Bangers
When she isn't performing in these sensational porn productions, Ryan Keely enjoys performing as a feature dancer at exclusive gentlemen's clubs and interacting with her fans via social media. As Ryan Keely explained during her January 2016 Fleshbot interview;
"Twitter has been a part of my life since 2008. I check it first in the morning and last thing at night. It's where I get my news. Check in on my friends. And hear from all the people that care about me. It's an amazing tool. And it's enabled so many friendships that make my life so much richer. It will always be favorite social media platform".
Wondering what Ryan Keely does in her spare time? Well, beautiful blonde pornstar Ryan Keely revealed within this January 2016 Fleshbot interview that;
"I do a lot of puzzles and LOVE listening to audiobooks. Also naps, I'm really into naps. But Magic the Gathering is my favorite leisure activity. I've been so busy that it's hard to get a group together so I've been fucking with Hearthstone. It's not the same".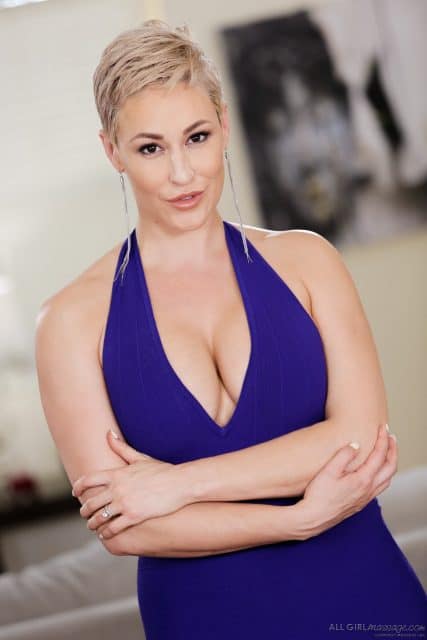 Ryan Keely in Mom Keeps Touching Me – All Girl Massage – Fantasy Massage Galleries
Want to keep yourself updated on all of Ryan Keely's hottest Brazzers, MILFED and Naughty America sex scenes and upcoming projects? Then use the links provided below to stay connected with multi-talented porn superstar Ryan Keely!
Ryan Keely – Social Networks
Twitter : @ryankeely
VR Bangers : Ryan Keely VR Experiences
Babe VR : Ryan Keely – Bird's Ry View VR Scene
Brazzers : Ryan Keely at Brazzers
Girlfriends Films : Ryan Keely at Girlfriends Films
Kink : Ryan Keely BDSM, Femdom & Fetish Content
Naughty America : Ryan Keely at Naughty America
New Sensations : Ryan Keely at Digital Sin/New Sensations
Pure Taboo : Ryan Keely at Pure Taboo
Twistys : Ryan Keely at Twistys
The Nude : Ryan at The Nude
Babepedia : Ryan at Babepedia