Pristine Edge – Personal Info
Name : Pristine Edge / Jane Doux
Date of Birth : October 13th
Hometown : St Louis, Missouri (US)
Measurements : 32D – 24 – 34
Height : 5'3 (1.60m)
Hair Colour : Blonde / Brunette
Eye Colour : Blue
Tattoos : Four small hearts just below her left armpit and three lines of script between her shoulder blades
Piercings : Navel
Shoe Size : Women's 6.5 (US)
Years Active : 2014 – present
Number of Scenes : 50+
Pristine Edge is a stunning adult film star, model and former cam girl who first started performing in porn since 2014. After a two year hiatus, Pristine has resumed her adult film career in 2017 as 'Jane Doux' and she continues to star in a steady stream of popular porn productions which have already earned her a "Best Sex Scene – All-Girl Release" nomination at the 2018 XBIZ Awards.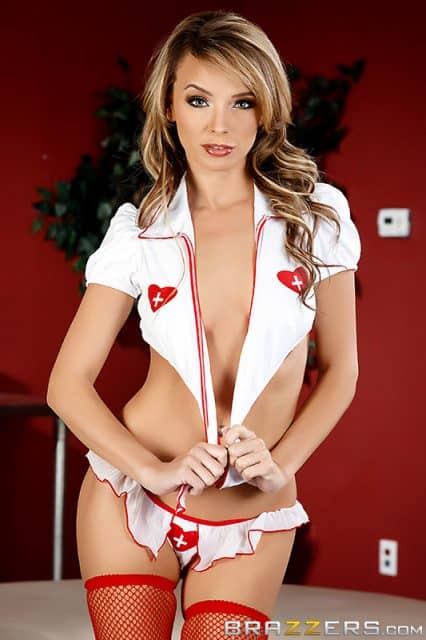 Jane Doux (aka Pristine Edge) at Brazzers
Raised in St Louis, Missouri, Pristine Edge comes from a large family (having a twin sister and a total of 17 siblings!) and has divulged during her February 2018 Ethan's World interview that;
"I do come from a massive family. I fall somewhere in the middle of the hefty group. With such massive age differences, we almost fall into cliques. I have significantly older brothers I've only ever met a handful of times because it's so hard to have everybody in one place at one time. My little sister ratted me out as far as what my job is. (Brat.) It wasn't a secret; she just got to everybody before I did. Obviously, my family wasn't thrilled, but they didn't exactly lash out at me either. We are (mostly) all adults. Our job is to love each other and let one another grow how we want to grow. So I still attend family functions like usual without being an eyesore. I'm also not the blackest sheep of the family, either lol. I guess, what I'm saying is, regardless of my occupation, there isn't much difference as far as our relationship goes".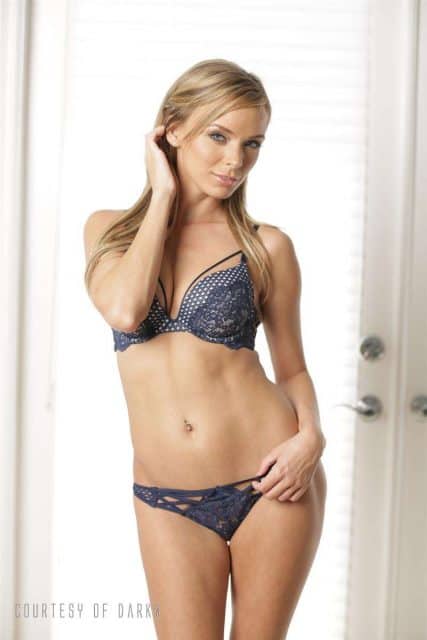 Pristine Edge in Her 1st Interracial – Dark X – Adult Empire Galleries
Pristine Edge first started working in the adult entertainment industry as an exotic dancer and before long she had also started hosting live couples cam shows via Chaturbate. Talking about these early days in her February 2018 Ethan's World interview, Pristine mentioned that;
"Dancing was such a fun job while it lasted. I worked day shift because I preferred the older, more tamed crowd…I adored all the regular day shift customers. I remember telling myself, 'well I didn't make much today, but at least I had fun'…I'm not doing any cam shows at the moment. If I do, it would strictly be on Chaturbate, who I'm pretty loyal to. I'd have to find a guy who can perform and give off the image I'm looking for in a show. It's hard to find the right guy who isn't competing for attention on the show, but, instead compliments the show as needed".
You may be interested to learn that Pristine Edge was first approached to shoot her adult film industry debut when she was 21 years old. Pristine initially declined this offer and did not film her first ever sex scenes until several years later. Pristine explained her reasons for doing so within her February 2018 Ethan's World interview, highlighting how;
"I wasn't interested at the time. I was in a serious relationship. I was a dancer but had never fucked for money. So it wasn't even a consideration. I changed my mind after I cammed. After my camming partner and I were at the end of the relationship, I said, "fuck it!" And I agreed to shoot after a scout found me on social media. I wanted something different, fun, and adventurous. Something that allowed me a lot more freedom".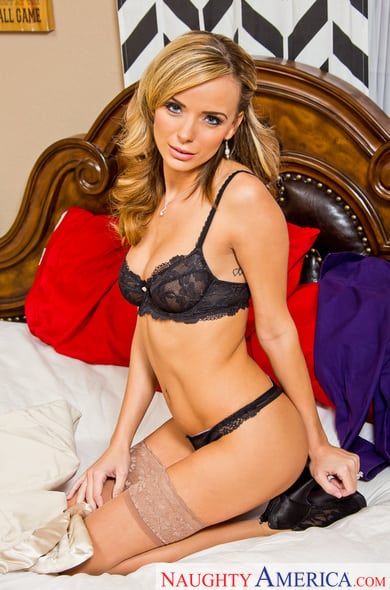 Jane Doux (aka Pristine Edge) at Naughty America
Pristine Edge/Jane Doux : Adult Film Career
Pristine Edge filmed her first ever sex scenes with Tyler Steel for the Reality Kings porn site Cum Fiesta. Titled Pristine Pussy, these saucy scenes were first released via Reality Kings in April 2015. Taking about shooting her porn debut during her February 2018 Ethan's World interview, Pristine revealed that;
"My first scene was Cumfiesta. I really had no idea what I was even doing, to be honest. I'd give anything to erase that one from the internet and redo it (I also want to point out that I am not the one who did my make up for that scene!)".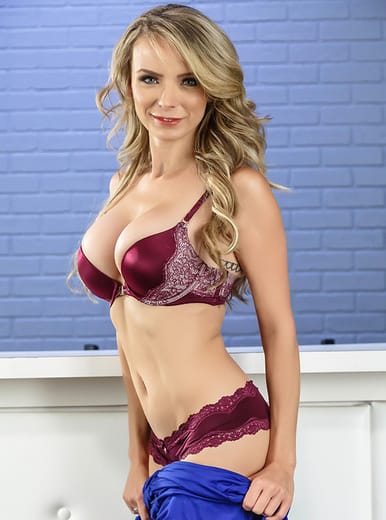 Jane Doux (aka Pristine Edge) at Brazzers
For the first few years of her adult film career Pristine performed under the porn star stage name 'Pristine Edge'. Some of Pristine Edge's earliest porn productions include Art of Romance 4 (2015) for Erotica X, i-Masturbate (2015) for Devil's Film which was nominated for "Best Solo Movie" at the 2016 AVN Awards, Mason's Dark X production Her 1st Interracial (2015) and New Girl In Town 22 (2015) for Immoral Productions which was nominated for "Pro-Am Release of the Year" at the 2017 XBIZ Awards.
Fans of Pristine Edge will also love viewing her saucy shoot with Jenna Sativa in Lesbian Analingus 8 (2015) for Sweetheart Video, her raunchy three-way with Kate England and Mike Adriano in Bangin' Assholes (2015) for Evil Angel, her steamy three-way with Mercedes Carrera and Johnny Castle in the Reality Junkies production Couples Seeking Teens 19 (2015) as well as her immersive The Naughty School Girl solo VR shoot and her Wet Practice role-play with Dillion Harper that were both released via the virtual reality porn site VRBangers.com.
One of Pristine Edge's most popular porn productions has been This Ain't American Horror Story XXX: This Is A Parody (2015) for Hustler Video. Directed by Marc Weston and starring Dahlia Sky, Aiden Ashley, Kira Noir, Penny Brooks, Sarah Vandella and Zoey Monroe, this horror-themed parody release featured Pristine in a raunchy role-play with Sarah Vandella and Ryan Driller and it received a wealth of "Best Parody", "Best Screenplay: Parody", "Best Makeup" and "Best Special Effects" at the 2017 AVN Awards.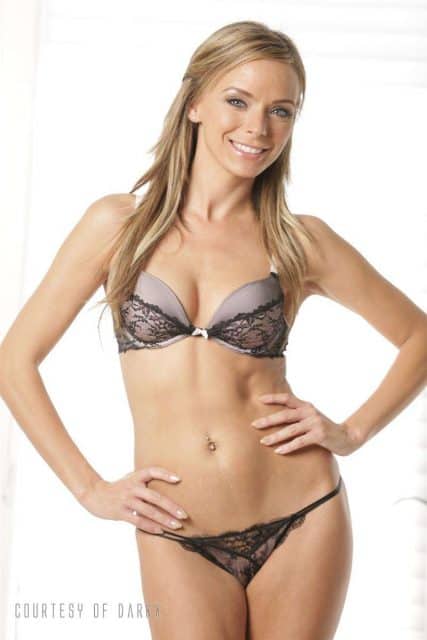 Pristine Edge in Her 1st Interracial – Dark X – Adult Empire Galleries
Pristine Edge took a two year hiatus from performing in porn in 2015 during which time she gave birth to her second child. Much to the joy of her global fan base, Pristine resumed her adult film career in April 2017 with a brand new porn star stage name 'Jane Doux'. Talking about her reasons for changing her porn star persona within an AVN press release, Jane explained that;
"It's a play off of the name Jane Doe…I just wanted a fresh start. I didn't exactly feel I got to shoot content the way I wanted my image portrayed with Pristine".
Jane discussed her adult film industry hiatus in greater detail during her February 2018 Ethan's World interview, elaborating upon how;
"My son's father and I agreed to quit the industry before we got pregnant. Only one of us kept our word (me.) I didn't plan on coming back. I only came back after I realized him and I were sailing on two different ships and mine wasn't going anywhere".
Since resuming her adult film career Jane Doux has appeared in a steady stream of fan-favorite porn productions including Teachers Fuck Teens (2017) for Nubiles Films within which Jane shared a three-way with Jillian Janson and Ryan Ryder, her sultry Tonight's Girlfriend shoot with Ryan McLane that was promoted via Naughty America in November 2017, Melts In Her Mouth (2017) for Twisty's, the 3rd Degree production Interracial Massage 2 (2017) and her Cuckold Sessions shoot with Lexington Steele and Trent Taylor that was released via Dogfart Network in October 2017. Jane enjoyed shooting this Dogfart Network production and commented in an October 2017 AVN press release that;
"This film was particularly fun because I had a hand in creating the plot. After having the option to shoot a mean cuckold vs. a swinger cuckold, I chose the fun route. Being mean in a cuckold scene is easy, and still fun, but making the cuckold fetish appeal to even more viewers was made this scene so worth it. I think my fans who haven't watched many cuckold scenes will really enjoy this one!".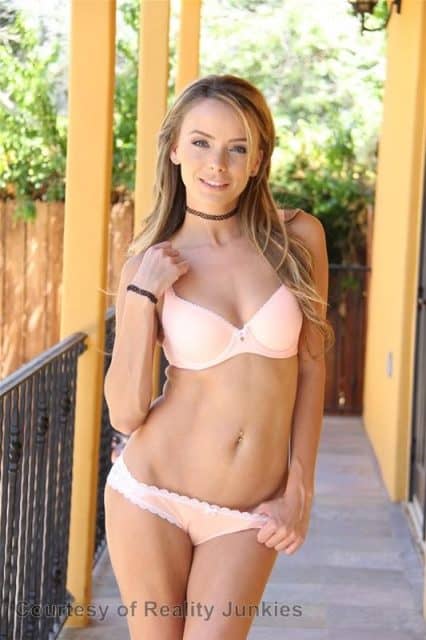 Pristine Edge in Couples Seeking Teens 19 – Reality Junkies – Adult Empire Galleries
During this time Jane began to film a wealth of hot hardcore web clips for Brazzers Network such as her Doing The Rounds medical role-play with Keiran Lee in April 2017 and her Forecasting Several Inches weather girl themed romp with Justin Hunt in September 2017. Jane enjoyed collaborating with Justin on this fun flick and enthused in a September 2017 AVN press release how;
"I always have a great time when I shoot for Brazzers, and this scene was a blast to shoot! The storyline is fun and different, so it made it even more fun. I know my fans are really going to enjoy this scene".
In recent months Jane has starred in the Retromedia Entertainment thriller movie High Heel Homicide (2017) alongside Carter Cruise, Mia Li and Blair Williams as well as starring in the Retromedia Entertainment comedy film Sleeping Beauties (2017) with Sarah Hunter and Aria Alexander. Jane has also appeared in many best-selling Girlfriends Films productions including Lesbian Psychodramas 27 (2017), Cheer Squadovers 24  (2017) and Women Seeking Women 151 (2018) which have enabled Jane to share some sultry scenes with Aali Rousseau, Edyn Blair and Kagney Linn Karter.
Most notably, Jane Doux filmed a saucy shoot with Lena Paul in the Girlfriends Films DVD Please Make Me Lesbian 15 (2017) that was nominated for "Best Sex Scene – All-Girl Release" at the 2018 XBIZ Awards. When Jane was asked about whether she prefers shooting boy/girl or girl/girl scenes within her February 2018 Ethan's World interview, she conveyed how;
"I enjoy different things about each genre. I physically enjoy men better, but with women, we get to create an intimate vibe a bit easier. We get to make it pretty and sensual. With a man, it's a bit more aggressive. (In a good way of course)".
Currently represented by 101 Modeling, Jane Doux continues to star in many best-selling DVDs as well as shooting all manner of exclusive web content and communicating with her fans via social media. Jane discussed her interactions with her loyal international fan following in her February 2018 Ethan's World interview, revealing that;
"I do enjoy interacting with followers. Sometimes, I'm at a loss for what to say to them because I do my best to keep the precious parts of my life separate. I'm also a sucky conversationalist! Lol. I never ever pry into a person's life. I feel uncomfortable even asking a person's occupation. So I'm flattered you see me as a person who communicates well. I feel like I'm lacking in that area lol".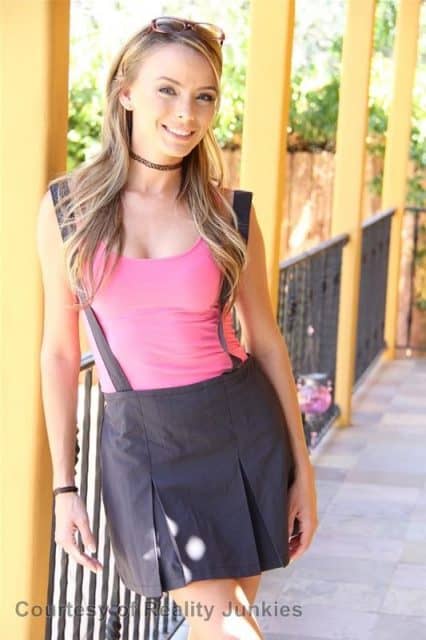 Pristine Edge in Couples Seeking Teens 19 – Reality Junkies – Adult Empire Galleries
Wondering what the future holds for fan-favorite performer Jane Doux aka Pristine Edge? As matters stand, Jane continues to shoot some new adult film content all the while raising and homeschooling her two children. Talking about her day-to-day life during her February 2018 Ethan's World interview, Jane expressed that;
"Motherhood is truly all I ever wanted…Finding a balance isn't all that difficult for me because where I want to be, is home with them. With my job, I get to be home with them most days. Work gets to be secondary. We stay busy though with homeschool and extra-curricular activities…
I know the personal relationship I have with my kids. I know how I speak with them. I recently had a learning experience with my oldest where she lied about something pretty big (I knew she lied), but she came clean on her own. She trusts me and respects me enough that she felt guilty for lying. It went from a very sad moment (knowing that she was lying) to a proud moment (when she later came clean on her own.) Therefore, I know that our relationship will be unharmed when we do discuss my job…
At this point, if she found out, she wouldn't even know what I'd be talking about. One day, when they are old enough to comprehend, then we'll discuss it. There is a time and place for that to happen, but I'm not at all anxious or nervous about it".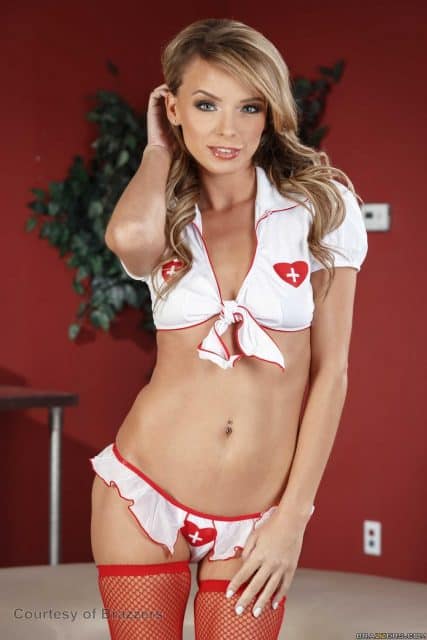 Jane Doux (Pristine Edge) at Brazzers
Want to keep yourself updated on all of Jane Doux's upcoming productions? Or are you eager to rediscover her sauciest sex scenes as 'Pristine Edge'? Not to worry – simply use the links provided below to learn all about Jane's raunchiest releases, latest projects and exclusive web content!
Social Networks
Twitter : @PristineEdgexxx
VR Bangers : Pristine Edge VR Scenes
Brazzers : Jane Douxxx (aka Pristine Edge) at Brazzers
Naughty America : Jane Doux (aka Pristine Edge) at Naughty America
Many Vids : Pristine Edge
IMDB Profile : Pristine Edge Filmography