Twitter : @Jamie_French  Kink Profile : Jamie French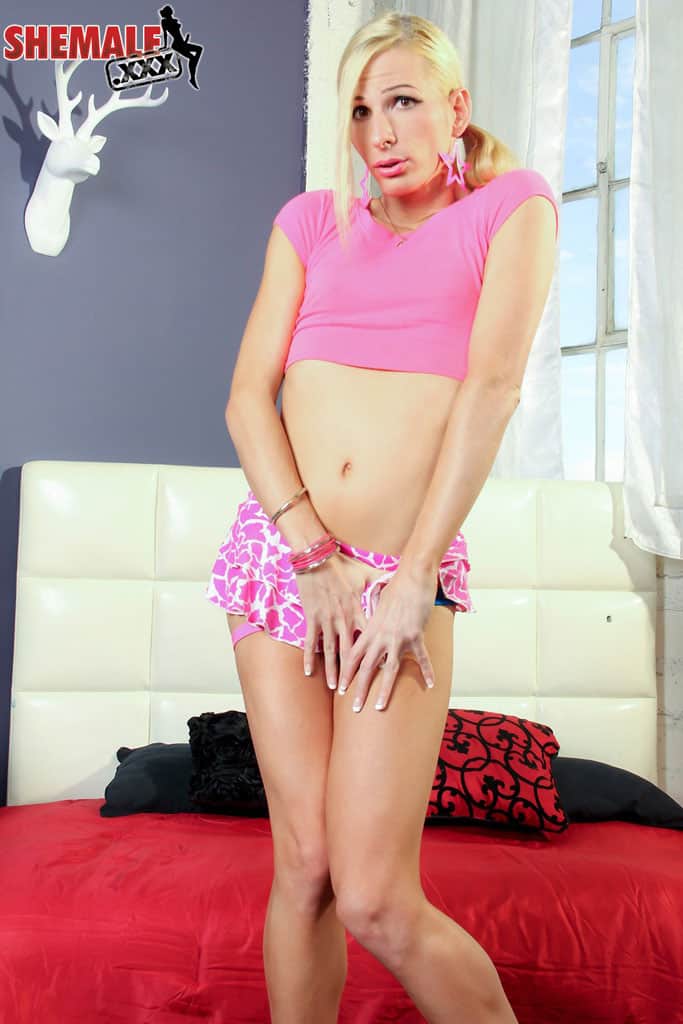 Jamie French at Shemale XXX
Personal Info
Name : Jamie French
Alias : Jamie Coxx
Date of Birth: July 3rd
Home Town : California / Arlington, Texas (US)
Height : 5'9 (1.75m)
Hair Colour : Brunette
Eye Colour : Brown
Years Active : 2006 – present (as a performer) , 2013 – present (as a director)
Number of Scenes : 10+ (as a performer), 2+ (as a director)
Introducing independent transsexual performer and Approximate Podcast presenter Jamie French! Also known for her work under the porn star stage name Jamie Coxx, this hard rock hottie was born in California and raised in Arlington, Texas, since she was 3 years old. Jamie has known since early childhood that she was transgender but conveyed within her December 2014 Adult DVD Talk interview that she did not begin to publicly embrace her true gender identity until she was a teenager;
"There had always been hints here and there from early childhood, but it wasn't until the age of 15 that I became consciously aware that living as a boy was becoming an existential conundrum…I feel like a douche bag writing this but as with anyone else I'm mostly a product of the times I lived in. For me an easy hero was Marylyn Manson. When I first saw photos of him and his band I was immediately attracted to the idea that you could look like anything you wanted and the universe wouldn't punish you for it. You really could look however you wanted if you just had the balls to go out there and do it. Of course these were just people who were wearing costumes in a rock band but I was a part of their prime demographic and their calculated look worked exactly as intended. Unlike most kids around that time, their look didn't just serve as readymade rebellion, rather it acted as a catalyst for something that was ultimately life altering…I don't define my sexuality. I simply do as I see fit at the time".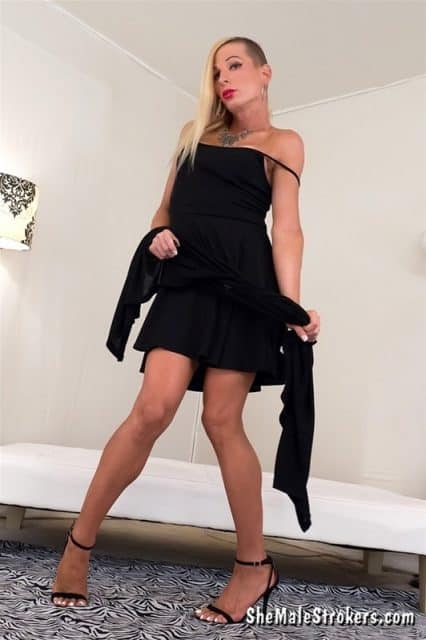 Jamie French at ShemaleStrokers.com
Heavily influenced by metal bands and iconic figures such as Marilyn Manson, Jamie's teenage years were a pivotal time in her life when she began to embrace her gender identity as well as discovering her passion for playing bass guitar. Jamie explained within her September 2011 caramels t-girls interview how;
"Puberty, yes puberty when I became sexually aware and the Ninja Turtles began to seem a little silly…when I was 15 I lied to the only other kid in school who liked Metallica. …Told him that I played the drums. Naturally he played a little guitar and wanted me to join his band. I stalled for a little while and when my birthday came around I asked for a set of drums, as if I could upgrade the package with a side order of talent juice… it didn't matter, dad said no, too loud, you'll play a bass guitar instead. It's like the drums in the same way the an asparagus is like a freeway overpass. Any who, I joined the kids band as a bass player and all was right with the world. At any rate it turns out we were only ever going to learn how to play Enter Sand Man – ad nauseam".
Jamie's father bought her very first bass guitar for her 15th birthday from a music store in Porterville, California, where they were living at the time. Jamie picked out her very first bass guitar and conveyed within her Adult DVD Talk interview how it was love at first sight;
"Not ten minutes after I got it home did I say to myself that this was what I was going to be doing for the rest of my life. Everything I'm known for in my limited circles has sprung from the need to fuel my compulsion to create music".
After discovering her musical talents and practising her passion for bass guitar within a high school band, in 2005 Jamie formed  the hard rock/ thrash metal band Gravity Euphonic with one of her best friends, Eric Hunter. Jamie divulged within her 2011 caramels t-girls interview how forming Gravity Euphonic enabled her and Eric to bring their distinctly different musical tastes together;
"Gravity Euphonic is a band that has been around for 15 years. It was started by one of my best friends, Eric Hunter. It began as a thrash metal band and over time has morphed into a hard rock industrial outfit. I've only recently joined as the new singer and fellow songwriter. Up until that point Eric and I were in separate bands. Our personal taste in music suffers a wide gap but that never stopped us from helping each other out over the years. We were the respective 'gear heads' in our separate bands so we were always over at each other's houses teaching each other the latest home recording techniques, taking guitars apart, all the nerdy stuff that helps keep bands afloat. Well, one come a day when my wanna be 'They Might Be Giants' band fell apart and his singer became too much of a handful because of drugs, alcohol, ego, etc. We were both in a bad place so we decided to put our musical differences aside and join forces. We basically drew a Ven Diagram of our influences and aspirations and put all of our focus on the section that overlapped. Thus: Gravity Euphonic in its current incarnation".
In 2013 Gravity Euphonic disbanded due to family responsibilities on Eric's part. However, out of the ashes Jamie, along with long time collaborator/drummer Orion Quest, formed the pop rock duo This Island Earth and in 2016 they began their very own podcast; The Approximate Podcast.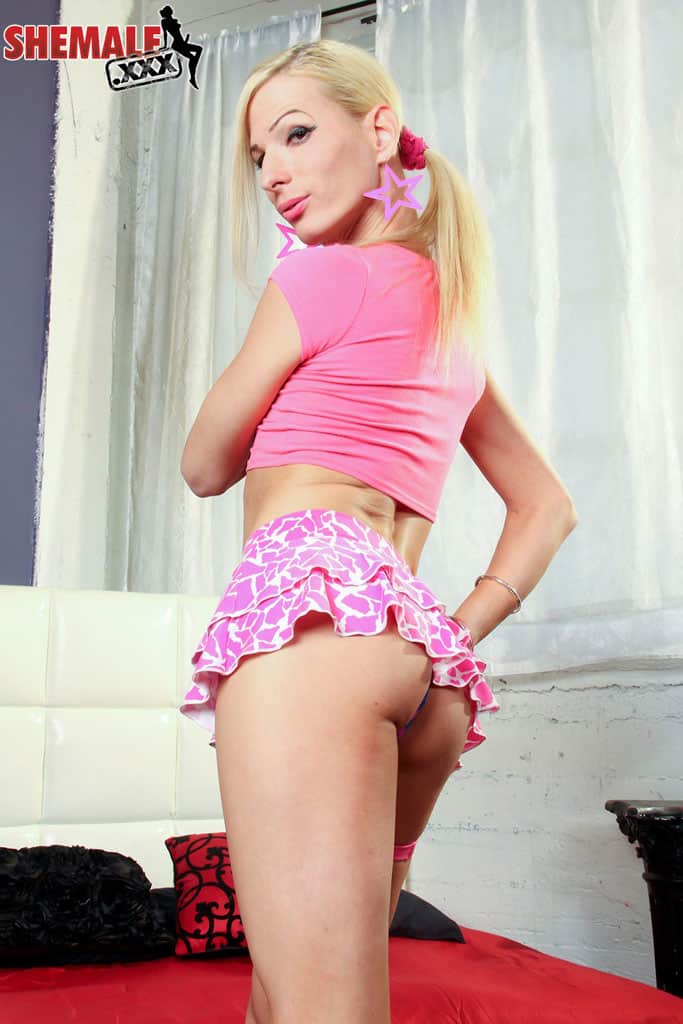 Jamie French at Shemale XXX
Before she embarked upon an adult film career and began living as a transgendered woman on a full-time basis, Jamie performed as a CD/TV model via her independently run and produced website, JamieCoxx.com. Over the years Jamie has expanded her official solo website, now known as tsjamiefrench.com, which is hosted through ManyVids.com.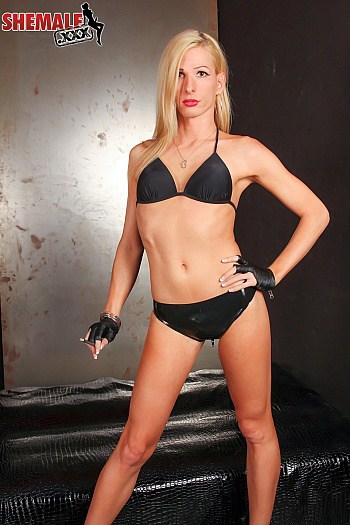 Jamie French at Shemale.XXX
Jamie French : Adult Film Career
Although Jamie officially began her adult film career in the summer of 2006 with a solo sex shoot for the Grooby Productions website Grooby Girls (formerly known as Shemale Yum), she revealed within her caramels t-girls interview that she had previously modelled for the Fetish Ball in Dallas, Texas, in 2000 and 2002;
"There was a 5 year gap between my first modelling experience and the sets I did for Shemale Yum. Ten years ago I was recruited in a well known Goth club to model for the 2000 Fetish Ball in Dallas, TX. I skipped a year and modelled once more for the 2002 Fetish Ball – then kaput, nothin' up until my work for Grooby in 2006".
Jamie has always been incredibly candid upon discussing her porn star career and conveyed within her 2012 Freeones interview how she has been open with her friends and family about her adult film exploits;
"My siblings knew from the outset but it wasn't until mid-2008 that I finally let my mother know what I was up to. I wrote her a letter from Hollywood, CA. explaining everything. It wasn't as hard as I thought it'd be to send that information along and I'm glad I did. My mother has explicit trust in her kid's intellect, moral fiber and decision making skills".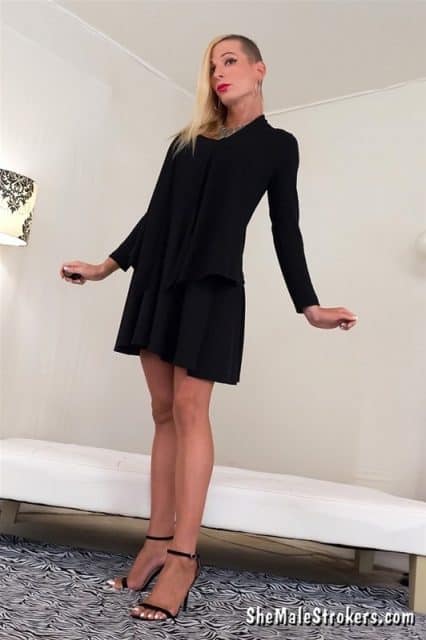 Jamie French at ShemaleStrokers.com
When asked during this Freeones interview about how her adult film career began, Jamie divulged that she stumbled upon her porn star career by happenstance after visiting a webmasters forum;
"I never saw any of this coming, I never had a plan. I was really just screwing around on the Internet one day, stumbled into a webmasters forum and the next thing I know I have a modelling offer, a web site and a small group of people who don't seem to mind slipping me their credit card numbers in trade for these weird little pictures I take. See, for years I was holding down Joe jobs, quite unsuccessfully I might add. The last conventional job I ever had was at a pizza joint where I was hipped to a little website called Craigslist. I suppose you can see where this is going – Once I discovered escorting I spent a good chunk of time kicking my own ass for not getting my start in the business years earlier. Explicit modelling seemed like a natural extension of whoring. I thought it'd make for a nice supplemental income, something to augment the money I was making from my clients – little did I know it would actually wind up replacing the escorting gigs altogether. (well… one or two there every now and then – guitar strings don't buy themselves!)".
As mentioned above, Jamie's first ever adult sex scenes were filmed by Grooby Productions and distributed via their trans-oriented website Grooby Girls (formerly known as Shemale Yum) in the summer of 2006. In order to make her adult film debut Jamie drove over 1200 miles from Dallas, Texas, to Sarasota, Florida. Although Jamie was incredibly nervous about making this trip, and only had a few hundred dollars to her name, making her adult film debut with Grooby Productions proved to be a pivotal moment in her life which kick-started her thriving adult film career.
From the onset of her adult film career Jamie has been an independent performer; producing, editing, directing and performing all manner of soft-core, hard-core and fetish porn content for her official solo website. Jamie is extremely humble about her multi-talented porn star credentials and has attributed a substantial portion of her adult film expertise to Internet searches and online tutorials;
"I give Google searches and YouTube tutorials 90% of the credit for whatever it is I know about video production. Graphic work came naturally as I've always been able to draw at some level of competency that people seem to appreciate. My proficiency at audio production came from nothing more than 20 years of cutting my teeth on old four track recorders, being in countless bands and paying close attention to how sound works within the confines of musical composition".
Jamie's first webmaster with whom she collaborated was Vincent (aka RVince). Jamie discussed meeting Vincent for the first time within her caramels t-girls interview and revealed how;
"Vincent actually found me. A couple of offers were put forth by different webmasters when all of this initially started. Wait – Initially started? That's a bit redundant, sorry it's 4:30 in the morning and I have Young MC's, "Stone Cold Rhymin" turned up a bit too loud. Where was I? Oh yeah… Vincent. Vincent is great! On one hand he knows exactly how to squeeze every bit of profitability out of a website, a number crunching monster who keeps his eye on the ball and plays his cards to his chest. On the other hand… he's from France. (Sorry Vince, I kid the French!)".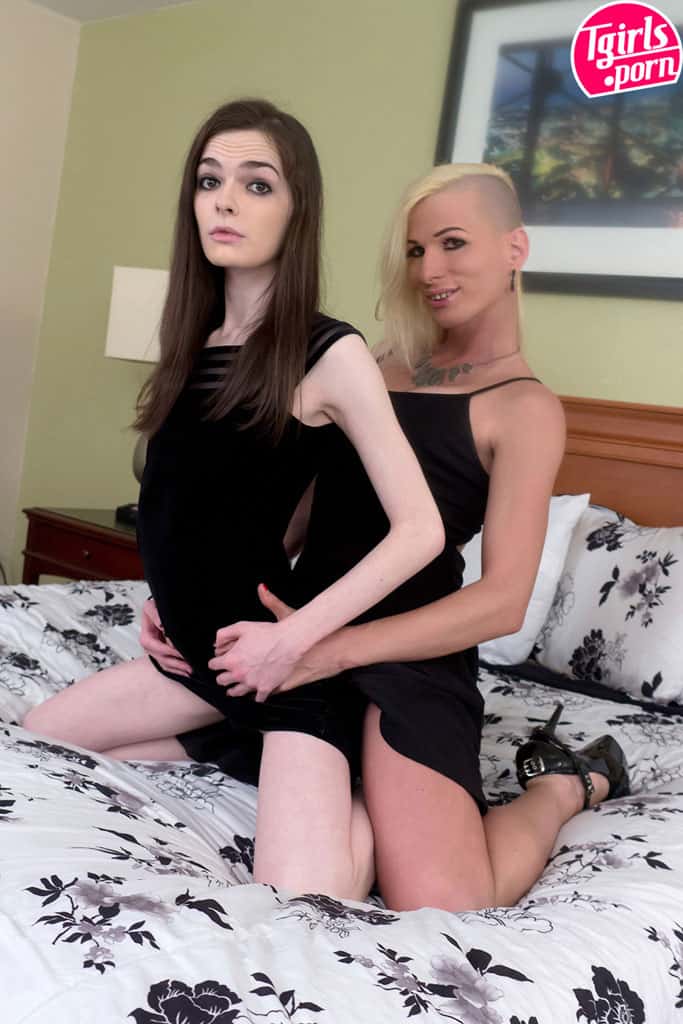 Jamie French at T Girls Porn
Over the years Jamie has amassed a devoted fan following for her diverse array of femdom, BDSM and fetish porn content. As well as the solo, soft-core and hardcore fetish content that she posts onto her official solo website, Jamie has also filmed a variety of raunchy sex scenes with her former partner Eva Cassini for Evil Angel and the fetish porn site Kink.com. When asked about her BDSM content and ardent fetish fan following, Jamie conveyed within her Caramels TGirls interview how;
"In all honesty I cater to foot fetishists, folks who enjoy watching truly submissive types getting the rough treatment, latex enthusiasts, etc. because I enjoy those same things. This in turn makes production a breeze – I know what the customer wants to see and how they want to see it because I'm that same kind of weirdo  – which isn't to say that I stare at my own work all day but I do enjoy the same kinds of websites and movies that my customer base seems to enjoy".
In addition to her adult film projects with Evil Angel, Jamie has collaborated with multiple prominent porn production companies such as Third World Media, Mancini Studios, Pornstar Platinum and Ultima Entertainment. Some of Jamie's most popular DVD feature releases include; American She-Male X 4 (2013) for Joey Silvera Productions with her ex-partner Eva Cassini and fellow transsexual performers Jesse Flores, Chanel Couture and Penny Tyler, her Pornstar Platinum online sex scenes with MILF star Ava Devine in 2013, Bareback Tranny Lovers (2014) for Ultima Entertainment with Danika Dreamz, Roxxy Thornes and Venus Lux, She Male Strokers 64 (2014) for Mancini Studios and Rodnievision also starring Eva Cassini, Kelli Lox, Rebeka Refuse, Chelsea Poe, Hazel Tucker and Cat Tayler, Tranny Ass Fuckers (2014) for Ultima Entertainment with Eva Cassini, and Trans6uals (2015) which Jamie herself directed for Grooby Productions and Third World Media. Performing alongside Eva Cassini, Kelly Klaymour, Birdmountain, Jade Downing and Stefani Special, Trans6uals was a commercial and critical success among Jamie's international fan base and it was subsequently nominated for "Transsexual Release of the Year" at the 2016 XBIZ Awards.
Jamie has since starred within T-Girls Porn 2 (2016) for Grooby Productions alongside rising TS starlets Eva Cassini, CiCi, Vixxen Goddess and Chelsea Marie, as well as within She-Male Perverts 3 (2016) for LeWood Studios with Francesca Le, Stefani Special, Natassia Dreams and River Stark. Over the years these show-stopping foot fetish sex scenes, latex enthusiast video clips and popular TS DVD feature releases have earned Jamie a wealth of adult film award nominations including;
2013: Tranny Awards nominee "Best Alt. Model"
2013: Tranny Awards nominee "Best Solo Website"
2013: Tranny Awards nominee "Best Photographer"
2015: Transgender Erotica Awards winner "Best Solo Website" tsjamiefrench.com
2015: Transgender Erotica Awards winner "Best Scene Producer"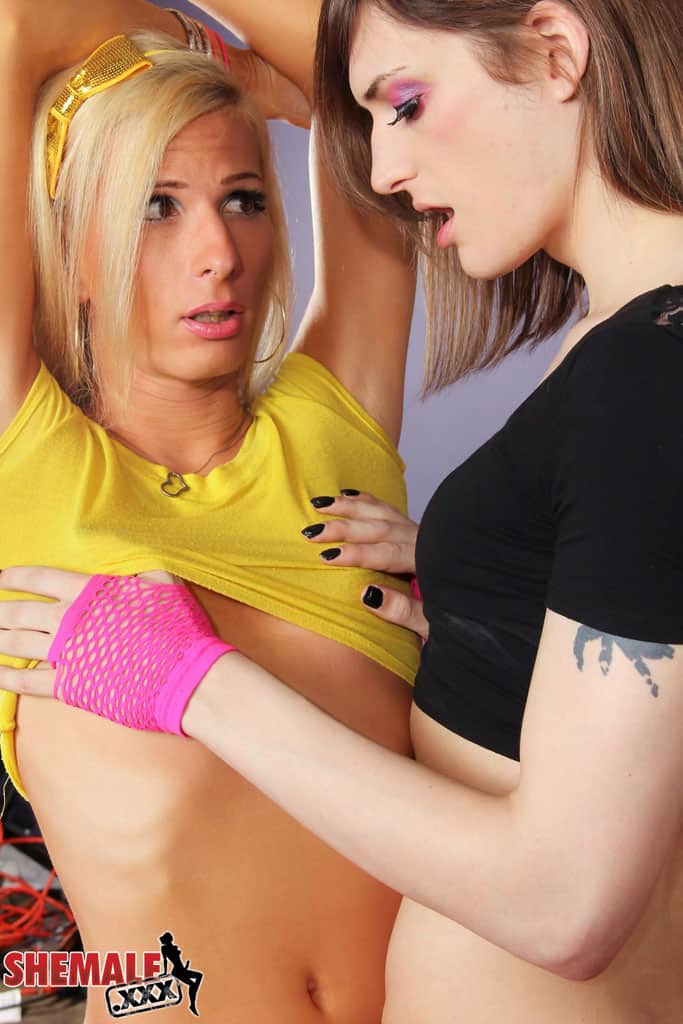 Jamie French at Shemale XXX
Jamie French : Transgender Issues & Upcoming Projects
Although Jamie is an extremely confident musician and porn star, she divulged within her Adult DVD Talk interview how it took her several years to fully embrace her gender identity and embark upon hormone replacement therapy. As Jamie puts it in her own words;
"I was never comfortable with being labelled as a cross dresser/transvestite. Ever. I understand it in hindsight. For too long I stood in my own way. I tried to keep my gender issues at bay in order that I didn't become an inconvenience to my friends and family. This kept me from pursuing HRT, permanent hair removal procedures, surgeries, the whole lot until a relatively late age. I kept my profession private and compartmentalized to the point where coming off as a cross dresser was inevitable. My wardrobe was sparse, largely borrowed or stolen. My makeup skills were stunted, my demeanour was barely honed and my voice… well fuck, that can still be an issue from time to time. These days, the only difference I perceive is a deeper sense of self actualization. It's more honest. It feels as though there is a little more heft to my name/brand than there once was. Ultimately I don't think all that much has changed. My career has been a slow burn since day one and continues in that fashion to this day. My only saving grace is that I simply do not stop. Tenacity is my only effective weapon".
However, when it comes to discussing important issues which impact transgendered performers, Jamie has never been afraid to speak her mind.She currently heads an adult performers advocacy campaign, PerformersSpeakOut.com, which provides a forum for performers to speak out against abuse and harassment in the adult entertainment industry.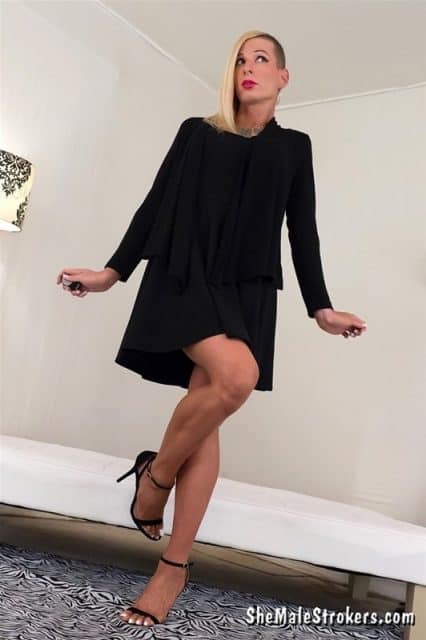 Jamie French at ShemaleStrokers.com
As matters stand, Jamie French remains focused upon managing her own independent website from her home studio, presenting her Approximate Podcast sessions with Orion Quest and Diva Powers, and producing all manner of wild, weird and wonderful fetish porn content! A self-described hermit who only ventures out of her home in Arlington, Texas, for band practice, adult film shoots and social gatherings with her close friends and family, Jamie divulged within her Adult DVD Talk interview that she devotes most of her time towards devising new adult film ideas and expanding her independent porn star platform;
"The double edged sword here is that instead of coming up with new ideas, a lot of the time I find better ways to shoot things I've already done. That's great for practicing technique but a personal let down for someone who wants to cover as many bases possible. It must be said that those bases don't matter for shit if they're shot poorly so, once again, I've found equilibrium in the slow burn here as well…Have a passion that pushes you out of bed every morning. Something that makes you worry and keeps you up at night. Without that, life is wasted on you".
Interested in learning more about Jamie French? Then why not delve into Jamie's extensive porn star portfolio, enlightening podcasts and upcoming live chat sessions by checking out her official social networking channels provided below? From fetish porn productions and BDSM content, to humorous behind-the-scenes interviews and insightful Approximate Podcast conversations on all manner of LGBT, political, sexual health and social issues, browsing through these links will enable you to keep up close and personal with the seductive TS starlet Jamie French!
Social Networks
Official Website : tsjamiefrench.com
Twitter : @Jamie_French
Facebook : tsjamiefrench
Tumblr : official-tsjamiefrench.tumblr.com
Kink Profile : Jamie French BDSM & Femdom Content
Podcast Channel : www.approximatepodcast.com
YouTube Channel : tsjamiefrench
IMDB Profile : Jamie French Filmography