Twitter : @KiraCrashXXX   Chaturbate : sativa_de_sade   GroobyVR : Kira Crash VR Experiences
Personal Info
Name : Kira Crash
Alias : Sativa
Date of Birth: October 31st, 1993
Home Town : Philadelphia, Pennsylvania (US)
Hair Colour : Brunette
Eye Colour : Brown
Years Active : 2014 – present
Number of Scenes : 15+
2017 "Ms. Unique" Transgender Erotica Awards nominee Kira Crash is a stunning TS performer with a loyal fan base and an ever-expanding porn star portfolio. This fresh-faced starlet has attracted an international fan following due to her kinky TwoTgirls.com transbian sex scenes, her captivating webcam modelling sessions via Chaturbate and her scene-stealing performances with multiple best-selling Grooby Productions DVDs.
Kira Crash : Adult Film Career
Born and raised in Philadelphia, Pennsylvania, brunette beauty Kira Crash made her adult film modelling debut in September 2014 when she filmed a saucy solo sex-toy themed shoot for the Grooby Network porn site Grooby Girls (formerly Shemale Yum). Performing under the porn star stage name 'Sativa', Kira's adult film modelling debut was titled Sativa Surrenders To Her Glass Dildo and it was directed by Remy who has also collaborated with Kira on her October 2014 Grooby Girls solo sex scene Sativa In Sexy Satin Gloves.
After a two year adult film industry hiatus, Kira made her triumphant return to Grooby Girls in April 2016 with a solo sex scene titled Kira Crash Gets On The Bed that was filmed by fellow TS star turned director Jamie French. Upon making her return to the adult entertainment industry, Kira announced via Twitter on April 28th, 2016, that she had changed her porn star stage name from 'Sativa' to 'Kira Crash';
"I'm changing my name to Kira Crash. I got great shoots lined up! checkout http://twotgirls.com for my latest work".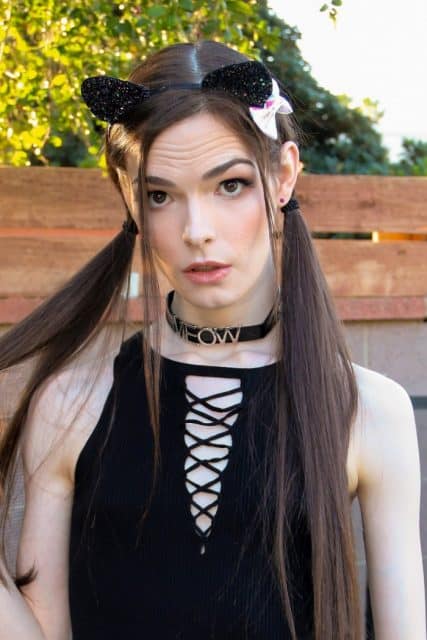 Kira Crash at Grooby VR
Since she resumed her adult film career, Kira has collaborated with Jamie on her first ever transbian sex scene for Tgirls.porn in March 2016 which was titled Jamie French & Sativa and it was filmed by TS star Eva Cassini. Kira and Jamie have since worked together on Kira's July 2016 Grooby Girls solo shoot Sexy Kira Krash Strokes Her Cock! and the Grooby Productions DVD feature release TGirls Porn 2 (2016); both of which were directed by Jamie. Performing in TGirls Porn 2 also enabled Kira to collaborate with famous transsexual performers Chanel Santini, Eva Cassini, Vixxen Goddess, Chelsea Marie, Coco Dahlia, Baby Bratt, Crystal Sopen and Morena Black.
In May 2016 Kira made her ShemaleStrokers.com debut with a raunchy solo sex scene titled Sexy Trans Cow Girl Needs To Be Broken In Hard. This captivating cowgirl cosplay themed shoot received a rave review from adult film blogger TS Caramel who enthused within her CaramelsTGirls.com review that;
"Sativa is where you'll find this beauty on Shemale Strokers, but she's changed her name to Kira Crash since this set was shot. I didn't expect to see her in a ranch outfit, but she works it magnificently. Sativa is an absolute wizard at cosplay. I prefer when she displays her darker side, but it kicks in once she begins to get bukked nekkid…Sexy Trans Cow Girl Needs To Be Broken In Hard on Shemale Strokers is fantastic, but look for Sativa under the name Kira Crash in the future".
Out of all of her porn star performances, Kira has received the most praise for her TwoTgirls.com transbian sex scenes. Kira made her TwoTgirls.com debut in March 2016 with her A Visit To The Nurse medical role-play sex scene and her Learning To Fuck schoolgirl themed sex scene that were both filmed with Mayumi Sparkles.
Kira has filmed a wealth of thrilling transbian sex scenes for this fan-favourite porn site. Among some of Kira's most popular TwoTgirls.com performances include; her Three Cheerleaders, Three Cumshots three-way sex scene in April 2016 with Mayumi Sparkles and Candi McBride, her office role-play sex scene I Need To Get Off with Mayumi Sparkles in May 2016, her kinky cops caper Fuck The Police with Cassidy Chase in June 2016, her saucy Fucked By The Cable Company sex scene with Cassidy Chase in July 2016, and her sizzling schoolgirl themed sex scene Band Nerd Student Gets Banged By Teacher in August 2016 that she filmed with Ms Sydney Farron; the list goes on!
Some of Kira's most recent TwoTgirls.com collaborations include her Fucking The Fitness Trainer and My What A Big Cock You Have! sex scenes that were both filmed in October 2016 with Lena Kelly, her three-way festive frolic A Christmas Fuck Machine Story  which she filmed alongside Ms Sydney Farron and Mackenzie Rae in December 2016, her sizzling DMV Tgirl Fucks Customer sex scene with Mackenzie Rae in December and most recently her raunchy sex scene Fucked By GameSwap with Sydney Farron that was first distributed at the end of December 2016. Kira loves filming these types of kinky sex scenes because they enable her to experiment with a wide range of cosplay quirks, fetish porn and BDSM content. After all, as Kira herself states via her Grooby Girls profile;
"I have quite the vigorous sexual appetite. My favorite thing to do is eat ass, and I am very into the BDSM and fetish world. Submission is a huge turn on, and making my subs cater to my every desire touches a special place in my sexual being".
In addition to her fan-favourite online sex scenes and popular TS DVD titles, Kira continues to host regular live chat sessions with her international fan following via the adult-cam site Chaturbate. Performing under the profile 'Sativa de Sade', Kira loves hosting these public and private live chat sessions because they enable her to remain intimate with her devoted fan following.
In the months that followed, Kira teamed up with award-winning TS stars Jamie French, Natalie Mars, Korra Del Rio, Shiri, Sarah Webb in order to film the Grooby Productions DVD sequel release Trans6uals 2 (2017). Directed by Jamie French, Trans6uals 2 was officially debuted at the premiere screening for the award-winning Grooby Productions TS DVD title Real Fucking Girls (2016) and its raunchy teaser trailer showcased these rising TS starlets in what promises to be a marathon group transbian sex scene! Jamie French enthused about collaborating with Kira and her fellow TS starlets within a January 2017 XBIZ News press release for Trans6uals 2, highlighting how;

"Trans6uals II is a testament to professional ambition, hard work, a shared vision and newly forged friendships…With a limited budget and minimal resources, we were able to get six unique personalities to work together in perfect concert over the course of four days — all whilst having a total blast on set and off…I'm very happy with the end result and would like to thank everyone who helped to make 'Tran6uals II' such an amazing experience. I'm sure our audience will absolutely love it".
Grooby Productions CEO Steven Grooby was similarly enthusiastic about the official launch of Trans6uals 2 within this January 2017 XBIZ News press release and he mentioned that;
"It's not hyperbole to say that the first 'Trans6uals' was groundbreaking in its concept, and although the sequel follows the same format, it's no less exciting…I believe this has been the most anticipated release of the last 12 months, with many fans contacting us via social network or directly since the cast was released in mid-2016…This DVD has brought together some of the cutest, hottest and most sought after trans performers and all shot beautifully, tastefully and very erotically. Fans of trans girls with trans girls will love this DVD and the unique style and humor which Jamie French delivers to us in 'Trans6uals II,' demonstrating her as one of the only auteurs in TS filmmaking today".
Due to her show-stopping online sex scenes and her sizzling DVD feature release performances, Kira was nominated for the coveted title of "Ms. Unique" at the upcoming 2017 Transgender Erotica Awards. There's just no stopping this rising TS starlet!
You can keep yourself updated regarding Kira Crash's latest adult film projects by visiting her official social networking channels online today. From checking out her new and exciting DVD feature releases, to viewing her captivating web content and chatting with the stunning TS starlet herself via one of her live chat sessions, in just a few quick clicks you can ensure you don't miss one moment of Kira Crash's phenomenal porn star career!
Social Networks
Twitter : @KiraCrashXXX
Chaturbate Profile : sativa_de_sade

Grooby VR : Kira Crash VR Experiences
Grooby Girls : Kira Crash at Grooby Girls
Tgirls.porn : Kira Crash at TGirls.porn
Two T Girls : Kira Crash at Two T Girls
IMDB Profile : Kira Crash Filmography