Website : LenaKellyXXX.com   Twitter : @LenaKellyXXX  Grooby VR : Lena Kelly VR Experiences  Chaturbate : pinkyroader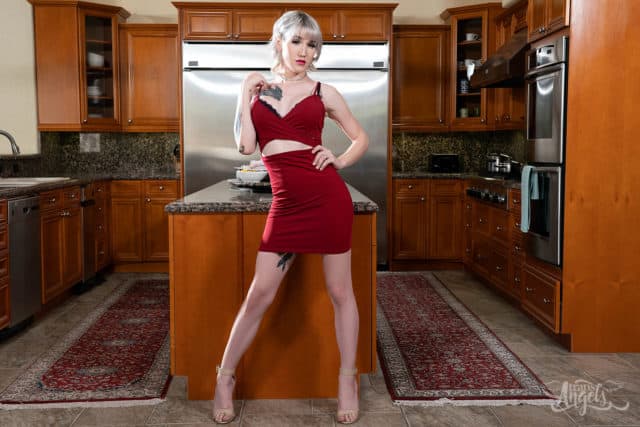 Lena Kelly in Stuffing Her Turkey – Trans Angels
Personal Info
Name : Lena Kelly
Alias : Pinky Roader
Date of Birth : April 5th, 1996
Home Town : New York City, New York(US)
Hair Colour : Brunette / Blonde
Eye Colour : Brown
Height : 5'7 (1.70m)
Tattoos : Black feathers designs on the back of her right and left thighs, a black feather design above her right breast, a floral design on the right side of her lower abdomen, a symbol on her right finger, a black cat design on the back of her upper right arm and a multi-coloured sleeve on her upper right arm and right forearm
Years Active : 2016 – present
Number of Scenes : 10+
Lena Kelly is a stunning rising TS starlet who has taken the adult entertainment industry by storm ever since she filmed her first solo sex shoot in September 2016. Recently named "Gender X Model of the Year" and "Best Self-Producer" at the 2019 Transgender Erotica Awards, Lena's career looks stronger than ever.
So where did it all begin? Born and raised in New York City, New York, Lena often refers to herself as an 'Irish Princess' and she first began working within the adult entertainment industry as a webcam model. In no time at all Lena had begun to garner an devoted fan following due to her captivating public and private live chat sessions that she performed under the stage name 'Pinky Roader' for the popular adult-cam site Chaturbate.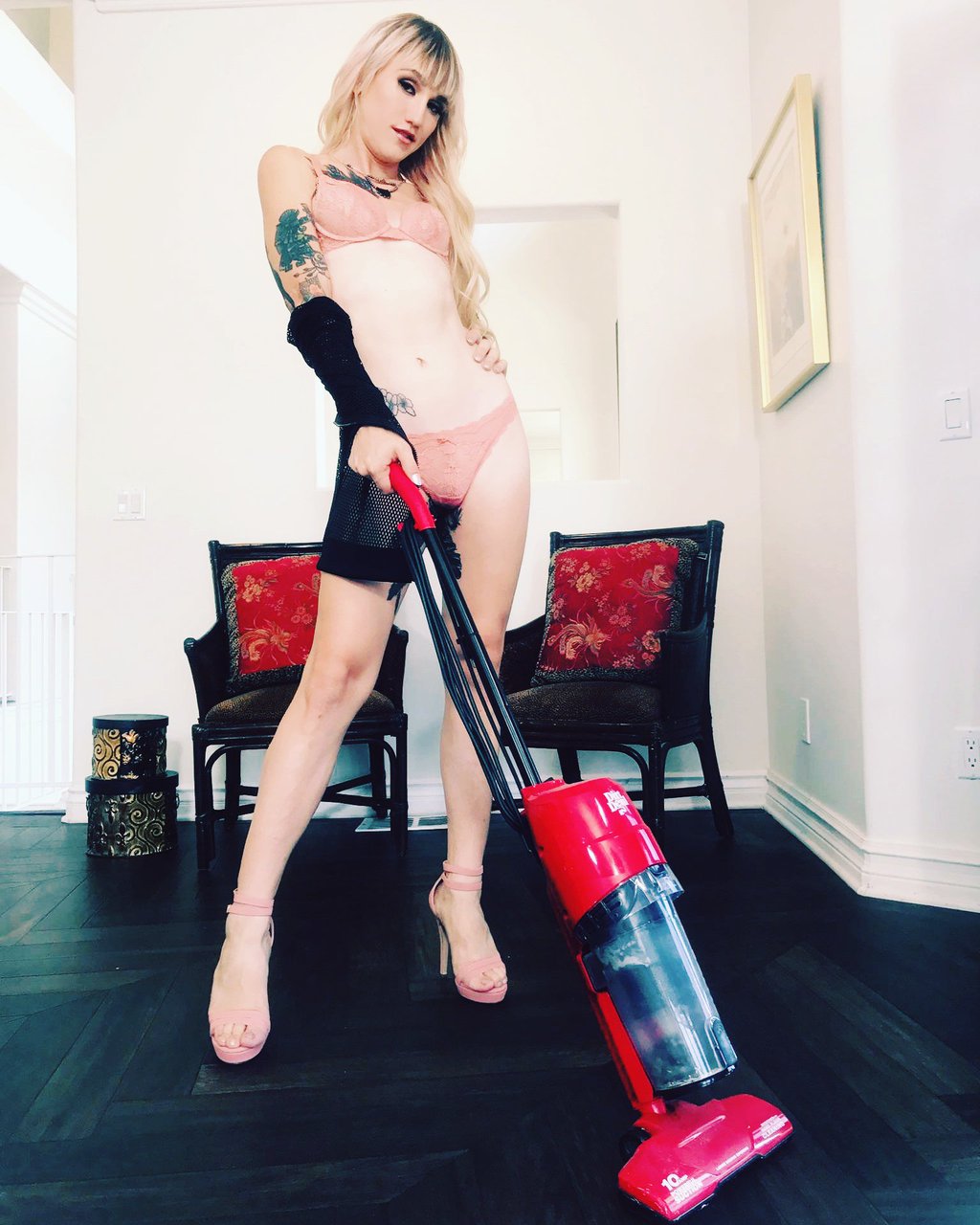 Lena Kelly : Adult Film Career
After honing her modelling skills via Chaturbate, in September 2016 Lena decided that she wanted to pursue a career as a porn star and she was soon booked to perform for the Grooby Network porn site Grooby Girls. Lena made her adult film modelling debut on Grooby Girls in September 2016 with two saucy solo shoots titled Meet Naughty Tattooed Angel Lena Kelly! and Sexy Lena Kelly Jacks Off And Cums! which were both filmed by the famous porn star cinematographer Radius Dark. Lena and Radius Dark also collaborated on her Lena Kelly Enjoys A Good Fuck! hardcore sex scenes that she filmed with male porn star Rick for Grooby Girls in October 2016.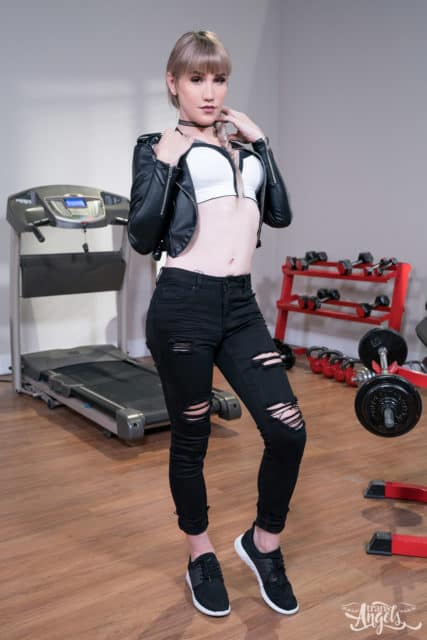 Lena Kelly in A Hardcore Workout – Trans Angels
During this time Lena also filmed two saucy transbian sex scenes for Mayumi Sparkles' popular porn site TwoTGirls.com alongside stunning TS starlet Kira Crash. This devilish duo filmed a fun fitness frolic titled Fucking The Fitness Trainer and a Halloween special titled My What A Big Cock You Have! that showcased Lena in a sultry red riding hood cosplay and Kira Crash in a raunchy big bad wolf cosplay.
Lena has also filmed some terrific transbian sex scenes for the Grooby Network porn site TGirls.porn. To date, Lena has filmed with rising TS starlet Natalie Mars for TGirls.porn in October 2016 and with Casey Kisses for TGirls.porn in November 2016. Adult film blogger TS Caramel praised Lena's performance with Natalie during her online review and suggested that Lena has what it takes to become one of the transsexual porn industry's most successful performers;
"Watching Lena bottom is always a tremendous pleasure. She's newer to the porn world than her partner here, but she's rising to the top of the trans porn niche very quickly. I see nothing keeping her from going straight to the top just like Natalie did. I was expecting a virtually flawless bareback performance with this TGirls.Porn performance and that's exactly what I got".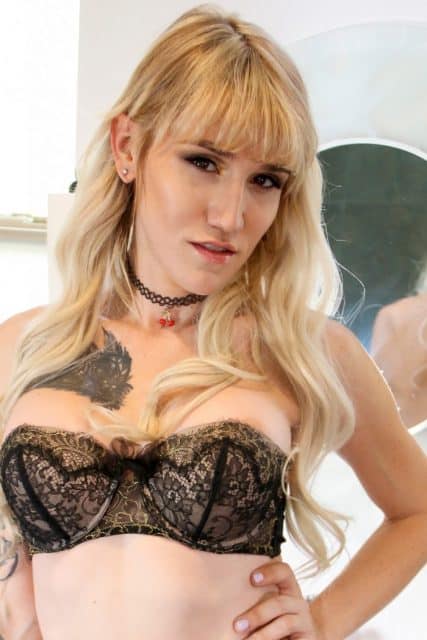 Lena Kelly at Grooby VR
During this time Lena began to film some captivating web content for Bob's TGirls in October and November 2016 including her saucy Taming Willy sex scene that has just been nominated for "Best Scene" at the 2017 Transgender Erotica Awards. Lena has also filmed a hardcore sex scene titled Lena Kelly Is Sexy And She Knows It with male porn star Christian XXX in October 2016 for his trans-friendly porn site Pure-TS.com and featured within the CX WOW Studios DVD title Up And Cumming TS Starlets (2016) alongside Bailey Love, Marissa Minx and Mackenzie Rae. Lena has also collaborated with award winning director Buddy Wood for his trans-friendly porn site ts-castingcouch.com in November 2016 with a saucy solo sex scene titled Stunning Lena Kelly Brought A Buttplug!. Buddy praised Lena's originality during this interview themed solo sex shoot and conveyed how;
"Lena is a girl straight from NYC. A very cool chick…She had a big surprise for me on this audition. During the entire interview she had a butt-plug stuck up her ass. When she strips she finally reveals it. Obviously a very fun girl. Already making a name for herself in the Vegas porn scene".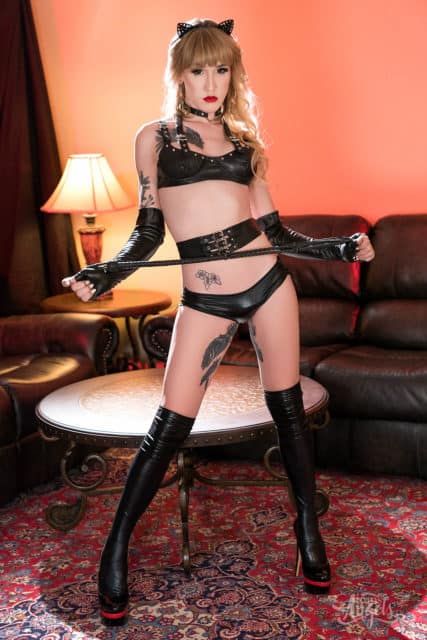 Lena Kelly in Midnight Pussy – Trans Angels
In fact, Lena had such a successful first six months within the adult entertainment industry that she was nominated for "Best New Face" and "Best Scene" at the 2017 Transgender Erotica Awards!
Throughout 2017 Lena has continued to star within a steady stream of best-selling DVD titles among which include including Aiden Starr's Evil Angel DVD sequel release Hot For Transsexuals 4 (2017) within which Lena was featured alongside Casey Kisses, Natassia Dreams and Sofia Sanders, as well as TS Gangbang Auditions (2017) for Gender X that showcased Lena and fellow famous TS star Chanel Santini in some epic orgies with Chad Diamond, Damian Thorne, Gabriel D'Alessandro, Jonah Marx, Julian Blanc Pierce Paris and Rick Fantana.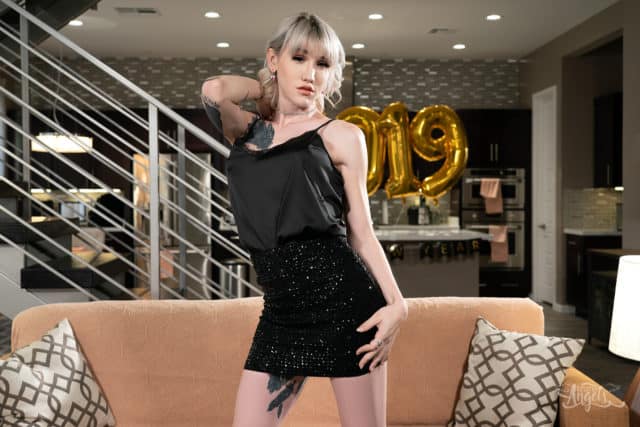 Lena Kelly in When The Cock Strikes Midnight – Trans Angels
Fans of Lena Kelly will also love viewing Transsexual Eye Candy (2017) for Trans 500 Studios starring Mariana De Castro, Alisson Marique and Nicolly Navarro, Transsexual Girlfriend Experience 5 (2017) for Devil's Film for which Lena filmed a hot hardcore scene with Chad Diamond and Joey Silvera's Evil Angel sequel release TS Factor 9 (2017) within which Lena shared a thrilling transbian scene with Honey Foxxx. Many of Lena's hottest hardcore web clips have also been showcased within the Grooby Presents DVD compilation title Trans On BBC (2017) starring famous TS performers Miran, Alisia Rae, Nikki Vicious and Joss Amor. In recent months, Lena has filmed a sizzling Pursued, Screwed and Tattooed scene with Pierce Paris that was uploaded via the popular porn site Trans Angels in July 2017. Not to be missed!
Just when you thought it couldn't get any better, Lena has just launched her official solo website, LenaKellyXXX.com, in collaboration with the TransErotica Network. Eager to explore all of Lena Kelly's compelling web content? Then use the links provided below to stay connected with your dream TS starlet Lena Kelly!
Social Networks
Official Website : LenaKellyXXX.com
Twitter : @LenaKellyXXX
Grooby VR : Lena Kelly VR Experiences
Grooby Girls : Lena Kelly at Grooby Girls

Trans Angels : Lena Kelly at Trans Angels
TGirls.porn : Lena Kelly at TGirls Porn
TS-Casting Couch: Lena Kelly at TS-CastingCouch.com
Bob's TGirls : Lena Kelly at Bob's TGirls
Chaturbate Cam Profile : pinkyroader