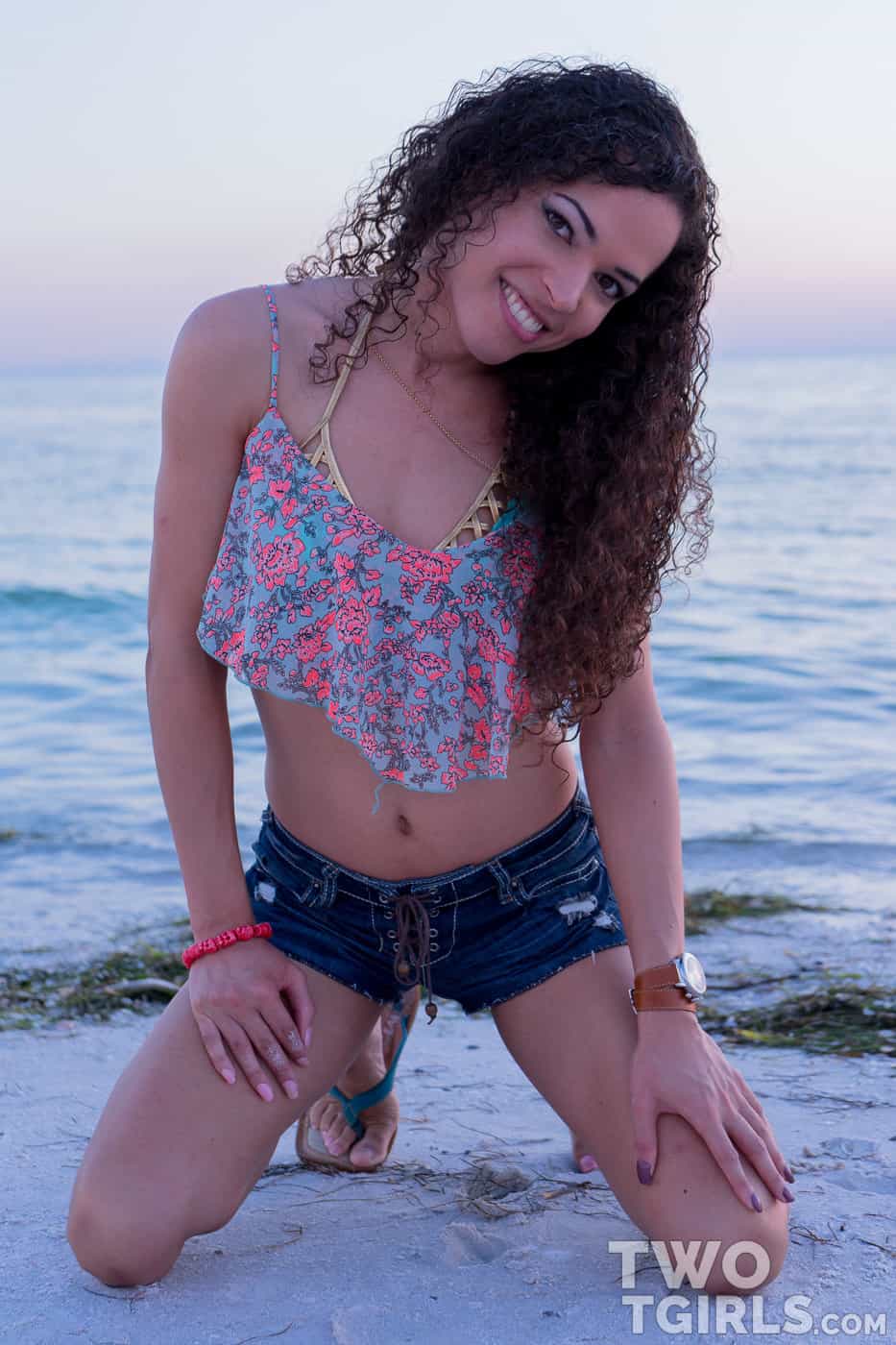 Sydney Farron in Bikini Beach Babes Bang – Two Tgirls
Sydney Farron – Personal Info
Name : Sydney Farron
Hometown : Jacksonville, Florida (US)
Date of Birth : April 10th
Star Sign : Aries
Measurements : 34A – 28 – 34
Height :  5'8 (1.73m)
Hair Colour : Brunette
Eye Colour : Brown
Shoe Size : Women's 9.5 (US)
Years Active : 2015 – present
Number of Scenes : 10+
Sydney Farron is a multi-talented porn star, cam model, producer and director who is famous for her Two TGirls collaborations and sultry TGirls.XXX solo scenes. Since making her industry debut in 2015, Sydney has amassed a dedicated global fan following and she was nominated for "Best Girl/Girl Scene" at the 2019 Transgender Erotica Awards.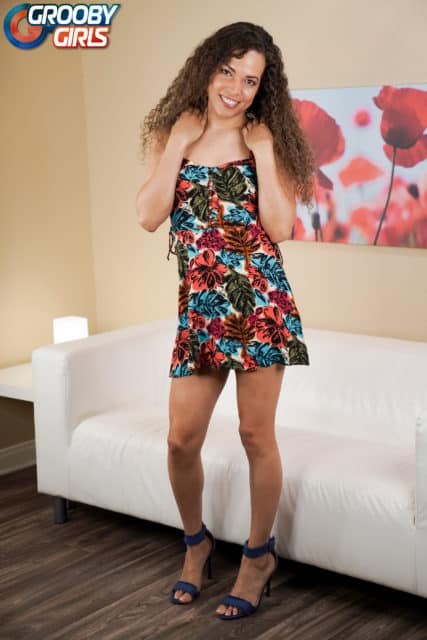 Cumshot Monday: Sydney Farron! – Grooby Girls
So where did it all begin? Born and raised in Jacksonville, Florida, Sydney Farron's official Grooby Girls profile mentions that;

"She likes to dress slutty and they do house parties ending up naked in the pool, sounds like a whole lot of fun, she is also actively involved in the DOM scene and likes to role play and reverse roles".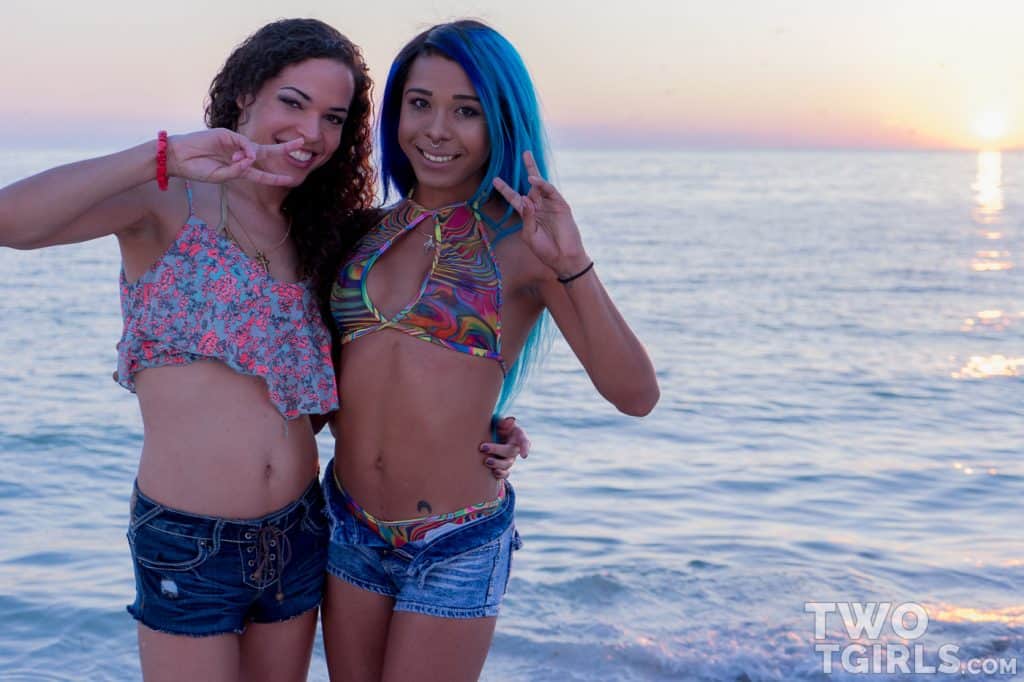 Sydney Farron and Mara Nova in Bikini Beach Babes Bang – Two TGirls

Sydney Farron : Adult Film Career
Sydney Farron made her official adult film modelling debut in June 2015 when she filmed a stunning Sexy Sydney Farron In A Black Corset solo scene for the Grooby Network porn site Grooby Girls. Filmed by prominent photographer Jack Flash, Sydney's solo debut was a instant hit among fans and she was named as Grooby Girls' "Model of the Month" for July 2015.
Motivated by her successful industry debut, Sydney continued to collaborate with Jack Flash on some sensational Grooby Girls scenes. We recommend checking out Sydney's glamorous Sydney Fucks Her Tight Ass solo shoot in August 2015 and her raunchy Sydney Farron & Fernando Jack Off! hardcore scene that was uploaded via Grooby Girls in January 2016. This hot hardcore shoot was also promoted via the Grooby Network porn site TGirl Pornstar in May 2016. Not to be missed!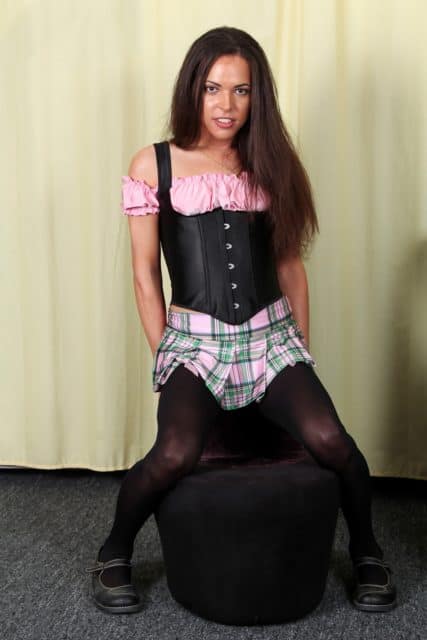 Sydney Farron at TGirl Pornstar
From May 2016 onward, Sydney started shooting some terrific sex scenes for the fan-favorite porn site TwoTGirls.com. Sydney's first ever Two TGirls shoot was a raunchy A Date With The Babysitter role-play with Mayumi Sparkles that was uploaded via TwoTGirls.com May 2016. Fans of Sydney Farron's hot hardcore collaborations will also love watching her sizzling Band Nerd Student Gets Banged By Teacher femdom scene with Kira Crash in August 2016, her kinky A Game Of Cumshots three-way with Kira Crash and Jenny Flowers in August 2016, her saucy The Real Estate Agent Fucked My Girlfriend shoot with Casey Kisses in September 2016 and her brilliant Bikini Beach Babes Bang and Schoolgirl Fucked On Principal's Desk scenes with Mara Nova which were released via Two Tgirls in September and October 2016. Must see sex scenes for Sydney Farron fans!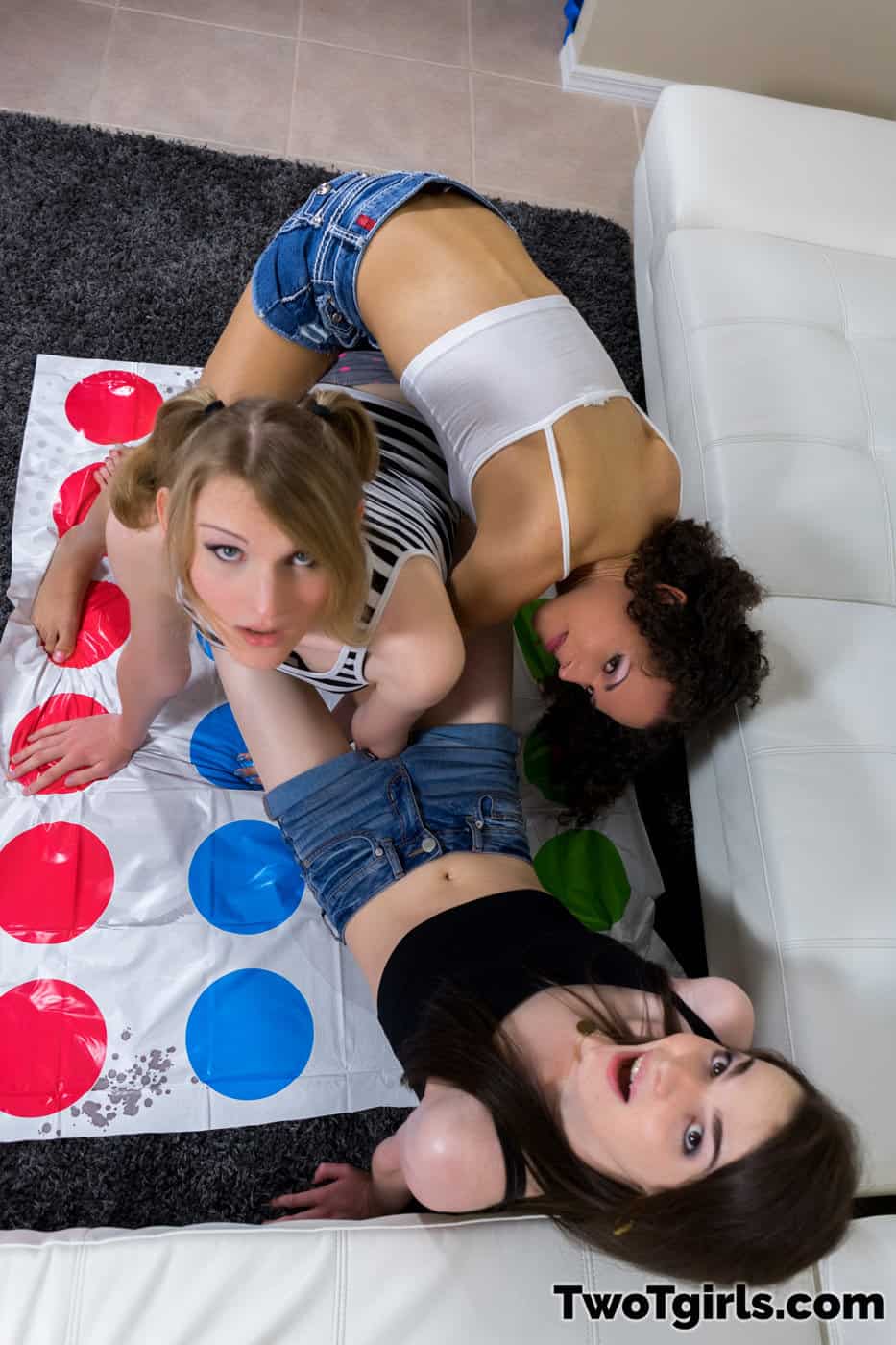 Jenny Flowers, Sydney Farron and Kira Crash in A Game Of Cumshots – Two Tgirls
Can't get enough of Sydney Farron's sensational Two Tgirls scenes? Then you have to check out her raunchy A Christmas Fuck Machine Story festive three-way with sexy TS porn stars Kira Crash and Mackenzie Rae in December 2016 and her subsequent Fucked By Gameswap shoot with Kira Crash that was also unveiled via TwoTGirls.com in December 2016. Most recently, Sydney has shared some kinky A Game Of Strip Poker and Fine Art, Fine Ass scenes with Chloe Wilcox that were both promoted via Two TGirls in April 2017.
Hold on, it gets even better. Many of Sydney's hottest sex scenes have been showcased in the Two TGirls DVD compilation title TGirl Schoolgirls #1 (2017), Two TGirls #2 (2017) that was nominated for "Trans Release of the Year" at the 2018 XBIZ Awards and Two TGirls #4 (2017) which features Sydney on its box cover alongside her co-star Chloe Wilcox.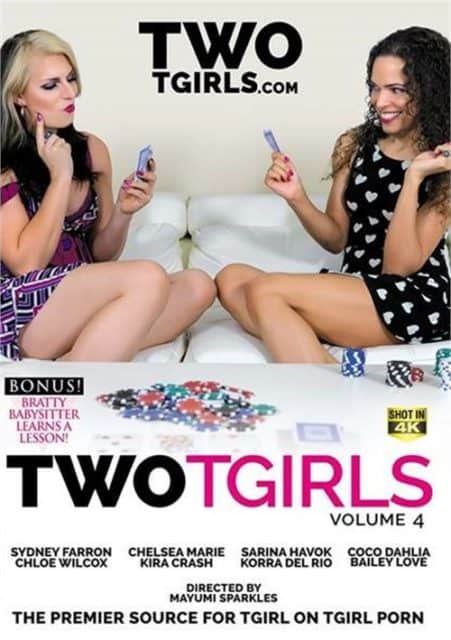 Chloe Wilcox and Sydney Farron in Two TGirls #4 (2017) – Two Tgirls
In February 2017 gorgeous Grooby Girl Sydney Farron collaborated once again with Jack Flash on a trio of sizzling scenes for TGirls.XXX. You'll love watching her saucy Sydney's Nasty Playtime! solo scene, her steamy Sydney's Intimate Solo Play! shoot and her titillating Sydney Is Having Quite A Ride! hardcore scene that was also featured in the Grooby DVD SM XXX: Florida Road Trip #6 (2017). As well as her ongoing collaborations with Jack Flash, Sydney worked with award-winning cinematographer Radius Dark on some scintillating scenes for Tgirls.porn. We recommend viewing Sydney's steamy scene with Natalie Mars in April 2017 and her sensational scene with Chanel Noir in May 2018 that was nominated for "Best Girl/Girl Scene" at the 2019 Transgender Erotica Awards. As the scene description hotly hints;
"Here's a dream pairing guaranteed to make your mouth water. Chanel Noir and Sydney Farron are two of the hottest products in the biz today – both absolute stunners and superstars in their own right, we've pulled out the stops to get them together and under our lights for a blockbuster, all-girl romp here on TGirls.Porn. Truly unmissable….".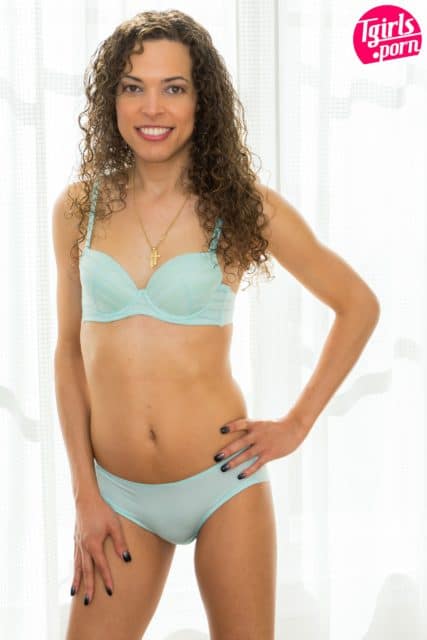 Sydney Farron at Tgirls Porn
Never one to rest on her laurels, Sydney Farron also filmed some sultry solo scenes for the SMC Network porn site SMClub in March 2017 and April 2017. If you love sampling these sizzling solo shoots then you'll be happy to hear that Sydney has since shot a series of stunning solo scenes for Bob's TGirls including Sydney Farron – Cum & Sleep, Sydney Farron – Friendly Assistance, Sydney – Glass Fun and Sydney Farron – Glass Dildo Fun as well as treating her fans to an exclusive behind-the-scenes interview!
What's more, in April 2017 Sydney Farron made her triumphant return to Grooby Girls in order to shoot some scintillating solo scenes with award-winning director Buddy Wood. Fans of Sydney's spectacular solo shoots have to check out her alluring Gorgeous Sydney Farron! and Sydney Farron Cums Hard! scenes that were unveiled via Grooby Girls in April 2017 and May 2017. You'll also love viewing her mesmerizing Cumshot Monday: Sydney Farron! solo scene which was shot by Radius Dark for Grooby Girls in May 2018. As the scene description hotly hints;
"Gorgeous Sydney Farron has been with us for years (she made her debut in 2015) and over the time she became a true star! Every time Sydney returns, she is more and more beautiful! Today, Sydney is back right on time to kick off another Grooby week by making her debut in our 'Cumshot Monday' exclusive series! Looking gorgeous as always, Sydney can't wait to have some fun for the camera! Watch her as she strips, shows off her smoking hot body and strokes her cock until she cums in another amazing scene produced by Radius Dark! Sydney is stunning!".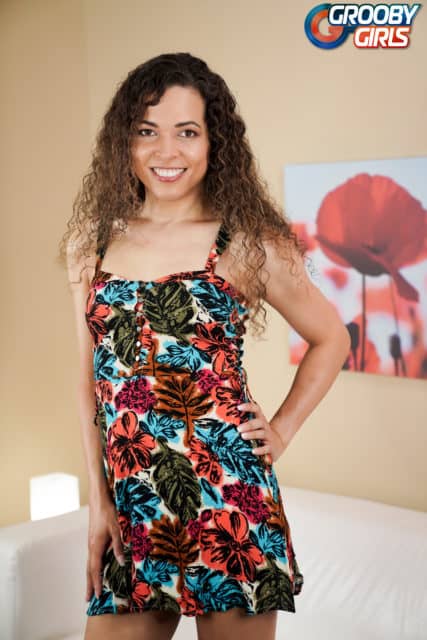 Cumshot Monday: Sydney Farron! – Grooby Girls
Ever eager to explore new career avenues, Sydney Farron has launched her own website SydneysTgirls.com. Sydney produces, directs and stars in a wealth of compelling scenes for SydneysTgirls.com alongside sexy TS porn stars Christina Skyye, Shiri Allwood, Valentina Mia, Korra Del Rio and Casey Kisses but to name a few. Sydney also remains connected with her ever-expanding global fan base via social media and through her intimate Chaturbate live cam shows. Keen to stay connected with brunette beauty Sydney Farron? Then use the links provided below to discover all of Sydney's hottest sex scenes, exclusive web content and upcoming productions!
Sydney Farron – Social Networks
Twitter : @sydney_farron
Chaturbate : sydneyfarron
Grooby Girls : Sydney at Grooby Girls
TGirls XXX : Sydney at TGirls XXX  
Two TGirls : Sydney at Two Tgirls
Tgirls Porn : Sydney at Tgirls Porn  
SMClub : Sydney at SMClub  
TGirl Pornstar : Sydney at TGirl Pornstar
ManyVids : Sydney-Farron
Tumblr : sydneyfarron.tumblr.com
Adult Empire : Sydney's DVDs