Website : NatalieMars.XXX   Twitter : @theNatalieMars   Chaturbate : natalielovescum   Grooby VR : Natalie Mars VR Experiences
Natalie Mars at TransAngels.com
Personal Info
Name : Natalie Mars
Alias : Natalie Love , NatalieLovesCum (webcam ID)
Hometown : Little Rock, Arkansas (US)
Date of Birth: February 3rd
         Height : 5'7 (1.70m)
Hair Colour : Brunette
Eye Colour : Blue
Years Active : 2014 – present
Number of Scenes : 15+
Brunette beauty Natalie Mars is a rising TS starlet who has become famous for her captivating Natalie Loves Cum live chat sessions and sizzling Grooby Network web content. Recently nominated for "Trans Performer of the Year" at the 2018 XBIZ Awards, Natalie Mars is definitely one to watch in the years to come!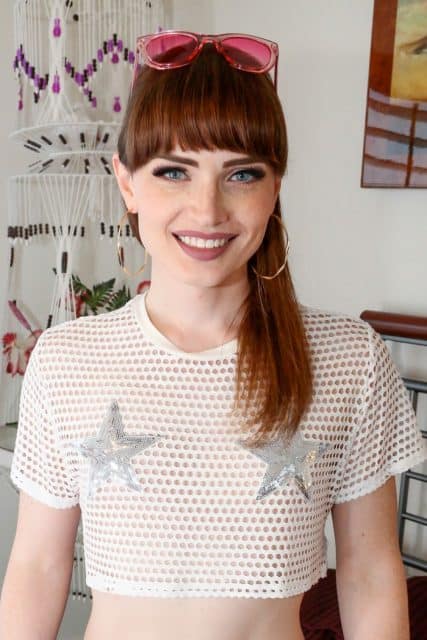 Natalie Mars at Grooby VR
But where did it all begin? Born and raised in Little Rock, Arkansas, Natalie first began working in the adult industry as a webcam model. From late 2014 onwards Natalie started to attract a devoted fan following with her glamorous webcam modelling sessions. One of Natalie's most vocal advocates has been the prominent adult film blogger TS Caramel who enthused via her official website that;
"In perfect synch with her transition, Natalie also began to conquer the Internet with stunning amateur appearances here and there. The next thing I knew, I saw her on Chaturbate, my favorite webcam site, performing regularly. She's become an amazing performer and she's found another one to play with named SueSue. Her sexy friend is also into gaming, cosplay and Natalie. I've seen how they play together on Chaturbate and so should you! Watch gorgeous Natalie Mars in the Trans room on natalieluvscum. I later learned that Sue Lightning also has her own fantastic webcam profile so check out sue_kalergi".
Spurred on by the growing popularity of her webcam modelling sessions, in July 2015 Natalie filmed some hardcore scenes with Bailey Jay, titled Crashpad Cock Slut, that were distributed via Bailey's official solo website TS-BaileyJay.com.
It gets even better; a few months later Natalie Mars made her adult film modelling debut via Grooby Girls (formerly Shemale Yum). Titled Natalie Mars Gets Her Geek On, this captivating solo shoot was first released via Grooby Girls in September 2015. Once again TS Caramel wholeheartedly endorsed Natalie's Grooby Girls debut via her official website caramelstgirls.com, highlighting how;
"The first time I saw her on a social media photo sharing site a couple of years ago, I knew it was only matter of time before she became a bonafide adult industry favorite. With this kind of momentum, the only thing that can stop Natalie Mars from becoming a major star is Natalie Mars. Photographer Omar Wax set her up in one of the most glamorous shoots I've seen on this monumental website in recent history. Some models are just naturals when a camera's lens focuses on them in first time pro shoots. Others may benefit from the experience of webcam work. I don't know which factor is the case with Natalie. It could be both factors that make her Shemale Yum performance so great".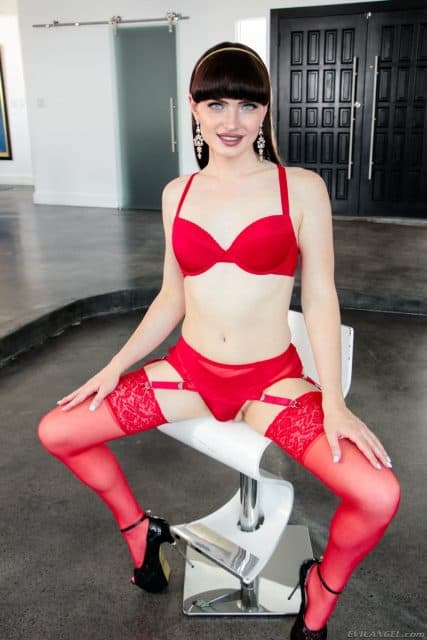 Natalie Mars at EvilAngel.com
Natalie Mars : Adult Film Career
After filming her first ever solo scenes for Grooby Girls in September 2015, Natalie continued to collaborate with popular porn photographers Omar Wax and Radius Dark on a series of sizzling shoots. Our top picks? Sexy Natalie Mars Is Hot In Red Lingerie that was released in March 2016, Sexy Natalie Mars Is Hot In Red Lingerie which was first promoted in March 2016 and her kinky Sailor Girl Natalie Mars' Big Dildo cosplay shoot in December 2016.
Following these sensational solo shoots, Natalie started to collaborate with Christian XXX on some hot hardcore scenes for his trans-friendly porn site Pure-TS.com. We recommend checking out Natalie's thrilling three-way with Christian XXX and Shiri titled Angelic Shiri and Devilish Natalie Get Fucked Together as well as her raunchy Nurse Natalie Has The Cure For What Ails You role-play that was released via Pure-TS.com in October 2016.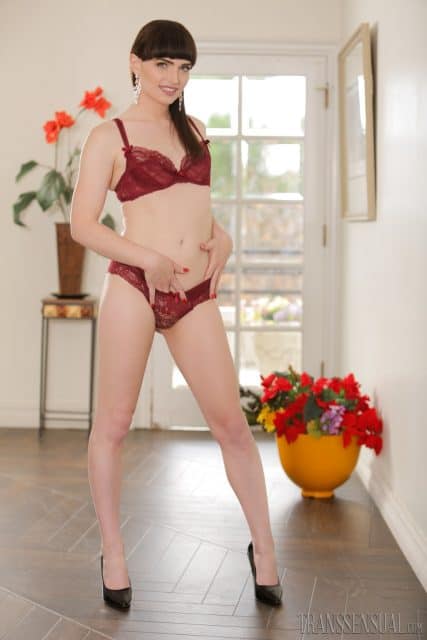 Natalie Mars via TransSensual.com
Many of Natalie's most popular sex scenes have those which she filmed for the Grooby Network porn site Tgirls.porn. Fans of Natalie Mars will love viewing her captivating collaborations with Brooklyn Roberts, Lena Kelly, Natalie Chen, Sydney Farron and Chanel Noir that were all uploaded via Tgirls.porn between December 2015 and August 2017. Not to be missed!
With some many sensational sex scenes to her name, it's no surprise that Natalie won the prestigious "Best New Face" accolade at the 2016 Transgender Erotica Awards. Following her landmark adult film award win, Natalie was showcased within a wealth of best-selling DVDs including Tranny POV 2 (2016) also starring Joanna Jet, Korra Del Rio, Tyra Scott and Christian XXX. Natalie even teamed up with Sammi Mancini in order to feature within the latest installment of his award-winning TS DVD series Shemale Strokers 82 (2016) alongside Kylie Maria, Tiffany Starr, Kinky Kora, Franchezka and Cyn Savage.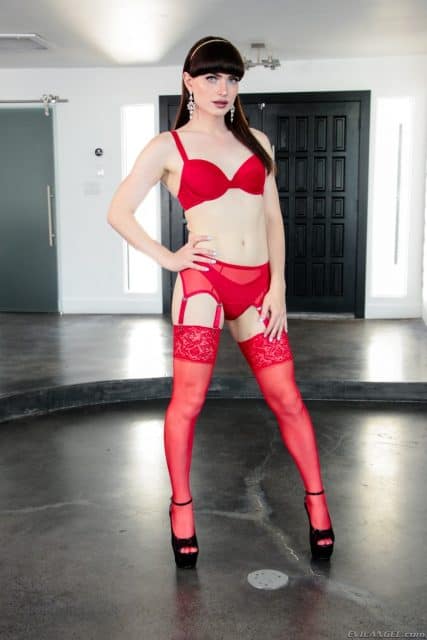 Natalie Mars at Evil Angel.com
Just when you thought it couldn't get any better, Natalie starred within Joey Silvera's best-selling Evil Angel DVD series Rogue Adventures 44 (2016) alongside Chelsea Marie, Kendra Sinclaire, Britney Boykins, Cheyenne Jewel, Honey Foxxx, Jenna J Foxx and Rococo Royalle.
In fact, Natalie has since starred in another of Joey Silvera's smash-hit sequel releases; TS Factor 4 (2016). Also starring Aspen Brooks, Candy B, Chanel, Grace and Korra Del Rio, Natalie posed as the DVD cover model for TS Factor 4 as well as performing a sizzling scene with rising TS starlet Isabella Sorrenti.
One of Natalie's best selling DVDs to date has been the kinky cop caper Tranny Vice (2016) which enabled Natalie to work with famous TS performers Aubrey Kate, Domino Presley and Morgan Bailey as well as BDSM star Mona Wales. Directed by Buddy Wood for Grooby Productions, Tranny Vice was nominated for "Best Transsexual Movie" at the 2017 AVN and XBIZ Awards, as well as receiving widespread praise from prominent adult film critics such as XCritic column writer Apache Warrior who enthused how;
"Natalie Mars and Dorian Rake are getting it on beside the couch while her cutie pie partner Sue Lightning gives us a show in the bedroom…Natalie's eyes are mesmerizing while she stares into the camera while giving head…This movie is a very entertaining and fun presentation. Morgan Bailey has a confident presence and attitude. Domino Presley has a sexy charm. Aubrey Kate and Mona Wales have very good acting performances too. These ladies are the central and vital people in this film. Because of them, their hot sex scenes, and Buddy Wood's screenplay, Tranny Vice is a recommended treat". 
When he was asked about the inspiration behind Tranny Vice, Buddy Wood highlighted within an August 2016 AVN press release that;
"I love good cop movies and TV shows from the 70s and 80s…The goal with Tranny Vice was to parody all the movies and shows I grew up with while still creating an original story with unique characters in one hot porno. I used girls like Morgan and Domino or Natalie and Sue, who are already friends, so that the rapport would be there and it would be fun for fans to see them as partners. Plus these are all the top performers at the top of their game and the sex is incredibly hot".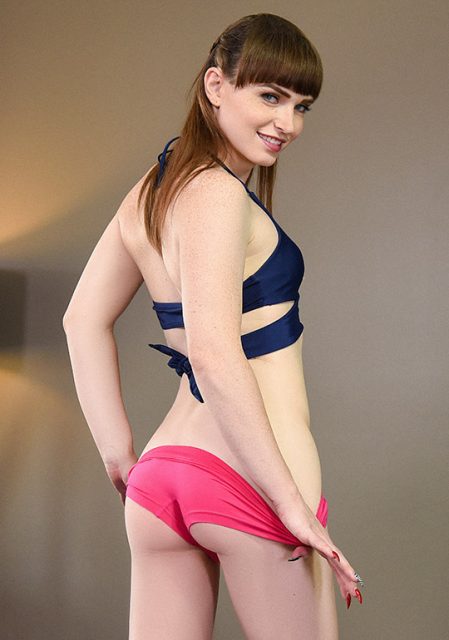 Another landmark moment in Natalie's adult film career has been the Grooby Productions/Third World Media  sequel release Trans6uals 2. Featuring Sarah Webb, Shiri , Jamie French, Korra Del Rio, Kira Crash and director Jamie French, the official trailer for Trans6uals 2 was debuted during the Real Fucking Girls premiere screening which you can read all about within our Aubrey Kate and Mona Wales XXXBios!
Eager to explore some of Natalie's recent releases? Then you have to check out her raunchy Get Behind Me Satan scenes with bodybuilding beauty Brandi Mae and her fantastic foot fetish content that she has filmed for footfetishts.com. It gets even better; Natalie has begun to star in a steady stream of sizzling Gender X DVDs including I Love A Trans In Uniform (2017), Transsexual Mash Up (2017) and My Transsexual Stepmom (2017) featuring Foxxy, Isabella Sorrenti and Mara Nova.
If you're interested in discovering Natalie's most romantic performances then you also have to check out her intensely alluring scenes in Transsexual Girlfriend Experience 5 (2017) for Devil's Film and within Dana Vespoli's TransSensual Studios feature releases TS Forbidden Love (2017) and TS Bad Girls 2 (2017). Must see sex scenes for devoted Natalie Mars fans!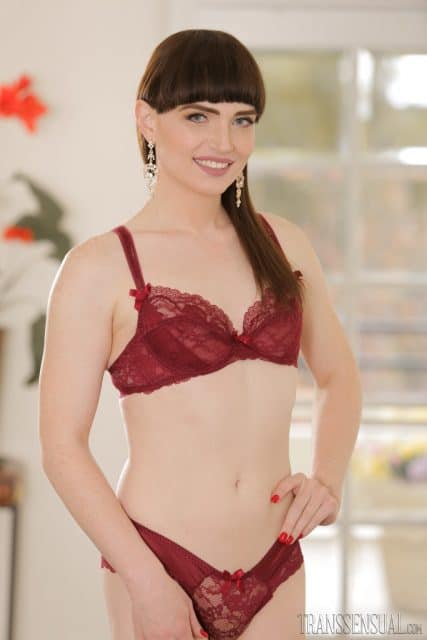 Natalie Mars via TransSensual.com
Currently based in Las Vegas, Nevada, Natasha continues to excite and amaze her international fan following with her sensational scenes for Kink.com and Grooby Network. In fact, Natalie recently filmed a fantastic Natalie Mars Cuckolds The World femdom session with Gabriel D'Alessandro for Kink.com's TS Seduction web series in November 2017 and she has been one of the first few performers ever to shoot for Grooby's premiere virtual reality porn site Grooby VR! Fans eager to experience an immersive scene with their favourite TS star will not want to miss out on viewing Natalie Mars Dildo Testing  and Natalie & Shiri – The Threesome which were released via Grooby VR in April 2017.
Want to know the best part? Natalie won "Best Internet Personality" and "Best Solo Model" at the 2018 TEAs and she has recently unveiled her very own solo website NatalieMars.XXX. Want to stay updated on all of Natalie's raunchiest recent releases? Then use the links provided below to stay connected with your favorite porn star Natalie Mars!
Social Networks
Official Website : NatalieMars.XXX
Twitter : @theNatalieMars
Grooby VR : Natalie Mars VR Experiences
Chaturbate Profile : natalielovescum
Evil Angel : Natalie Mars at Evil Angel
Grooby Girls : Natalie Mars at Grooby Girls
Kink Profile : Natalie Mars Femdom & BDSM Content

TransSensual Studios : Natalie Mars at TransSensual Studios
Trans Angels : Natalie Mars at TransAngels.com
IMDB Profile : Natalie Mars Filmography