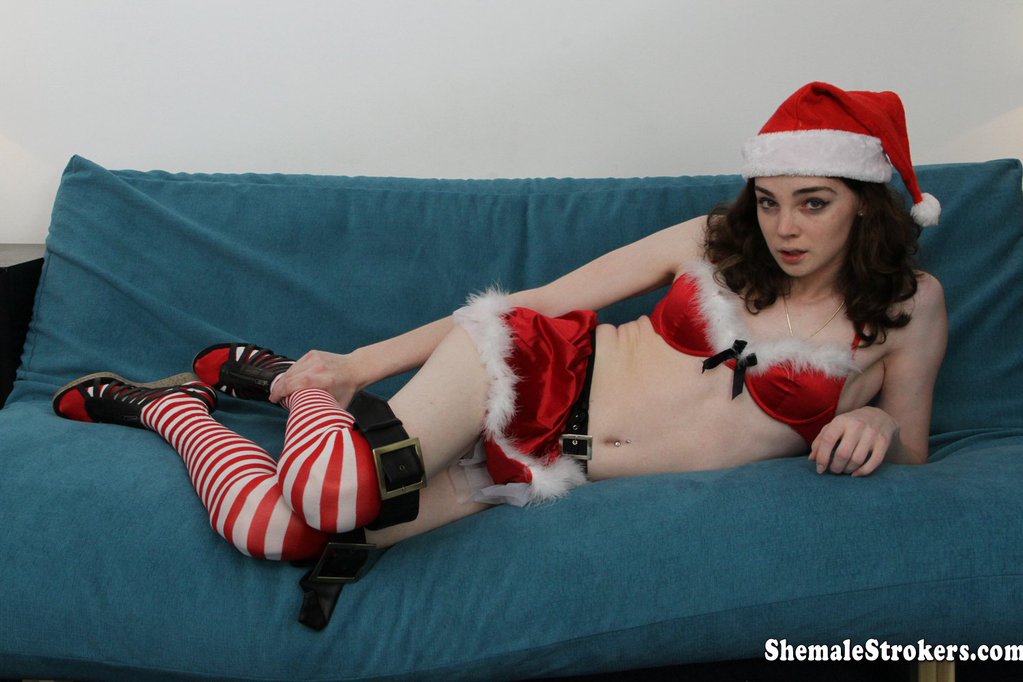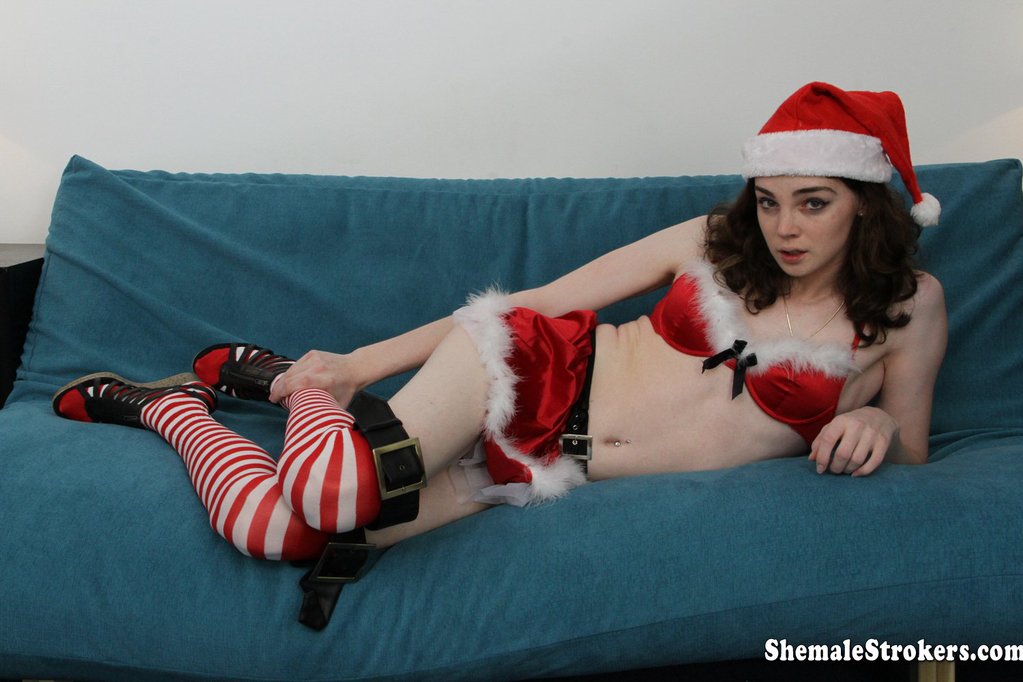 All images in this biography have been used with kind permission of Sasha Skyes (@TheRealSveta)
Sasha Skyes – Personal Info
Name : Sasha Skyes
Alias : Sasha Skye
Date of Birth: March 31st
Star Sign : Aries
Hometown : Seattle (US)
Height :  6'1 (1.85m)
Hair Colour : Brunette / Blonde
Eye Colour : Hazel
Tattoos : 'Live to the point of tears' script across her left rib cage, a black snowflake design behind her right ear, a black music note behind her left ear, a black symbol on the inside of her right ankle, 'Survivor' script across the side of her left hand, an estradiol chemical compound on her hip and angel wings across her back as well as Russian script on her foot
Years Active : 2014 – 2016
Number of Scenes : 20+
Fresh-faced and ambitious Sasha Skyes is a popular former TS pornstar whose saucy web clips continue to attract a devoted fan following across the globe. During her illuminating December 2015 Porn OCD interview, Sasha Skyes divulged how she knew she was transgender from a very early age and that she has always known that she needed to undergo sex reassignment surgery.
Sasha Skyes began her transition process when she was 18 years old. Unfortunately, this meant that Sasha spent most of her childhood having to hide her true gender identity from her classmates. As Sasha puts it in her own words;
"I knew at the age of 5 because that's when I was told boys have penises and girls have vaginas, which was problematic for me. I see myself as a woman with a cruel birth condition. Though I couldn't physically start transitioning until I turned 18...I grew up going to religious private schools and I was always a good, yet misunderstood kid. But I did have vices and secrets because I was so deep in the closet since I didn't accept myself at the time and I wanted to blend in. I was social, but also a bit of a loner. It was hell looking back on it. I wasn't the best student either, but now in college I've made the Honor Roll. I have drive and motivation now!".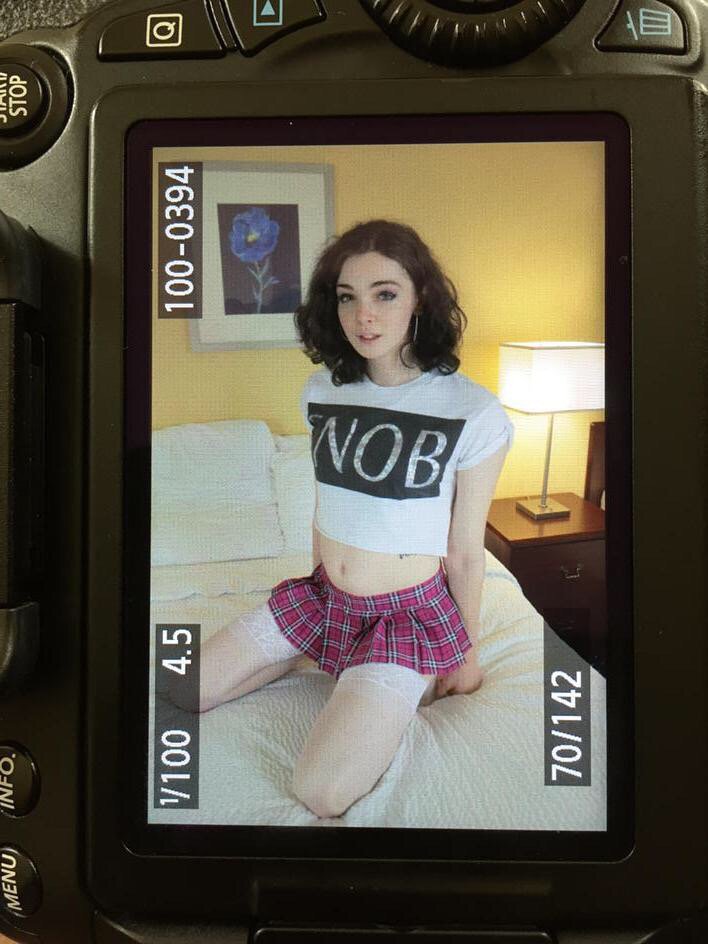 Click here to see more of Sasha Skyes' hottest sex scenes at Grooby Girls
Despite these hardships, Sasha Skyes was an intelligent and determined student who graduated from high school and attended college in Seattle where she attained a degree in Wine and Foreign Languages. For Sasha Skyes, higher education had always been a part of her long term career aspirations;
"I always planned on going to college. My dad sold me on attending his alma mater. The harder decision was what I wanted to do with my degree(s). Right now I'm doing a Wine and Foreign Languages program, but I really want to teach Transgender Voice Training. Everyone always comments how naturally female my voice is and that is a totally untapped market even in a LGBT hub like Seattle".
As her Porn OCD interview revealed, Sasha Skyes is an extremely ambitious woman who is determined to utilize her college degree in order to manage her own vineyard in the future. Sasha Skyes has adamantly stated via Twitter that;
"When I make a goal, I usually reach it. I don't give up. I will finish my voice training curriculum and have my own vineyard! #progress".
Whilst attending college Sasha Skyes began her transition process. Sasha Skyes is bisexual and, although her family were not very supportive of her true gender identity and sexuality, Sasha Skyes began to find support within the Seattle LGBT+ nightclub scene. During this period of sexual exploration, Sasha Skyes began to forge connections with the adult industry and considered pursuing a career as a porn star. In fact, Sasha Skyes' first sexual experience with a man was also her first sexual experience with a male porn star. Talking about this turning point in her life during during her Porn OCD interview, Sasha Skyes conveyed how;
"It just happened that a friend of mine was secretly a gay pornstar; kind of a big deal. He knew my situation and let me in on it. Next thing I know I'm being flown to Denver, picked up at airport with a camera guy filming behind the scenes. I had scenes with guys at a time when I had NEVER even kissed a guy before! We stayed in this gorgeous mansion with good food and a swimming pool and I shot multiple Gay-for-Pay scenes that week. I realised the adult industry isn't like what I expected it to be and that cash saved me at the time…The last two years I have explored a lot. I've been with a couple of guys (I'm cautious of most). For awhile a friend of mine and her boyfriend had threesomes. Most of my penis experience is with other transwomen! I want to meet a transman sometime, too".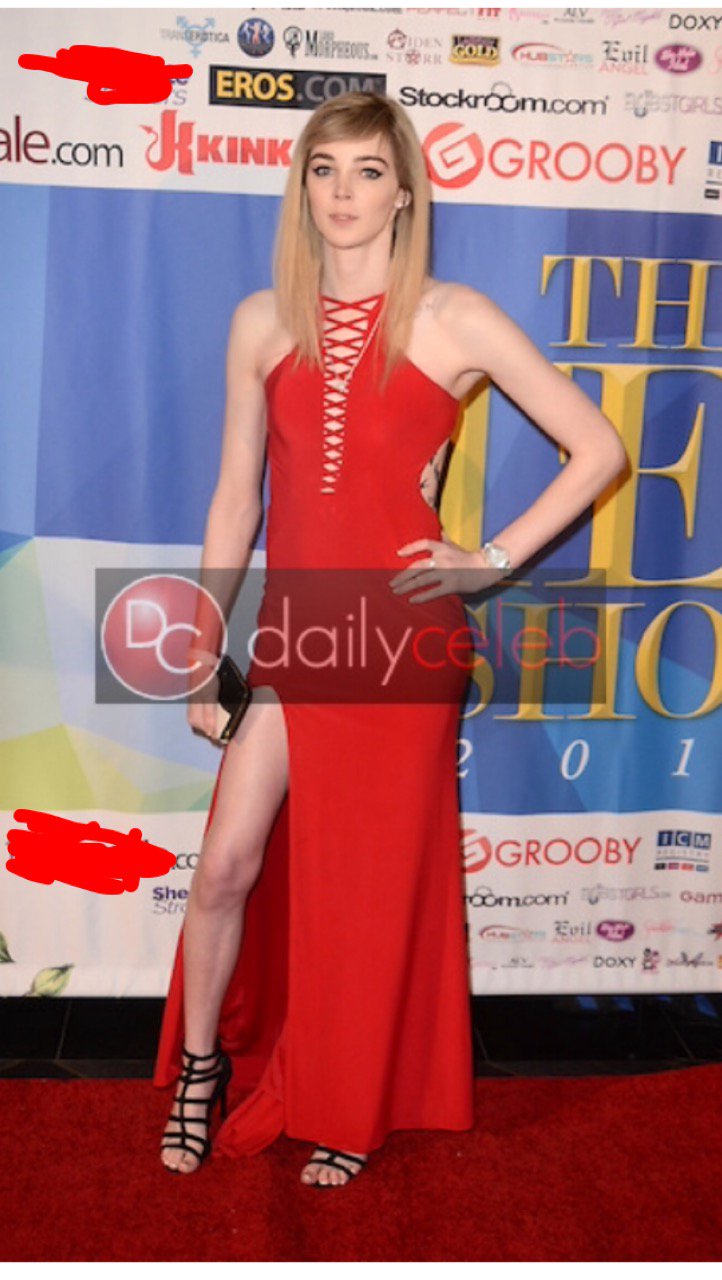 Sasha Skyes at the Transgender Erotica Awards (TEAs) Show
Sasha Skyes : Adult Film Career
Sasha Skyes first began working in the adult industry in 2014. This was a pivotal time in Sasha Skyes' life as she was still attending college and supporting herself financially; all whilst coming to terms with her family's negative response to her true gender identity. Whilst discussing this period of her life during her Porn OCD interview, Sasha Skyes revealed that;
"As soon as I tallied up the price of transition, maintaining a car and motorcycle, and paying for the last part of my college, it became a viable option to get where I need to be…it's a scary number to be faced with. Like I'm only 20 years old!".
Eager to commence upon her adult film career, Sasha Skyes filled out a modelling application and sent it to premier transsexual pornographic production company Grooby Productions at the beginning of 2015. Although Sasha Skyes' first application was denied because her body had not yet significantly developed, after six months she sent off a second application which was accepted. In no time at all, Sasha Skyes had filmed her first sex scenes with leading porn photographer Radius Dark which were distributed via Grooby Girls in August 2015. From August 2015 until January 2016, Sasha Skyes was featured within a series of saucy solo shoots for Grooby Girls as well as collaborating with the popular TS porn site Tgirls Porn alongside hot TS pornstars Chryssie Steele and Emy Amethyst.
Unfortunately, Sasha Skyes' new found confidence and blossoming adult film career were not positively received by everyone. Nevertheless, Sasha Skyes was not going to let this personal hardship deter her from pursuing her long term career aspirations and, with the support of her friends, fellow performers and fan following, she continued to forge ahead with her ever-expanding porn star career. Sasha Skyes' dedication soon paid off when she was nominated for multiple titles at the 2016 Transgender Erotica Awards including;
2016: Transgender Erotica Awards winner "SM Strokers Model of the Year"
2016: Transgender Erotica Awards nominee "Best New Face"
Sasha Skyes earned this prestigious title of "SM Strokers Model of the Year" due to her raunchy performances within Sammi Mancini's smash-hit TS DVD series SM Strokers. Sasha Skyes made her official SM Strokers debut in November 2015 when she starred alongside Jonelle Brooks, Kylie Maria, Joanna Jet in the fan-favorite DVD SM Strokers #77. Seasoned adult film director Sammi Mancini praised this latest installment of his award-winning DVD series in a November 2015 AVN press release, enthusing how;
"The 77th installment of SM Strokers could be one of our best—there are so many lovely ladies and each girl has her own beauty and style of playing to the camera and stroking…We've got newbies and veterans like Joanna Jet. I guarantee you will fall in love with two of them, or maybe even all of them".
Sasha Skyes has since starred within SM Strokers #79 (2016) and SM Strokers #80 (2016) alongside Jessy Dubai, Aspen Brooks, Isabella Sorrenti, Summer, her former Grooby Girls co-star Emy Amethyst, Alexa Scout, Holly Parker, Aubrey Kate, Jonelle Brooks, Evie Eliot, Kylie Maria and Lilian Demona. Sammi Mancini praised this long-running Rodnievision/Mancini Productions TS DVD series within an April 2016 XBIZ press release whereupon he attributed the success of the franchise to his pairings of rising TS starlets such as Sasha Skyes alongside more seasoned trans performers like Joanna Jet. As Sammi himself explained;
"For over 15 years, 'She-Male Strokers' has been one of the most popular t-girl series…I believe the popularity comes from shooting brand new girls as well as girls we've shot multiple times — and the fact there's such a variety, from t-girl next door to full-on busty porn stars, brunette to blonde and everything in between, and a variety of sizes in the she-cock department. There's something for everyone, and fans are going to like at least a few, if not all, the girls on every DVD".
Sasha Skyes continued to collaborate with Sammi Mancini throughout 2016 when she featured within his Rodnievision porn production Tranny Panty Busters #2 alongside Carla Novaes, Bruna Butterfly, Walkiria Drummond, Holly Parker and Hilda Brasil in January 2016.
In 2016 Sasha Skyes also starred in the Grooby Productions DVD TGirls Porn: Volume #1 which depicted five hot hardcore scenes between sexy TS pornstars Chelsea Marie, Cherry Mavrik, Athena Addams, Treasure Barbie, Kaylee Kuddlez, Lexi Cooper, and Sabina Sinn. Working on this popular porn production enabled Sasha Skyes to showcase her sultry sex scenes with her former Grooby Girls co-star Emy Amethyst and resulted in her securing a role in the subsequent Grooby Productions sequel release T-Girls Porn Volume #3 (2016). Upon being asked about featuring within T-Girls Porn: Volume 1 and posing as its box cover model during an April 2016 Grooby Network press release, Sasha Skyes eagerly enthused how;
"This scene was my favorite because it never felt like work…All of the affection was so real and it translated well on camera, I also took anal virginity in my scene so it was extra special".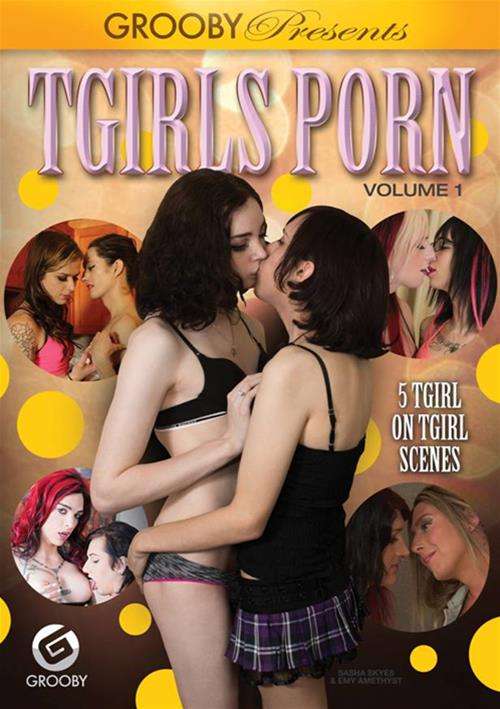 Click here to watch Sasha Skyes in "TGirls Porn Volume #1 (2016)" at TGirls Porn
Sasha Skyes : Glamour Model, Aspiring Author & Upcoming Projects
 A multi-talented performer, model and author, Sasha Skyes has collaborated with leading industry professionals such as Steven Grooby and Sammi Mancini throughout her adult film career. Whilst establishing her glowing reputation as a fan-favorite performer, Sasha Skyes has always planned to undergo sex reassignment surgery. Subsequently, in Sasha Skyes' December 2015 Porn OCD interview she revealed that;
"It's scheduled late next year with Dr. Suporn in Thailand…it will happen either then or maybe get postponed a bit because of an important project I'm working on. The waiting list is extremely long and I'll have to miss some school to recover. But it will all be worth it!".
In June 2016 Sasha Skyes travelled to Thailand in order to undergo sex reassignment surgery. Sasha Skyes kept her friends and fans informed about her physical health and mental well-being in the days leading up to this life-changing procedure and during her recovery process via Twitter. As Sasha Skyes herself tweeted;
"Yay! Penis is gone and my vagina may be aftermarket but will look lovely as well. I wouldn't wish this on anyone, NO MORE DYSPHORIA! :')…If surgery makes one immensely happy then who tf are you to tell them they're wrong. A stranger's desire for pre-op < my desire for happiness…If you hate the fact that I got vagina surgery then gtfo. Most trans ppl aren't happy with the equipment they're born with, get used to it…Saw my vag today for the first time! I am swollen but the operation was a success!…All is good in the clitoral hood! Weeeee… I have a lot of sensation! The only bad news is that means a ton of pain for a few months but it's the good kind. I'm healing very fast…My dilators have names now. The "small" is Baylish, medium is Bruticon, and the large is LeBron <3…Thanks for all the support peeps! Healing is going well and I leave to go home in a week!".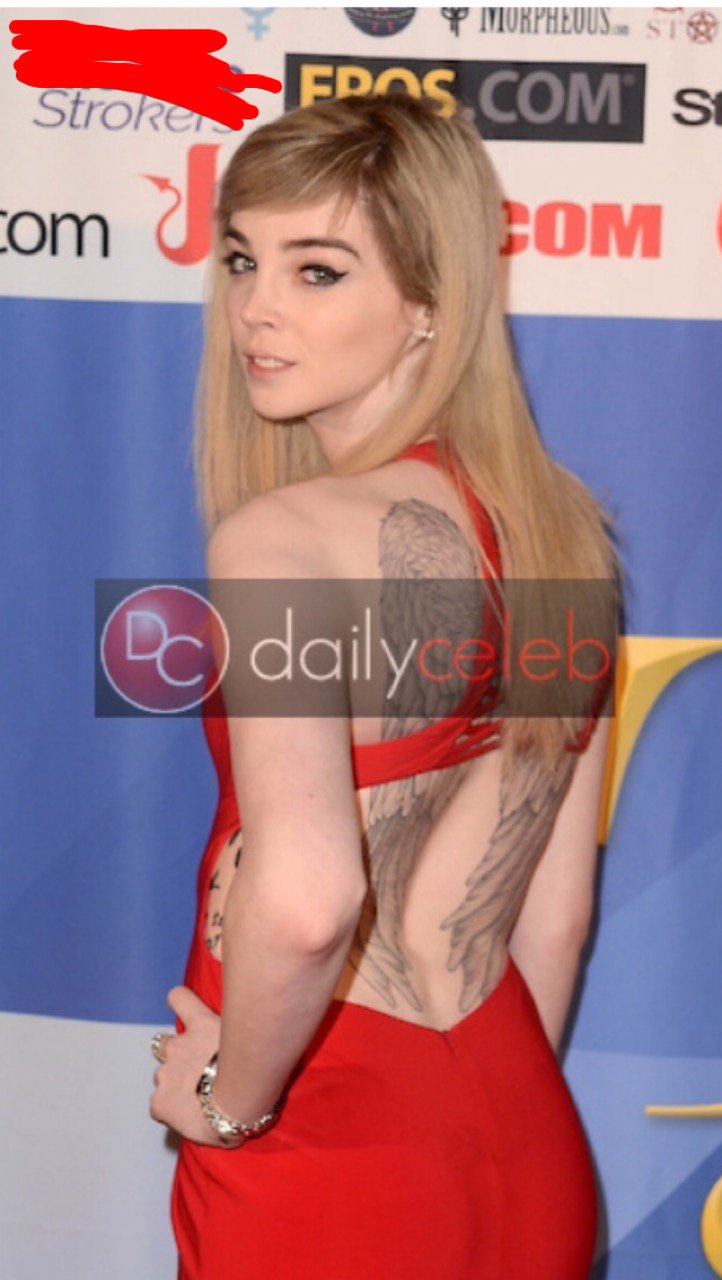 Sasha Skyes at the Transgender Erotica Awards (TEAs) Show
Sasha Skyes returned to the United States in late June 2016 and was quick to commemorate the occasion by acquiring some new tattoos among which include an estradiol chemical compound on her hip and angel wings across her back as well as Russian script on her foot. Sasha Skyes was also contacted by a Seattle fashion designer about the possibility of posing for a modelling shoot.
During this time, Sasha Skyes decided to move to Canada for a fresh start and she has since attended university in Vancouver. In recent years, Sasha Skyes has also begun to receive support from family members who have come to accept and understand her true gender identity. As matters stand, Sasha Skyes has announced her plans to write a book about growing up trans. Sasha Skyes hopes that publishing her personal experiences will help to support and guide fellow young transsexuals who feel conflicted about their sexuality and gender identity. By publishing her own story, thoughts and opinions on growing up trans and regarding important LGBT issues, Sasha Skyes endeavours to raise awareness towards the trials and tribulations that transsexuals face on a daily basis. As Sasha Skyes stated via Twitter;
"I'll get around to writing this book. I think it'd help and I don't wish it to seem narcissistic. Way too many good stories that never get heard…I was around bad influences when I was more on my own. But some reached out to teach me how to survive and saved my life once…I'm happy!".
In fact, during her Porn OCD interview Sasha Skyes discussed how writing relaxes her, noting that;
"Writing really relaxes me. In fact, I'm working on writing a book on my experiences. My story isn't finished yet, but I promise ALL the details! I ride motorcycles too, right now I have a sport bike and an old cafe racer I'll ride to coffee shops to write on the weekend and go on trips around the state when it's nice out. I'm very diligent about saving and budgeting my money, but I save some for myself. I'll get a massage, mani/pedi, facial once a month. I should have more fun though. I'm usually kept busy".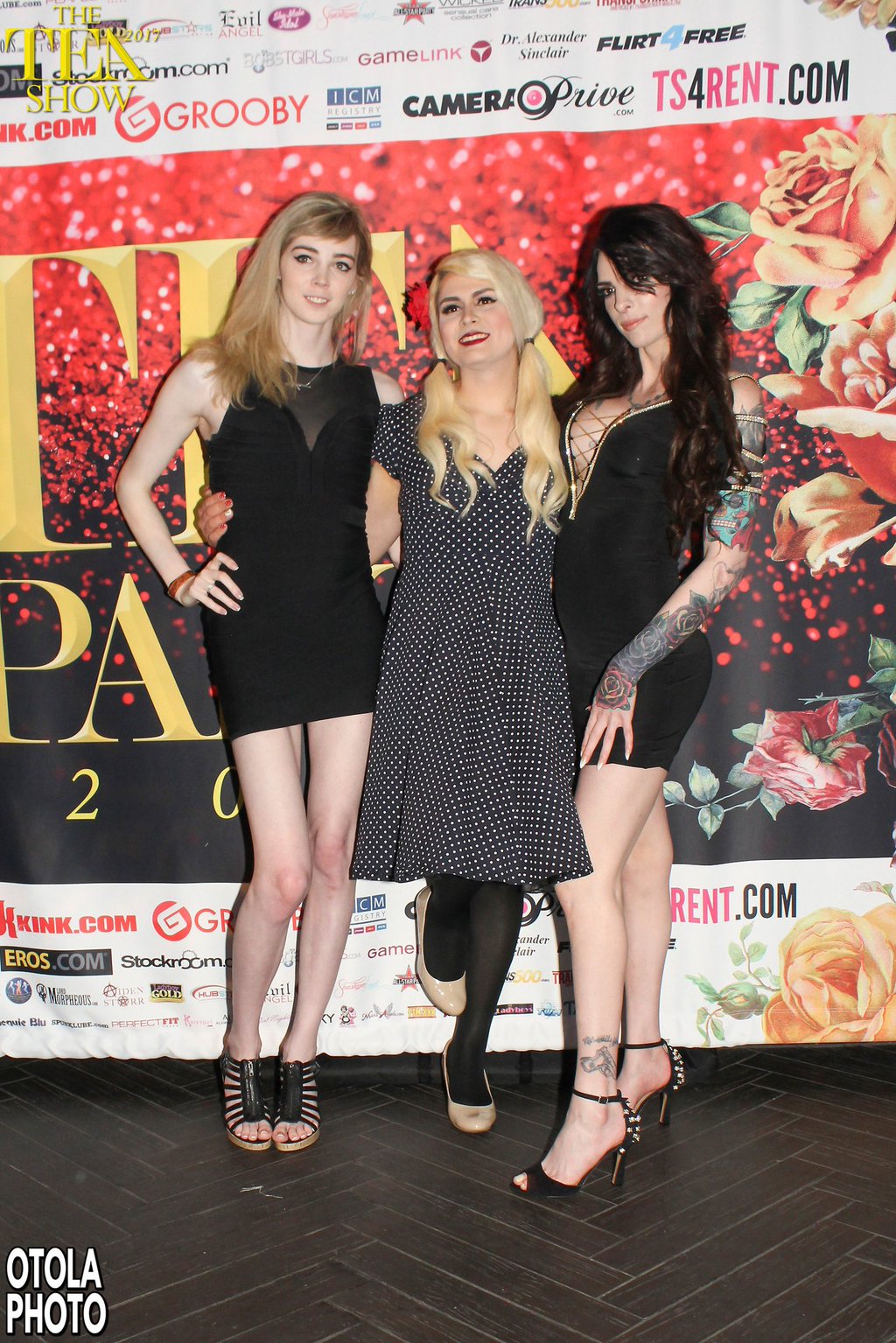 Sasha Skyes, Isabella Sorrenti and Chelsea Marie at the Transgender Erotica Awards (TEAs) Show
Throughout her adult film career Sasha Skyes has filmed a broad spectrum of solo shoots, hardcore collaborations, foot fetish sets and niche fetish content for all manner of fan-favorite web sites and production companies. Sasha's last adult industry appearance was in Hollywood in March 2017 when she presented the coveted "Stroker of the Year" accolade at the 2017 Transgender Erotica Awards to rising starlets Korra Del Rio and Casey Kisses. Fans of Sasha Skyes' adult film career will also be happy to hear that she remains as raunchy as ever, tweeting that;
"Just because I have a vagina doesn't mean anal is off the table. I very much like getting fucked deep in the ass!".
When she isn't pursuing her latest business ventures, Sasha Skyes loves riding motorcycles and continues to retain an active interest in modelling.  If you'd like to learn more about Sasha Skyes' upcoming personal and professional projects then why not check out her official social networking channels today? After all, as Sasha Skyes highlighted in her Porn OCD interview;
"Thanks to social media I've been getting out there. I've met some great people and I've been contacted for shoots and even a film project which would have never happened if I wasn't on Twitter. I engage my fans too and they're great, but I will work on posting more often".
Whether you love her porn performances, her kinky fetish content, her sultry solo shoots, or if you're eager to learn more about the beautiful Sasha Skye herself, you can keep in touch with this stunning and inspirational former pornstar using the links provided below!
Sasha Skyes – Social Networks
Twitter : @TheRealSveta
Chaturbate : sasha_skyes
Tgirls Porn : Sasha Skyes at Tgirls Porn
Grooby Girls : Sasha Skyes at Grooby Girls
AskFM Page : TheRealSveta