Ava Addams
Ava Addams Twitter : @AvaAddams   Brazzers : Ava's Sex Scenes 
Official Website : TheAvaAddams.com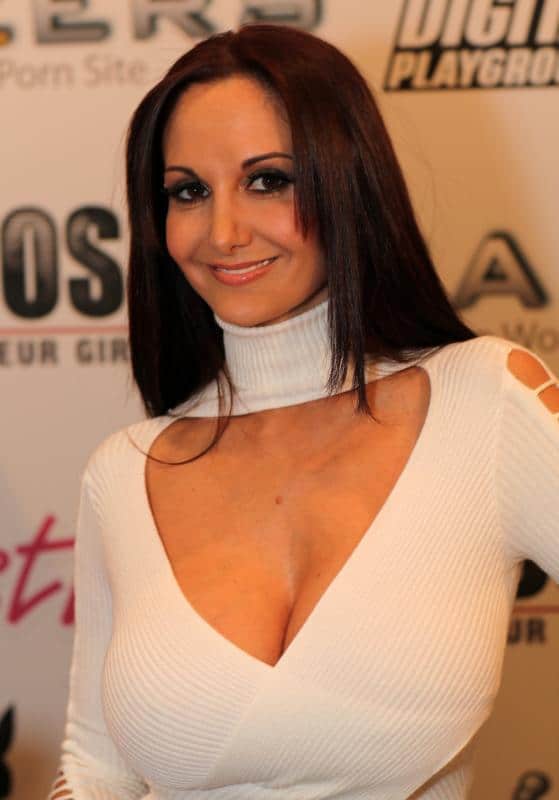 Ava Addams 2013 – Image Sourced from Wikimedia
Ava Addams – Personal Info
Name : Ava Addams
Hometown : Houston, Texas (US)
Date of Birth: September 16th, 1979
Measurements : 32DDD – 24 – 35
Bra/ Cup Size : 32DDD . Ava Addams teased within her January 2013 Luke Is Back interview that; "everything is bigger in Texas! [Laughs] They were pretty big naturally. They were between a D and a double D before I got pregnant. Then they got huge when I was pregnant. After that they weren't what I wanted, so I decided to get them done. I got 500 cc's. I love them. They are awesome! My doctor did an amazing job".
Height : 5'3 (1.60m)
Hair Colour : Brunette, Black
Eye Colour : Brown
Tattoos : Three stars inside her right wrist, a red skull and crossbones design inside her left wrist, a four leaf clover design above her vagina, a Betty Boop design within a circle on her lower back, a red rose on the outside of her right ankle, 'La Vie En Rose' script across her left hip and an Ankh design on the back of her neck
Piercings : Nostril
Shoe Size : Women's 5.5 (US)
Pets : 1 cat and 1 dog. As Ava Addams explained within her February 2011 Barelist interview; "I have a silky terrier named Dylan [you can see him in my MILF Soup scene for Bang Bros], and a tabby/bengal mix named Russell [yes after Brand] ".
Ava Addams also mentioned within her XCritic column interview how; "I have one of each but my cat is very dog like".
Years Active : 2008 – present
Number of Scenes : 260+
Big busted beauty Ava Addams has established a devoted fan following across the globe as one of the adult entertainment industry's hottest MILF performers. Recently signed as one of Naughty America VR's exclusive contract stars, Ava Addams continues to thrill fans with her raunchy web clips, fantastic fetish content and critically acclaimed MILF DVDs!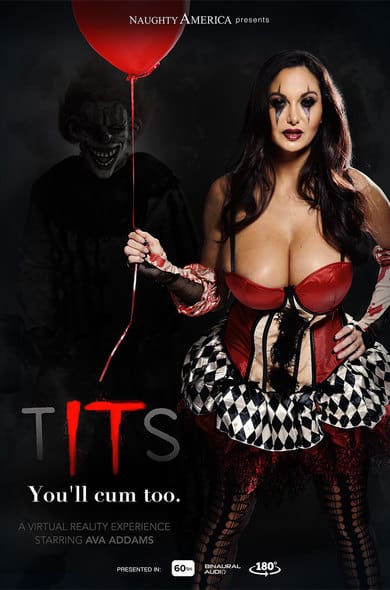 Ava Addams in tITs – A Virtual Reality Experience –  Naughty America VR
Before she became an international adult film star, Ava Addams was born in Gibraltar but moved to the United States with her parents when she was 5 years old. Raised in Houston, Texas, Ava Addams has often stated how;
"I've lived in L.A. I've lived in New Orleans for a while. Where ever I live, I always come back to Texas".
Ava Addams' parents are both French and Ava Addams herself has French nationality as well as being of Italian and Spanish descent. These multicultural roots have resulted in Ava Addams developing a love of travel and being able to speak French, English and Spanish. As Ava Addams discussed within her March 2011 Hejorama interview;
"Everyone assumes I was a military brat when they hear Gibraltar but really my parents just enjoyed traveling and ended up there and stayed for about 5 years. Both of my parents are from France my mom having a bit of Spanish and the Italian coming from my dad's side of the family. They left France in their early 20's and lived in both England and Scotland before ending up in Gibraltar but they too traveled quite a bit before I came around and even after…
I think it made me more aware at a young age that there are so many different traditions, rituals, beliefs, and values throughout the world and perhaps that is why I am fascinated with Religion, Sociology and studying all these traditions and values etc… of many Countries. As a little girl I spent summers in Spain, Morocco, the south of France, and Normandy and I got to experience so many amazing cultures at a young age. As a child I spoke fluent French, English, and Spanish but sadly when I made it to the US my school discouraged my parents from letting me answer questions in all three because they felt it was detrimental to the other student's learning. I think it's a shame that this country doesn't encourage learning one or two Foreign languages like most Countries do".
Ava Addams' French heritage has served her well throughout her adult film career; in fact she has even filmed some boy/girl sex scenes in French with male porn star Manuel Ferrara! As Ava Addams explained within her January 2013 Luke Is Back interview;
"We actually do a lot of our scenes in French. He taught me how to talk dirty in French, because growing up in the states it did now come naturally. So he taught me some of the filthiest stuff. We actually just shot a scene called "Mail Order Bride" and I think they are subtitling some of it".
Ava Addams modelled briefly as a child before discovering her 'goth' side during her teenage years whereupon she soon swapped photo shoots for Grateful Dead albums. When asked about how her friends and family back in Texas would have described her growing up, Ava Addams candidly stated within her 2010 AIP Daily interview that;
"You'll get two answers. My friends will tell you that I am funny, witty, caring, a good person but a little crazy, and the haters will say that I'm a bitch and perhaps they are both right".
Ava Addams resumed her modelling career after graduating high school whilst she was attending nursing school. As Ava Addams explained within her Men's Mag Daily interview;
"I modeled on and off for my whole life. I did children's modeling. My parents were never stage parents so when I did it as a little girl I wanted to quit and they were fine with that. When I was 12 or 13 I got back into it but then in high school I got all Goth and I was like, 'Fuck modeling, this is stupid'".
Before she discovered the adult entertainment industry Ava Addams' first job was working at a clothes boutique in Houston, Texas, during her high school years. Ava Addams has also worked briefly at Forever 21 and was a Hooters girl at Sugerland just outside of Houston, Texas.
In 2004 Ava Addams moved to Miami with a friend and began working as a fetish and nude model whilst also attending nursing school and working within a doctor's office. Ava Addams elaborated within her Men's Mag Daily interview how;
"Once I was in college people started approaching me about nude modeling and the money was really good so I went for it. It all just kind of progressed from there. The Playboy thing was a total fluke. I went with my girlfriend who was auditioning and I ended up getting it and she didn't. That was the end of our friendship. She got really mad because I didn't even want to do it. I ended up doing several pictorials for them and I had a fun relationship with them for a couple of years".
In this manner, Ava Addams began working as a Playboy Playmate  and also posed for pictorials for glamorous magazine publications such as Vixen, Lingerie Special Edition, College Girls and Cyber Girls. Ava Addams modelled for Playboy under the stage name Alexia Roy and discussed within her July 2015 Adult DVD Talk interview that she became a Playboy Playmate because she had grown tired of her academic studies and doctor's office day job;
"I was working at a doctor's office doing medical coding and billing and going to nursing school. I was kind of sick of living in Houston. Even though it's my home town, I wanted something different. My girlfriend convinced me to move to Miami with her. I started working with Playboy and was doing promotional stuff with them".
Despite posing as a nude model, Ava Addams did not begin working within the adult entertainment industry until she was 23 years old. Ava Addams divulged within her Adult DVD Talk interview how she discussed her potential porn star career with her family and friends before shooting her first ever hardcore sex scenes. Within this exclusive interview Ava Addams stated how glad she is to have waited a few years before launching her porn star career;
"I weighed out all the pros and cons and talked to my really good friends; I talked to my immediate family about it. I knew it would stay around for the rest of your life so once I made the decision, I said I was going to do it and make a name for myself…
I was a crazy girl back then. I used to hang out with musicians and party. I don't think I would have handled the industry as well back then as I did at an older age. I definitely think it's a lot on the really young girls. If you're not comfortable with yourself and your sexuality, it can really be detrimental. And you don't really know yourself at 18, 19, 20. You think you do, but you don't".
Moreover, Ava Addams commented within her Men's Mag Daily interview how she has always been able to rely upon her parents for support and advice with regards to her modelling work and subsequent adult film career;
"Oh yeah, absolutely. I remember when I was first going to pose for Playboy I called my mom and told her and I asked my dad if he'd kill me if I posed for Playboy. (Laughs) I've always been really open with them. I did girl/girl for such a long time that when I started doing boy/girl my father told me that he and my mother thought I was a lesbian. (Laughs) My parents aren't the type to show up with me at the award shows or anything but they do know about what I do. They would rather I still be in the medical field but they still love me and support what I do…Yeah, I mean to each their own but I find it a little strange if your parents are too involved in your porn career. (Laughs)My mom will ask questions about who I worked with and stuff but as far as my dad goes we just don't talk about it".
In 2008 Ava Addams met the adult film actress Renna Ryann who introduced her to adult film professionals at Reality Kings. In this manner, Ava Addams started performing in solo sex scenes and girl/girl sex scenes for various Reality Kings websites. As Ava Addams explained within her Adult DVD Talk interview;
"I met Renna Ryann and her husband at-the-time worked at Arcade and he asked me if I wanted to shoot. He asked if I wanted to do boy/girl and I said, 'NO!' but I like girls. I thought I'd try girl/girl just for fun. Then I met a guy in the industry and started dating him and he didn't want me to do boy/girl even though I was curious about it. So I waited awhile and when we broke up, I started doing boy/girl. (laughs)".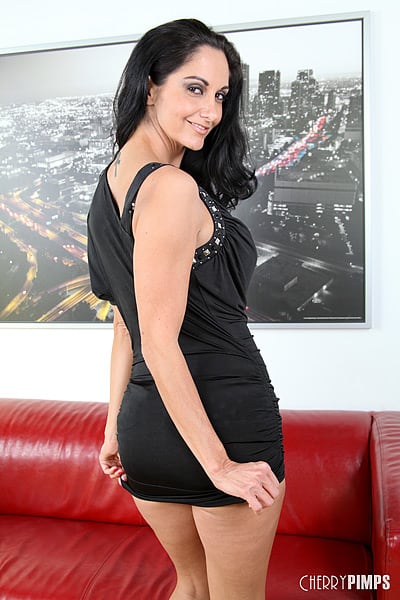 Ava Addams at Wild On Cam – Cherry Pimps
Ava Addams : Adult Film Career
In 2008 Ava Addams filmed her first ever hardcore girl/girl sex scene with Molly Cavalli for the Reality Kings production Big Tits Boss 4. As matters stand, Ava and Molly's scene is the only girl/girl sex scene for the predominantly boy/girl DVD series Big Tits Boss. Ava Addams described shooting her first ever girl/girl scene within her Adult DVD Talk interview and conveyed how;
"I've always considered myself truly bisexual. I dated a girl a few years prior to getting into the industry. I don't think I could ever be a lesbian because I like guys too much but I do enjoy being with a girl…My first scene was with Molly Cavalli. It was a girl/girl and I was very nervous during the dialogue. I was super nervous and kept stuttering but once we got naked and she kissed me, I was fine. I said, 'OK, I can do this!' I don't know about the dialogue but the rest is cool. (laughs) And I think if you watch the scene, you can tell I'm nervous but once she goes in for the kiss and we start making out and play with each other, I was completely comfortable. And I think it was the same for my very first scene with James Deen. I'm fidgeting, trying to get his belt off and I'm so shaky and nervous. But once we actually go for it, it's 'OK!' And now he's one of my favorite performers to work with".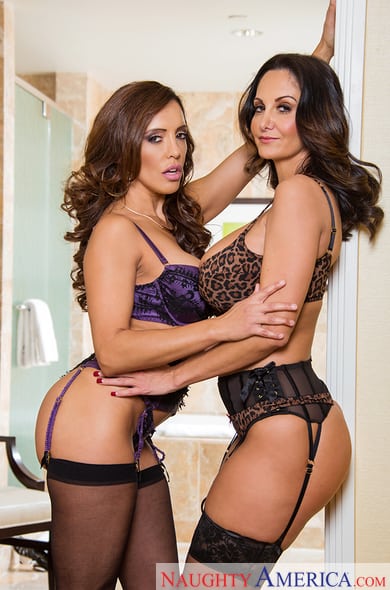 Francesca Le and Ava Addams at Naughty America
Following her adult film debut Ava Addams appeared in multiple solo sex shoots and girl/girl DVD feature releases including MILFs Lovin MILFs 3 for New Sensations which also starred British MILF star Tanya Tate, Women Seeking Women 54 and 55 for Girlfriends Films starring Dana DeArmond and Alexis Ford, as well as Gagged and Trussed Costume Captives for FM Concepts starring Kayden Kross.

After exclusively filming girl/girl sex scenes throughout 2009, in the summer of 2010 Ava decided to film her first ever boy/girl sex scene with male porn star James Deen for the Vouyer Media production Titty Sweat Ava's premiere boy/girl DVD feature release also starred Kagney Linn Karter, femdom fatale Aiden Starr and Tori Lane. This star-studded Vouyer Media production was a smash-hit among fans and adult film critics alike; ultimately earning a nomination for "Best Big Bust Release" at the 2010 AVN Awards.
Ava Addams started her adult film career by working for Reality Kings in Miami, Florida, before moving to California in order to "take it up a notch". After a month of filming in California, Ava Addams was signed as a contract girl for Bang Bros and soon began to feature in popular pornographic productions such as Ass Parade 26 and 27, Bang Bus 29, MILF Soup 13 also starring MILF star Alexis Fawx, Munch and Bake, Power Munch 4 and Tug Jobs 17.
Throughout 2011 and 2012 Ava Addams continued to perform in a variety of solo, girl/girl and boy/girl sex scenes for Bang Bros in Florida as well as shooting with prominent production companies such as Brazzers, Pure Play Media, Elegant Angel, Hustler Video, 3rd Degree and Digital Sin. Some of Ava Addams' most popular DVD feature releases that were produced during this time include; Deep Anal Drilling 3 for Jules Jordan Video also starring Alexis Texas, Big Tits At School 13 for Brazzers also starring adult film superstar Madison Ivy, My First Sex Teacher 23 for Naughty America featuring Ariella Ferrera and Esperanza Gomez, as well as Big Wet Asses 19 for Elegant Angel which was nominated for "Best Anal Release" at the 2012 AVN Awards and "Gonzo Release of the Year" at the 2012 XBIZ Awards.
But hold on, it gets even better! Ava Addams has since starred in Slutty and Sluttier 16 for Manuel Ferrara Productions which won "Best Vignette Release" at the 2013 AVN Awards, Dorm Invasion 2 for Brazzers with Alexis Fawx and Asa Akira, DP Fanatic 2 for Elegant Angel, and Cougars, Kittens and Cock 2 for Chris Streams Productions featuring Anikka Albrite, Tanya Tate and Gabriella Paltrova which won "Best Older Woman/ Younger Girl Release" at the 2014 AVN Awards. These types of MILF themed releases have earned Ava Addams an ardent fan following as well as numerous adult film award nominations throughout her prolific porn star career. As matters stand, Ava Addams has been nominated for the following adult entertainment accolades;
2012: AVN Awards nominee "MILF/Cougar Performer of the Year"
2013: AVN Awards nominee "MILF/Cougar Performer of the Year"
2013: AVN Awards nominee "Best Group Sex Scene" Big Tits At Work 14 (with Francesca Le, Vanilla DeVille, Veronica Avluv and Keiran Lee)
2013: XBIZ Awards nominee "MILF Performer of the Year"
2013: Sex Awards nominee "Porn's Best Body"
2014: AVN Awards nominee "MILF Performer of the Year"
2014: AVN Awards nominee "Best Safe Sex Scene" Dorm Invasion 5
2014: Nightmoves Awards nominee "Best MILF Performer"
2015: Nightmoves Awards winner "Best MILF Performer"
2015: AVN Awards nominee "MILF Performer of the Year"
2015: AVN Awards nominee "Hottest MILF (Fan Award)"
2015: AVN Awards nominee "Social Media Star (Fan Award)"
2015: XBIZ Awards nominee "MILF Performer of the Year"
2015: XBIZ Awards nominee "Best Scene – Vignette Release" Doctor MILF (with Tyler Nixon)
2015: XRCO Awards nominee "MILF Performer of the Year"
2016: AVN Awards nominee "MILF Performer of the Year"
2016: AVN Awards nominee "Best Group Sex Scene" Brazzers House (with Romi Rain, Phoenix Marie, Nikki Benz, Tory Lane, Erik Everhard, Toni Ribas, Ramon Nomar and Tommy Gunn)
2016: AVN Awards nominee "Most Outrageous Sex Scene" SeXXXploitation of Abigail Mac (with Abigail Mac)
2016: AVN Awards nominee "Hottest MILF (Fan Award)"
2016: XBIZ Awards nominee "MILF Performer of the Year"
2016: XBIZ Awards nominee "Best Scene – Vignette Release" Tonight's Girlfriend 41 (with Johnny Castle)
2016: XBIZ Awards nominee "Best Scene – Gonzo Release" Brazzers House (with Romi Rain, Phoenix Marie, Nikki Benz, Tory Lane, Erik Everhard, Toni Ribas, Ramon Nomar and Tommy Gunn)
2016: XRCO Awards nominee "MILF Performer of the Year"
2020: AVN Awards winner "Hottest MILF (Fan Award)"
When asked about her opinions upon being typecast in these MILF-themed releases during her Adult DVD Talk interview, Ava Addams commented that;
"The MILF doesn't bother me. I don't like being called a cougar because, to me, a cougar is 45. I'm not there yet!! MILF doesn't bother me at all. The only thing that bothers me is when they say 'Bring MILF attire'. What's MILF attire? Porno MILF? Regular MILF? Then every director has a different idea. I guess I don't like the fact that it has to be an older woman with a younger guy and that gets kind of annoying. Can't we see two people of the same age having fun? But I guess they put the older guys with the younger girls too, so that's porn!".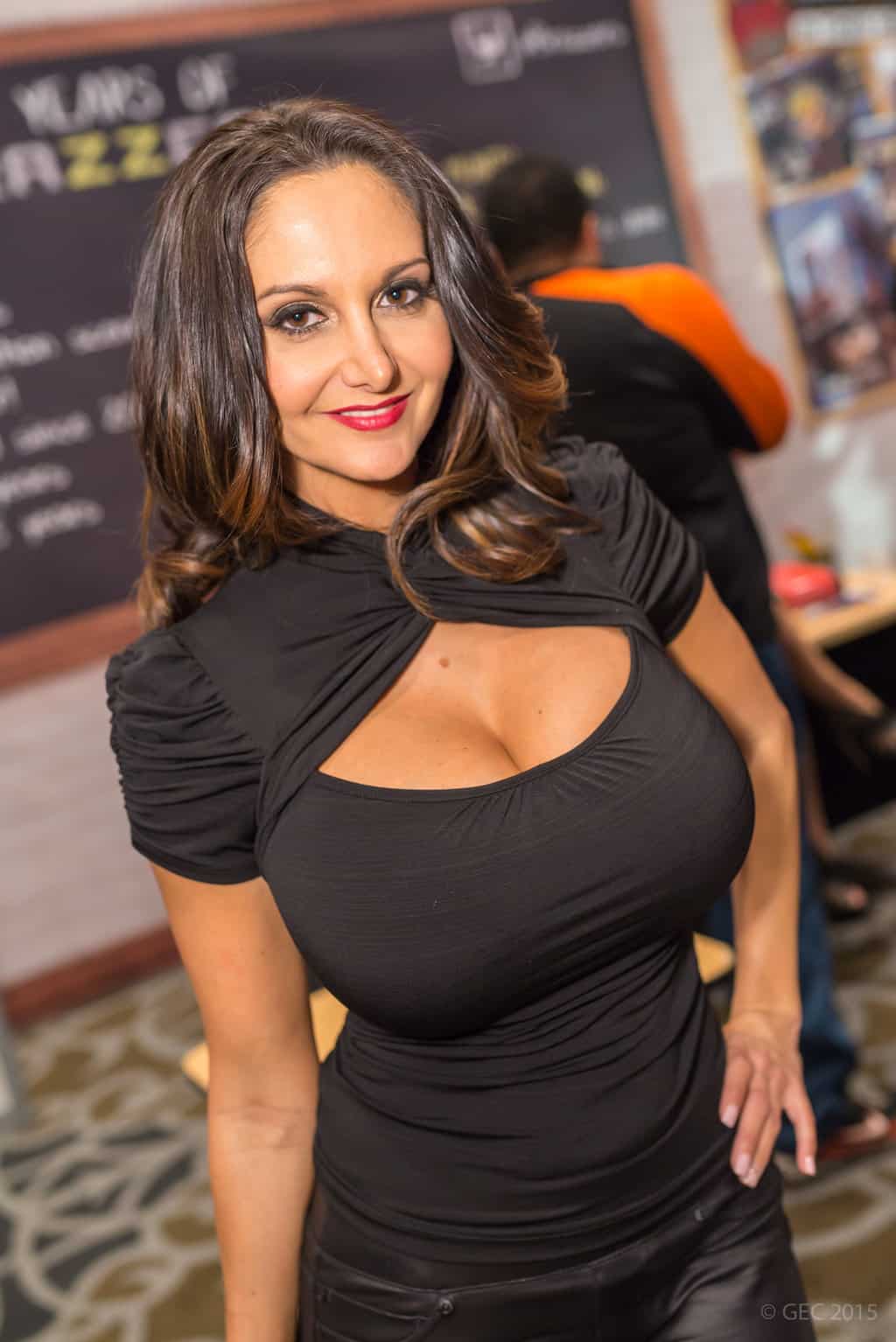 Ava Addams : Industry Hiatus & Comeback Career
Ava Addams took a brief hiatus from the adult entertainment industry in 2011 following the birth of her son. Ava Addams explained within her XCritic column interview with adult film blogger Apache Warrior that she has become more selective about the pornographic productions in which she performs since she has resumed her adult film career. As Ava Addams herself explained;
"I can honestly say that since I have come back [after my little hiatus when I had my baby] and have been more picky about whom I work, I think almost all my scenes are very enjoyable. I'm very fortunate that I am highly orgasmic and I think working with the same people you get to know each other and what really turns the other on and how to push one's buttons and that just makes for hotter sex! The bad is just lack of chemistry; nothing worse than that. I hate having to fake orgasms!…
I try to just be me and I'm pretty friendly and outgoing. I like to have fun on set. Once the camera gets going, I just try to forget it's there unless it's POV and I just enjoy having sex and I love my job. I mean come on. It's pretty cool to get paid to have orgasms. Maybe that's why I'm always smiling. I adore my fans. They're the best! And yes, I have some very loyal ones that have been following me since my Playboy days pre porn!…My fans know almost everything. I'm an open book. Except I don't talk about personal relationships and I don't post pics of my kiddo. Some things should be personal I think. Plus let's face it, there are some overzealous people out there".
The first sex scene that Ava Addams filmed upon returning from her adult film hiatus was a group sex scene with Francesca Le, Vanilla DeVille, Veronica Avluv and Keiran Lee for the Brazzers production Big Tits At Work 14 which also starred popular female porn stars Ariella Ferrera, Chanel Preston and Abella Anderson. Big Tits At Work 14 was nominated for "Best Big Bust Release" at the 2013 AVN Awards and Ava's comeback sex scene was even nominated for "Best Group Sex Scene" at this prestigious awards ceremony. Ava Addams enthused about her triumphant return to porn in her 2013 Luke Is Back interview, commenting that;
"The group sex scene is pretty bad ass. That was my first scene back after the baby. It was a pretty hardcore way to come back. I hadn't worked in so long and I got thrown into that and it was amazing performers. So that was pretty cool".
Following this triumphant return to porn, Ava Addams continued to perform in a wealth of award-nominated DVD feature releases and hardcore web series sex scenes including; Dorm Invasion 5 (2013) for Bang Bros, Doctor MILF (2014) for Pink Velvet, Couples Seeking Teens 14 (2014) for Reality Junkies with Casey Calvert, The SeXXXploitation of Abigail Mac (2015) for Desire Films, Tonight's Girlfriend 41 (2015) for Pure Play Media and Brazzers House (2015) for Brazzers with Romi Rain, Nikki Benz, Dani Daniels and Jessy Jones.
Want to know the best part? Ava Addams has performed alongside some of the biggest female porn stars within the adult entertainment industry. Fans of Ava Addams will not want to miss out on her collaborations with Kendra Lust, Summer Brielle and Vicki Chase for her ArchAngel Productions  star showcase Ava's All In (2015), her sex scenes with Dakota Skye for the Reality Kings production Busty Babysitters 2 (2015), her three-way with August Ames for the saucy Brazzers Network online sex scene Wife Showers With The Babysitter (2015) and her raunchy girl/girl performance with Keisha Grey for the Brazzers Network online sex scene My Ex's Angry Mom as well as her collaboration with Abella Danger, Ariana Marie and Gracie Glam for the Girlfriends Films DVD Your Dirty Daughter (2016).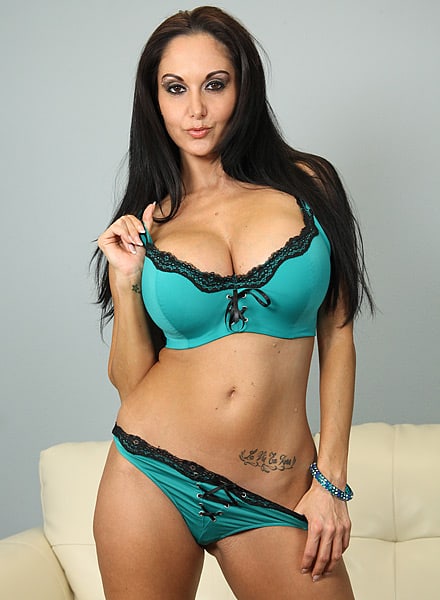 Ava Addams at Cherry Spot – Cherry Pimps
Ava Addams' prominent MILF star status has also resulted in her being awarded with many of her own signature showcase productions! As matters stand Ava Addams has filmed; Girls of Bang Bros: Ava Addams in 2013 for Bang Bros, Ava Addams and Friends in 2014 for New Sensations and Ava Addams 1 for Naughty America in 2014 which was described by Pure Play Media sales representative Mike L. within an AVN press release as;
"Naughty America picks the best and brightest starlets to highlight in series like this and it's about time that Ava Addams got her starring title…She's an all-star in the MILF and big-boob categories and Ava Addams 1 is everything a super-fan dreams of seeing in HD. This new title streets tomorrow, so get your copies now and give shoppers what they want!".
However, Ava Addams' most notable signature showcase has to be Ava's All In for ArchAngel Productions in 2015 which was directed by renowned adult film photographer MimeFreak. XCritic adult film blogger Don Houston enthused about this spectacular signature showcase within his online review, advocating that;
"Ava's All In by director Mimefreak for Arch Angel was a terrific set of four sex scenes starring popular performer Ava Addams engaging in various forms of sex, the hotty joined by Vicki Chase, Kendra Lust, and Summer Brielle so I rated it as Highly Recommended. The replay value and strokability were exceptional so even my usual refrain about wanting more tease footage couldn't hold this spotlight showcase from garnering an exceptional rating. In short, Ava's All In was another very appealing gonzo outing by all involved, Ava Addams rarely given as much credit as she deserves and the production proving my belief that Mimefreak's showcase flicks are setting a new standard for some of his peers to chase so check it out".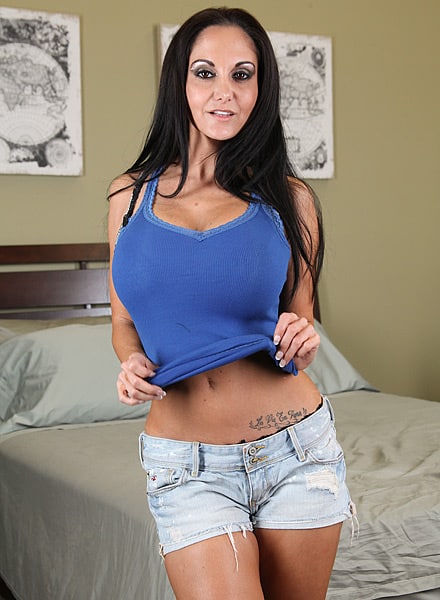 Ava Addams at Wild On Cam – Cherry Pimps
Ava Addams loved collaborating with MimeFreak on this ArchAngel Productions DVD feature release and sincerely expressed within a December 2015 AVN press release how;
"I truly enjoyed working with MimeFreak and having my vision come to life, thanks to him and my co-stars…I hope my fans enjoy watching it as much as I enjoyed making it".
Over the years Ava Addams has become one of the most popular MILF performers in the adult entertainment industry. As matters stand, Ava Addams is ranked #2 on AEBN.net's "Top 10 Porn Stars" list; second only to her former co-star Dakota Skye. Never one to rest on her laurels, Ava Addams is her own agent and has mentioned during her Men's Mag Daily interview with Jon DaBove that she may resume her medical studies in the future as well as continuing to pursue her porn star career. As Ava Addams stated within this October 2014 interview;
"I'll probably be going back to school in January of next year. There are a few courses I have to retake before I can get back into the medical field like my sciences and psychology and sociology. I'm excited about those two because I always liked them but I'm not so excited about redoing my sciences".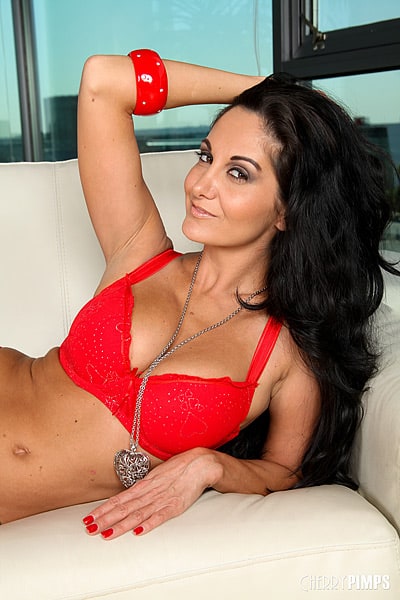 Ava Addams at Cherry Spot – Cherry Pimps
Ava Addams has also expressed within a separate AIP Daily interview that she would love to venture behind the camera and direct her own pornographic productions in the coming years;
"I directed and came up with pretty much everything on www.AvaAddams.com, unless it was content trade with another girl. I'm also decent at photography but would like to learn camera work…There are so many people I want to work with, seriously the list is immense! I want to fuck as many hotties as I can".
Within this AIP Daily interview Ava Addams had some astute words of wisdom to impart upon aspiring adult film performers. As Ava Addams puts it in her own words;
"Funny I was just discussing this with friends. I always have friends that ask me if I can get them in the door, and I always tell them this: If you are too ashamed to tell your own parents or your closest friends, don't do it. I love my job but I have lost friends over it and it's hard to find a man or woman that isn't intimidated by what I do, and people are assholes. They will judge you! It's a good thing I have amazing parents and friends that love/accept me, and that I don't care what everyone else thinks".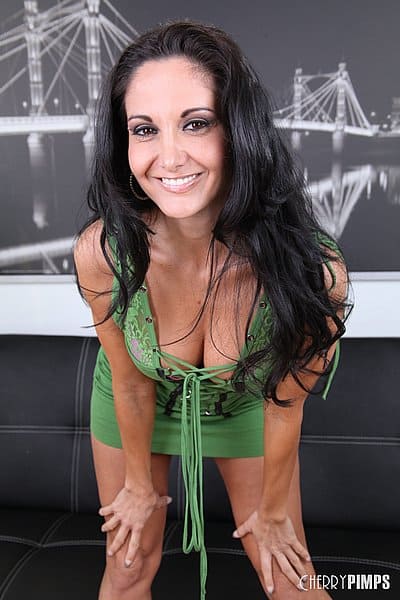 Ava Addams at Wild On Cam – Cherry Pimps
Ava Addams : Femdom, Fetish Lifestyle Market & BDSM Content
As famous as she is for her girl/girl sex scenes and MILF themed releases, Ava Addams has also showcased her saucier side throughout her adult film career within a variety of hardcore group sex scenes. In fact, Ava Addams divulged within her July 2013 Nurgle Nymphs interview that she has a far kinkier side than her porn star portfolio reflects;
"I love candle play, love role play , bondage, and costumes, I like my sex harder than what they are used to me seeing do on film for the most part…".
As Ava Addams further teased within her Adult DVD Talk interview;
"The only company that would probably shoot them is Kink. (laughs) I have a couple of really good deep, dark fantasies that involves bondage or deep role playing. I've actually suggested a couple to a company and they said, 'Um, we can't get away with that.' Some companies won't even allow you to get choked during the scene anymore. They'll allow you to do it but they'll edit it out. There are so many rules now".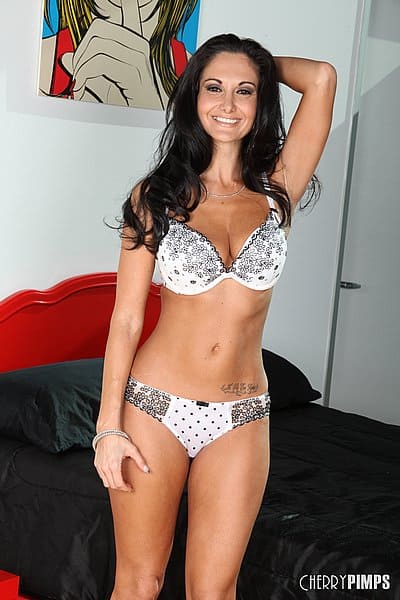 Ava Addams at Cherry Spot – Cherry Pimps
Eager to indulge her kinkier sexual fantasies, in December 2012 Ava Addams filmed her first ever Kink.com sex scene as part of the fetish porn site's Hardcore Gangbang web series. Titled MILF With A Tiny Body And Huge Tits Gangbanged By Co-Workers, Ava enthused about shooting this group sex scene with Danny Mountain, James Deen and Ramon Nomar within her Luke Is Back interview;
"It was my first time shooting with them and my first time shooting with three guys. I picked James Deen, Ramon and Danny Mountain. It was amazing. They were telling me you need to struggle and act like you're not enjoying this. I was like, oh yeah, that's right….They had me taped up and I had a phone cord wrapped around me, because it was an office sexual harassment type of scene. When we got part way through, I'm like, can I enjoy it now?…I had an amazing experience, and I would love to do it again".
Ava Addams has continued to collaborate with Kink throughout her adult film career and has filmed all manner of femdom, fetish porn and BDSM content for their Sex and Submission web series among other saucy solo shoots. What's more, Ava Addams has collaborated with Evil Angel on numerous fetish porn productions such as POV Jugg Fuckers 3 and 5 (2010), Raw 5, 12 and 16 (2010, 2012 and 2013), Lesbian Public Sex Fetish (2014) alongside popular pornstars August Ames, Dana Vespoli, Dana DeArmond and Kimberly Kane, Rocco's Perfect Sex Slaves 4: American Edition and Strap On Anal Lesbians 3 (2015) also starring alternative porn starlet Proxy Paige.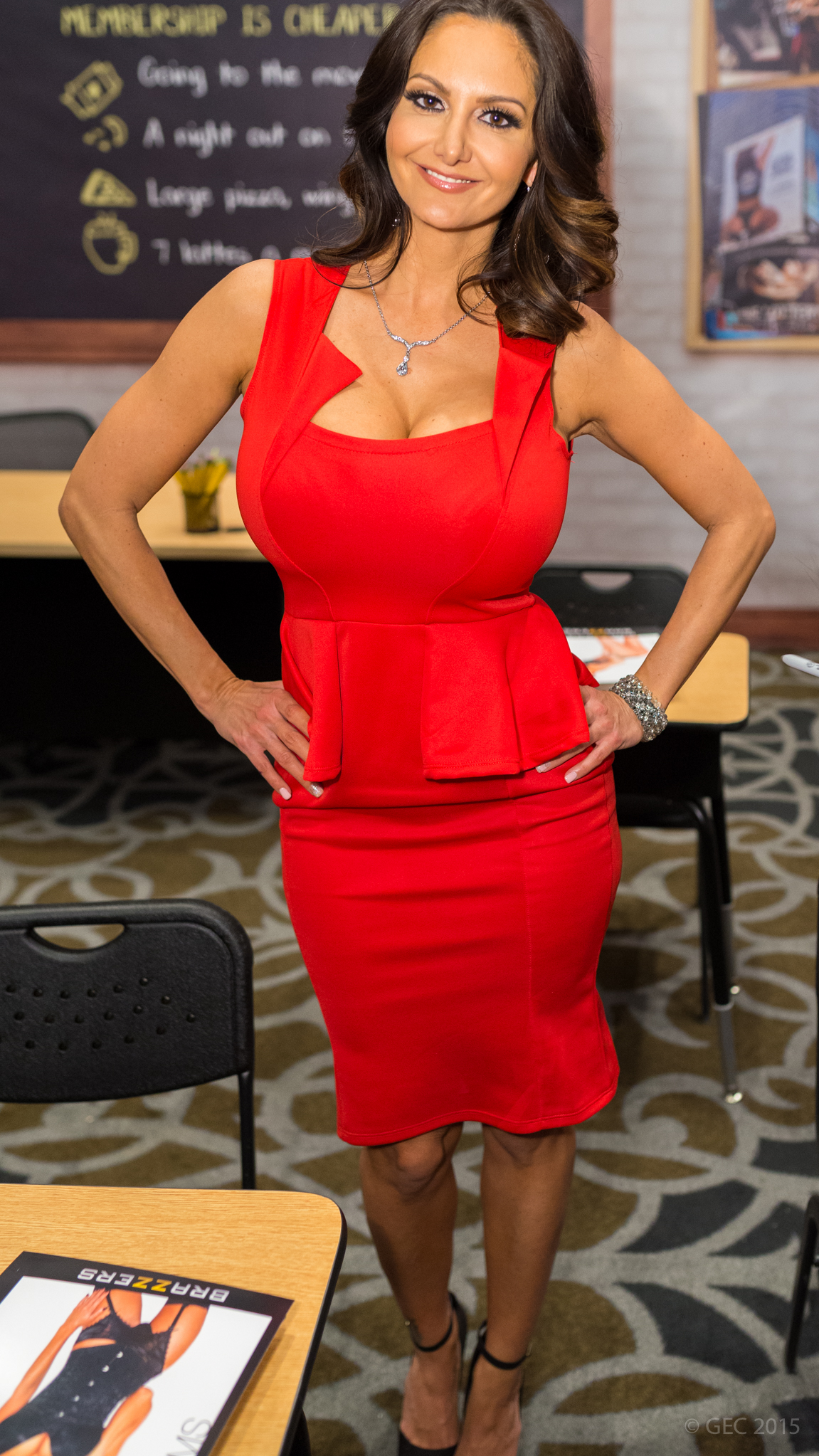 Ava Addams at 2015 AVN Expo – Image Sourced from Wikimedia
Ava Addams : Mainstream Media Projects & Webcam Model
In addition to her MILF-themed releases and fetish lifestyle content, Ava Addams has collaborated on multiple mainstream media projects since first venturing into the adult film industry in 2008. For instance, after appearing in the 2009 vignette release Fear Girls Ava was chosen to star in the Screamtime Films feature film Zombiefied. As Ava Addams herself has highlighted;
"I did commercials and print work as a kid, did theatre growing up, and just missed it. I did a movie called Fear Girls and then was fortunate enough to get cast in a horror movie called Zombiefied, and just auditioned for a pilot, fingers crossed. I love acting, it's very challenging and kind of scary at times but so rewarding. I did my own stunts for Zombiefied and it was very intense and I couldn't talk for days after screaming but I loved every single minute of it and I would love to do more mainstream work".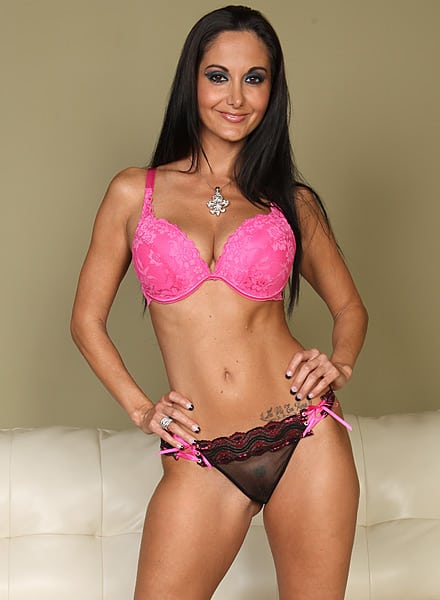 Ava Addams at Cherry Spot – Cherry Pimps
Ava Addams has also been interviewed by numerous online media publications including ZZInsider, The Cigarette Dungeon, She Needs It and Fleshbot . In 2011 Ava Addams was ranked #94 within Complex magazine's "The Top 100 Hottest Porn Stars" list and in 2012 Ava Addams was one of seven female porn stars to be mentioned within the Brian McKnight's song "YouPorn.com Anthem".
Aside from her mainstream media projects and pornographic productions, Ava Addams also enjoys webcam modelling for her official solo website and adult cam-sites such as Chaturbate. Ava Addams expressed within her Men's Mag Daily interview that webcam modelling, combined with her social media platforms, has enabled her to interact with her fans on a personal level;
"A lot of girls prefer to dance. I like camming, I actually enjoy myself. I get to interact with people. I actually used to cam a lot more than I do now. I like it better because it's from your own home, I can take breaks when I want, and the money comes straight to me. I'll usually just bullshit with the fans for the first few minutes and they get to interact with me not just on Twitter…I think it's very important. Social media has helped and hurt a lot of girls. Some girls are just mean; I see them yell at their fans on Twitter. There are also a lot of girls who have people tweet for them so you're not always talking to who you think you are. There are a lot of girls that don't do their own social media. I feel like you can always kind of tell. A lot of girls do take the time to answer their tweets. There are also girls who don't cam but they'll do feature dancing and that's their way of reaching out to their fans".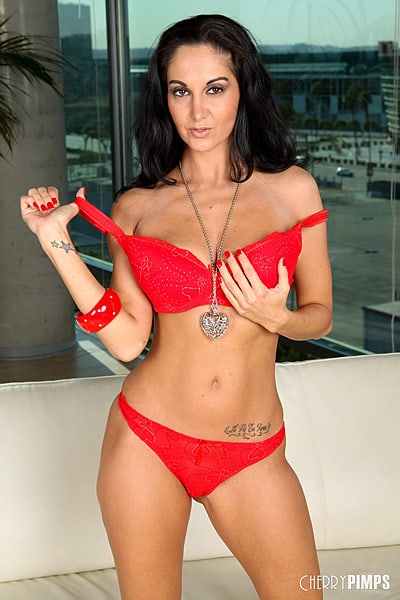 Ava Addams at Cherry Spot – Cherry Pimps
Ava Addams : Family Life & Future Plans
When she isn't filming her latest pornographic productions Ava Addams loves to broaden her cultural horizons by exploring new and exciting regions across the globe. Although Ava Addams likes to maintain her family's privacy, she has discussed within her 2011 Hejorama interview how eager she is to introduce her son to her love of travel;
"I am very excited and of course I plan on traveling with him! I am due Feb 28th and am already planning a trip back to France [most of my family lives there] this summer. Obviously he will be too young to remember anything but it will be the first of many travels because there are so many places I want to visit that I have yet to see…studying other countries and people fascinates me and I'm also a bit of a History nerd oh and to top that off, a foodie! So it makes sense to explore as many Countries as possible and discover all these fascinating aspects one by one. Traveling is just exciting to me but also it teaches you many things and one can never stop learning and growing as a person. And of course you get amazing memories and stories that you can cherish forever".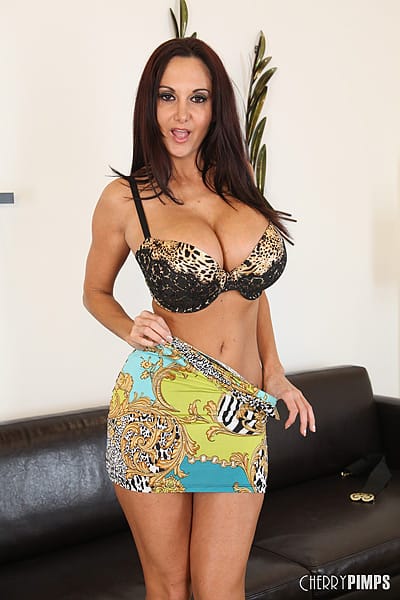 Ava Addams at Wild On Cam – Cherry Pimps
Intrepid explorer Ava Addams is also an avid yogi who has performed as a yoga instructor within multiple pornographic productions! Fans eager to discover Ava's yogi skills should check out  the 2015 Brazzers DVD feature release Zen Booty as well as the online sex scene Yoga Pussy which was filmed with Kendra Lust and Janessa Jordan for Ava's official website. Ava Addams loved shooting these saucy scenes and explained within her Luke Is Back interview that;
"It was fun and I brought my Hitachi because doesn't everyone bring their Hitachi to yoga class?".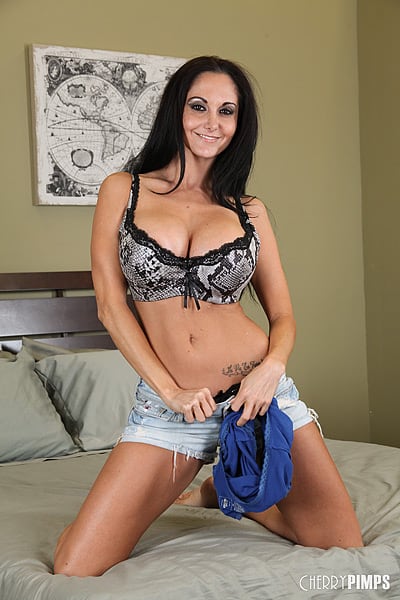 Ava Addams at Wild On Cam – Cherry Pimps
When asked about her additional hobbies and interests during her July 2014 Adult DVD Talk interview, Ava Addams conveyed how;
"I love yoga, which I think the whole world knows because I'm always Tweeting pictures of that. I like hiking, I love traveling. I'm kind of a homebody; I like to cook, I like to have friends over for dinner. On the weekends, I have people over to my pool. I like to go to the beach. I'm more lowkey but I definitely love spending time with family and friends. I miss my Texas friends. Being out in LA now that's the hardest thing for me, I wish I could teleport them here. (laughs)".
Fans eager to learn more about the magnificent MILF star Ava Addams can access all of her latest adult film content by using the social networking links provided below. Head on over to these sites today in order to glean exclusive insights about the amazing Ava Addams and to check out her latest webcam modelling sessions!
Ava Addams – Social Networks
Official Website : Theavaaddams.com
Twitter : @AvaAddams
Brazzers : Ava Addams at Brazzers
Cherry Pimps : Ava Addams at Cherry Pimps
Instagram : @theavaaddams
Kink :  Ava Addams BDSM, Femdom & Fetish Content
Naughty America : Ava Addams at Naughty America
YouTube Channel : TheAvaAddams
The Nude : Ava at Nude.EU
Babepedia : Ava at Babepedia