Rizzo Ford
Rizzo Ford Twitter : @rizzoford  Kink : Rizzo's BDSM Content  Burning Angel : Rizzo's Sex Scenes
Rizzo Ford – Personal Info
Name : Rizzo Ford
Date of Birth : July 8th
Hometown : Rhode Island (US)
Height : 5'0 (1.53m)
Hair Colour : Brunette/Black/Blue
Eye Colour : Green
Tattoos : Rizzo is famous for her vibrant body art which includes a Kermit design behind her left ear, Poison Ivy on her left arm, Steve Buscemi as Mr. Pink on her left thigh, Supafly on her left calf, a Lucha libre style Supergirl on her right shin, a Joker/Harley Quinn Batman The Animated Series inspired sleeve on her right arm, headphones on her stomach and a Jewish hamsa symbol underneath her breasts. When she was asked about her hamsa tattoo during her December 2012 Heeb Magazine interview, Rizzo mentioned that;
"This is actually the only tattoo I have with meaning. It's a protection thing. The most memorable reaction I got to my hamsa tattoo was the first time I shot for Burning Angel. I was shooting some sex stills and James Deen, who was on set because he's in the same feature, yelled out "is that a hamsa on between your boobs?!?!" Needless to say, we ended up bonding over the fact that we're both Jewish".
Shoe Size : Women's 6 (US)
Years Active : 2011 – present
Number of Scenes : 20+
Rizzo Ford is a fan-favourite alt. porn star and fetish performer who has been performing in porn since 2011. Famous for her Burning Angel comedies and WoodRocket porn parodies, Rizzo has established a devoted global fan following and received a notable "Most Outrageous Sex Scene" nomination at the 2017 AVN Awards due to her unforgettable Strokemon : The XXX Parody shoot with Kassondra Raine and Tyler Nixon.
So where did it all begin? Hailing from Rhode Island but currently based in Chicago, Rizzo Ford posed as a model for Suicide Girls before she began working in the adult film industry. You may be interested to learn that Rizzo Ford also used to work at an adult video store near the airport in Warwick, Rhode Island. Rizzo Ford discussed her early modelling career during her December 2012 Heeb Magazine interview, divulging that;
"In spring of 2007 I had broken up with my boyfriend of almost four years. While we were dating I had joined SuicideGirls.com as a member and, like most semi-attractive (and a fair amount of not-so-attractive) tattooed girls, wanted to eventually become one.  As a "oh hey, I'm hot and tattooed and I think I can do this!" sort of move, I eventually applied. It took a couple tries, but I became an official Suicide Girl in 2009".
After moving to Chicago Rizzo started posing for amateur photo sets and video clips which led to a friend of hers suggesting that she pursue a career in porn. Inspired by this suggestion, Rizzo sent off her application to the leading alt. porn network Burning Angel and the rest is history! Talking about this period of her life within her December 2012 Heeb Magazine interview, Rizzo Ford explained how;
"Shortly after moving to Chicago from Rhode Island, I took some amateur pictures and video with a good friend of mine who is a photographer/occasional videographer and happens to have a giant schlong – best Yiddish word I could think of for penis..One day I was hanging out with one of my girlfriends and showed her the pictures and video. Her response? "Dude! You should totally do porn!" After thinking it over for a bit, I figured "why the fuck not?" I had spent a year and a half working at a porn store near the airport in Warwick, RI, and I was pretty well versed in the industry…
With only a few exceptions it can be pretty hard for a heavily tattooed girl to get work in the porn industry. I decided that my best bet was to apply to the mother of alt-porn sites, BurningAngel.com. So I applied, and later that day I was chatting with co-owner Mitch Fontaine about when I was able to come out and shoot with them.  A few weeks later I was in Los Angeles shooting porn!".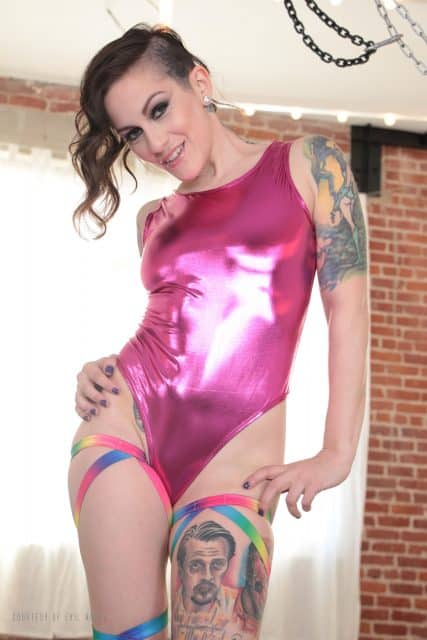 Rizzo Ford in Black Snake Oil 4 – Evil Angel – Adult Empire Galleries
Rizzo Ford : Adult Film Career
Rizzo Ford first began working in the adult film industry in 2011 and one of her earliest porn productions was Hot For Teacher (2011) for Burning Angel within which Rizzo Ford shared a hot hardcore scene with Danny Mountain. Rizzo Ford has since starred in a wealth of fan-favourite Burning Angel productions including School of Black Cock 2 (2013) that was nominated for "Interracial Release of the Year" at the 2014 XBIZ Awards, Spandexxx (2013) also starring Karmen Karma, Miss Genocide, Zarrah Angel and Veruca James, Slumber Party Sluts (2014) that was nominated for "Best Comedy" at the 2016 AVN Awards and Strap On Tight It's Lesbian Ride (2014) within which Rizzo shared a raunchy femdom pegging scene with Aiden Ashley.
Fans of Rizzo Ford will also want to watch her saucy scenes in the Burning Angel DVDs Comic Book Freaks & Cosplay Geeks (2015) which won "Fetish Release of the Year" at the 2016 XBIZ Awards, Stockings (2015), Street Punxxx (2015), Dude Am I A Slut? (2015) that was nominated for "Best Screenplay: Parody" and "Best Soundtrack" at the 2016 AVN Awards, Joanna Angel's Anal Training Camp (2016) and Professional Anal Whores 2 (2017) which enabled Rizzo Ford to share  a terrific three-way with Donny Sins and Will Havoc.
One of Rizzo Ford's most popular Burning Angel productions to date has been Jews Love Black Cock (2017). Directed by Joanna Angel and starring Abella Danger, Harlow Harrison, Jennifer White and Taurus, this kinky comedy was an instant hit among fans and film critics alike; winning "Best Comedy" at the 2018 AVN Awards as well as receiving some notable "Best Soundtrack" and "Comedy Release of the Year" nominations at the 2018 AVN and XBIZ Awards. When she was asked about being one of a few Jewish performers in the adult industry during her December 2012 Heeb Magazine interview, Rizzo Ford conveyed how;
"Thankfully I've yet to receive any anti-Semitic mail/tweets/death threats, but I attribute that to me not being that well known. I'm sure if I were a bigger name I would be getting hate mail on the regular. I should consider myself lucky, but to me those kinda things just make laugh and realize how insecure others are about themselves…
One of my favorite things about working for Burning Angel is that it's run by a couple Jews, Joanna Angel and Mitch Fontaine. While I haven't gone to synagogue or spun dreidel with either of them I definitely feel as though we've bonded over it. I remember discussing with Joanna about how Jewish we were raised and current practices. I always wish them a hag sameach, and Mitch and I like to argue about who is more Jewish looking. He totally is. Dude looks like a hipster Woody Allen".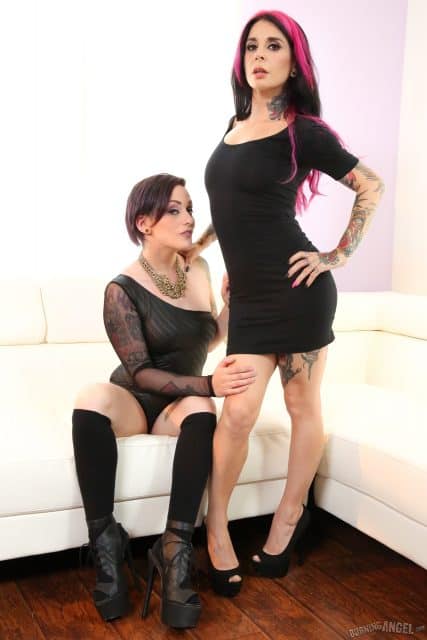 Rizzo Ford and Joanna Angel – Burning Angel
But hold on, it gets even better! Alongside her impressive collection of Burning Angel productions, Rizzo Ford has also appeared in many best-selling DVDs and kinky web clips for WoodRocket, Filly Films and Wicked Pictures among many more prominent porn networks. We recommend checking out Rizzo Ford's amazing all-girl sex scene with Ana Foxxx, Jenna Sativa, Jess Gatsby, Lily Cade and Sophia Grace in the Filly Films DVD Lesbian Vacation (2015), her raunchy role-play with Vanessa Veracruz in Dana Vespoli's Sweetheart Video sequel release Prison Lesbians 2 (2015) and her sultry scenes with Natalie Mars in the TransSensual Studios movie TS Forbidden Love (2017).
Fans of Rizzo Ford will also love viewing her sizzling scenes with Ryan McLane in Axel Braun's Inked 3 (2017) for Wicked Pictures starring Leigh Raven, Amber Ivy, Honey Gold and Draven Star, her raunchy shoot with Mickey Mod in Aiden Starr's Evil Angel DVD Black Snake Oil 4 (2017) and her thrilling three-way with Missy Martinez and Tommy Pistol in the WoodRocket parody release Hamiltoe: A Musical Porn Parody (2017).
One of Rizzo Ford's most memorable scenes to date has been her Strokemon: The XXX Parody collaboration with Kassondra Raine and Tyler Nixon that was released via WoodRocket.com in 2015 and which earned Rizzo Ford a notable "Most Outrageous Sex Scene" nomination at the 2017 AVN Awards. This kinky Pokémon themed porn parody has since been showcased in the Wood Rocket DVD compilation title Ten Inch Mutant Ninja Turtles And Other Porn Parodies (2016) which was nominated for "Best Parody" at the 2017 AVN and XRCO Awards. Adult DVD Talk blogger AstroKnight had high praise for this raunchy parody release, commenting in his March 2017 film review that;
"Ten Inch Mutant Ninja Turtles and Other Porn Parodies is an extremely fun collection of porn parodies. Yes, I'll admit that I went into this one with a bit of apprehension as there's plenty of makeup and production values needed to pull off some of these parodies, but Lee Roy Myers and the crew over at WoodRocket definitely gave these characters and parodies the attention they deserved…Kassondra, Rizzo, and Tyler's Pokémon parody is solid with a great balance all around".
In addition to her best-selling DVDs, Rizzo Ford has established a devoted fan following within the fetish lifestyle market due to the wealth of captivating BDSM, femdom and fetish content that she has filmed for Kink.com. As matters stand Rizzo Ford has appeared in an Eager Electro Slut femdom electro-sex session with Daisy Ducati in May 2016, a TS Pussy Hunters shoot with Foxxy in March 2017 and she has filmed several sensational wrestling sessions with Bella Rossi, Cheyenne Jewel, Ariel X. and London River that were released as part of Kink.com's Ultimate Surrender erotic wrestling series in June 2016, February 2017 and September 2017. Not to be missed!
When she isn't performing in porn Rizzo Ford has been collaborating with Wood Rocket on several instalments of their insightful Ask A Pornstar web series and she has also made multiple appearances on The 288 Podcast which is run by her friend and fellow Burning Angel performer Draven Star. Want to keep yourself updated on all of Rizzo Ford's upcoming projects? Then please feel free to use the links provided below to stay connected with your favourite terrifically tattooed performer Rizzo Ford!
Rizzo Ford – Social Networks
Twitter : @rizzoford
Instagram : @rizzoford
Kink : Rizzo's BDSM, Femdom & Fetish Content
Burning Angel : Rizzo at Burning Angel
Clips4Sale : Rizzo's Funhouse
ManyVids : Rizzo Ford
IMDB : Rizzo's Filmography