Official Website : EvaLinXXX.com  Twitter : @evalinofficial  Grooby Girls : Eva Lin  Kink : Eva Lin
Personal Info
Name : Eva Lin
Alias: Estelle LaMore, Estelle Lamour
Date of Birth: May 4th 1985
Home Town : Manila, Philippines/ Hayward, California
Measurements : 34DD – 24 – 34
Bra/ Cup Size : 34DD (75F)
Boobs :  Enhanced
Height : 5'9 (1.75m)
Weight : 140lbs (64kg)
Hair Colour : Brunette/ Black
Eye Colour : Brown
Tattoos: Chinese characters around the back of her neck, on the right side of her neck, to the right of her navel, running down both hips, and Chinese text on her lower back which means "Trust No One" (which she had done shortly after breaking-up with a past boyfriend)
Piercings: Nipples
Shoe Size : Women's 9 (US)
Years Active : 2011 – present
Number of Scenes : 26+
Born in Manila in the Philippines, Eva Lin's family were originally from San Pedro, Laguna, in the Philippines. However, when was 9 years old, Eva moved from Manila to the USA. She was raised by her grandparents in Hayward, California, and has frequently stated in her interviews that she regards the San Francisco Bay area as her hometown. Proud of her heritage, Eva Lin discusses on her official website how;
"My name is Eva Lin, a transsexual beauty queen from the Philippine Islands. My Irish-Filipina descent gave me my beautiful exotic looks. Every inch of my body is exotic, from my face down to my 7″ of womanhood that will rock your world. I am unique in every way! I ventured into the adult industry at the age of 22 and I am in love with what I do! Other than shopping and reading books, sex is definitely my favourite pastime. So now I am happy I can share my sexual adventures with you!".
Eva Lin : Adult Film Career
As mentioned above, when she was 22 years old Eva Lin first ventured into the adult entertainment industry. Initially Eva worked as a bartender and exotic dancer in a transsexual nightclub in San Francisco known as DIVAS. It was here that she met fellow transsexual performer Yasmin Lee; the gorgeous transsexual porn star who starred in mainstream movies such as The Hangover: Part II and Red Ice. By working and socialising with these fellow aspiring transsexual porn stars, Eva Lin was able to forge the necessary contacts in order to establish her own film career within the adult entertainment industry.
Consequently, in May 2011, Eva went to Los Angeles to pursue her own porn star career aspirations. After participating in several adult modelling shoots, Eva was introduced by her photographer to famous adult film director Buddy Wood. Speaking about  her very first pornographic production, Eva conveyed in a 2014 AVN interview how;
"I really wanted to do it…I've always been a really sexual person and I've always been into voyeurism and exhibitionism…My photographer introduced me to Buddy Wood—he's a director for Grooby—and I just kind of threw it out there, and the next thing you know I'm shooting for a solo film… I shot for Grooby…They call it the transsexual tree, because everybody starts out there and the fruits fall from the tree and roll their own ways. I shot my first solo for them, and I shot my first hardcore with Kink.com".
Following a few initial film appearances under the alias Estelle LaMore, Eva was eager to transform into the Eva Lin alias that we all know and love. When asked about the reasons behind this stage name switch in a caramelstgirls.com interview, Eva explained that;
"First off Grooby Productions had mistaken my name from Estelle LaMore to Estelle Lamour. Estelle Lamour was never a name I wanted to go by and I was a bit frustrated. Second I went out with a good friend to a club celebrating OC Pride and there were paparazzi interviewing my friend and I. When I was asked my name it was too long for me to spell! So I am not going to wait for a third irritating incident with my former name".
Eva quickly amassed a wave of praise and recognition from fans and production companies alike for her extreme hard-core performances in her Kink.com and Grooby Network collaborations.
These raunchy performances, combined with her captivating looks and unabashed nature, quickly earned Eva Lin multiple award wins and nominations that have been listed below;
2012: Tranny Awards winner — "Best New Face"
2012: Tranny Awards winner — "Best Scene" (shared with Honey Foxx and Sebastian Keys)
2012: Tranny Awards winner — "Best Hardcore Performer"
2012: Urban X Award nominee — "Transsexual Performer of the Year"
2013: AVN Awards nominee — "Transsexual Performer of the Year"
2013: XBIZ Awards winner — "Transsexual Performer of the Year"
2013: Tranny Awards nominee — "Best Hardcore Performer"
2014: XBIZ Awards nominee — "Transsexual Performer of the Year"
2014: AVN Awards winner — "Transsexual Performer of the Year"
2015: AVN Awards nominee — "Transsexual Performer of the Year"
Spurred on by this critical acclaim and the support of her fans, Eva proceeded to appear in 17 feature films for Kink.com and their TsSeduction.com website. Some of Eva Lin's most popular pornographic productions which were filmed during this period of her career include; TS Domination (2011) Eva Lin's Adventures (2012) TS Playground 1 (2012) Tranny Chaser (2013) and Transsexual Prostitutes 74 (2013).
In fact, within merely three years of working in the adult film industry, Eva Lin had performed for every single major transsexual studio. This impressive cinematic feat led to Eva becoming the first ever exclusive contract performer to sign with Trans500; a studio created by renowned adult film director Josh Stone. After all, Lin's highly rated sex scene with Ramon and Castro Supreme had made its debut on Trans500.com and in a 2014 AVN press release it was noted that;
"Producer Josh Stone saw the instant impact she brought to the website with her dedicated fans. After meeting with Lin, it was perfectly clear to Stone that she would become Trans500's first contract girl and one of very few transsexual performers to ever be under contract".
Eva's pioneering streak also continued when she became the first transsexual performer to ever host live member events on VNALive.com. In recent years Eva has also co-hosted "New York's Best Transsexual Party" alongside Domino Presley and Morgan Bailey has made appearances on radio talk shows for Sirius/XM 41 radio, Playboy Radio, Taboo Fetish Radio and the SinCityBounty.com radio network amongst many others.
What's more, Eva Lin has also collaborated with Dave Naz, renowned art photographer for Hustler's "Barely Legal" and "Taboo" magazines, on a 2013 project which unveiled  the real lives of transgender stars. Speaking about this project in an interview with Adult Video News (AVN), Dave Naz conveyed that;
"Part of the project is just kind of learning more about what it means to be transgendered, and in doing so, I learned that identities change, and they change quickly sometimes, and even the terms they use to describe themselves change…But actually, the folks that I'm working with now are all transgender female, and that's all I'm focusing on right now, because I hope to make my photos of them into a book and have supplemental videos that kind of tell the stories of the people that I'm shooting. The video that's currently posted on my site with Eva Lin, Venus Lux and Riley Kilo, I think I also got lucky in that these are three people that really articulated well about their lives and their experiences, and so I just hope to continue that, and I have several portraits that go along with that in this trans series".
Titled as "Trans", this book enabled fans of Eva Lin to discover the personality behind the porn star; glean exclusive insights into her daily life, past experiences and learn about her personal thoughts on important transgender issues.
In 2015, this collaboration with Dave Naz eventually culminated in the release of a 63 minute documentary titled "Identity: In & Beyond the Binary", which included interviews with members of the transgender, gender-queer, butch and queer communities as they discussed their different experiences with gender identity. This documentary offered fascinating and thought-provoking insights into the life of Eva Lin and the trials and tribulations of her fellow members of the LGBT community.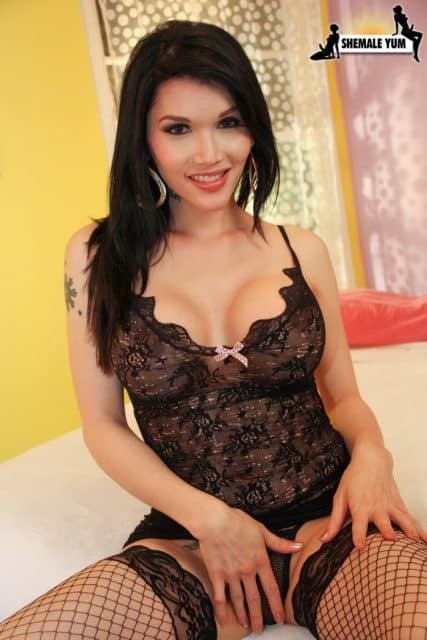 Eva Lin at Grooby Girls (formerly Shemale Yum)
When asked about transgender issues and her own personal difficulties with transsexual prejudice and discrimination, Eva has explained in interviews for magazines how;
 "My family's Catholic, and very traditional, old-fashioned, conservative. So it was kind of hard for them to accept me as trans, but they did accept me eventually…
What's really weird about that and kind of ironic is that I experienced more difficulties in San Francisco than in any other city. And it's because San Francisco is such a gay-concentrated city, and it doesn't focus enough on the trans community. It's two different communities, two totally different things. Polar opposites. When someone's gay it's more of a sexual preference. When someone's trans it's more of an identity that someone has to face…
I've always been independent, and just having to look for jobs in San Francisco and constantly have that struggle of being a trans woman, and just walking down the street and people yelling, screaming at me telling that I'm not who I think I am. … people yelling, 'You're a man, you're not a woman'…But now I don't go through that…Maybe because it's because I'm more deep into my transition and I'm almost finished and I'm totally feminized now, and hardly anyone can tell. But before it was really hard".
As well as discussing her own experiences, within this interview Eva also commented on the recent shifts in cultural attitudes towards the transgender community. As she puts it in her own words;
"We're really moving forward as a community…and not just in adult entertainment but also in mainstream media…And I think there's a lot of misunderstanding within people, in society in general, about trans people and that's slowly coming into light. … There's a lot of acceptance that's coming about in this day and age, and I think that's really beautiful".
Although she currently lives in the Las Vegas, Nevada, the adult entertainment industry capital of the world, Eva still has a soft spot for DIVAS, the San Francisco nightclub which kick-started her career. In a recent CaramelsTGirls.com interview, Eva enthused how she still performs there as often as possible;
"I still dance there for fun! I am an exhibitionist and I love getting on stage and strip teasing. I also love the looks on the men while I am on stage. It is a way of me communicating with body language and I can see it when someone is turned on by it. I dance there every Wednesday or Thursday depending if I am in town".
However, above all else, Eva Lin has proclaimed that the best part of her porn star career is her network of loyal fans. As she conveyed in her 2014 AVN interview;
 "What I like best is, I get fan mail, and this may sound clichéd but it just really touches me when my fans are willing to do anything for me and I think that's really beautiful. Because I feel like I'm a celebrity to a certain extent and I have a lot of guys who contact me—and sometimes there's women, and other trans women—and say, you really touched my heart, or you changed my life, because I never knew I liked something like this. You've opened up something about my sexuality…I just appreciate all my fans…I keep in touch with my fans. That means so much to me".
As a result, Eva is keen to remain in constant contact with her fans; by hosting regular nightclub events, appearing on radio talk shows and by arranging intimate public and private sessions on adult cam-sites such as Chaturbate. Eva is also a frequent attendee of adult film conventions such as the Exxxotica events where avid fans can meet Eva, pose for a photo and learn all about her latest pornographic projects. In fact, at one Exxxotica convention Eva even participated in a contest where one lucky fan could win a dream date with her!
Ultimately, whether you want to meet the transsexual superstar herself, arrange a public or private chat with her, or simply learn more about this breathtaking bare-breasted beauty, why not check out the links below to explore all of Eva Lin's official social networks and cam-site channels!
Social Networks
Twitter : @evalinofficial
Blog : Official Eva Lin blog
Official Website : EvaLinXXX.com
Grooby Girls : Eva Lin at Grooby Girls
Trans 500 : Eva Lin at Trans500.com
Kink Profile : Eva Lin BDSM and Femdom Content
Email : EvaXXXLin@gmail.com