Twitter : @Stefani_Special  Kink Profile : Stefani Special  Grooby Girls : Stefani Special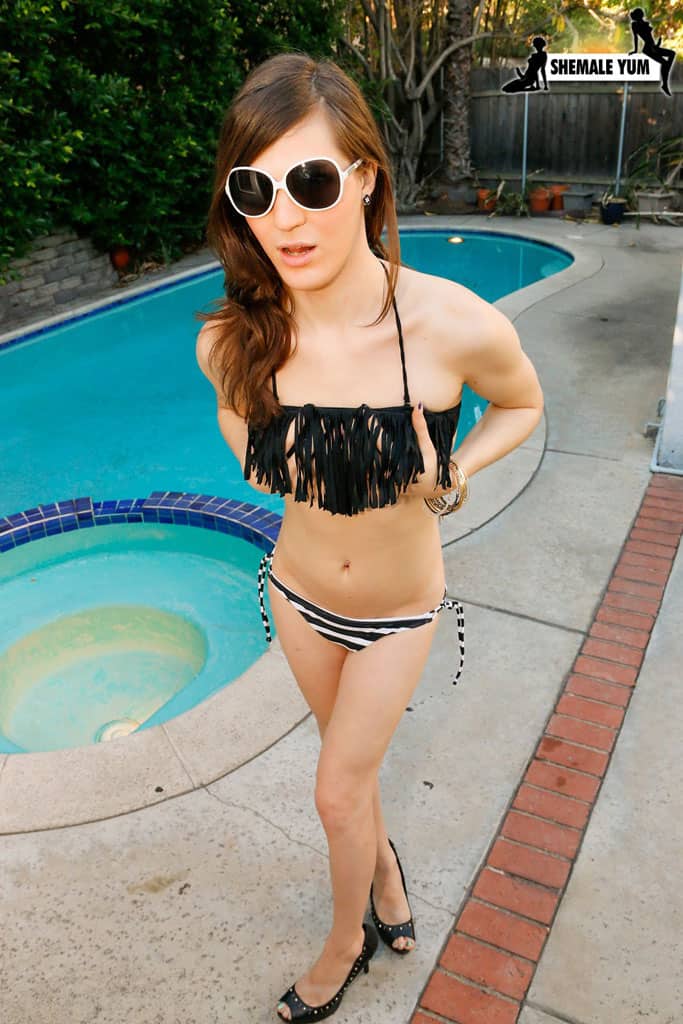 Stefani Special at Grooby Girls
Personal Info
Name : Stefani Special
Date of Birth: December 11th, 1991
Home Town : Texas (US)
Measurements : 36B – 28 – 36
Bra Cup / Size : 36B
Height : 5'10 (1.78m)
Hair Colour : Brunette
Eye Colour : Brown
Years Active : 2013 – present
Number of Scenes : 20+
There's no doubt about it; Stefani Special is one of the most popular performers in the TS porn industry. Best known for her Grooby Network collaborations, Stefani continues to be nominated for "Best Transsexual Sex Scene" and "Transsexual Performer of the Year" at the AVN Awards and her ongoing advocacy work earned her the prestigious "Transcendence Award" at the 2017 Transgender Erotica Awards.
So where did it all begin? Born and raised in Texas, Stefani commented within her March 2014 'All That Is Special Is Stefani Special' interview with Tyra Scott that she is fond of her Lone Star State roots;
"Well, growing up as somebody different in conservative little ol'…Texas…actually wasn't all that bad. lol I could tell you some stories though…Some were cool & some weren't so cool. Pretty much like everywhere else, if you don't fit in just mind your own business & get somewhere where you can be surrounded by people who love & care about you".
Stefani has been conscious of her true gender identity since she was 4-5 years old. Born with Klinefelter's syndrome, Stefani has been candidly honest about her upbringing and revealed within her Tyra Scott interview that she struggled with loneliness, depression and substance abuse before she began to accept her true gender identity. As Stefani explained in her own words;
"I was young! 4-5 y/o when I realized that I'm a girl. I had nothing but girls as friends I hung out with & I was generally more comfortable around my gender. Then I discovered that their sex was not my sex & that caused me a lot of confusion.  My family always thought it was just a phase I was going through & didn't pay much mind to it. They saw me as a boy because they thought they had a son/grandson. Anything I did outside of what they expected a growing boy to do was just written off as me being a kid or being silly…
Puberty really sucked. Both of them! Klinefelter syndrome or being born as an XXY male really becomes hell when puberty begins. Add Male to Female Transsexualism & strong Gender Dysphoria into the mix & then you can start to understand my budding years. Ugh!…
Then I got older & became much more secluded because I really felt like I was alone in the way I felt. Being a girl trapped inside a male body was very disheartening. I really didn't know that there was anyone like me. Then I started researching & finally put a name to what I am & saw that I was not the only one by far...
Then I ran from & hid my Transsexualism from everybody & things got really ugly & dark with my mental & physical well-being. I became even more defiant than I already was. Drugs & alcohol really allowed me dissociate from reality & to basically live in my own head. It got to the point where I was going to transition & be happy or I was going to kill myself because I was not going to live someone else's life. I said FUCK IT & let go of all the bullshit to become who I was meant to be.  Once I began transition, everybody's view of me dramatically changed. I have a loving supportive family & some good friends back in TX that I need to visit more often…
I haven't had any work done yet but I may in the future. I'm very thankful for my good genes & HRT".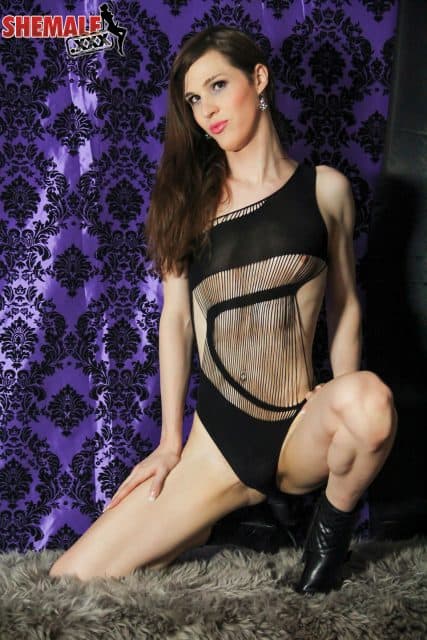 Stefani Special at Shemale.XXX
Stefani reflected within this Tyra Scott interview how her family have come to accept and support her transition process despite their opinions regarding her adult film career. Moreover, Stefani also confided how she has overcome her drugs addictions now that she is happy in her true gender identity;
"Yes, they love & support their daughter. They don't approve of all my choices but that's another story…I would stay high on various drugs before transition but as soon as I started my transition & began to see & feel my body & mind align better…all that stopped".
Before she began working in the adult entertainment industry Stefani worked a wide variety of 9 to 5 jobs; from sales and construction to food services and  working as customer services rep. Stefani also performed as a webcam model and escort before making her adult film industry debut. Stefani stated within her April 2016 TransEthics interview, titled Trans Specialty: Stefani Special on Trans BDSM, Progress in Porn, and Vernacular, that she was destined to become a porn star due to her love of sex;
"It kind of chose me. I chose to proceed with it because I love sex. I've said it before in other interviews but I was working at a sandwich shop & I would have customers ask me at the counter if I had an ad up. I was like what the fuck is that…? Then I did research & was like "oh, okay". I was already web-camming at the time but mostly just Skype & Yahoo Messenger to get a feel for what it was….
So after pushing it around in my head & originally thinking I could go into cis porn & having that dream crash, I contacted Grooby. They didn't have shooters in Dallas at the time, but I was contacted shortly after by Omar Wax to shoot. Also I had a brief, like 1-3 scenes in solo gay porn but of course you wouldn't recognize me even if you knew me. That was way prior to Grooby of course, and actually even prior to escorting".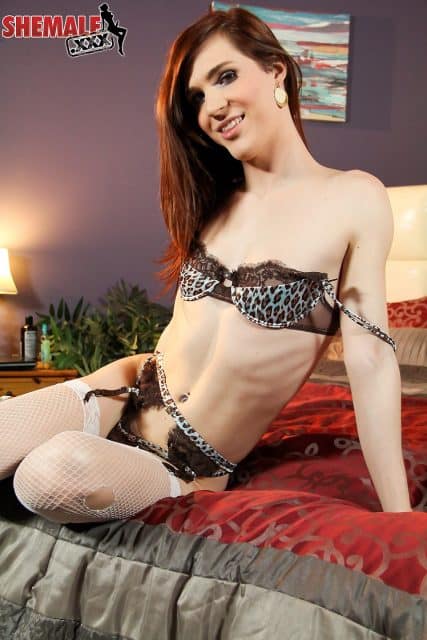 Stefani Special at Shemale.XXX
Stefani Special : Adult Film Career
Stefani made her adult film industry debut in December 2012 with a saucy solo modelling session for the Grooby Network porn site Grooby Girls (formerly Shemale Yum) titled Tgirl Next Door Stefani Special. Stefani discussed her emotions upon filming this landmark photo set within her Tyra Scott interview, divulging that;
"It was fun but I thought it would be a much bigger thing than it actually was. lol  It was a guy taking/recording sexual pictures & video of me in a hotel room. I had met the photographer, Omar Wax prior to the actual shoot & he's a cool guy. Everything went smooth. It was a fun new experience for me & I couldn't wait to explore much more. Now I have experienced much more with much more to come. Now I need much more cum! Bukkake please".
From this point onwards adult film superstar Stefani Special was born and she soon became a fan-favourite performer for her stunning sex scenes that were distributed via the trans-friendly porn sites Grooby Girls, Shemale.XXX, Bob's T-Girls, Frank's TGirl World and Shemale Pornstar. Some of Stefani's most captivating web content includes Fun By The Pool With Stefani Special which was filmed by Buddy Wood for Grooby Girls in April 2014 and Stefani Special & Robert Axel! that was filmed by Blackula for Shemale.XXX in March 2015. Stefani explained the story behind her porn star stage name 'Stefani Special' during her Tyra Scott interview, explaining that;
"I wish I could tell you an awesome story about how my name came about but honestly, "Special" is just a word that sounded cool & stage ready after "Stefani".  Since then my fans have shown me it's a good one for me because not only am I an all-natural beautiful Trans-woman but I top, bottom & I enjoy/practice BDSM & all things Kink from both sides of the D/s power exchange spectrum.  Also, I'm Pansexual which is an awesome thing meaning I'm at least sexually attracted to men, women, trans-women, trans-men & gender queers that interest &/or arouse me".
After filming numerous solo sex shoots and hardcore sex scenes for various Grooby Network websites, Stefani began to appear within multiple Joey Silvera Productions and Evil Angel DVD feature releases including Next She-Male Idol 7 (2013) with Gina Hart which was nominated for "Best DVD" at the 2015 Transgender Erotica Awards, She-Male XTC 12 (2013) that was nominated for "Best Transsexual Release" at the 2014 Nightmoves Awards and Next She-Male Idol 8 (2014) with Jay Taylor. Performing within these best-selling DVDs enabled Stefani to star alongside a wealth of prominent transsexual performers including Aubrey Kate, Eva Cassini, Venus Lux, Sienna Grace, Roxxi Silver, Jacqueline Woods, Eva Lin, Khloe Hart, Jessy Dubai, Danielly Colucci and Bianca Hills. Stefani enthused about filming with Joey Silvera within her Tyra Scott interview, commenting how;
"Aside from my main squeeze Grooby, I really enjoy working with Evil Angel. Joey Silvera is a blast to work with & I look forward to working with him again in the future".
During this Tyra Scott interview Stefani also enthused about her ongoing collaborations with the fetish porn site Kink.com, advocating that;
"Kink.com was great & I really hope I get to work with them more"
Since making her Kink.com debut in July 2013 with a saucy TS Pussy Hunters sex scene with Cherry Torn titled Cat Fight Sexy Time: Introducing Brand New Talent TS Stefani Special, Stefani has remained a frequent feature star within Kink.com's fan-favourite web series TS Pussy Hunters.
Fans of Stefani Special's transbian collaborations will not want to miss out on such sultry sex scenes as TS Stefani Special Slow Dances Her Way Into Mandy's Panties that was first distributed in September 2014, Kinky Date: TS Stefani Special & Juliette March Have Hot Bondage Sex! that was released in November 2014, Mistress Kara Is A Hot MILF Librarian Who Will Punish Misbehavers  in June 2015, and TS Stefani Special Caught In A Love Triangle And Gang Banged which was unveiled in May 2016. Talking about shooting this sizzling group sex scene with Lorelei Lee, Mistress Kara and Cheyenne Jewel within her TransEthics interview, Stefani enthused how;
"In the spirit of Trans BDSM promotion, I also have a Kink.com scene that we just shot recently for TS Pussy Hunters that involves a lot of BDSM. I'm being dominated by three Dommes all at once. Hopefully this will open up doors for more submissive trans productions on the site or another, as there is plenty of ongoing demand for it. The demand has even spilled outside of the trans forums on the Kink site, over to the other sites' forums. It's a pretty cool thing. I encourage all the fans that want to see this kind of thing happen to join in on the discussion".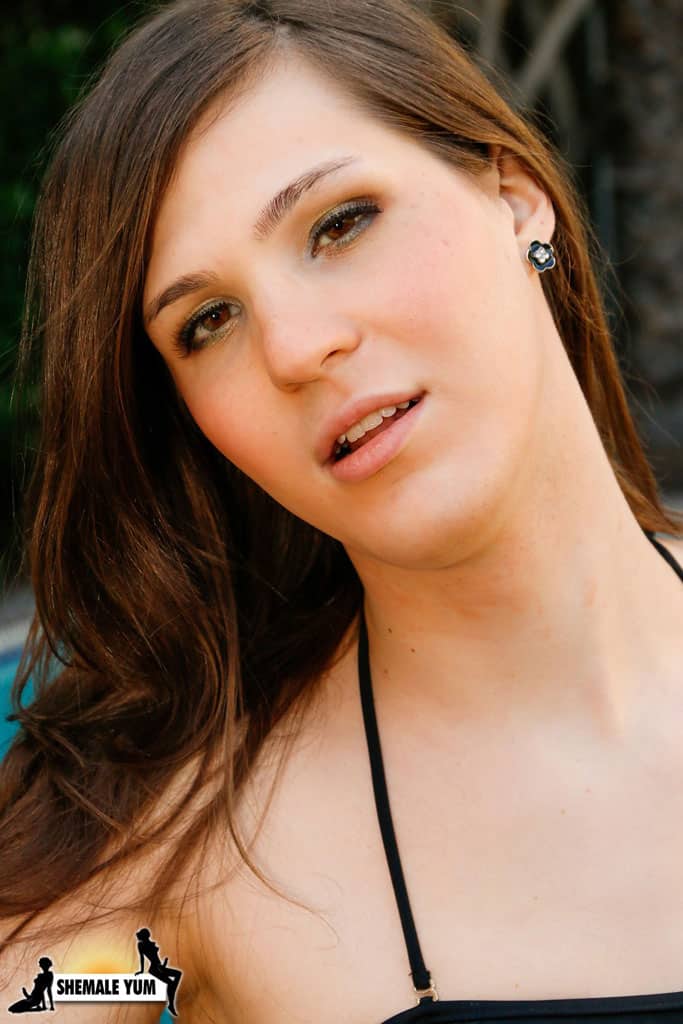 Stefani Special at Grooby Girls
Stefani passion for BDSM and fetish porn has led to some captivating collaborations with femdom fatales such as accomplished director Francesca Le for her Evil Angel/Le Wood Studios DVD feature release She-Male Perverts 3 (2016) alongside Jamie French, Natassia Dreams, River Stark and Francesca Le herself. Stefani has also worked with femdom superstar Aiden Starr for her Evil Angel DVD series Hot For Transsexuals 2 (2016). This scintillating DVD starred Stefani Special alongside Kylie Maria, Isabella Sorrenti and Aubrey Kate and it was recently nominated for "Best Transsexual Movie" at the 2017 AVN Awards and "Transsexual Release of the Year" at the 2017 XBIZ Awards.
Stefani combined her experiences with dungeon play, strap-ons, gag-play, clamps and all manner of niche fetish porn content in order to film the April 2016 feature release Fetish Fvckdolls. This DVD title was filmed in collaboration with Trouble Films, Foxhouse Films and Chelsea Poe Productions and it has become a firm favourite among fetish porn enthusiasts; even being nominated for "Best BDSM Release" at the 2017 XBIZ Awards. Stefani discussed filming this phenomenal DVD feature within her TransEthics interview, expressing how;
"Chelsea Poe, Kelli Lox & I are the featured stars but there is a great cast of co-stars as well. I can only talk about my scene on the project and I am so excited to do so. My scene is with Mistress Kara. It was filmed and co-directed by Jux Lii. It was shot on location in the gorgeous all white Dungeon East in Downtown L.A. My scene involves many aspects of BDSM, and hopefully will bring the BDSM fetishist and the trans porn consumer market together". 
Stefani has continued to indulge her kinkier side and most recently performed in the October 2016 Severe Sex BDSM DVD title TS Femdom alongside her friends and fellow TS femdommes Isabella Sorrenti, Kitty Doll, Aubrey Kate and Brittany St. Jordan.
As well as working with Kink.com and famous adult film director Joey Silvera, Stefani has also filmed for the award-winning director Sammi Mancini for his best-selling TS DVD series She Male Strokers. To date Stefani has filmed some saucy solo sex sessions for She Male Strokers 73 (2015) alongside Eva Cassini, Brittney Markham, Jonelle Brooks, Kelly Klaymour, Lina Cavalli, Mew Mew and Tyra Scott, and She Male Strokers 81 (2016) with her friends and rising TS starlets Alexa Scout, Chanel Santini, Korra Del Rio and Isabella Sorrenti. In fact, Stefani's She Male Strokers 73 (2015) shoot was so popular that it earned her a "Best Transsexual Sex Scene" nomination at the 2016 AVN Awards! Stefani's raw sexuality, amicable personality and stunning looks have earned her multiple adult film award nominations over the years including;
2013: Tranny Awards nominee "Best New Face"
2015: Transgender Erotica Awards nominee "Best Solo Performer"
2016: AVN Awards nominee "Best Transsexual Sex Scene" She Male Strokers 73
2016: AVN Awards nominee "Favourite Trans Performer (Fan Award)"
2017: Transgender Erotica Awards winner "Transcendence Award"
2017: AVN Awards nominee "Transsexual Performer of the Year"
2017: AVN Awards nominee "Best Transsexual Sex Scene" Shemale Perverts 3 (with Kate England)
2018: AVN Awards nominee "Transsexual Performer of the Year"
2018: AVN Awards nominee "Best Transsexual Sex Scene" Monstercock Trans Takeover (with Ramon)
Fans of Stefani Special's award-nominated DVD feature release performances will also be happy to hear that she has continued to film  a steady stream of saucy sex scenes for the leading trans-friendly porn sites Grooby Girls, IKillItTS.com, Bob's TGirls, Frank's TGirl World, Shemale.XXX and Shemale Pornstar; the list goes on! Among some of Stefani's kinkiest web clips include  L.A. T-Fun 1 (2015) with Trixxy Von Tease and Destiny Love that was unveiled via trixxyvontease.xxx and Welcome To T-Girls In Vegas (2015) with Jane Starr that was promoted via the Trans 500 porn site TransAtPlay.com.
In addition to her Trans 500 online sex scenes, Stefani has appeared within the Trans 500 Studios DVD feature releases Trans At Play: She Male Exclusive 2 (2015) with Jane Starr and Monstercock Trans Takeover 9 (2016) with Aline Tavares, Juliette Stray and Ramon.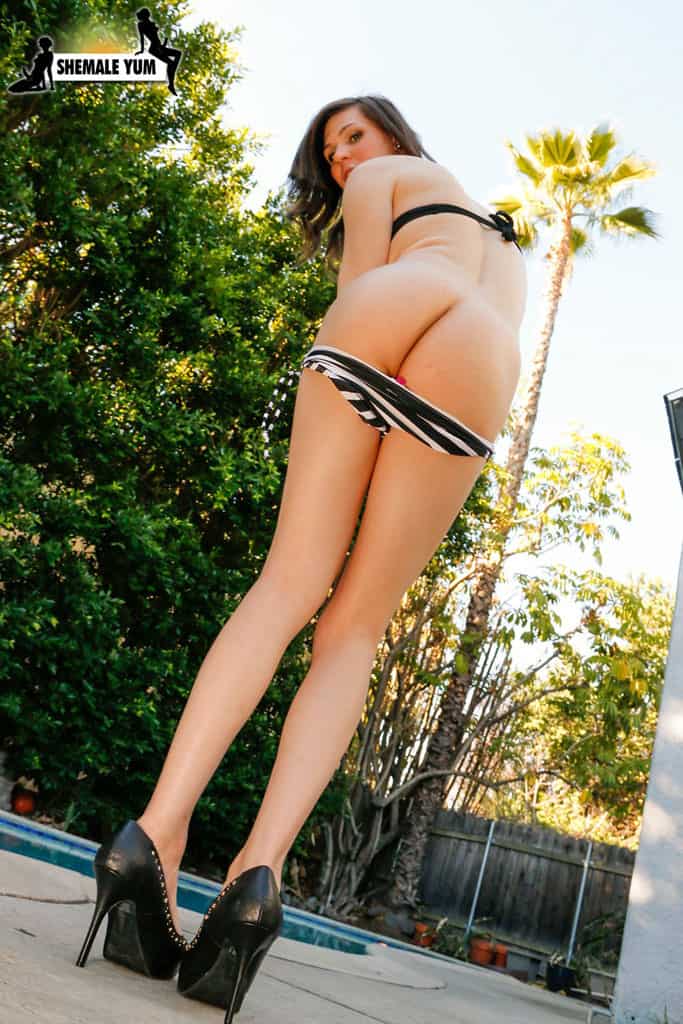 Stefani Special at Grooby Girls
Stefani Special : Best-Selling Porn Productions
Alongside her raunchy web clips, Stefani has featured within countless best-selling DVDs. Our top picks? They would have to be Transsexual Prostitutes 76 (2014) for Devil's Film also starring Amy Daly, Juliette Stray, Chanel Couture and Angelina Torres, as well as Jamie French's Grooby Productions/ Third World Media feature release Trans6uals (2015). Trans6uals boasted a stellar cast of TS performers including Eva Cassini, Birdmountain, Jade Downing, Kelly Klaymour and Jamie French herself and it was nominated for "Transgender Release of the Year" at the 2016 XBIZ Awards.
Without a doubt Stefani's most successful porn production to date has been Real Fucking Girls (2016) for Grooby Platinum. Fun fact; Stefani actually worked as a production assistant on this fan-favourite DVD that was directed by fetish porn superstar Mona Wales.
A pioneering porn production, Real Fucking Girls featured Stefani, Aubrey Kate, Natassia Dreams, Kelli Lox, Jane Starr and Tori Mayes in five sultry sex scenes with cis women Daisy Ducati, Ella Nova, Simone Sonay, Bella Rossi and Amarna Miller. The premiere for Real Fucking Girls was held at the Grey Studios in North Hollywood and consisted of an exclusive party and 40 minute screening with an exciting Q&A session with the film's stars.
What was truly groundbreaking about Real Fucking Girls was the fact that many of its scenes were based up the performers' real life romantic experiences. As a matter of fact, each star was encouraged to ad-lib in order to deliver an authentic and emotive sex scene! Talking about the process of filming Real Fucking Girls at its premiere screening, Mona enthused how;
"This movie was like a child I had with all of my best friends, and I just want to thank everyone for participating…It was a collaborative effort and I hope you enjoy it…if you have any questions, or would like to see various body parts, just ask…my friend Kelly Klaymour, who was the production assistant, and we started making movies together and we just wanted to make something that reflected something closer to our reality…I made this DVD because, I mean, the majority of my work has actually been trans-lesbian scenes, not through any intention; it's just that's what happened; like femdom and trans-lesbian".
The bottom line? Real Fucking Girls was a critical and commercial success among fans and film critics; so much so that it won "Best Transsexual Movie" at the 2017 AVN Awards, "Transsexual Release of the Year" at the 2017 XBIZ Awards and "Best DVD" at the 2017 Transgender Erotica Awards!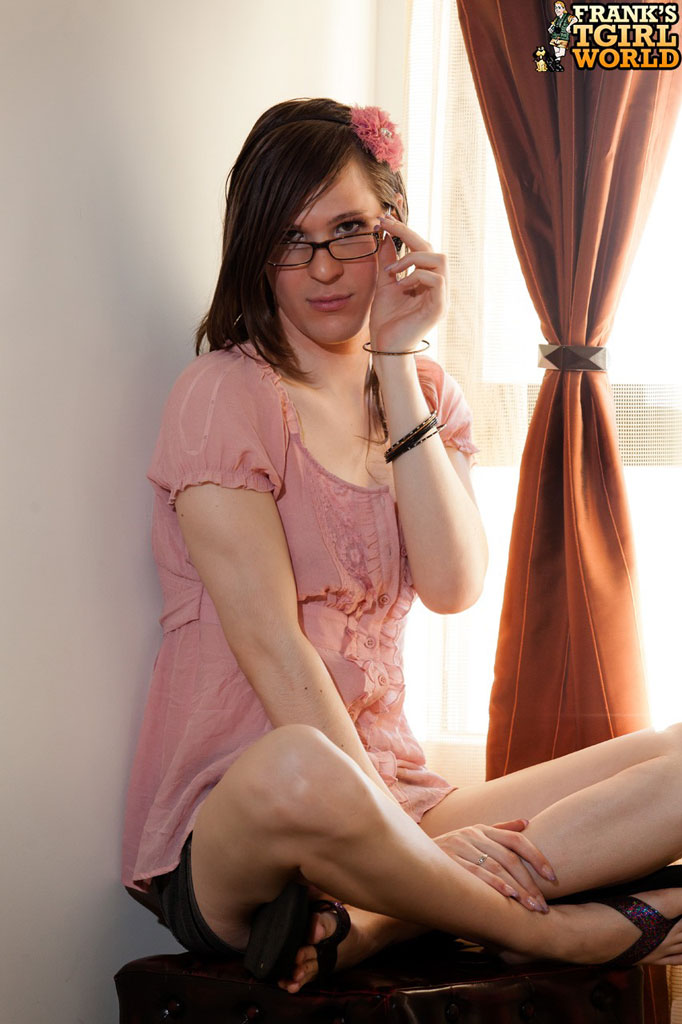 Stefani Special at Frank's TGirl World
Stefani Special : Transgender Activist & Pansexual Advocate
Stefani Special is an ardent transgender activist who continues to speak out against important issues which adversely impact upon the transsexual porn industry and its performers. For instance, during her interview with Tyra Scott in March 2014 Stefani expressed her opinions regarding the 'closeted' nature of the transsexual porn industry and her hopes for more crossovers with the mainstream porn industry in the near future;
"It really saddens me to know that our market is the only big market that remains "closeted" or anonymous. I hope that one day viewers of TS porn will be as open & involved as viewers of mainstream porn. I hope one day that TS porn can join in alongside straight, gay & lesbian porn as another form of mainstream sexual entertainment".
Stefani reinforced these views within her April 2016 TransEthics interview and highlighted the ways in which the mainstream porn industry shuns transsexual performers;
"Well, let me preface this by saying, it's getting better. It's the stigma around trans people in general & society's preconceived misconceptions of us, along with the thought that we are all only good for niche porn like "shemale, tranny" fetish…They don't see us as being as marketable if they are not doing a TS project. I've said it before, the industry is all one but it's the audiences that keep it separate. That being said audiences are overlapping more than ever now, and  the stigma is slowly being broken [with] trans women being cast in roles outside of "shemale, tranny" fetish. Now all of this is due to the bottom up fight for progress from several adamant performers and some companies that have enough power to create a top down trickle effect. That being said as much progress as we have made, we still have a long way to go".
As a matter of fact, Stefani won the "Transcendence Award" at the 2017 Trangender Erotica Awards due to her advocacy work for the No Prop 60 campaign. Ever eager to raise awareness towards important issues which adversely impact performers, Stefani has since teamed up with critically acclaimed TS performer and director Jamie French in order to launch a Performers Speak Out campaign which is dedicated to ridding the adult industry of abusive people.
As well as shining a light on these important issues, Stefani has begun to bring about change within the adult entertainment industry through her ever-expanding portfolio of groundbreaking BDSM content. As Stefani aptly puts it in her own words;
"Not only am I trying to innovate one of the bigger of many fetishes that hasn't been explored in Trans porn, which is BDSM, I am also pushing for inclusion into the mainstream and trying to open doors for authenticity and performer fantasies with trans porn. [Additionally] I'm trying to get the hidden fans to step out of the shadows and be loud and proud about their love for trans porn. I call out people where they need to be, and commend others when they need to be. It's not really a thing about marketing terms as it is about pigeonholing. I really push and will continue to push to see more casting opportunities for trans women in porn to open up…Now because of the society we live in & the events that have happened in the past, certain marketing terms have a limiting effect when used by appealing to people's prejudice over their arousal but hey sometimes it is a necessary evil because of popularity sake even though it perpetuates stigma. That's getting off on another subject".
In this manner, Stefani has often discussed how terms such as 'shemale' and 'tranny' have become established as lucrative promotional resources within the transsexual porn industry due to their immense marketing power. Stefani recognises the efforts of transsexual performers who have campaigned against the use of these terms and has conveyed within her TransEthics interview how these problematic terms are often used as marketing tools for transsexual porn projects due to their 'novelty' nature. As Stefani herself explains;
"It will always be there because there will always be 'shemale, tranny' fetish porn made. The fact that ALL Trans porn is labeled as that & pretty much that alone is extremely limiting & problematic. Especially when we are pushing for inclusion as a genre and not just a niche. I think that some terms that are sexual but do not have as bad connotations connected to them will be brought in but they still will never be as popular as the ones already in use because that foundation has already been built…We could go to trans women being marketed the same way cis women are, and trans men the same way cis men are but then again that would take away "novelty" out of our genre. Novelty is good. Negative novelty is bad…Think about it, when you say the word 'slut' in a sexual environment it appeals to people's arousal. If you say the word 'tranny' in a sexual environment it appeals to peoples prejudices first because of all the drama attached to such words".
An ardent transgender activist, Stefani identifies as pansexual and has frequently utilised her adult film industry influence in order to tackle society's misconceptions regarding conventional gender binaries. As Stefani highlighted within her March 2014 Tyra Scott interview;
"Pansexuality is being attracted to the person & not a specific gender or sex. I am attracted to all sexes & genders as long as I am attracted to the person first & foremost.  I think the world is opening to more since we are finally starting to break away from the traditional gender binary. People are coming out as Gay, Lesbian, Bi, Omni or Pans everywhere because they have realized that they do not HAVE to be "hetro normative". People are realizing that happiness is happiness & it can come in many different forms.  If you're happy, why try to hide or deny it just to please the ever judging eyes of the conservative society? Likewise, if you're looking for love, why limit yourself to just one sex or gender IF that is not your sole attraction? We are enlightening to the idea that we are NOT in control of our sexual orientations & that they are hardwired in us from the earliest stages of life. We are taking control of our own sexual & romantic destinies instead of just doing as society says in order to be "normal". It's great because all its doing is opening the world up to more opportunities for happiness & less need for 'closets' or 'secret sex lives'…A huge passion & goal of mine in porn is enlightening the world to versatile pansexuality through the art of performance".
Stefani has been happy to share her own life experiences regarding her sexuality and true gender identity in order to advise and support young transsexuals, pansexuals and aspiring adult film performers. For instance, within her Tyra Scott interview Stefani explained how she began to embrace her pansexuality when she was a teenager;
"I knew I liked more than just one sex (only sex at this time because gender is something I didn't learn about till later on) ever since I lost my virginity to a guy & a girl in the same year at the age of 15. Separate occasions of course but still in the same year. Since then I've explored some more & discovered that I have the same level of attraction & potential to develop feelings for TS men, women & gender queers also.  Honestly, it's just opened me up to more possibilities of finding love".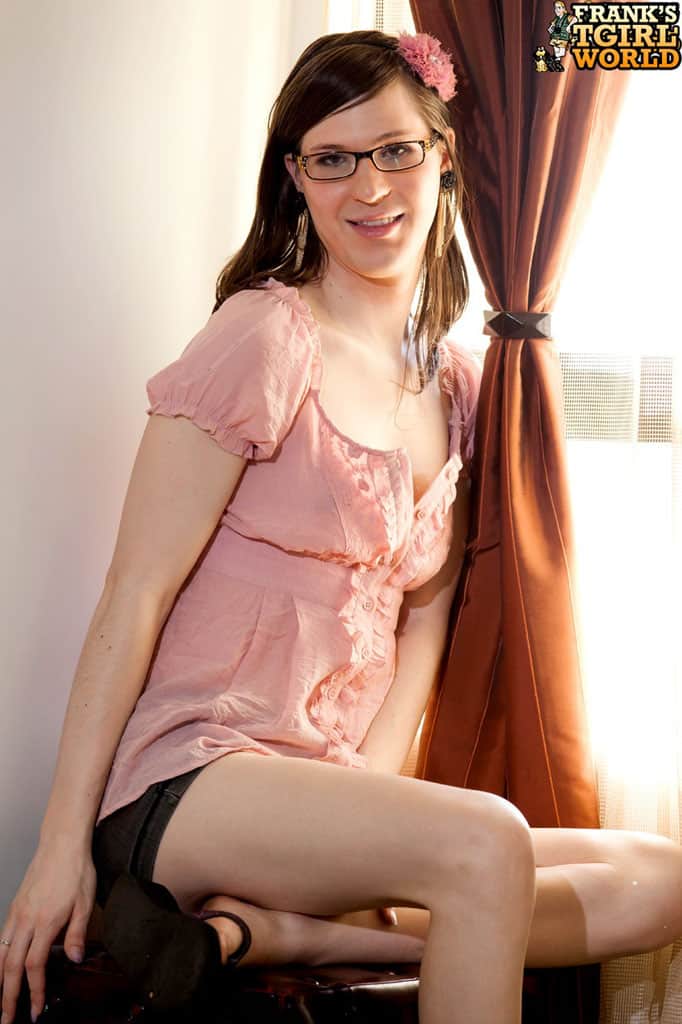 Stefani Special at Frank's TGirl World
Since 2013 Stefani's candid honesty regarding her pansexuality and her true gender identity, combined with her compelling adult film performances, have resulted in many of her fans, members of the LGBT community and aspiring transsexual performers regarding her as a role model. When asked to name her own role models in previous interviews, Stefani has listed many of her fellow TS performers including Bailey Jay, Vanity and Mandy Mitchell, ardently expressing that;
"I admire more than a few people in this industry. Since we're on the subject of actual role models in the sex industry here is a list of people that I admire or have inspired me for one reason or another:  Bailey Jay, Vaniity, Mandy Mitchell, Maitresse Madeline, Sasha Grey, Belladonna, Princess Donna…First off, Bailey Jay & Vaniity because they were among the first beautiful Trans women I ever seen portrayed in a sexual way. Mandy Mitchell because of what she did & wanted to do with Trans Kink & also the sex workers retreat. Maitresse Madeline because she changed the cam show game & what she's done & is going to continue to do for the Kink porn community. Sasha Grey & Belladonna because of their performance as entertainers alone & how Sasha used porn as a stepping stone to mainstream things. Also, Belladonna because she is still artistically sexy after porn. Princess Donna because she went from a BDSM slave in training to the Princess of Kink. I look up to her ideas & sometimes I think I'm her when I dominating a scene partner or client". 
So what's next for Stefani Special? Well, when she was asked about her future plans within this April 2016 TransEthics interview, Stefani divulged that she would like to film more pansexual porn productions and BDSM content in the near future. Stefani also hinted that she would relish the chance to film with some of her personal adult film role models;
"I'd love to do a pansexual production! It'd be completely awesome to do a DVD or something involving a genetic girl, another TS-woman, a TS-man or gender queer individual & a guy. The possibilities would be endless! Lol…Besides the people I listed as role models or influences above, I really want to set up a series (Yes, a series because I know one wouldn't be enough.) of extreme BDSM & fetish shoots with Professional Dominatrix & model, Kitty Doll…Eva Lin said she was impressed by my Trans 500 scene with Ramon. She really impresses me also so naturally, I'd love a scene together so we could impress each other firsthand". 
A multi-talented performer with a wide range of interests, when she isn't filming her latest adult film projects Stefani loves;
"Exercising, yoga, reading, studying, arts & crafts, listening to music, hanging with friends, having sex, practicing BDSM (which is part of my sexual orientation & not just for my occupation) Also I love going to thrift stores just to see what I can find".
Can't get enough of brunette BDSM beauty Stefani Special? Not to worry! You can discover all of Stefani Special's solo sex shoots, raunchy webcam modelling sessions, BDSM content and DVD feature releases by checking out her official social networking channels online today. With multiple feature film projects and kinky online sex scenes in the pipeline (including her own Many Vids store), there's just no stopping Stefani Special; phenomenal performer, producer, transgender advocate and kinkster extraordinaire!
Social Networks
Twitter : @Stefani_Special
Kink Profile : Stefani Special Femdom & BDSM Content
Many Vids : Stefani Special's Official Many Vids Store

Grooby Girls : Stefani Special at Grooby Girls
Shemale.XXX : Stefani Special at Shemale.XXX

Frank's TGirl World : Stefani Special at Frank's TGirl World
Trans 500 : Stefani Special at Trans500.com