Website : BrandiLove.com  Twitter : @Brandi_Love  VR Bangers : Brandi Love VR Scenes
Personal Info
Name : Brandi Love
Date of Birth: May 29th
Home Town : Raleigh, North Carolina (US)
Measurements : 36D – 25 – 36
Bra/ Cup Size : 36D
Boobs : Enhanced
Height : 5'7 (1.70m)
Hair Colour : Blonde
Eye Colour : Brown
Tattoos : A tribal bird design across her right shoulder blade, a small design on her left ankle and a butterfly design across her lower back
Piercings : Nose
Shoe Size : Women's 7 (US)
Years Active : 2007 – present
Number of Scenes : 200+
Widely regarded as one of the most successful MILF performers in the adult entertainment industry, Brandi Love is a highly accomplished adult film star, glamour model, webcam personality and feature dancer who is also the co-founder and Chief Financial Officer of the multimedia production companies No Rivals Media and Naked Rhino Media. Due to her passionate work ethic, amicable nature and scene-stealing moments in countless best-selling porn productions, Brandi has established herself as one of the most popular performers in the industry and she continues to receive a wealth of "MILF Performer of the Year" nominations at the AVN, XBIZ, XRCO and Nightmoves Awards.
Born in Raleigh, North Carolina, and raised in Michigan, Brandi has mixed English and German heritage and she is the great granddaughter of famous investor Jesse L. Livermore.  A natural born performer, Brandi began dancing when she was three years old, she started ice skating when she was four years old and she played the saxophone. Brandi was raised Presbyterian and was an talented athlete throughout her childhood years; running track as well as playing soccer and tennis. Talking about her high school years during her June 2014 Fleshbot interview, Brandi divulged that;
"I was your every day "vanilla" young lady LOL! I grew up in an upper middle class, conservative family with an infamous history. I was heavily involved in sports including ice skating,  tennis & track so I was busy all the time.  My friends were pretty diverse including peers from just about every social group with maybe the exception of the "burnouts".  While I was always welcomed by the "popular kids", I was never fully part of their clique because I was so diverse.  Most of the guys I dated were either "jocks" or "preppies". And you know … I was actually kind of a prude lol!".
Brandi discussed her childhood years in greater detail during her May 2014 Adult DVD Talk interview, elaborating upon how;
"My background was quite normal. (laughs) My childhood was quite conservative. I was raised in a great, loving home. A cool mom and dad. I was raised Presbyterian so it was a Christian upbringing. My brother and I both went to college. We both had great careers in the business world and have had happy marriages for 20 plus years. The only thing that was different about my childhood in which people who really know me aren't surprised by my career choices, is that I always marched to my own beat. I played saxophone when you were supposed to play the piano; I played soccer and ran track when you were supposed to be a ballerina kind of stuff. I rode a motorcycle when I was 17. So I thought of myself as a little rock star. So I guess I carried that on into my adult years. (laughs)".
After graduating from high school Brandi attended Central Michigan University where she met her future husband, Chris Potowski, whom she married in 1994. Upon attaining her degree, Brandi worked a series of jobs among which included managing a bagel store and working as an account executive for a staffing agency. Brandi has explained in previous interviews how these initial jobs taught her invaluable sales skills and managerial expertise. These career attributes served Brandi well when she and her husband launched their own wine labelling business. Brandi discussed her diligent work ethic and passionate nature within her June 2014 Fleshbot interview, conveying how;
"Whether the business is adult entertainment, wine, fashion etc. I was born a passionate woman and I bring that passion with me wherever I go. I believe that passion runs deep in my DNA back to my great grandfather Jessie L Livermore I, through to Jessie L Livermore II and even my father. Nature only can take you so far however and without the nurturing of my incredible husband, none of this would have been possible. People say all the time " Your husband is so lucky" … While I think he would agree, I can tell you that I feel like the lucky one to have the support of a man I've been married to for 20 years now. Last but certainly not least, the fans. I'm pretty active in social media and hearing from the fans that they can see and feel the passion in my scenes is a huge turn on. It drives me to lose myself in a scene. To really let go and truly enjoy an intense exchange".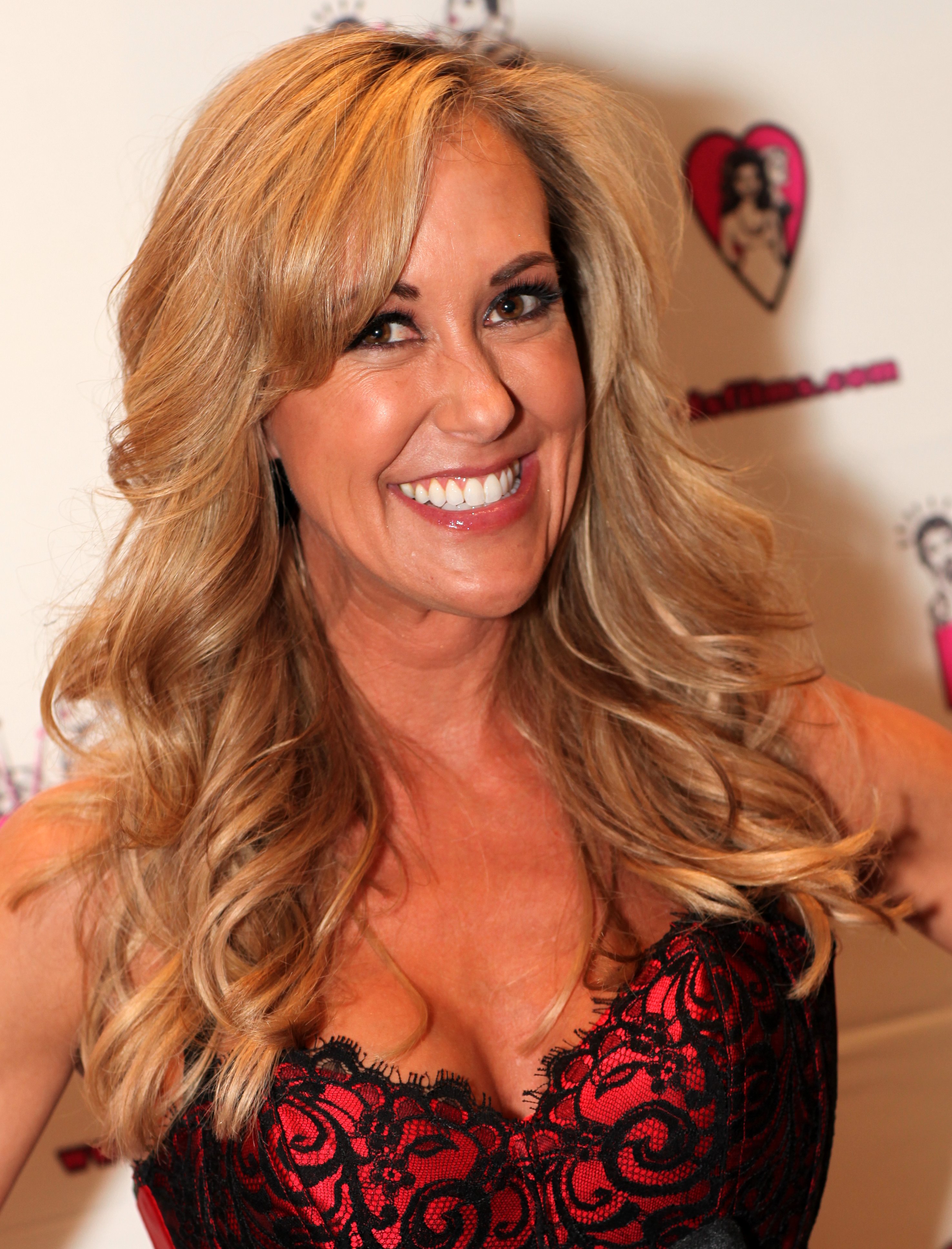 Image Sourced from Wikimedia, Attribution : Michael Dorausch at michaeldorausch.com
Brandi Love : Adult Film Career (2004 – 2011)
Brandi first began working in the adult entertainment industry in June 2004 when she launched her official solo website, BrandiLove.com. In fact, Brandi and her husband Chris actually started their adult webmaster careers at the same time! As Brandi explained during her 2014 Men's Mag Daily interview;
"My husband and I were running a wine label business. That was our first business. It was becoming successful and this was back in 2003. It was time to develop a website but other than looking at adult websites we weren't familiar with the internet. Through a friend we got some web designers and they happened to be adult webmasters. They asked us if we had ever considered a business in the adult industry. At that time adult sites were booming. We were having fun doing the wine business but we decided it would be more fun to run an adult business. BrandiLove.com was born just a few months later. We were deciding who the first model would be and we had sunk out heart and soul into the business at this point. I just jumped in and said I would do it. I had no experience but I'm a freak by nature. I'm a nudist so I figured, why not? Everybody was surprised. They tried to tell me that it might not be the best idea because everybody was going to see it and their concern made me want to do it more. I saw it as exciting and the rest is history…
His freak flag flies even higher than mine and we're great together in that sense. We've always liked to have fun and be adventurous but it still takes a lot to put yourself out there and be judged in that way. Most people never have to deal with it because we live in a society that doesn't exactly understand liberated individuals…For you to put yourself in the firing range people are going to judge but I believe in sexual freedom and freedom of choice. The adult industry is a completely legal industry. I'm going to fight for this freedom if somebody tries to take it away or to judge me".
As well as creating all manner of exclusive web content for her saucy solo site, Brandi formed her very own multimedia company, Naked Rhino Media, through which she focused upon creating porn sites that featured niche-specific content. Brandi created Naked Rhino Media in collaboration with Gail Harris of Falcon Foto. Brandi is also the co-founder and Chief Financial Officer of the multi-media entertainment company No Rivals Media thorough which Brandi endeavours to support parents working in the adult entertainment industry.
As a matter of fact, Brandi has since launched Parents In Adult; the only educational and legal support organization which is solely dedicated to helping parents who work in the adult industry. Brandi and her husband Chris discussed the ongoing endeavours of Parents In Adult during their appearance on the Howard Stern Show in 2005. Throughout her adult film career Brandi has made multiple mainstream media appearances on such prominent programmes as The Tyra Banks Show, The Keith Ablow Show, Penn & Teller: Bullshit! and Lizard Lick Towing but to name a few!
In 2008 Brandi released her book, Getting Wild Sex from Your Conservative Woman. During this time Brandi filmed her first ever hardcore scenes with Chris Johnson for the leading porn production company Naughty America. These sizzling scenes were promoted via Naughty America as part of their fan-favourite My First Sex Teacher web series in November 2008 during which time Brandi also filmed a thrilling three-way with Sophia Lomeli and Tom Byron that was released via Naughty America's My Wife's Best Friend web series. Brandi discussed shooting these debut scenes in her May 2014 Adult DVD Talk interview, revealing that;
"I was terrified! Naughty America was always contacting me for about a year and a half to do something for them. Before 2008, it was all for my website. So I finally decided to do it and I flew up to LA. I'm sitting in the house and it was very professional. It was very clean and immaculate and I thought, 'OK, I can handle this.' And I walked in to do the scene and there was a lighting guy and a camera guy and a production assistant and I hadn't even met the male talent yet. It was a little overwhelming. And, yes, I was very nervous. But at the same time, I was very excited. I'm a bit of an exhibitionist, obviously, (laughs) and at the same time it was a little intimidating and I was nervous. But then within a matter of minutes, it was more of a turn-on than anything else".
From this point onwards Brandi started to shoot a series of saucy scenes for Naughty America and she has been featured within an impressive collection of Naughty America DVD compilation titles. Brandi continues to rank as one of Naughty America's top 10 performers and in recent months she has filmed a wealth of captivating content for their Seduced By A Cougar, Diary of A MILF, My Friend's Hot Mom and Dirty Wives Club web series; not to be missed!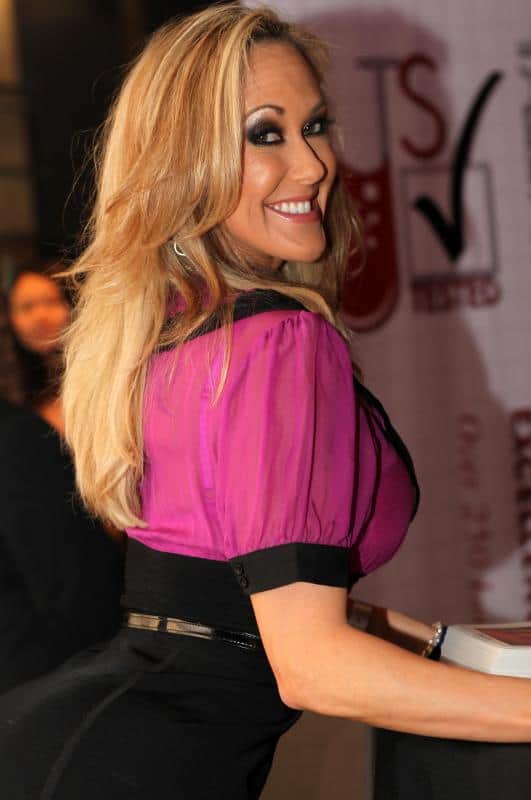 Image Sourced from Wikimedia, Attribution : Michael Dorausch at michaeldorausch.com
Brandi Love : Adult Film Career (2011 – present)
A landmark moment in Brandi Love's adult film career came in 2011 when she started shooting for such prominent production companies as Brazzers, Wicked Pictures, Hustler Video, Girlfriends Films and Tom Byron Pictures. Some of Brandi's most popular productions that were filmed during this time include Big Titty MILFs (2012) for Porn Fidelity which earned Brandi a "Most Outrageous Sex Scene" nomination at the 2013 AVN Awards, MILFs Like It Big 14 (2013) for Brazzers that was nominated for "Best MILF Release" at the 2014 AVN Awards, Axel Braun's Hustler Video parody release This Ain't Game of Thrones XXX (2014) that was nominated for "Parody Release of the Year: Drama" at the 2015 XBIZ Awards, Moms Teach Sex 5 (2015) for Nubile Films which was nominated for "Best Older Woman/Younger Girl Movie" at the 2017 AVN Awards and Trophy Hunting Cougars (2015) for Wicked Pictures within which Brandi was featured alongside famous female performers Stormy Daniels, Jessica Drake, India Summer, Julia Ann, Gigi Allens, Nina Elle, Monique Alexander, Romi Rains and Veronica Avluv.
One of Brandi's most popular porn productions to date has been Aftermath (2014) for Wicked Pictures. Directed by Brad Armstrong and starring Asa Akira, Bonnie Rotten, Aubrey Addams, Chloe Amour, Kaylani Lei, Jessica Drake, Vicki Chase and Sarah Jessie, this fantastic feature release was a critical and commercial success that won "Best Drama", "Best Screenplay: Feature" and "Best Director: Feature" at the 2015 AVN Awards as well as earning Brandi her first ever "Best Supporting Actress" nomination at the 2015 XBIZ Awards.  Brandi has continued to receive a wealth of impressive adult entertainment accolades throughout her career, many of which have been listed below;
2013: Nightmoves Awards winner "Best Cougar/MILF Performer (Editor's Choice)"
2013: AVN Awards nominee "MILF/Cougar Performer of the Year"
2013: AVN Awards nominee "Most Outrageous Sex Scene" Big Titty MILFs (with Kelly Madison and Ryan Madison)
2013: XBIZ Awards nominee "Web Star of the Year"
2013: Nightmoves Awards nominee "Best Ass"
2013: Sex Awards nominee "Porn's Best Body"
2014: Nightmoves Awards nominee "Best MILF Performer"
2014: The Fannys Awards nominee "MILF Performer of the Year"
2015: AVN Awards nominee "Best Porn Star Website" BrandiLove.com
2015: AVN Awards nominee "Hottest MILF (Fan Award)"
2015: AVN Awards nominee "MILF Performer of the Year"
2015: XBIZ Awards nominee "Best Supporting Actress" Aftermath
2015: XBIZ Awards nominee "MILF Performer of the Year"
2015: Nightmoves Awards nominee "Best MILF Performer"
2016: AVN Awards nominee "Hottest MILF (Fan Award)"
2016: AVN Awards nominee "MILF Performer of the Year"
2016: XBIZ Awards nominee "MILF Performer of the Year"
2017: AVN Awards nominee "MILF Performer of the Year"
2017: XBIZ Awards nominee "MILF Performer of the Year"
2017: XRCO Awards nominee "MILF Performer of the Year"
2017: Spank Bank Awards nominee "Cumback of the Year"
2017: Spank Bank Awards nominee "Most Magnificent MILF"
2018: Nightmoves Awards winner "Best MILF Performer (Fan's Choice)"
During this time intrepid entrepreneur Brandi Love continued to manage her multimedia companies Naked Rhino Media and No Rivals Media as well as supporting a wide range of charitable causes. A devoted spokesperson and public speaker, Brandi has even been invited to speak at various prestigious venues including the East Carolina University. Brandi spoke to undergraduates at the university's Department of Sociology in March 2013 whereupon she advocated the relevancy of alternative relationships. As Brandi herself stated;
"I salute the Department of Sociology at East Carolina University for having me back for the third time to discuss the relevancy of alternative relationships…It shows respect for the position that loving relationships can exist outside the puritanical and monogamous confines we are often forced into. People can say what they like about my website, my chosen profession, et cetera, but it's hard to argue with a happily married woman of 18 years when it comes to relationships…Whether you are in a gay, lesbian, open marriage or otherwise, this discussion shows we are finally taking a step forward".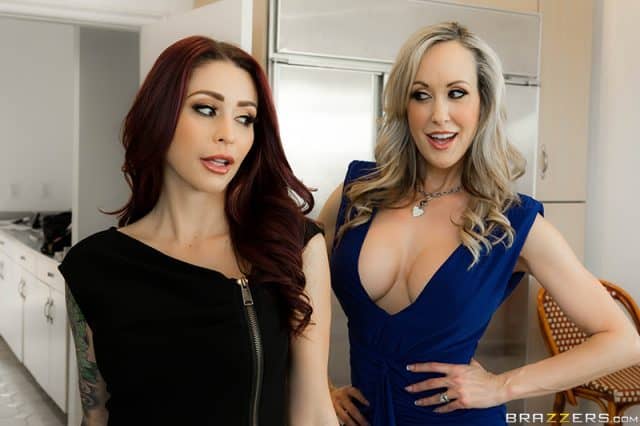 Brandi Love and Monique Alexander at Brazzers
Brandi has spoken at East Carolina University on three separate occasions and she continues to receive high praise from Dr David Knox, the university's Professor of Sociology, who has advocated how;
"Brandi is an outstanding speaker, organized and engaging. She has spoken for two years to my human sexuality class on swinging/adult lifestyles and holds the room spellbound".
Another landmark moment in Brandi's adult film career occurred in April 2016 when she filmed her first interracial scenes with Joss Lescaf for Greg Lansky's popular porn site Blacked.com which have since been showcased in the Blacked/Jules Jordan Video DVD compilation title Interracial and MILF (2016). Talking about shooting her IR debut via an April 2016 AVN press release, Brandi commented that;
"Working with Greg Lansky, and the whole Blacked.com team, was a huge honor and a special experience…It's definitely a highlight of my career…I wanted this scene to be modern, stylish and sexy…so Blacked really was the obvious choice. Greg and I are both perfectionists in the best way possible, and I knew I could trust him to create something unique and sexy. What resulted from our collaboration is something I'll always consider one of my best scenes ever. Joss was simply incredible and also a real charming gentleman; him and I had fantastic chemistry. I know my fans and Blacked members are going to love what we created".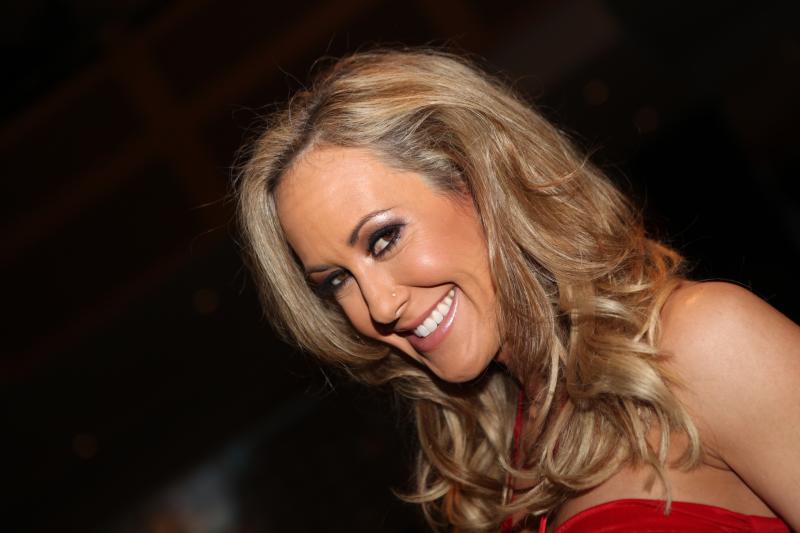 Image Sourced from Wikimedia, Attribution : Michael Dorausch at michaeldorausch.com
Brandi Love : Sweetheart Video Exclusive Girl/Girl Performance Contract & Future Plans
In April 2016 Brandi announced that she would be signing a one year exclusive girl/girl performance contract with the prominent production company Sweetheart Video. As Brandi ardently enthused via an AVN press release;
"I am beyond thrilled to be under exclusive contract for all of my 2016 girl/girl scenes with Sweetheart Video…Flattered to be asked, we quickly came to an agreement and sealed the deal. I have only touched the tip of the iceberg with my g/g exploration and very much look forward to sharing my erotic interludes with everyone. Sweetheart has some of the industry's most talented directors and their scenes have always impressed me. I'm so happy to be a part of their family!".
If we had to name but a few of Brandi's hottest Sweetheart Video collaborations to date then we'd recommend viewing her Brandi Loves Girls (2016) star showcase that was nominated for "Marketing Campaign of the Year" at the 2017 XBIZ Awards and which featured Brandi in four fantastic scenes with Shyla Jennings, Ash Hollywood, Abigail Mac and Kate England, Mother Lover's Society 16 (2016) that featured Brandi in a ravishing pool-girl role-play with Abella Danger, and Lesbian Adventures: Strap-On Specialists 11 (2017) that showcased Brandi in a thrilling femdom pegging session with Peta Jensen.
Most recently, Brandi has appeared in Dana Vespoli's Sweetheart Video porn productions The Candidate (2017) within which she shared some scintillating political role-plays with Bree Daniels, Uma Jolie and Julia Ann, Lesbian Massage 2 (2017) that starred Brandi in a steamy shoot with fellow MILF star Cherie DeVille, and Squirting Lesbians (2017) within which Brandi shared a sensational squirting scene with Adriana Chechik. Must see sex scenes for die-hard Brandi Love fans!
As a matter of fact, Brandi's Sweetheart Video collaborations have proved so popular among fans and film critics that she has since expanded her exclusive girl/girl performance contract. As Brandi herself explained within a May 2017 AVN press release;
"I could not be happier Sweetheart Video and I will be continuing our exclusive contract for GG scenes…This year Girlsway and LesbianX were added to my contract so I will have even more ways to give, receive and share pleasure! My fans have expressed excitement and are looking forward to my 2017 / 2018 scenes. I am looking forward to giving them many surprises".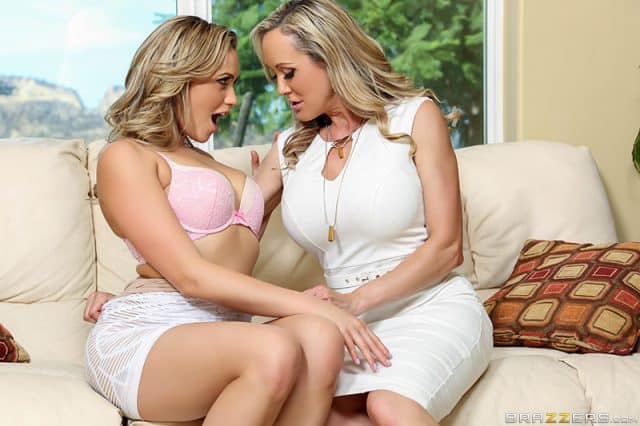 Brandi Love and Mia Malkova at Brazzers
Girlsway creator Bree Mills was similarly enthusiastic about these upcoming Girlsway and Lesbian X collaborations, eagerly expressing within this AVN press release that;
"When Jon approached me about joining forces on this contract, I literally jumped at the opportunity…Brandi Love is a force within the GG market and someone we are very much looking forward to bringing back on our sites. I'm also very proud of the alliance we share with Mile High and Open Life, especially given our close relationship and the collective power of the brands we manage! When we work together to secure such top talent, it definitely makes a bold statement".
As such, Brandi has already begun to star in a steady stream of spectacular Girlsway and Lesbian X porn productions including Freudian Homework with Elsa Jean in August 2017, Getting Caught: Almost Freaky with Chanel Preston and Eliza Jane in September 2017 and Picture Perfection with Bella Rose in October 2017.
A multi-talented adult film star, entrepreneur, feature dancer and webcam model, MILF superstar Brandi Love shows no signs of slowing down anytime soon! What's next for captivating cougar Brandi Love? Well, when she has been asked about her future plans in previous interviews, Brandi has mentioned that she always endeavours to;
"Live life to the fullest! That may sound cliché' or simple but it is my greatest aspiration. We only get one go around at this thing we call life and I want to absorb each day as if it could be my last. No regrets, tons of laughter, love and exceptional experiences. That to me is success!…
Working in the adult industry certainly allows for time freedoms. I have used that freedom to own and operate two others businesses. I have always been an entrepreneur as well as free spirit. Being a part of the Adult film industry has allowed me the platform to express myself sexually as well as have some incredible opportunities…The friendships that have grown within the community as well as being fortunate enough to have the best fans ever has made my career something I am very proud of. At the end of the day, a 9-5 would be less hours than I put in but I would not trade my situation for anything".
Keen to keep yourself updated on Brandi Love's phenomenal porn productions, lusty live cam shows and upcoming feature dancing shows? Then please feel free to use the links provided below to visit all of Brandi's official social networking channels online today!
Social Networks
Official Website : BrandiLove.com
Twitter : @Brandi_Love
Instagram : @lovetroopers
Camsoda : brandi-love
VR Bangers : Brandi Love VR Scenes
Naughty America : Brandi Love at Naughty America
Brazzers : Brandi Love at Brazzers
Cherry Pimps : Brandi Love at Cherry Pimps
Reality Kings : Brandi Love at Reality Kings
IMDB Profile : Brandi Love Filmography