Jayden Michele Jaymes
Jayden Michele Jaymes' Website : JaydenJaymesxxx.com   Brazzers : Sex Scenes
Twitter : @JaydenMichele   Kink : Jayden Michele Jaymes BDSM & Fetish Content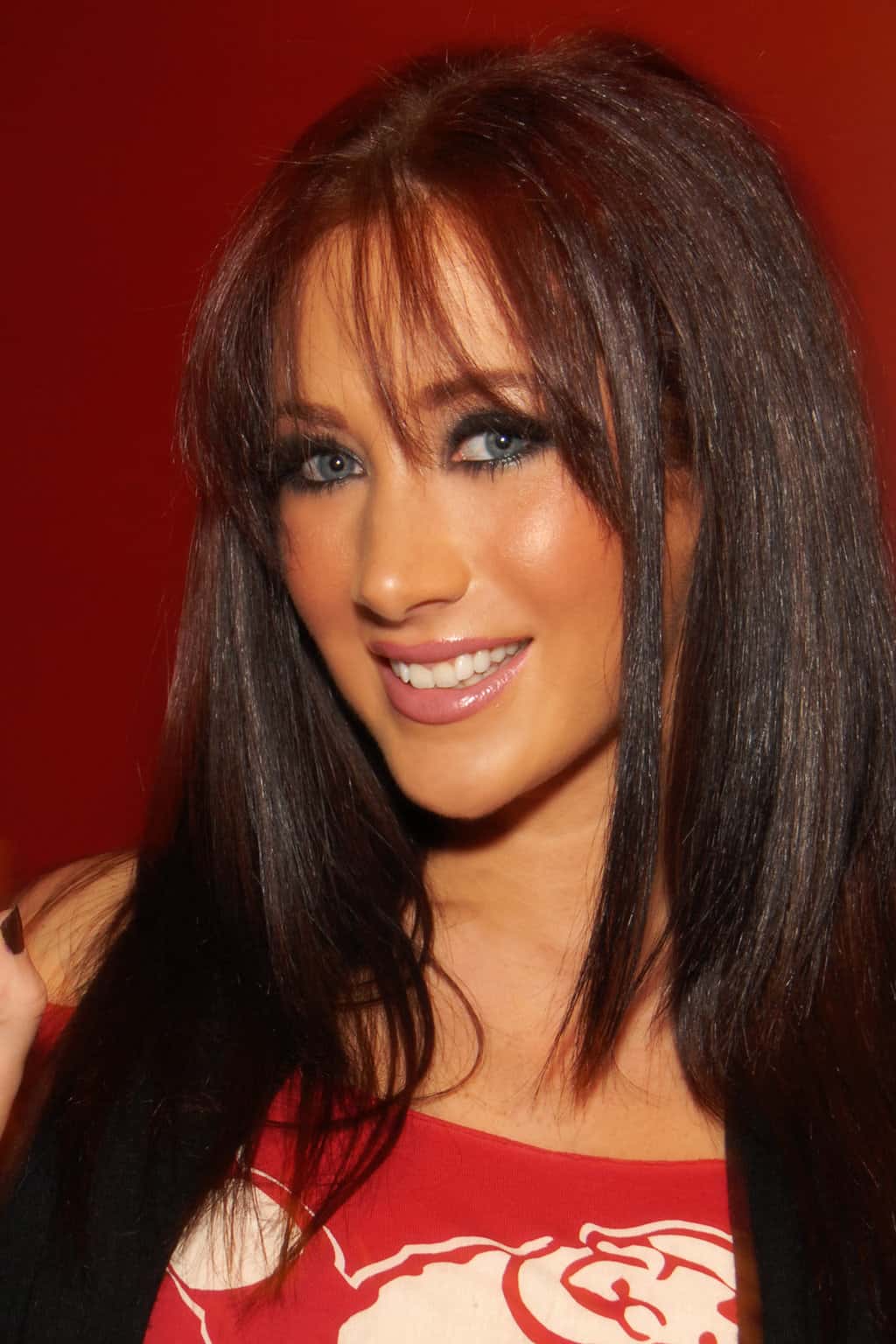 Image Sourced from Wikimedia, Attribution : © Glenn Francis, www.PacificProDigital.com
Jayden Michele Jaymes – Personal Info
Name : Jayden Michele Jaymes
Alias : Jayden Jaymes
Date of Birth: February 13th, 1986
Hometown : Upland, California (US)
Measurements : 34DD – 26 – 36
Height : 5'8 (1.73m)
Hair Colour : Brunette / Black
Eye Colour : Blue
Tattoos : A bouquet of flowers on the left side of her lower abdomen and a ring design on her toe
Piercings : Tongue, navel, clitoris and left nostril
Years Active : 2006 – present
Number of Scenes : 250+
Introducing buxom brunette beauty Jayden Michele Jaymes! Famous for her saucy web clips, her award-nominated Gangbanged 2 (2010) group sex scene and her impressive collection of big busted themed DVDs, Jayden Michele Jaymes has become one of the most popular female performers in the adult film industry due to her confident nature, captivatingly curvaceous figure and raunchy adult film exploits. From her string sultry solo sex scenes that she has shot for JaydenJaymesXXX.com, to her fiery femdom sex scenes in Bossy Bitches (2010) and her comic book capers in the award-winning Batman Vs. Superman XXX (2015), there seems to be no limit to Jayden Michele Jaymes' adult film industry potential!
Born and raised in Upland, California, with her younger sister and brother, Jayden Michele Jaymes has mixed Cherokee, English, Irish, Jewish and Norwegian heritage. A natural born performer, Jayden Michele Jaymes attended tap and ballet dance classes for eight years as a child. Jayden lost her virginity when she was 14 years old but did not have sex again until she was 17. As Jayden Michele Jaymes herself explained in her February 2010 Peeperz interview;
"14, but I didn't have sex again until I was 17, and I think I became 'sexually active' around 18 or 19".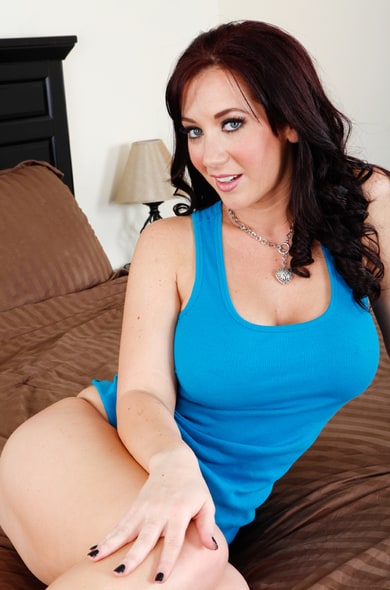 Jayden Michele Jaymes at Naughty America
Jayden Michele Jaymes identifies as bisexual and had her first sexual encounter with a girl when she was 19 years old. Jayden Michele Jaymes has revealed in her February 2010 Peeperz interview that;
"I skipped high school one day and let a friend take me to get my nipples pierced. We ended up having a conversation with the girl that pierced me about how I had never kissed a girl before… and she planted one on me right there. I think I was 16. I think I was 19 with I first had sex with a girl. Some friends and I were drinking, one of the girls was really cute, and we fooled around in my bedroom for about an hour. I didn't consider myself bisexual until I was about 21, when I started fantasizing about women".
After graduating from high school Jayden Michele Jaymes worked as an insurance salesperson before she began performing as a feature dancer at local gentleman's clubs. Jayden Michele Jaymes has always been incredibly ambitious and driven and she was actually attending college full-time, studying Accounting and Business, whilst simultaneously working as an exotic dancer. Jayden Michele Jaymes revealed how she progressed from feature dancing to porn during her May 2013 Adult DVD Talk interview, commenting that;
"I was 20 when I began performing. Before that, I was a licensed insurance salesperson. I quickly grew tired of sitting behind a desk for forty hours per week, so I gave it up. I enrolled in college and worked as a topless dancer to cover my expenses. Performing in adult films was something that I thought about and researched for a couple of months. I thought the women looked so glamorous and appeared to be in control and proud of their sex lives and I wanted to be one of those. I was introduced to a producer through a mutual friend, and began performing within a couple of weeks after meeting him. Everyone made me feel really comfortable so I didn't have any reservations about it".
Before she shot her first sex scenes Jayden Michele Jaymes discussed her decision to pursue a career as a porn star with her mother. In fact, Jayden Michele Jaymes mentioned during her May 2013 Adult DVD Talk interview that her mother and father have remained incredibly supportive of her adult film exploits;
"Of course they know! Not only am I a grown woman who is very proud of her career decisions, I'm one of the most recognized performers in the industry… That wouldn't be easy to hide. I actually had the discussion with my mother before I started performing, and she supported me 100%. All that she asked was that I be safe and know what I'm getting myself into. After explaining the business side of the industry to her, she was much more accepting. Obviously, the details of my work are never discussed, but both my mother and father support me in everything that I do. I'm a smart business woman and I've been very successful in many aspects of my life. They recognize that and are very proud of me".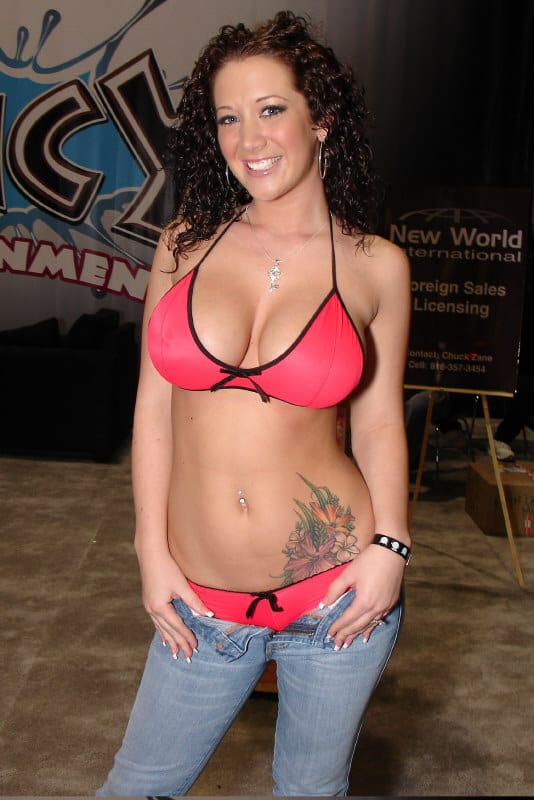 Jayden Michele Jaymes : Adult Film Career
20 year old Jayden Michele Jaymes first began working in the adult film industry in November 2006 and some of her earliest porn productions include Round Mound Of Ass (2006) for Reality Pass Plus, Big Tits Round Asses (2007) for Bang Bros, Big White Bubble Butts 2 (2007) for Exquisite and Internal Eruptions (2007) for Red Light District. When she was asked about shooting her first ever sex scenes, and the origins of her porn star persona 'Jayden Michele Jaymes', during her May 2013 Adult DVD Talk interview Jayden conveyed how;
"It was definitely overwhelming, but everyone was so incredibly nice to me. I was lucky enough to be on set with industry veterans who were able to talk me through it and coach me. I was shy, as any woman would be with a camera six inches from her vagina for the first time in her life, but everyone was professional and made me feel very comfortable….After just about two months of performing, I met and began dating a director. I moved in with him right away and stopped performing. Instead, I spent five days a week on set with him, helping out around the studio, styling other girls, dressing sets, etc. I became extremely comfortable with being on a porn set and I got to see the professional side of the industry. I also got to experience a wide variety of porn starlets, from the A-list to the drug addicts. When we split eight months later and I made the decision to participate in films again, I knew exactly what I wanted, from who I wanted to be to how I wanted my sets run. Once I learned that it was okay to do/ask for whatever it took to make me comfortable, I was good….
Jayden was a name that I used when I began dancing. I had actually wanted to use another name, but the club thought it sounded too similar to another dancer's name, so they suggested Jayden. I hated it, but I didn't have any other ideas so I went with it. Jaymes came along after I did a photo shoot for Deja Vu. They asked if I had a last name and, when I informed them that I didn't, they suggested Jaymes. Someone's exact words were, "We'll put a Y in it, like Jessica Jaymes." My response was "Who's that?" Nowadays I chuckle at that, but, overall, it's worked out very well for me. (The similarity to Britney Spears's kid is just a coincidence. We both burst onto the scene at about the same time.)".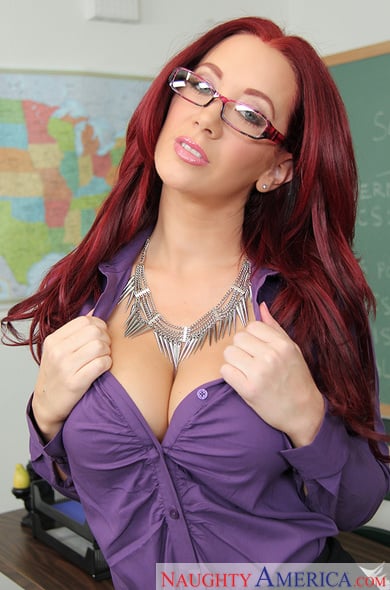 Jayden Michele Jaymes at Naughty America
For the first few years of her adult film career Jayden Michele Jaymes worked predominantly as an Internet performer for popular porn networks such as Bang Bros, Brazzers, Reality Kings, Reality Gang, Digital Playground and Wicked Pictures. Some of Jayden Michele Jaymes' most popular web clips have been showcased within the best-selling DVD compilation titles Big Tits At School 3 (2008) for Brazzers, Big Tits Round Asses 8 (2008) for Bang Bros, Big Sloppy Asses (2008) for JM Productions within which Jayden Michele Jaymes shared a kinky three-way with Alexis Texas and Criss Strokes, Udderly Fantastic (2010) for Vouyer Media, Monster Curves 3 (2009) for Reality Kings as well as Naughty Athletics 3 (2008), Naughty College School Girls 48 (2009) and My Sister's Hot Friend 19 (2010) that were all produced by Naughty America.
Fans of Jayden Michele Jaymes should also check out her saucy sex scenes in Massive Asses 4 (2009) and Party Girls (2011) for Elegant Angel that was nominated for "Best Big Butt Release" at the 2010 AVN Awards, Internet's Top Pornstars for Exquisite, , Jack's POV 15 (2009) for Digital Playground also starring Tori Black, Faye Reagan, Andy San Dimas and Morgan Dayne that won "Best POV Release" at the 2011 AVN Awards, Big Tit Patrol 8 (2009) for Reality Pass Plus, Pretty Filthy 2 (2010) for Abigail Productions also starring Sophie Dee, Shyla Jennings and Taylor Vixen, Titanic Tits (2010) for Wicked Pictures, Busty Beauties: The A List 2 (2010) for Hustler Video and the Brazzers DVD compilation titles Real Wife Stories 7 (2010) and Pornstars Like It Big 11 (2011) that features Jayden Michele Jaymes in an amazing group sex scene with Delta White, Nikki Benz and Scott Nails.

In addition to her raunchy web content, Jayden Michele Jaymes began to perform in a wide range of award-nominated DVD feature releases. Fans who are eager to explore Jayden Michele Jaymes' critically acclaimed hardcore content will not want to miss out on viewing Curvy Girls 4 (2009) for Elegant Angel that earned Jayden Michele Jaymes a "Best Solo/Tease Performance" at the 2010 AVN Awards, Boob Bangers 6 (2009) for Evil Angel also starring Gianna Michaels, Lisa Ann and Diamond Foxxx that was nominated for "Best Big Bust Release" at the 2010 AVN Awards, Performers Of The Year 2011 (2010) for Elegant Angel with Asa Akira, Tori Black and Phoenix Marie that won "All-Sex Release of the Year" at the 2012 XBIZ Awards and Jonni Darkko's POV Jugg Fuckers 3 (2010) with Alanah Rae, Ava Addams and Diamond Foxxx that was nominated for "Best POV Release" at the 2012 AVN Awards.

One of Jayden Michele Jaymes' most popular performances to date has been her marathon 48 minute group sex scene with Jaymes Deen, Erik Everhard, Brock Adams, Jon Jon, Danny Mountain, John Strong and Criss Strokes that was featured in Gangbanged 2 (2010). This show-stopping Elegant Angel DVD title was an instant hit among fans and film critics alike and Jayden's epic gangbang subsequently nominated for "Best Group Sex Scene" at the 2012 AVN Awards. Jayden Michele Jaymes loved shooting Gangbanged 2 and conveyed during her XCritic column interview how;
"I had mentioned my personal gangbang fantasies to Mason in the past, and we had chatted a little about the idea. So when Elegant Angel decided to do the second volume of the series, Mason simply asked me if I still had the same fantasies. I think my exact response was "Hell yeah!"… Mason didn't have to convince me. I wanted to do it. She was definitely the one to set it up, but it was my decision…
Mason is always a pleasure to work with. We get along very well. We're both extremely sexual women so we're able to bond over that. When we started discussing the movie, she told me how the other scene went for the first volume and then asked me what I wanted to do. I told her I just wanted to go for it, sort of see what my body and my mind could do. Basically, just let myself go. Everything that I did in that scene was natural to me…
I was extremely calm that entire day, and even the night before. It wasn't until I was out of makeup that I got an overwhelming feeling of anxiety, but it was a good anxiety. I was so excited! Because of that, I really didn't need any sort of mental preparation. It was a good day and it went so smoothly. I couldn't have asked for a better experience".
Jayden Michele Jaymes at Naughty America
Shooting Gangbanged 2 also enabled Jayden to experience filming her first ever double penetration sex scene. Jayden discussed this defining moment in her XCritic column interview, divulging that;
"I have never been double penetrated before, and I was really looking forward to it. I had fantasized about it for a while, and I was really into the idea of it, but I was honestly nervous about whether or not I'd be able to do it. When we first started, I was in a position that was not too comfortable with it, but we adjusted to a position that was comfortable to me and it felt great! I thoroughly enjoyed it…I did that scene because that's what I wanted to do at that time. I'm not going to start booking anal/DP scenes just for a paycheck. When I feel like doing it, I'll do it…The fans have wanted to see a gangbang or a DP for a long time. I think they're going to be shocked to see it happen in one scene. I hope everyone enjoys it as much as I did".
Over the years Jayden has also earned critical acclaim for her popular parody porn productions. We recommend checking out Entourage: A XXX Parody (2009) for New Sensations, This Ain't Cops XXX (2010) for Hustler Video that was nominated for "Best Parody: Drama" at the 2010 AVN Awards, Barb Wire XXX (2012) for Dream Zone Entertainment that was nominated for "Parody of the Year" at the 2013 Sex Awards and "Best Parody: Drama" at the 2014 AVN Awards and Axel Braun's Avengers XXX 2: Along Came A Spider (2015) for Vivid which was nominated for "Best Parody Release" at the 2015 Nightmoves Awards, "Best Special Effects" and "Best Art Direction" at the 2016 AVN Awards, "Parody Release of the Year" at the XBIZ Awards" and "Best Parody: Comic Book" at the 2016 XRCO Awards.
However, without a shadow of a doubt, Jayden's most successful parody release to date has been Batman Vs. Superman XXX (2015) for Wicked Pictures. Directed once again by pioneering parody porn director Axel Braun, and also starring Carter Cruise, Celeste Star, Kleio Valentien, Alison Tyler, Britney Amber and Aiden Ashley, Batman Vs. Superman XXX was a critical and commercial success that won "Best Makeup", "Best Special Effects", "Best Art Direction" and "Best Screenplay: Parody" at the 2016 AVN Awards, "Parody Release of the Year" and "Director of the Year" at the 2016 XBIZ Awards and "Best Parody: Comic Book" at the 2016 XRCO Awards! What's more, Jayden's saucy sex scene with Derrick Pierce was highly recommended by prominent adult film critics such as Don Houston who commented in his June 2015 XCritic column review that;

"Batman v Superman XXX: An Axel Braun Parody by director Axel Braun for Wicked Pictures had performers that looked the part, a light story that had them acting in character better than most, and managed to balance the feature elements with the sexual trysts in a way that showed each was important to the director. While I agree with industry experts that the genre is largely dead but for a handful of releases where enough effort was placed in them such as Batman v Superman XXX: An Axel Braun Parody and Axel's inventive (and fun) Barbarella XXX, any minor misgivings I might have regarding the movie did not detract from the highlights, the movie earning a rating of Highly Recommended as a result. There was enough sexual cosplay for the fan contingent, the characters remaining in their outfits as they went at it, plenty of special effects, and the right "feel" for a pornified version of the popular DC comics characters…for anyone at all interested in seeing a superhero porn parody, good luck in finding anything better coming out anytime soon".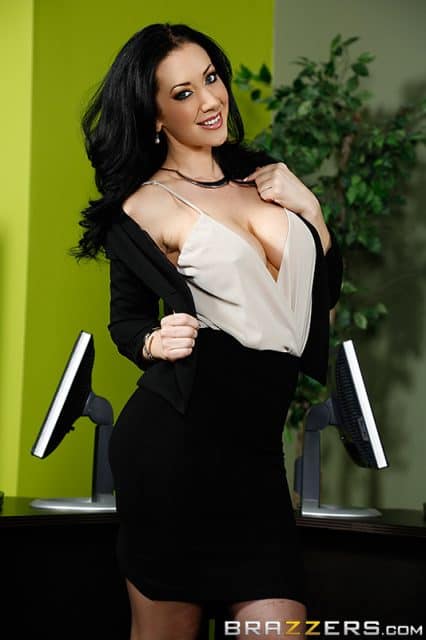 Jayden Michele Jaymes at Brazzers
Jayden Michele Jaymes : Award Nominations & Signature Showcases
Due to her scene-stealing moments in countless best-selling DVD feature releases and fan-favourite XXX-rated web series, Jayden has been nominated for an impressive array of adult entertainment accolades. Listed below are some of Jayden's most prestigious adult film award nominations to date;
2009: Hot D'Or Awards nominee "Best American Starlet"
2009: Nightmoves Awards winner "Best New Starlet (Fan's Choice)"
2009: AVN Awards nominee "Best New Starlet"
2010: AVN Awards winner "Best Group Sex Scene" 2040 (with Alektra Blue, Kayden Carrera, Jessica Drake, Tory Lane, Kaylani Lei, Mikayla Mendez, TJ Cummings, Mick Blue, Brad Armstrong, Marcus London, Rocco Reed and Randy Spears)
2010: AVN Awards nominee "Best Tease Performance" Curvy Girls 4
2010: AVN Awards nominee "Best New Web Starlet"
2011: AVN Awards nominee "Best Tease Performance" Jayden Jaymes Unleashed
2011: AVN Awards nominee "Best All-Girl Group Sex Scene" Girlvana 5 (with Bridgette B., Charley Chase, Brynn Tyler, Courtney Cummz, Julia Ann, Madelyn Marie, Missy Stone, Kirra Lyne, Nikki Rhodes, Raylene, Monique Alexander, Sarah Vandella, Velicity Von and Sophia Santi)

2012: AVN Awards nominee "Best All-Girl Group Scene" Prison Girls (with Phoenix Marie and Mckenzie Lee)

2012: AVN Awards nominee "Best Group Sex Scene" Gangbanged 2 (with James Deen, Erik Everhard, Brock Adams, Jon Jon, Danny Mountain, John Strong and Criss Strokes)

2012: AVN Awards nominee "Best Oral Sex Scene" Massive Facials 3 (with Billy Banks, Chad Diamond, Criss Strokes, Eric John, Hooks, Jason Brown, Johnny Fender, Jon Jon and Julius Ceazher)

2012: AVN Awards nominee "Best Three-Way Sex Scene (Boy/Girl/Girl) Party Girls (with Jenna Presley and Manuel Ferrara)
2013: XBIZ Awards nominee "Best Scene – Vignette Release" Day With A Pornstar (with Scott Nails)

2013: Sex Awards nominee "Porn Star of the Year"
2013: Sex Awards nominee "Porn's Best Body"
2013: Sex Awards nominee "Sexiest Adult Star"
2014: AVN Awards nominee "Unsung Starlet of the Year"
2014: XBIZ Awards nominee "Best Scene – All-Girl" Backdoor to London (with London Keyes)

2015: AVN Awards winner "Best Boobs (Fan Award)"
2015: AVN Awards nominee "Hottest Ass (Fan Award)"
2015: XBIZ Awards nominee "Best Scene – All-Girl" Ladies Night (with Samantha Saint)

2015: Nightmoves Awards nominee "Best Boobs"
Upon discussing her adult film award wins during her February 2010 Peeperz interview, Jayden expressed that the accolades which mean the most to her are the fan's choice titles. As Jayden puts it in her own words when she was congratulated on winning "Best Group Sex Scene" at the 2010 AVN Awards;
"It'll look nice next to my trophy from Nightmoves for the FAN VOTED 'Best New Starlet'. The fan stuff means more to me than anything…I guess you could say that I work all the time. I didn't make a name for myself by not learning to promote myself. It's hard work, but I'd rather have that relationship with my fans than pay an assistant or a publicist to do it. Besides, I love doing it".
Jayden has always been eager to thank her fans for their ongoing support and has further elaborated in subsequent interviews;
"Thanks so much for all of the support. I'd be nothing without the fans, and I really appreciate it".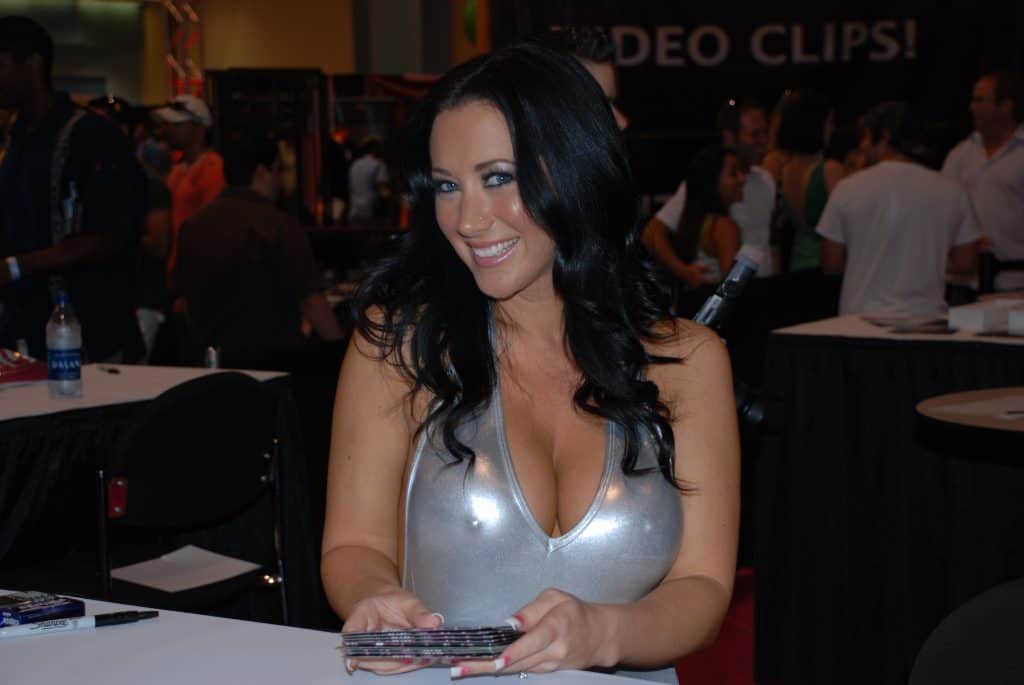 Image Sourced from Wikimedia, Attribution : J C from USA
Due to her ever-expanding international fan following and wealth of adult film award nominations, Jayden has been sought after by prominent production companies to star in her very own signature showcases. Some of Jayden's fan-favourite signature showcases include I Am Jayden (2011) for Puba/Porn Star Empire also starring Shyla Stylez, Penny Flame, Isis Taylor, Phoenix Marie and Jayden Cole, Lesbian Spotlight: Jayden Jaymes (2011) for Abigail Productions that showcased Jayden in five saucy sex scenes with Taylor Vixen, Ann Marie Rios, Shyla Stylez, Nikki Rhodes and Rebecca Blue, Jayden Jaymes Sex Goddess for Aura Productions and Everybody Loves Jayden Jaymes for Zero Tolerance. Jayden's amazing adult film exploits have also been showcased in the Bang Bros DVD compilation title Girls Of Bang Bros 2: Jayden Jaymes (2011) and the Pornstar Empire porn productions Pretty Dirty 2 (2012) and Triple Mania (2013) which feature Jayden sharing some sizzling boy/girl, girl/girl and three-way sex scenes with Chanel Preston, Lisa Ann, Angel Long, Puma Swede, London Keyes, Rebecca Blue, Alison Tyler, Jayden Cole, Prince Yahshua and Alex Gonz.
Jayden's most popular star showcase to date has been Jayden Jaymes Unleashed (2010) for Elegant Angel that was nominated for "Best All-Sex Release" at the 2011 AVN Awards and which earned Jayden a notable "Best Tease Performance" nomination at the 2011 AVN Awards. This spectacular star showcase received rave reviews from XCritic column writer Don Houston and RogReviews blogger Roger T. Pipe who enthused in their October 2010 and August 2011 film reviews that;
"There was a lot of chemistry here, replay value, strokability, and overall fuck for the buck so as a gonzo showcase, it was basically the perfect porn resume for Jayden Jaymes. In short then, Jayden Jaymes Unleashed was a winner of epic proportions for fans of Jayden Jaymes and gonzo enthusiasts, the technical values superior to most of what you will find on the market and the lingerie clad tease strokable all by itself". [Don Houston – XCritic]
"This is a perfect movie if you love Jayden Jaymes. Why? Because she is in every scene and totally tears it up in each one. In typical Elegant Angel style, the tease is beautifully shot and sets the stage for star-centered awesomeness. Jayden has some serious curves and an ass that just swallows up cock like nobody's business. Teaming with some of her favorite women, Jayden fucks and sucks her way through three blistering hours. She shares the opening scene with Tori Black and Manuel Ferrara. There is enough cock to go around the girls enjoy every second. James Deen gives Jayden some hot one on one cock action. She takes it in every hole and can't get enough. Bobbi Starr helps Jayden double up on Anthony Rosano. It's not quite as hot as the opener, but still a three-way not to be missed. Jayden does IR with LT and loves every throbbing inch of his black cock. The finale is another three-way with Phoenix Marie sharing the spotlight. Be careful with this scene or you might OD on curves. Overall this is a great movie for anyone who wants to see Jayden Jaymes at her very best. She is super hot and ready to prove that she's a superstar". [Roger T. Piper – RogReviews]
If you just can't get enough of female porn superstar Jayden Michele Jaymes then we recommend watching the saucy solo sex scenes that she filmed for Kink.com's Fucking Machines web series in December 2009 as well as viewing her thrilling peeping tom themed three-way with Derrick Pierce and Maestro that was promoted via Kink.com in October 2011.
In fact, formidable femdom fatale Jayden Michele Jaymes has starred in a wide range of raunchy DVD feature releases and BDSM themed porn productions over the course of her adult film career. If we had to name a few of Jayden's kinkiest DVD titles to date then we'd recommend watching Oil Overload 2 (2008) for Jules Jordan Video, Mandingo Massacre 7 (2013) for Jules Jordan Video, the ravishing role-play releases Registered Nurse (2009) for Smash Pictures and Hot Chicks In Uniform (2011) for Hustler Video, the thrilling three-way and group sex themed porn productions Group Therapy (2010) for Wicked Pictures, the fantastic femdom release Bossy Bitches (2010) for Wicked Pictures and her amazing anal-themed DVD titles Big Anal Asses (2013) for Hard X, Round White Asses (2014) for Digital Sin and First Time All Star Anal & DPs (2015) for Elegant Angel.
Die hard Jayden Michele Jaymes fans will also want to watch her thrilling BDSM sex scenes in Bound & Determined 2 (2015) for Wicked Pictures within which she features alongside Madison Ivy, Jessica Drake and Stormy Daniels, her big bust DVD title Holy Shit Those Are Big Tits 4 (2017) for Diabolic Video also starring Kagney Linn Karter, Jenna Presley and Alex Chance, as well as her epic gangbang themed DVD title 16 Hours Of Pure Orgies 2 (2017) for Fornic8 Films.

In recent years Jayden has filmed some fantastic girl/girl sex scenes for Girlfriends Films, Desire Films, Pounding Pink and Aura Productions. If you've always wanted to see Jayden engaging in some sultry all-girl sex scenes then you will not want to miss out on viewing her three-way with Charley Chase and Shyla Stylez in 100% Pussy (2015) for Pounding Pink, her saucy sex scenes with Sophie Dee in Girls Will Be Girls (2015) for Aura Productions, her kinky collaboration with Raven Rockette in Lesbian Girl Band (2015) for Girlfriends Films, her sizzling three-ways with Jayden Cole, Natasha Nice and Samantha Saint in Strictly Pussy 3 (2015) for Aura Productions also starring Dana DeArmond, Vicki Chase and Christy Mack, and her alluring sex scenes with Britney Amber in Pussy Persuasion (2016) for Desire Films.
In fact, Jayden has continued to star in a steady stream of all-girl porn productions including the Aura Productions DVD titles Sisterhood 1 and 2 (2015-2016), Naughty Stepsisters (2015), Dani Is A Lesbian (2016) and Brunette Bombshells 2 (2017), the Girlfriends Films feature releases Babes Seeking Babes (2015), Lesbian Psychodramas 18 (2015), Power Of The Pussy 2 (2016) and most recently Pleasuring Her Pussy (2017) for Desire Films also starring Asa Akira, Christy Mack, Dani Daniels, Capri Cavanni, Jessica Nyx, Kortney Kane and Leya Falcon.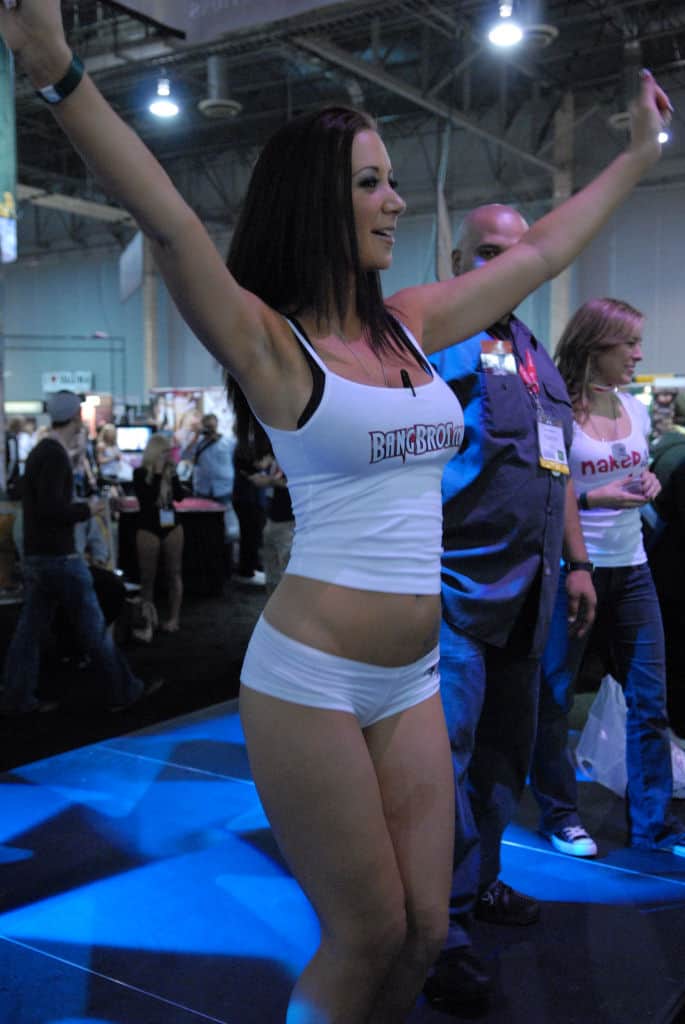 Jayden Michele Jaymes : Official Website, Personal Blog & Upcoming Projects
When she isn't performing in porn, Jayden has been utilising her personal blog to raise awareness regarding important issues which adversely impact upon performers working in the adult entertainment industry. For instance, Jayden had no qualms about criticising prominent porn production company Vivid for 'asking girls to shoot extra content and not get paid for it'. Jayden is an ambitious, determined and confident business woman whose outspoken nature has often earned her the label of 'The Bitch' within the adult entertainment industry. Talking about this label during her May 2013 Adult DVD Talk interview, Jayden stated that;
"My father told me years ago that any good business woman will always be considered a bitch. I think it's sad that people can't respect a smart business woman. But I get it. There are a lot of girls in this industry that don't know any better and will do whatever is asked of them on set. There's been a number of circumstances where I've had to speak up and check people. I don't have a problem doing so, either. Companies that shoot me regularly know that I'm not someone to fuck with. When it comes to a company like Vivid that has tried to pull a fast one on me, I don't care what their opinion is. That particular shoot was the first time Vivid had ever booked me, three years into my career. So, why would I care if they never shot me again? It's not like I'm losing money. We don't do business together. And, at the end of the day, I'm proud of myself for not letting anyone take advantage of me. I wish more girls stood up for themselves in this industry, then maybe I wouldn't look like such a bitch".
As Jayden has explained in greater detail during a February 2010 Peeperz interview;
"Those that don't know me would say that it hurts my career. Those that know me know that I'm really not this total bitch that everyone has this preconceived notion of. This business is known for its wild and crazy, sex-fiend girls. I'm not one of them. I enjoy sex, yes. But this is also my JOB… My income… My LIFE. I don't have anything else, so I treat it as professionally as possible. I have a busy schedule, and a life outside of porn. I like to show up, do my job, then go home and get on with my life. The only time I'm ever a 'bitch' on set is when people are lagging, not doing their job, disrespecting me or trying to take advantage of me. I don't put up with it. And I get the reputation that I have because the majority of girls would just put up with it and just pray that the day went smoothly. I'm not a pushover. I'll stand up for myself. In turn, I have no problem posting about the 'situations' on my blog. If people get so hurt and/or offended about me being truthful about them on my blog, maybe they should learn to rethink their actions. I'm made out to be the bad guy just because, for once in this business, a pornstar is demanding professionalism. I don't think the label is fair. For those who know me, I'm actually a big goofball on set. I laugh, I joke, I make funny faces at the camera and I have a good time while working. But all of that shuts down the second I sense unprofessionalism. If doing what I feel is right and standing up for myself gives me a 'bad' reputation, then so be it. At least I can look myself in the mirror at the end of each day without shame".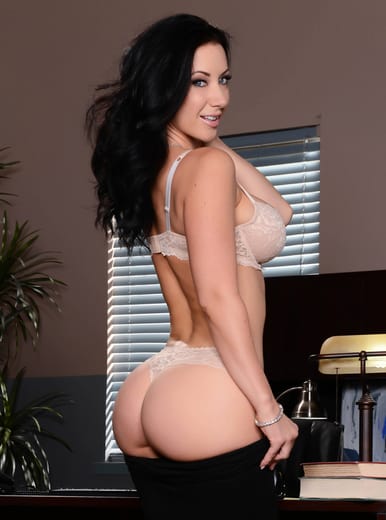 Jayden Michele Jaymes at Brazzers
In addition to her concerns with Vivid, another issue that Jayden has ardently opposed is the mandatory use of condoms in the adult film industry. In fact, Jayden's views were even featured in an October 2012 LA Weekly article. During this interview Jayden advocated how;
"It's my vagina and I'm going to do with it what I wish to do…I get tested before each scene and I require my partner to be tested the day before so I know we're both clean and ready to go…If I'm having sex with by boyfriend or husband in my home, who are you to tell me how to do that? You're taking away my rights as an American".
In addition to speaking out against these important issues, Jayden has also utilised her Accounting and Business expertise in order to advise and support her fellow performers and models with regards to their taxes and branding possibilities. As Jayden explained in her June 2015 New Century interview when she was asked about her business ventures;
"I consider myself a modern entrepreneur type. I privately tutor models about their own entrepreneurial stuff, how to brand themselves and how to make money off of their names. There are a lot of Instagram models these days, and as much as they get made fun of, there are a lot of ways to make money these days. I also write. I am getting ready to relaunch my blog. I am invested in a couple of private businesses, and I have a nice team who helps me invest in the stock market. I used to have a comedy podcast, and I dabble in web design. I just enrolled in some Spanish classes too. I sort of lost it over the past couple of years, and I want to maybe live in another country. I'm up for anything".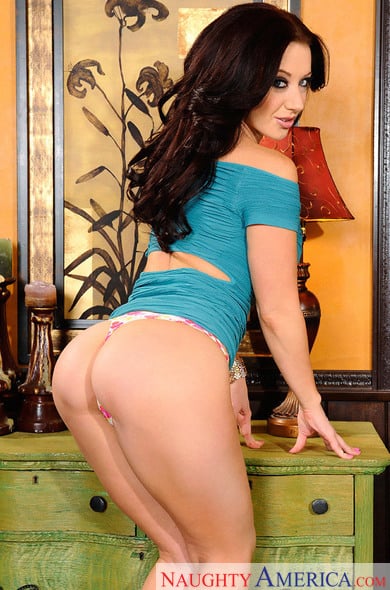 Jayden Michele Jaymes at Naughty America
In addition to her pornographic productions and personal blog, Jayden has appeared as a stripper in mainstream movies such as the romantic comedy A Beer Tale (2012) and she has also appeared within several TV documentaries such as Rated A For Adult which was aired via G4 Media on November 18th, 2011. In fact, Jayden was even featured in a January 2009 episode of MTV's True Life documentary within which she endeavoured to dispel public misperceptions about adult film industry professionals. As Jayden herself explained in a December 2008 AVN press release;
"The general public tends to have such a negative outlook on the porn industry and the people that are a part of it, so I'm hoping I can put a pleasant spin on things and show everyone that porn is such a positive part of my life".
As matters stand, Jayden Michele Jaymes continues to thrill her fans with a wide range of best-selling DVD feature releases and saucy online sex scenes that she uploads via her official solo website JaydenJaymesXXX.com that she launched in collaboration with the Puba Network. A multi-talented porn, feature dancer and webcam model, Jayden continues to treat her loyal fan following to feature dancing performances at exclusive gentlemen's clubs as well as hosting regular live chat sessions via her official website. If you'd like to learn more about Jayden Michele Jaymes' latest porn productions, upcoming live chat sessions and impending feature dance performances, please feel free to use the links provided below to visit Jayden Michele Jaymes' official social networking channels. Stay updated regarding the amazing adult film exploits of your favourite buxom brunette beauty online today!
Jayden Michele Jaymes – Social Networks
Official Website : JaydenJaymesXXX.com
Twitter : @JaydenMichele
Brazzers : Jayden Michele Jaymes at Brazzers
Instagram : @jaydenmichele , @jaydenmichelejaymes
Kink : Jayden Michele Jaymes Femdom & BDSM Content
Naughty America : Jayden Michele Jaymes at Naughty America
The Nude : Jayden at Nude EU
Babepedia : Jayden at Babepedia