Lyra Law Twitter : @lyralawxxx   Girlsway : Girl/Girl Scenes   Kink : Lyra's BDSM Content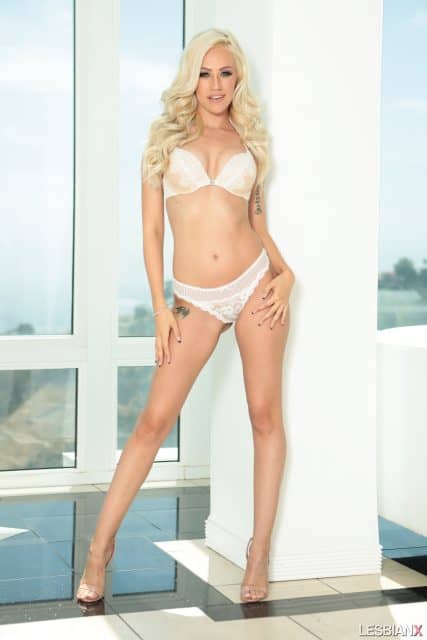 Lyra Law in From My Ass To Yours – Lesbian X – X Empire Galleries
Lyra Law – Personal Info
Name : Lyra Law
Date of Birth : December 30th
Star Sign : Capricorn
Hometown : Southern California (US)
Measurements : 34B – 26 – 34
Height : 5'7 (1.70m)
Hair Colour : Blonde
Eye Colour : Green
Tattoos : Symbols along the inside of her upper left arm, script along the outside of her right forearm, a winged creature on the right side of her pelvis and a design on the back of her right calf
Piercings : Left nostril
Years Active : 2015 – present
Number of Scenes : 100+
Lyra Law is a fan-favorite adult film star and glamour model who has been performing in porn since 2015. Having started out as a professional dominatrix, Lyra Law has since starred in a wealth of mainstream porn productions that have earned her many "Best New Starlet", "Best Girl/Girl Sex Scene" and "Best Supporting Actress" nominations at the AVN and XBIZ Awards.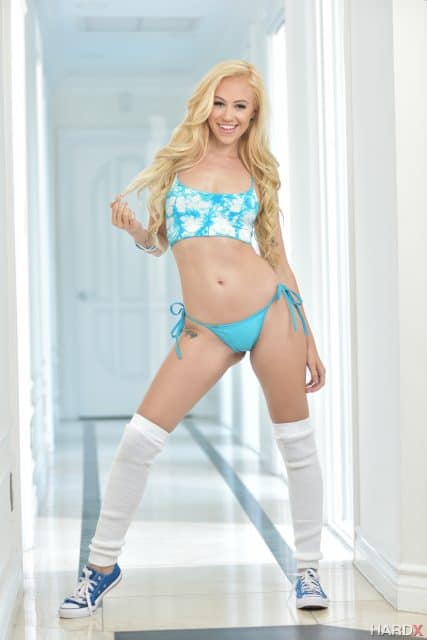 Lyra Law in Lyra Loves Anal – Hard X – X Empire Galleries
Wondering where it all began? Hailing from Southern California, Lyra Law grew up in a religious household and was an ardent animal lover with plenty of pets! Lyra Law was a tomboy growing up and graduated early from high school before attending makeup school in Los Angeles. As Lyra Law explained in her May 2016 Adult DVD Talk interview;
"I grew up in Southern California in a decently religious family. I was raised to be a super tomboy. I was a huge animal lover and had about 1 billion pets, horses, lizards, large snakes. I didn't do too great in school. I was more interested in reading what I wanted to read and not what the teacher told me to read. I worked really hard and graduated early so I could get the hell out and do what I wanted to do!. I went to make up school in Los Angeles and joyfully ended up here".
Lyra Law has discussed these early years in greater detail during her June 2016 Fleshbot interview, divulging that;
"I was a total introvert, artist, and a tomboy. I still am. I had some close friends, but I would hide in the library and read books, basically research all day. I really didn't care for high school dynamics. I enjoyed the soft energy of animals and being around them, so I'd get off school and be with my dogs, horses, and reptiles. It was too harsh being around kids with their hormones figuring out who they were. So, I stuck to myself and my harem of beasts…I was definitely a fan of pornography before joining the porn industry. I would not say I was a fan that knew performers' names. But, I was a fan of kink.com pornos. I love BDSM porn and have always sought it out".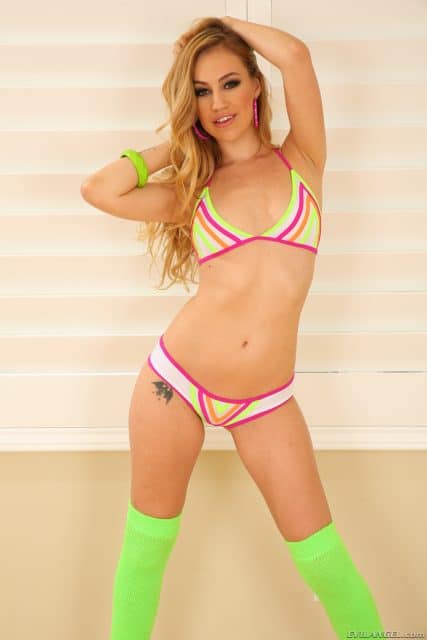 Lyra Law in Anal Brats #3 – Evil Angel
Lyra Law first started working in the adult entertainment industry as a professional dominatrix and she initially went by the name 'Lyra Louvel'. Lyra Law had been interested in performing in porn for many years and revealed during her May 2016 Adult DVD Talk interview that;
"[I] started as a dominatrix and started doing some fem Dom porn and then I decided that I would pursue my dream of being a porn star. I've thought about being a porn star since I was 16 years old…I watched a lot of fetish porn I was always was a consumer of BDSM porn and was extremely lucky to work with the company that I jerked off to my sexual years growing up kink.com!…
Well I didn't own Louvel. I loved that name when I was just a dominatrix. Seems like porn world has a very hard time pronouncing long names. So I chose Law. Which I like very much. Makes me feel like a gunslinging rhinestone cowgirl, almost like in Annie Oakley of porn".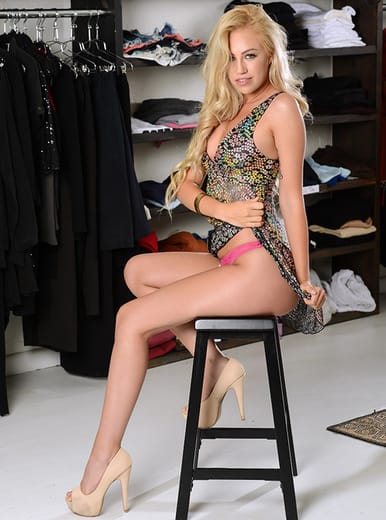 Lyra Law – Brazzers Network
Lyra Law : Adult Film Career
Lyra Law first started working in the adult film industry in 2015 and some of her earliest sex scenes include her steamy femdom shoot with Dahlia Sky in Girl Crushed (2015) for Deviant Entertainment that was nominated for "BDSM Release of the Year" at the 2017 XBIZ Awards, her saucy POV shoot in Glenn King's Mean Bitches POV 11 (2015), her raunchy oral scene in Oral Obsessions (2015) for Metro/Cal Vista which was nominated for "Best Oral Movie" at the 2017 AVN Awards and her scintillating solo scene for Kink.com's Fucking Machines web series in October 2015.
Want to know the best part? Over the years Lyra Law has filmed a broad spectrum of fetish, femdom and BDSM content for many of Kink.com's fan-favorite web channels. We recommend checking out Lyra Law's sizzling Cute Blonde Rookie is Destroyed by Ebony Goddess erotic wrestling bout with Ana Foxxx for Ultimate Surrender in March 2016, her raunchy My Slutty Cousin three-way with Chloe Cherry and Steve Holmes for Sex & Submission in March 2017 and her captivating Hogtied shoot with The Pope in June 2017.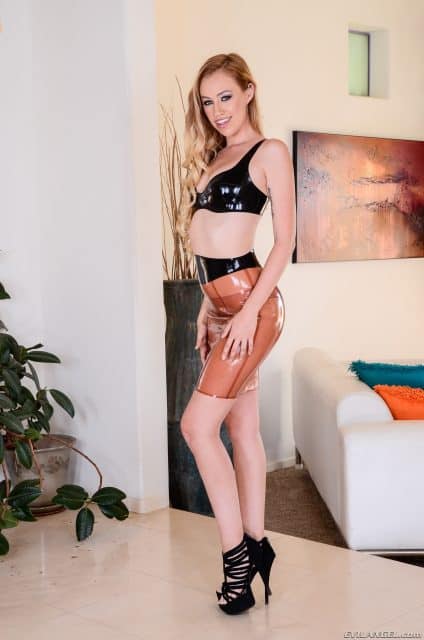 Lyra Law in Anal Players #2 – Evil Angel
Lyra Law has even filmed some instructional videos for Kink.com's informative Kink University web series. As matters stand Lyra Law has appeared in Sex on Wheels: How to Fuck in Cars in February 2016 and Femdom FFM Threesomes with Daisy Ducati and Mike Panic in March 2016. When Lyra Law was asked about her personal dominant/submissive preferences during her December 2015 AVN: Fresh Faces interview she saucily stated that;
"I'm a bisexual switch—I like to have my cake and eat it too. …  It opens it all up to girls and guys, hitting and being hit. I don't like doing something to someone else that I haven't experienced myself".
But that's not all! Lyra Law has also starred in a wide range of thrilling BDSM movies and taboo relations titles. Our top picks? They'd have to be Bound For Domination (2016) for Deviant Entertainment which won "BDSM Release of the Year" at the 2017 XBIZ Awards, Dominance and Submission (2016) for Digital Sin that showcased Lyra Law in a femdom scene with Skin Diamond, The Voyeur (2017) for Sweet Sinner which was nominated for "Best Drama" at the 2018 AVN Awards and her incredibly immersive Above The Law VR experience that was unveiled via Babe VR in May 2018.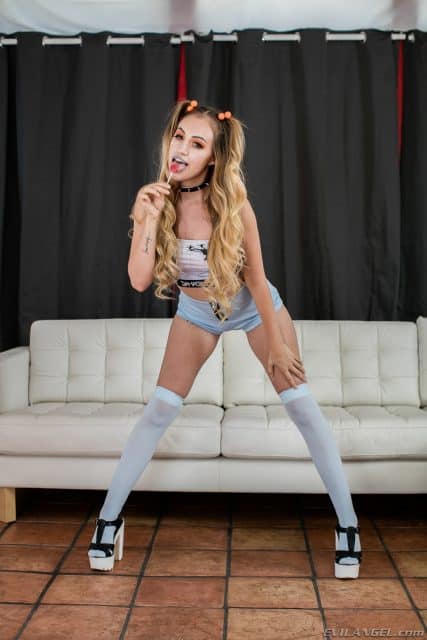 Lyra Law in Hookup Hotshot: Break The Internet – Evil Angel
Alongside her thrilling BDSM productions Lyra Law is also a talented girl/girl performer who has become one of the most popular stars to shoot for Girlsway. Fans of Lyra Law will love viewing her Taboo Conquest scene with Bridgette B that was first released in February 2016, her raunchy scene with Adriana Chechik in The Art of Lesbian Anal (2017), her epic Dream Pairings shoot with Abigail Mac and Brett Rossi in August 2017 as well as her titillating The Break Up scene with Kenna James and Penny Pax in April 2018. The list goes on!
Eager to explore even more of Lyra Law's sauciest girl/girl collaborations? Then you'll want to watch her steamy scene with Blair Williams in Jacky St James's New Sensations movie A Lesbian Romance 3 (2016), her saucy scene with Jenna Sativa in No Man's Land: Raunchy Roommates 2 (2016) for Metro/Video Team that was nominated for "Best Girl/Girl Sex Scene" at the 2017 AVN Awards and her kinky Sharing The Siblings scene with Violet Starr that was uploaded via Brazzers in December 2016.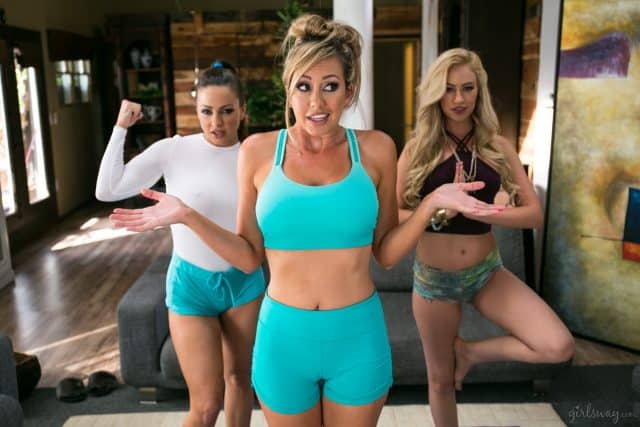 Abigail Mac, Brett Rossi and Lyra Law in Dream Pairings – Girlsway
Never one to rest on her laurels, Lyra Law has since starred alongside Kira Noir in Dana Vespoli's The Candidate (2017) for Sweetheart Video that was nominated for "Best Drama" at the 2018 AVN Awards, she has shared a sensational scene with Brett Rossi in Girl Crushed 2 (2017) for Deviant Entertainment which was nominated for "Best All-Girl Movie" at the 2018 AVN and XBIZ Awards, and she has filmed some thrilling three-ways with Abella Danger, Cherie DeVille and Lena Paul, titled Abella's Lesbian DP and Lena's First Lesbian DP, that were unveiled via Lesbian X in April 2018 and June 2018. Not to be missed!
Want to know the most impressive part? Alongside her girl/girl scenes and BDSM content Lyra Law has also earned herself starring roles in several critically acclaimed porn productions. Some of Lyra Law's hottest career highlights include Last Chance (2016) for Wicked Pictures that was nominated for "Best Drama" at the 2017 AVN Awards and Unbridled (2017) for Wicked Pictures that earned Lyra a notable "Best Supporting Actress" nomination at the 2018 XBIZ Awards. Lyra Law received high praise for her Unbridled performance from director Stormy Daniels who stated in a May 2017 AVN press release that;
"I cast Lyra for several reasons…One, she's a fantastic actress and a great performer. Chemistry is really important when we're making the Wicked Passions movies, so I had her work with Michael Vegas. They're a real-life couple and they play off each other in a very believable way. Lyra's reliable, and she also started riding recently, so she's comfortable around horses. She didn't do the jumping, but what was so serendipitous was that she looks almost identical to my best friend, who lives in Texas and was her stunt double in the movie. They look so much alike that even I can't tell them apart in the riding scenes!".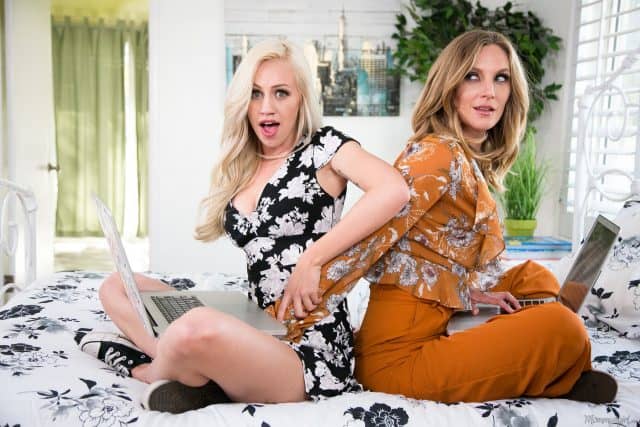 Lyra Law and Mona Wales in Browser History – Girlsway
One of Lyra's fan-favorite shoots has been her scintillating scene with Prince Yahshua in MimeFreak's ArchAngel Productions movie First Prince 3 (2016). Lyra enjoyed collaborating with MimeFreak on First Prince 3 and highlighted in her June 2016 Fleshbot interview how;
"MimeFreak is a very talented director. As an individual, he's very pleasant to be around, always smiling and cracking sarcastic jokes. He was one of the first directors I met when I came in to the industry. He was also one of the first people to take the time to give me some encouraging words".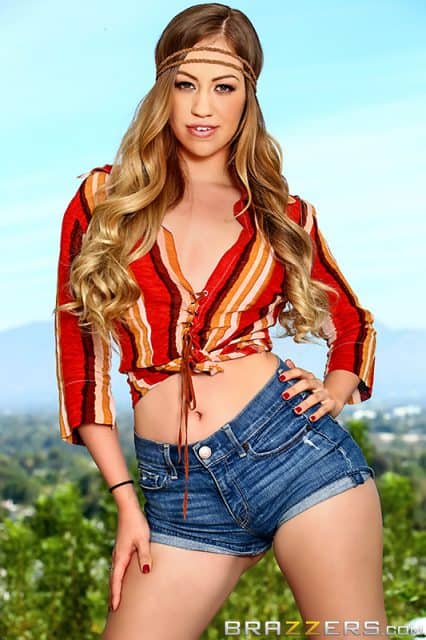 Lyra Law in Fuck The Festival – Brazzers Network
Starring in so many popular porn productions has earned Lyra an impressive collection of awards nominations including;
2017: AVN Awards nominee "Best New Starlet"
2017: AVN Awards nominee "Best Girl/Girl Sex Scene" No Man's Land: Raunchy Roommates 2 (with Jenna Sativa)
2017: AVN Awards nominee "Hottest Newcomer (Fan Award)"
2017: XBIZ Awards nominee "Best New Starlet"
2017: Bang.com Contest winner "Ambassador of the Month – November 2017"
2018: XBIZ Awards nominee "Best Scene – Gonzo Release" Gonzo: Lyra Law (with Manuel Ferrara)
2018: XBIZ Awards nominee "Best Supporting Actress" Unbridled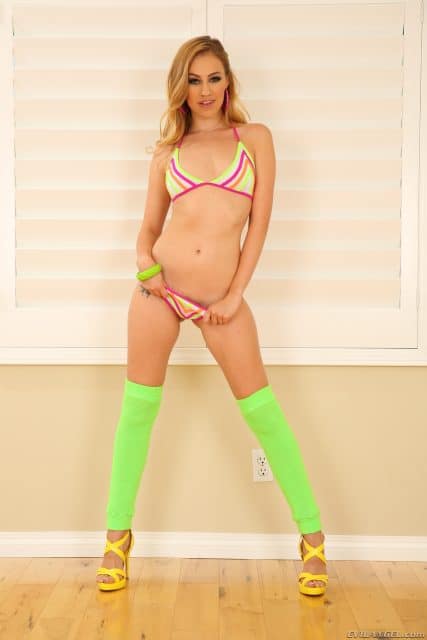 Lyra Law in Anal Brats #3 – Evil Angel
Lyra has been thrilled to receive these notable nominations – especially "Best New Starlet" at the 2017 AVN Awards. As Lyra recounted during a January 2017 AVN interview;
"Getting nominated for Best New Starlet by AVN is an enormous compliment. I was home sick when I got the text about the nomination from a friend attending the nomination party. I think it cured my fever instantly. The affirmation from one of the leading voices in porn had me dancing around my apartment, despite doctor's orders. Essentially AVN said that they think that what I'm doing is working. What a surreal moment …
I remember one of my first experiences going to AVN headquarters to interview before having done my first [boy-girl] scene. I was really nervous but AVN had a fun energy. Even after they had a long day of interviewing all the new talent. I was the last to interview and they all still had the genuine interest to really find out who I was and what I was bringing to the industry. That encounter set the tone for my career over the last year. I'm extremely glad that the decision I made at AVN that day has worked out so well. I guess my decision to be my authentic self has paid off".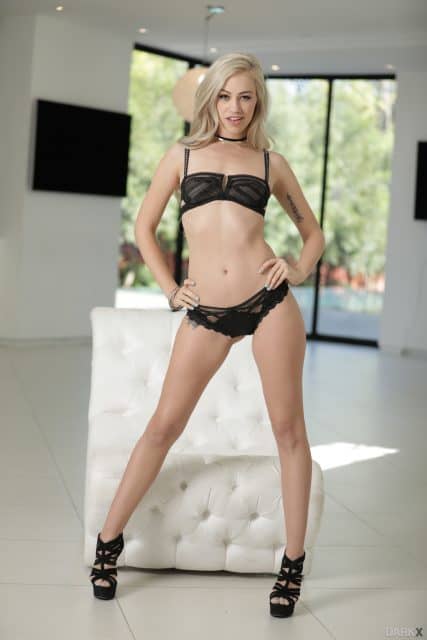 Lyra Law in A Nice Family Dinner – Dark X – X Empire Galleries
Wondering what the future holds for Lyra Law? Well, when Lyra was asked about where she sees herself in five years during her May 2016 Adult DVD Talk interview she mentioned that;
"In five years I see myself well ..being five years older…hopefully that. Anything else I can't really tell you. Still doing porn and being involved with sex work. working on becoming a director/maybe even already being a director. continuing on with my personal pursuit of happiness!".
What's more, when Lyra was asked about her future plans during her June 2016 Fleshbot interview she highlighted how;
"What I'm looking to achieve is not just for my own career, but also for sex workers in general. I would like to help take away the stigma of the damsel in distress that is in porn. My life has not been butterflies and roses, but I am not here because I'm damaged. I'm in this industry because it's something that I'm passionate about. I love performing on film, and I love being vulnerable in front of the camera, just like any mainstream actress loves her job. It's a place to express yourself…
One of the greatest thing that comes from being a porn star for me is the freedom that you get to do the thing that you want to do! In porn, on set, and when you are off set. Sometimes, I work every day for a few weeks and it's crazy! Sometimes I don't work for couple weeks and that's awesome! I can work on an art project and not be freaking out about trying to make my bills happen. I can just enjoy the two weeks off, and I know that work will come in afterwards".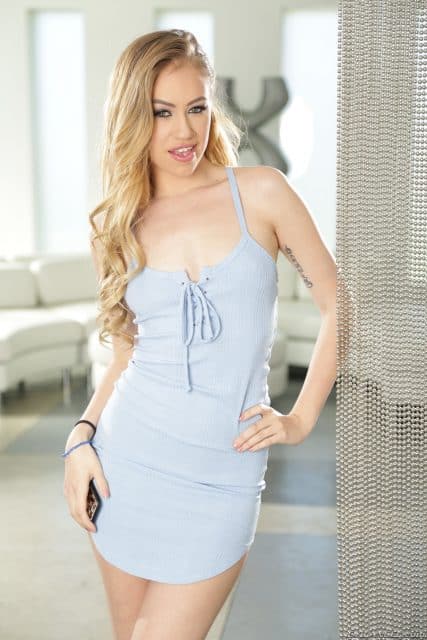 Lyra Law in POV Sluts: Swallow Edition – Evil Angel
When she isn't performing in porn Lyra enjoys relaxing at home with her pets (2 dogs) and interacting with her fans via social media. After all, as Lyra conveyed in her June 2016 Fleshbot interview;
"Being an introvert and having a lot of people reaching out wanting to talk to me has been really strange and wonderful at the same time. Sometimes it can be a little overwhelming or the questions are a little odd. I try to find as much time as I can in my schedule to write back to people. I try to make the time and effort, because they're exactly that. They are people, not just fans. Most fans of pornography are the driving force behind the sexual revolution that's happening. I definitely want to encourage them connecting with like-minded beings, whether they be porn stars or what have you.. Thank you so much for taking the time to listen to what I have to say. I hope that you'll follow my career through the years and find as much enjoyment in my films, as I do in making them".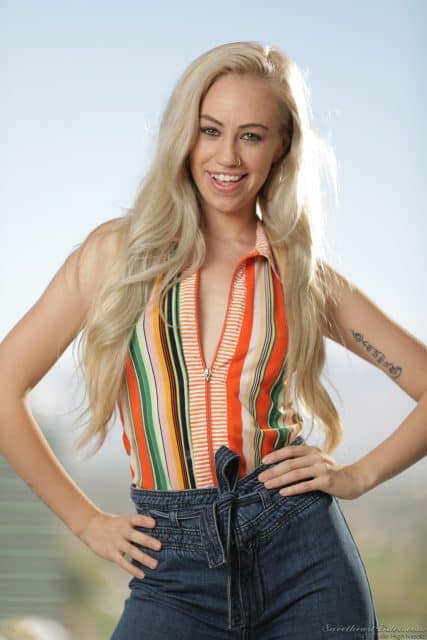 Lyra Law in On The Rebound! – Sweetheart Video
Eager to explore all of Lyra Law's sauciest sex scenes? Then use the links provided below to stay connected with your favorite blonde beauty Lyra Law!
Lyra Law – Social Networks
Twitter : @lyralawxxx
Instagram : @lyra_law
Babe VR : Lyra Law VR Experience
Brazzers : Lyra Law at Brazzers
Evil Angel : Lyra Law at Evil Angel
Girlsway : Lyra Law at Girlsway
Kink Profile : Lyra Law BDSM, Femdom & Fetish Content
New Sensations : Lyra Law at Digital Sin/New Sensations
Sweet Sinner : Lyra Law at Sweet Sinner
X Empire : Lyra Law at X Empire (Dark X, Hard X & Lesbian X Scenes)
IMDB Profile : Lyra Law Filmography
The Nude : Lyra at The Nude
Babepedia : Lyra at Babepedia