Official Website : Mandy-Mitchell.com  Twitter : @strangerswmandy 
Kink : Mandy Mitchell BDSM & Femdom Scenes  Grooby Girls : Mandy Mitchell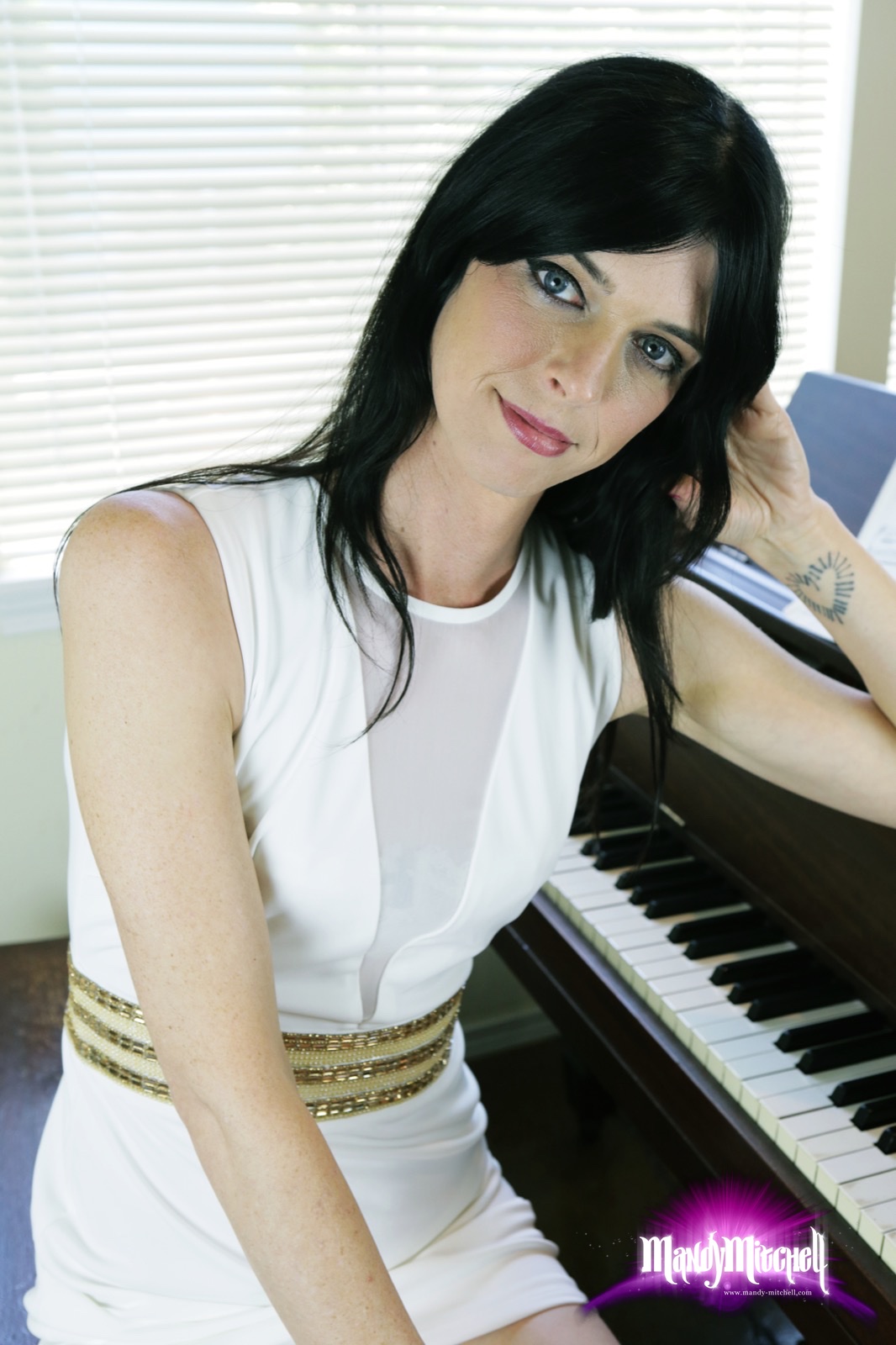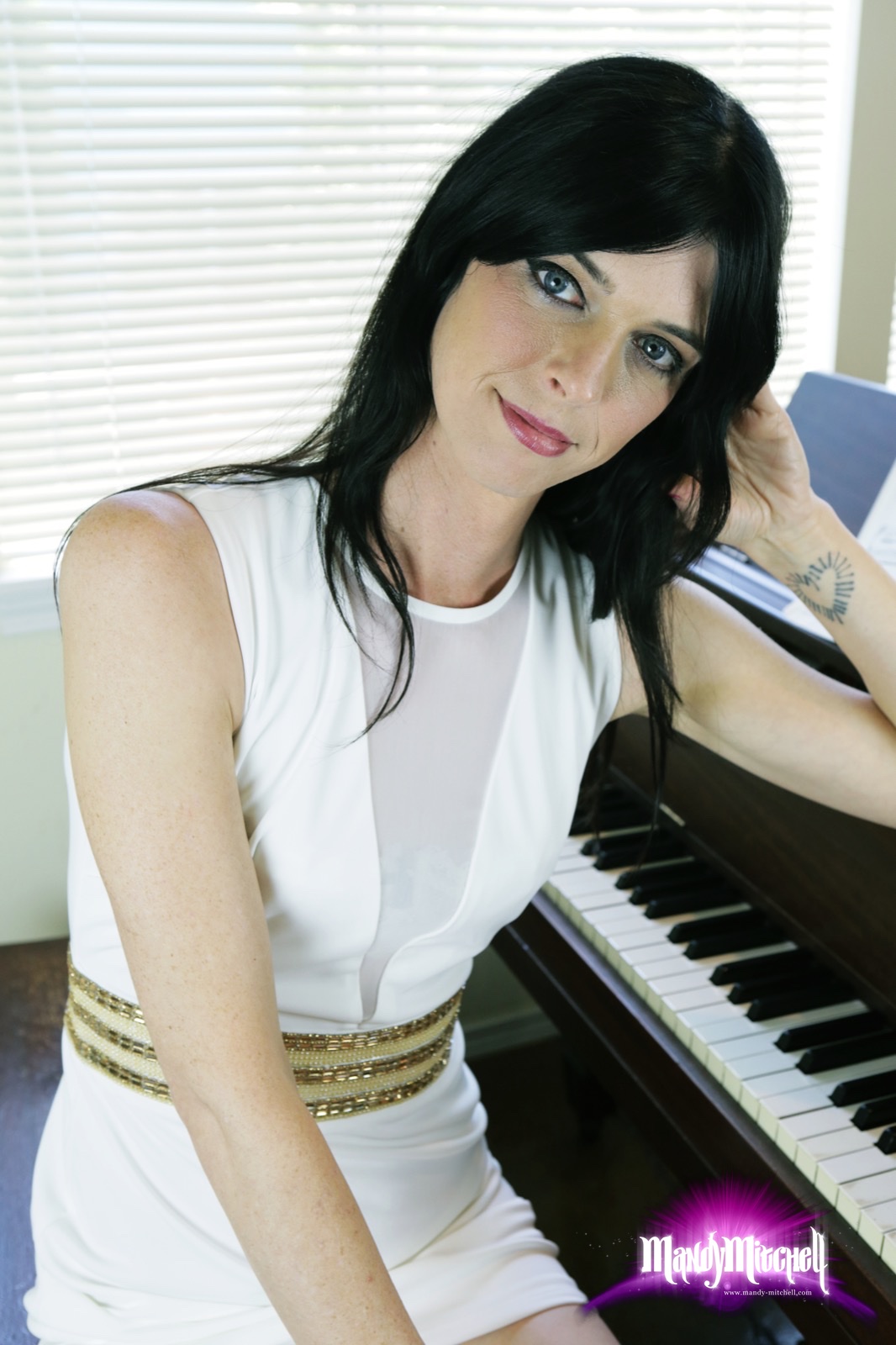 Mandy Mitchell at Mandy-Mitchell.com
Personal Info
Name : Mandy Mitchell
Date of Birth: May 4th, 1982
Home Town : Los Angeles, California (US)
Bra/ Cup Size : 34B
Boobs : Enhanced
Height : 6'2 (1.88m)
Weight : 138lbs (63kg)
Hair Colour : Brunette / Black / Blonde
Eye Colour : Blue/Grey
Tattoos : Freight train design on her lower back
Shoe Size : Women's 13 (US)
Years Active : 2007 – present
Number of Scenes : 30+
Born and raised in Portland, Oregon, Mandy was a self-confessed wild child growing up and jokingly stated within her XCritic column interview that she was "Totally batshit insane. Smart freaky devil child".
Mandy has always been aware of her true gender identity from a young age but felt unable to embrace it due to her strict religious upbringing. Mandy has discussed her transition process during her Pushing Boundaries interview with fellow TS porn superstar Wendy Williams and revealed that she began to discover likeminded individuals within the LGBT community after she moved away from home. As Mandy puts it in her own words;
"I came out about being Transsexual in late 2001 when I was 20 years old. I had known all my life that I wasn't a boy but I was socialized in an intensely religious and repressed world and had no knowledge of TS. It wasn't until I moved away from that world that I discovered that I wasn't the only person in the world who experienced gender dysphoria. From there I was diagnosed with GID, started hormones, had my orchiectomy (removal of testicles) in the Summer of 2004, and then recently had a tracheal shave to reduce the visibility of my adams apple…I'm attracted to people, especially people who love sex. Really I'm attracted to people of all gender presentation and body types. I tend to have close relationships with women and more physical relationships with men. I use men for sex. Lol".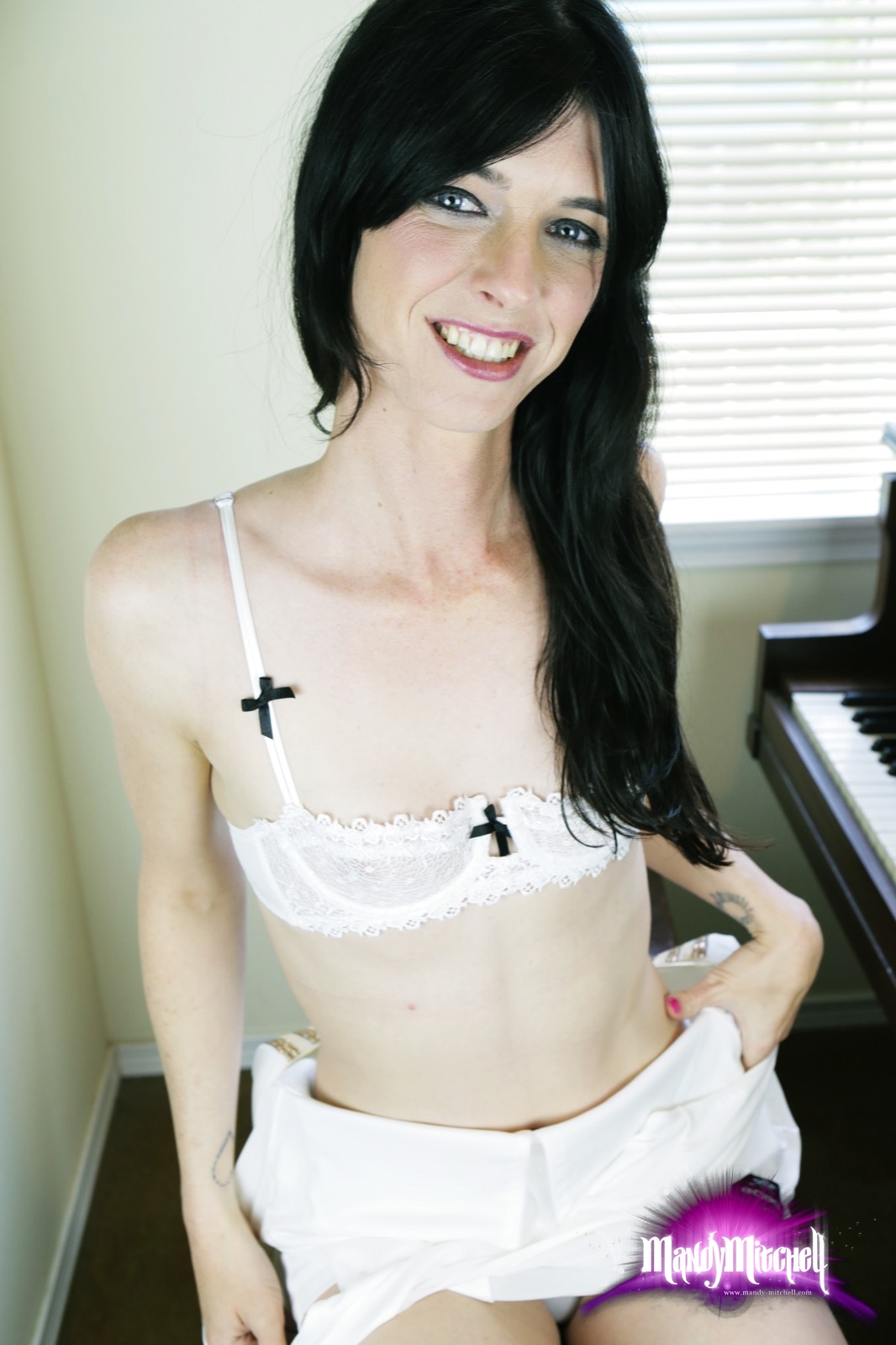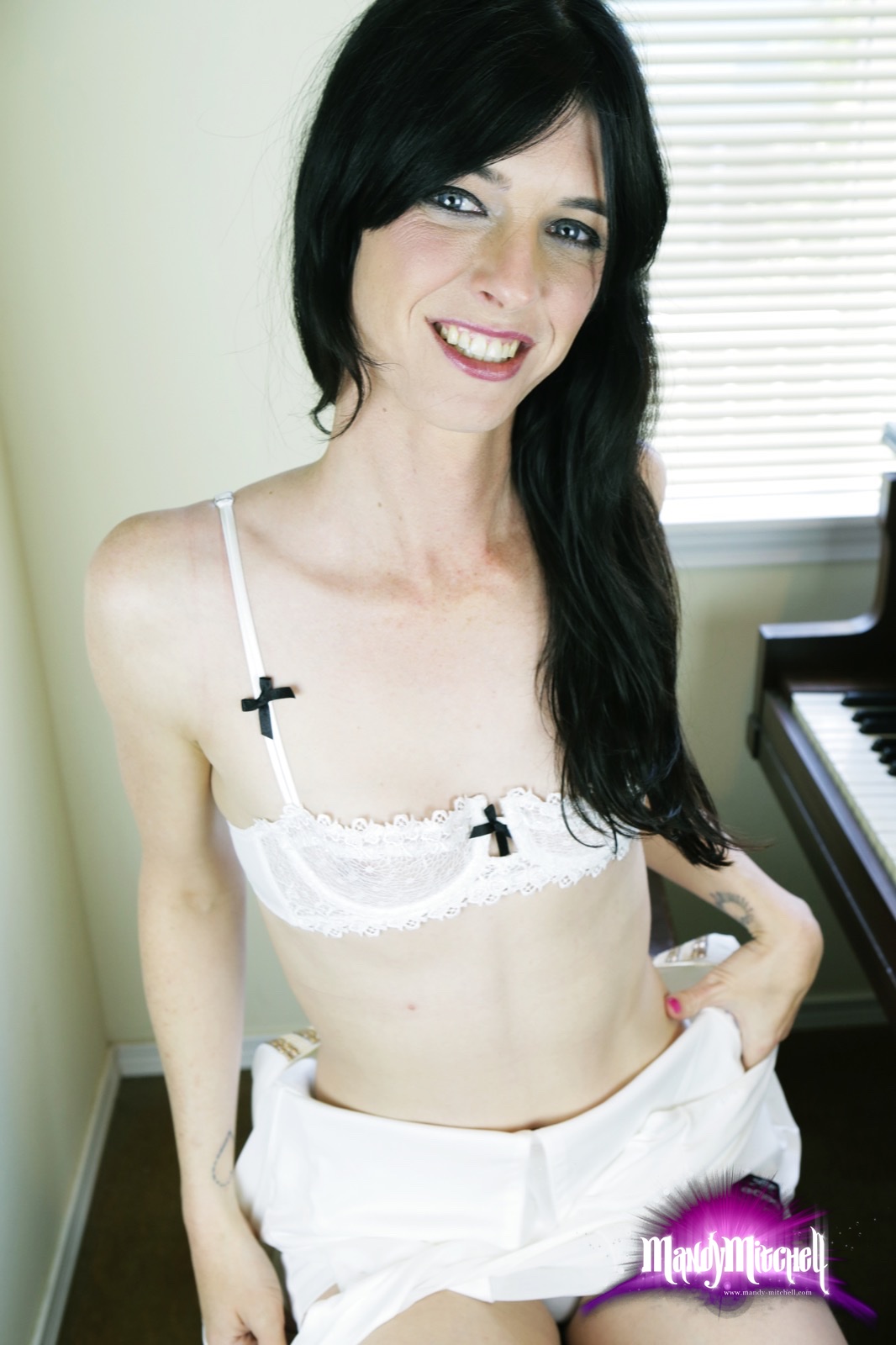 Mandy Mitchell at Mandy-Mitchell.com
 Mandy discussed her transition process in further detail during her January 2012 YNOT interview, explaining the reasons why she decided to undergo castration and hormone replacement therapy;
"It's kind of complicated. People always want me to tell the story, because the circumstances were rather dramatic and unique…Without knowing how much of it to tell, I'll just say that at the time I had a rather firm belief that girls didn't have balls and I didn't want anything to do with them. A friend of mine told me about a surgeon doing low-cost orchiectomies for trans girls, and I jumped at the chance…It wasn't difficult to choose that option at all — much harder psychologically to have a body that feels wrong. After castration, I felt really at home in my body, like it finally was whole".
As well as fully embracing her true gender identity, Mandy also began to become involved with several sex positive and kink communities in her local area. In this manner, Mandy began to be introduced to likeminded individuals who enabled her to explore her sexual interests within an open and accepting environment. Mandy divulged during her Pushing Boundaries interview how her exhibitionist nature and ongoing work with these various sex positive and kink communities meant that she began to forge various connections within the adult entertainment industry for several years prior to making her adult film modelling debut. As Mandy puts it in her own words;
"I had been a part of sex positive and kink communities for several years and had many friends and lovers who were amateur porn makers, small time models for porn companies etc, I'm very open minded when it comes to sex and I am an exhibitionist so porn seemed like a natural way for me to share that with the world and make some money while I was at it".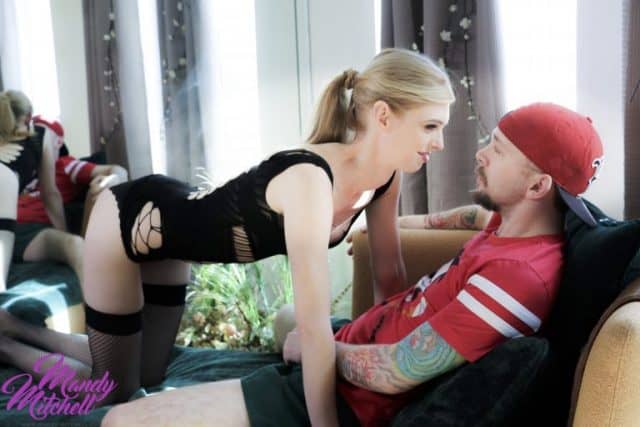 Mandy Mitchell at Mandy-Mitchell.com
Mandy Mitchell : Adult Film Career
In 2007 Mandy made her adult film modelling debut via the Grooby Network porn site Grooby Girls (formerly Shemale Yum). Titled Naughty Mandy In Fishnets, these sultry stocking-fetish solo sex scenes were filmed by Frank Drachman and were distributed via Grooby Girls in January 2007. Mandy discussed the circumstances that led up to her featuring within her first ever sex scenes during her XCritic column interview, highlighting how;
"I had dabbled in sex work off and on for quite a few years and had decided to leave it behind and find straight work when a photographer contacted me and asked if I wanted to shoot for a porn site called shemaleyum.com. I knew nothing about tranny porn and the name made me feel weird inside, but I decided to give it a shot. He came over to my loft in an old whorehouse next to the Albina trainyard. I put a Serge Gainsbourg record on and jerked off. Things kinda picked up steam from there".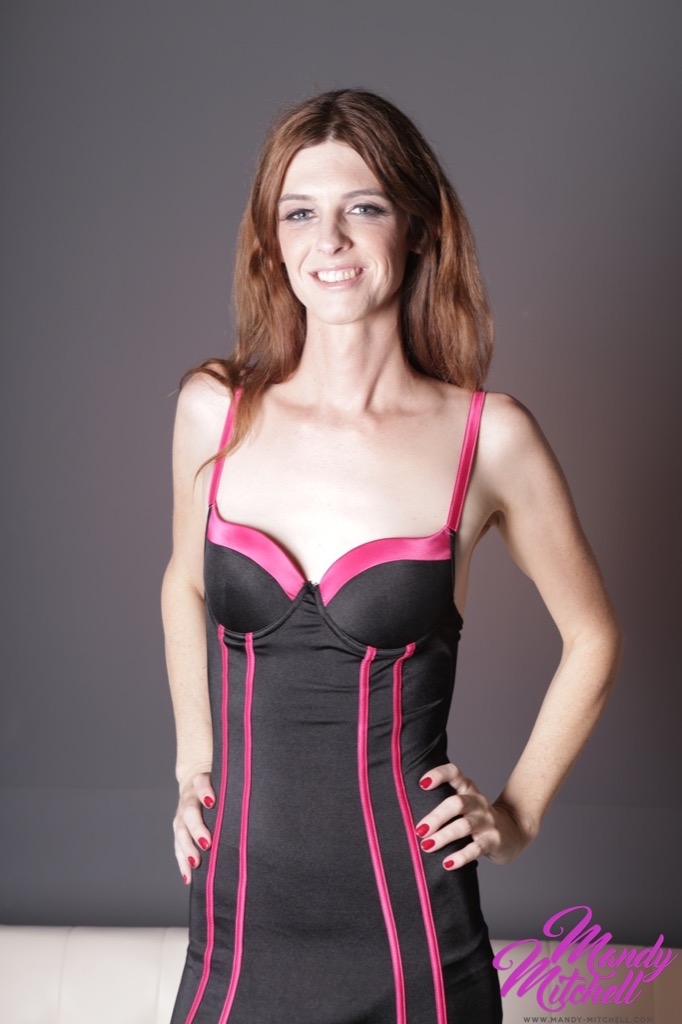 Mandy Mitchell at Mandy-Mitchell.com
Following the positive reception to her adult film modelling debut, Mandy continued to shoot several saucy solo sex scenes with Frank Drachman for Grooby Girls including Mandy Spreads Wide in April 2007, Smoking Hot Mandy in July 2007 and Mandy Plays With Her Lollipop in September 2007. Frank also filmed Mandy's raunchy February 2008 Fun Duo Mandy & Drea transbian sex scenes with TS Drea. During this time Mandy also began to shoot for the popular transsexual porn site Frank's TGirl World and appeared within all manner of sizzling solo sex scenes such as Mandy Oils Her Feet in February 2008, Naughty Mandy in March 2008, Mandy Is Smoking in June 2008, Mandy Dildos Her Ass in March 2009 and Mandy Ties Up Her Cock in May 2009.
Mandy made a triumphant return to Grooby Girls in the spring of 2009 in order to shoot some raunchy solo sex scenes with award-winning adult film cinematographer Buddy Wood titled Mandy Plays With Her Cock that was first distributed in March 2009 and Jacuzzi Fun With Mandy that was released in April 2009. Due to the fact that she has always been a sex positive person with a kinky curiosity in the fetish lifestyle market, Mandy was initially shocked by the bigoted nature of many adult film industry professionals. In fact, upon being asked about what surprised her the most about working within the adult entertainment industry during her XCritic column interview, Mandy responded;
"How openly accepted bigotry is. Because everyone I knew in the adult world for a long time was queer. I had no idea how openly hateful and misinformed people were towards TS in the broader adult industry. People in my niche tried to explain it to me over and over and it really took me by surprise and still takes me by surprise. That my existence and sexuality is controversial is such a trip. I just forget about it and chase after hot people, until someone brings it up. How they could lose work because of me, fans, etc.? It's bizarre".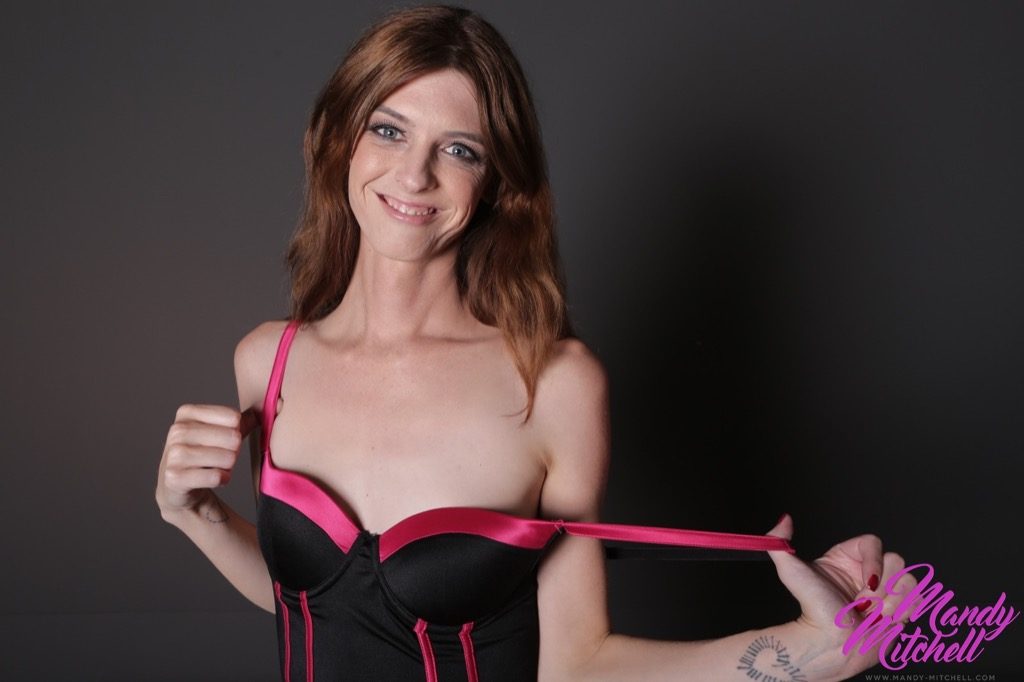 Mandy Mitchell at Mandy-Mitchell.com
However, Mandy was determined not to let the close minded attitudes of a few individuals deter her from pursuing a thriving adult film career. Consequently, over the years Mandy has featured within many of Sammi Mancini's best-selling TS DVD series for Rodnievision/ Mancini Productions and Exquisite. To date, Mandy has starred in Shemale Strokers 24 (2007), Shemale Strokers 31 (2008), Suck My Tranny Cock 6 (2010), Suck My Tranny Cock 7 (2011) and multiple instalments of Bang My Tranny Ass 2, 3, 8 and 12 (2008-2013). Performing in these fan-favourite DVD titles has enabled Mandy to collaborate with prominent TS stars such as Jesse Flores, Celeste Fuentes, Juliette Stray, Kimberly Kills and Mia Isabella among many others.
As well as filming with Sammi Mancini, Mandy has also worked with Jay Sin on his award-winning Evil Angel TS DVD series TS Playground. Mandy starred in the first ever TS Playground 1 (2012) that was nominated for "Best DVD" at the 2012 Tranny Awards, "Best Transsexual Release" at the 2013 AVN Awards and "Transsexual Release of the Year" at the 2013 XBIZ Awards and which also earned Mandy a notable "Best Transsexual Sex Scene" nomination at the 2013 AVN Awards for her group sex scene with Adrianna Nicole, TS Foxxy, Kimber James and Christian XXX. Mandy even received a rave review from XCritic column writer Apache Warrior for her TS Playground sex scene with Adrianna Nicole. Apache Warrior ardently enthused within his May 2012 film review how;
"The three-way with Cherry Torn, Mandy Mitchell, and Kitty Kaiti will be seen many times too. However, it's the amazing Mandy Mitchell-Adrianna Nicole scene that could be nominated for Best Scene. Along with Kimber James providing very good eye candy stimuli, this film deserves it's recommended rating".
Mandy Mitchell at Mandy-Mitchell.com
Spurred on by the critical and commercial success of TS Playground 1, Mandy proceeded to work with Jay Sin on TS Playground 2, 5, 9 and 10 (2012-2014) that was nominated for "Best DVD" at the 2015 Transgender Erotica Awards. Mandy was also featured within Jay Sin's Evil Angel DVD compilation title TS Playground's Best Of TS On Female (2016) and her saucy TS Playground sex scene with Alysa was showcased via the fetish porn network Kink.com in November 2016. Mandy discussed how much she loves working with Jay Sin during her XCritic column interview, expressing that;
"I've been shooting a lot of amazing content in collaboration with Jay Sin over the last several months. Some of which will be released on DVD, some on an upcoming website of his, and much of which is already available on mine. I feel like Jay and I are really on the same page and I'm super turned on by the scenes I've been shooting. I just shot a really hot POV cuckolding movie with Ashley Fires that will be up on a new TS fetish site as well as our solo sites, and my recent scene with Adrianna Nicole was off the hook (I've probably jerked off to it six or seven times)".
Mandy received a wealth of rave reviews for her TS Playground sex scenes from prominent adult film critics such as XCritic column writer Apache Warrior who advocated within his April 2014 online review of TS Playground 9 how;
"Jay Sin tends to be underappreciated for his transsexual films since fellow Evil Angel director Joey Silvera receives most of the acclaim. However, Mr. Sin should never be discounted for making hot tranny films too. This instalment is the ninth eighth episode of this very good tranny series…This ninth instalment is a pretty good tranny sex flick. I'd consider it one of the best of the year. Newcomers Delia Delions and Djennifer Schnaider make very good impressions and will become fan favorites this year. Experienced Mandy Mitchell has a very good scene with her female partner Alysa. Superstars Bruna Butterfly and Beatricy Velmont continue to show off their hot oral talents. I highly recommend it".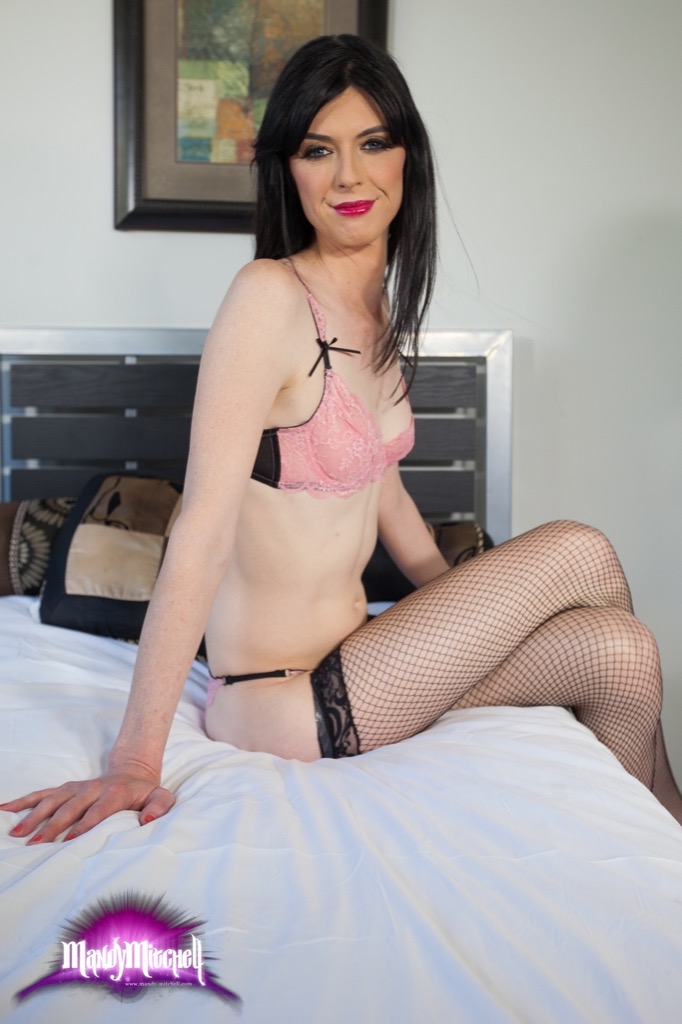 Mandy Mitchell at Mandy-Mitchell.com
As matters stand, Mandy has filmed a wide range of best-selling DVD titles for some of the biggest trans-friendly porn production companies in the industry. Fans of Mandy Mitchell will not want to miss out viewing her saucy sex scenes in the Devil's Film productions Transsexual Cheerleaders 1 (2008) and America's Next Top Tranny: Season 5 (2009) with Morgan Bailey, Vaniity, Aly Sinclair, Kelly Leigh and Christian XXX, the Robert Hill Releasing DVD titles New Oregon T-Girls Strokin' It (2008) and Summer Girls… And Some Are Not 7 (2008), the Grooby Productions DVD feature releases Shemale Cuties Who Love It Up Their Booties (2008) and Amy Daly The Translesbian (2010) also starring Amy Daly, Hazel Tucker, Bee Armitage, Juliette Stray and Kimberly Kills, and the fan-favourite Shemale Club DVD title Pin Up T-Girls 1 (2011) with Khloe Hart, Morgan Bailey, Victoria Di Prada and Olivia Love. Mandy has also featured within the TS DVD compilation titles Bang My Tranny Ass Volumes 1-5 (2010) for Mancini Productions, Top Notch Trannies 2 (2010) for Goodfellas Productions and Best Of Transsexual Cheerleaders (2013) for Devil's Film.

A defining moment in Mandy Mitchell's adult film career came in 2011 when Mandy was featured within her very own Shemale Club star showcase, Transsexual Superstars: Mandy Mitchell, alongside Aly Sinclair, TS Foxxy, Juliette Stray, Kimberly Kills, Morgan Bailey, Amber Rayne and Cherry Torn. Transsexual Superstars: Mandy Mitchell was a commercial and critical success that was nominated for "Best DVD" at the 2011 Tranny Awards. In fact, Mandy proceeded to win "Best Non-Typical Model" and "Best Solo TGirl Website" at the 2011 Tranny Awards and earned herself numerous notable nominations for "Best Hardcore Model" and "Best Hardcore Performer". Mandy has received a steady stream of distinguished adult film award nominations throughout her prolific porn star career including;

2010: Tranny Awards winner "Best Solo TGirl Website" mandy-mitchell.com 
2011: Tranny Awards winner "Best Non-Typical Model"
2011: Tranny Awards winner "Best Solo Site" mandy-mitchell.com
2011: Tranny Awards nominee "Best Hardcore Model"
2011: Tranny Awards nominee "Best Hardcore Performer"
2012 : Urban X Awards "Transsexual Interracial Performer of the Year"
2013: AVN Awards nominee "Best Transsexual Sex Scene" TS Playground 1 (with Adrianna Nicole, Foxxy, Kimber James and Christian XXX)

2013: XBIZ Awards nominee "Transsexual Performer of the Year"
2019: Transgender Erotica Awards winner "Best Clipsite Star"
Upon winning these prestigious adult entertainment accolades at the 2011 Tranny Awards, Mandy enthusiastically stated within a February 2012 XBIZ News press release that;
"It's nice to be recognized two years running at the tranny awards as Best Solo Site…Thanks to everyone who's been a part of it…Mitchell said she continues to push herself to produce porn that stretches the boundaries of normal shemale porn. She said she truly enjoys filming with top female stars or introducing a fetish element". 
Whilst accepting her "Best Solo Site" accolade at the 2011 Tranny Awards, Mandy also took the time during her acceptance speech to thank;
"everybody who did something with me this year that might be illegal".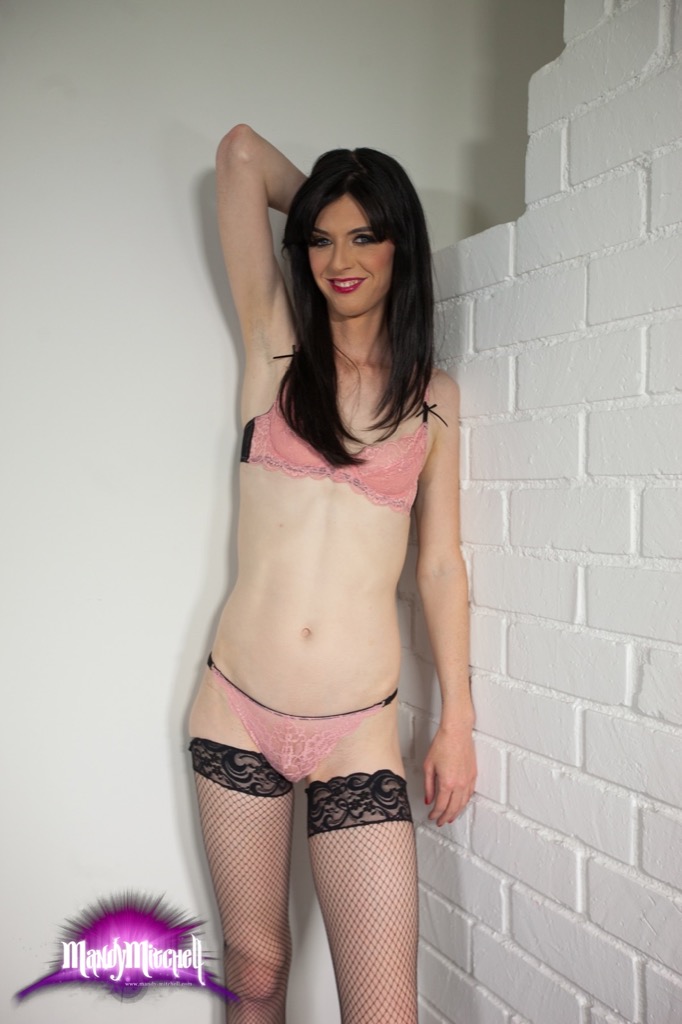 Mandy Mitchell at Mandy-Mitchell.com
Mandy Mitchell : Fetish Lifestyle Market & Official Solo Website
Throughout her amazing adult film career Mandy has always been interested in exploring new kinks and BDSM niches within the fetish lifestyle market. Ever eager to broaden her sexual horizons, Mandy began performing some sizzling sex scenes for the internationally renowned fetish porn network Kink.com from 2008 onwards. Mandy's first ever Kink.com sex scenes were titled Mandy & Johnny Rocket and they were released in January 2008 as part of Kink.com's fan-favourite TS Seduction web series. A formidable femdom performer, Mandy has filmed a variety of thrilling TS Seduction sex scenes over the years including Mandy Mitchell Seduces, Binds & Fucks Omar In The Mouth And Ass in July 2008, Little Games, Getting Laid in June 2010 and Your Cheating Cock Will Get You Fisted: Mandy Mitchell Doms A Couple in January 2012. In addition to her thrilling TS Seduction collaborations, Mandy has also shot some feisty femdom sex scenes for many of Kink.com's best-selling fetish lifestyle web series among which include her sizzling Going At It: Mandy Mitchell And Amber Rayne Fucking bondage sex scenes for TS Pussy Hunters in May 2012 and her Trans Lesbian Sex scenes with Bianca Stone that were filmed for Kink.com's sex education web series Kink University in May 30th 2016.
Mandy revealed how she discovered her love of BDSM, femdom pegging and the fetish lifestyle market within her XCritic column interview, conveying that;
"I guess it was kind of a circuitous route really. I was exposed to BDSM through a couple of lovers I had as well as being exposed to it as a part of radical queer culture. I'm not sure how deep you want me to get into this story because it's kind of complicated and might confuse people. Suffice it to say, I learned that I love pain. I love receiving it. I love inflicting it. I find it enthralling. I don't really get off on dominance or submission nearly as much as I do the trust that comes with letting someone take control, inflict pain, etc.. It just feels really good to go on a journey like that with people…
I want to be in movies where I get to do the things that get me off. When I started in the biz, nobody was really making movies that looked anything like the sex I liked to have in my private life. I guess as a performer, I was okay at shooting the kinds of scenes fans of the niche were used to watching, but it didn't make me happy and the money wasn't good enough to really try and make it work. Over time, I got more and more support to just shoot with who I wanted to shoot with and people encouraged me to just be me. So I did. And I do. Now, I just kind of get on these kicks where I focus on a particular person (Hollie Stevens, Cherry Torn, etc.), or set of activities or ideas that I find captivating (jealousy, pain, worship). It's a pretty selfish endeavor when you think about it. I make movies that I want to jerk off to. People probably see that as innovative because it's not following a formula which is good for me because it lets me keep doing it".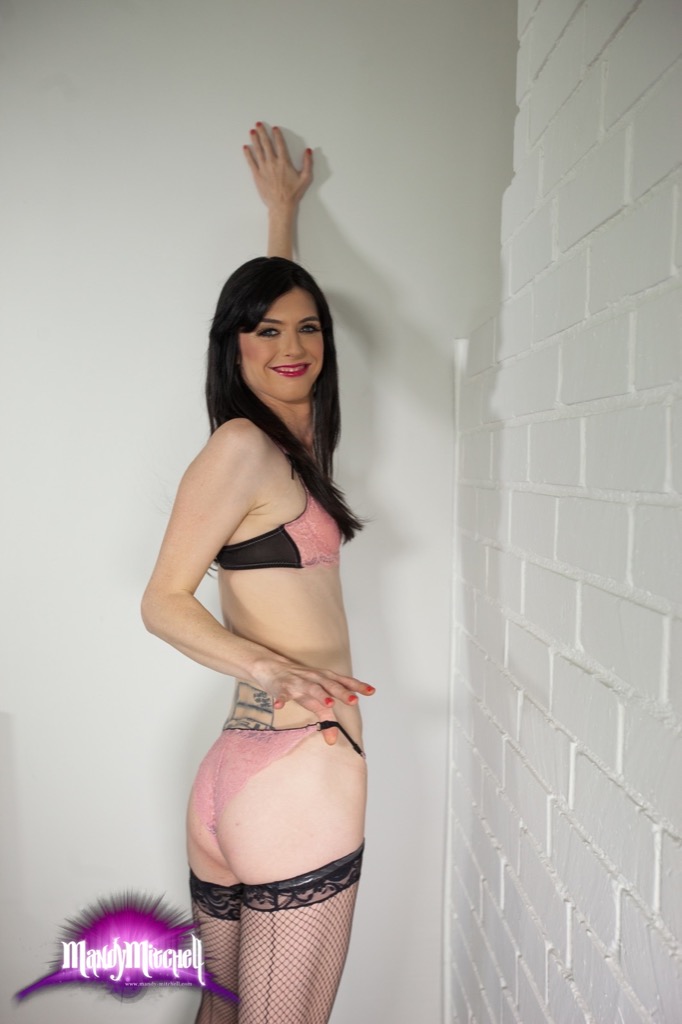 Mandy Mitchell at Mandy-Mitchell.com
As Mandy further elaborated within her Pushing Boundaries interview with TS superstar Wendy Williams;
"A lot of the sex that I really enjoy is considered by many people to be really hardcore. I'm not trying to shock people I just happen to love filthy raunchy, hardcore sex. I love fisting, squirting, bondage, water sports, hardcore face fucking, power play,etc..and I include them in my movies because they turn me on and I derive great pleasure from them. As long as the TS genre remains relatively vanilla people will think I'm pushing boundaries…
I think Princess Donna (Wired Pussy, Public Disgrace, Kink.com) makes some really fantastic porn and is an amazing performer. I think Belladonna is a total inspiration. On the TS side of things Danielle Foxx is someone who I admire very much for her work, I think her post op site is awesome…
My ideal partner is someone who knows how to enjoy themselves and is good at communicating what they like. I really love other switches, people who love to get fucked but also know how to take charge and satisfy me. But really it's all great, dom/sub just depends on the chemistry".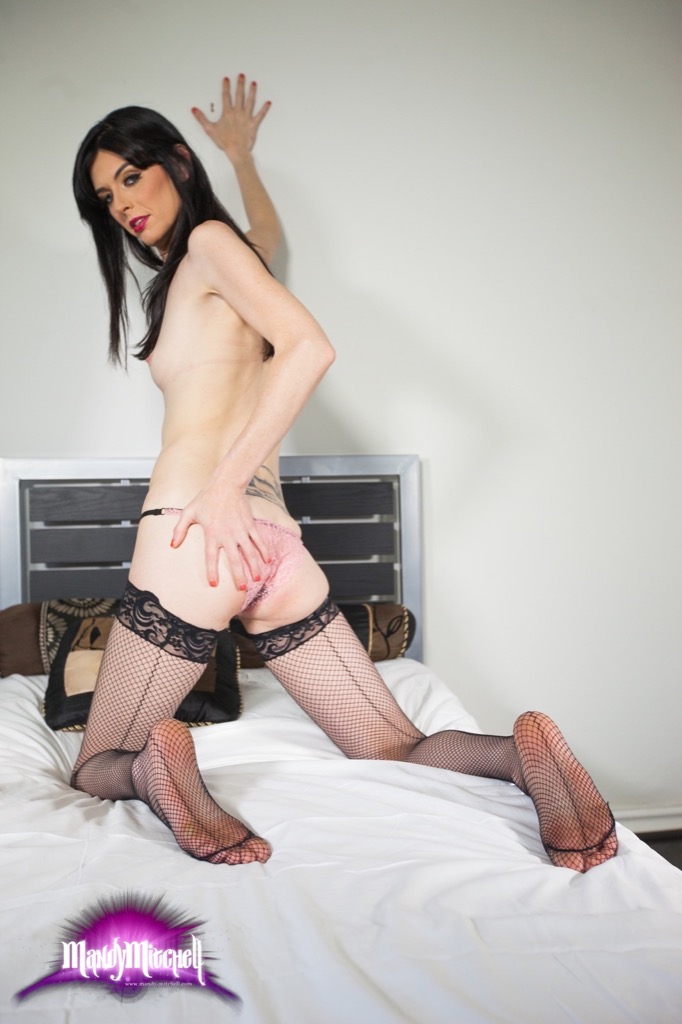 Mandy Mitchell at Mandy-Mitchell.com
As well as filming a wide range of raunchy sex scenes for Kink.com, Grooby Girls, Frank's TGirl World, Bob's TGirls, Interracial TGirl Sex, Devil's TGirls and TransSexDomination, in the summer of 2009 Mandy launched her official solo website, mandy-mitchell.com, through which she has been able to shoot a broad spectrum of solo, group, anal, fetish play and BDSM sex scenes.
Fans of Mandy Mitchell will not want to miss out on viewing such exclusive solo website content as; her Slut Puppy Training femdom three-way with Sovereign Syre and Bianca Stone, her epic Pool Party group sex scenes with Morgan Bailey, TS Foxxy, Danni Daniels and many more of their fellow SMC co-stars, her collection of Dirty Hippy Lovin anal play sex scenes with Proxy Paige, her kinky Mandy Gloryhole sex scenes, her Girl Scout femdom pegging three-way with Karly and Gabrielle, her collection of Outdoor Madness and Anal Training sex scenes with Kimberly Kills and Amber Rayne, her steamy sex scenes with MILF star Ashley Fires titled Mandy Worships Ashley Fires' Body and Taboo TS & Female Four Way that featured Mandy in a group sex scene with Delia DeLions, Bianca Stone and Arabelle Raphael. Mandy's official solo website proved so popular among fans and film critics that she won the coveted "Best Solo Site" accolade for two years in a row at the 2010 and 2011 Tranny Awards!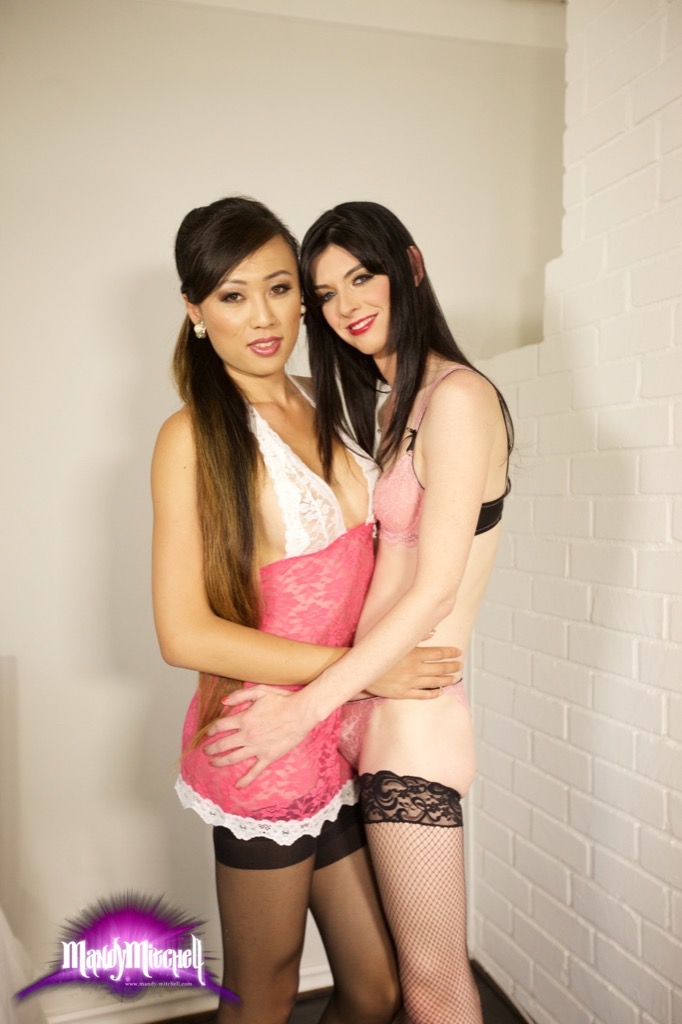 Mandy Mitchell and Venus Lux at Mandy-Mitchell.com
Mandy Mitchell : Transgender Advocate & Future Plans
Throughout her prolific porn star career Mandy has served as a role model for many aspiring transsexual performers and members of the LGBT community. Through her ongoing work with various sex positive, kink and transsexual porn projects Mandy has helped to raised awareness towards the trials and tribulations that members of the LGBT community face within the adult entertainment industry as well as within society as a whole.
For instance, in April 2014 Mandy was announced as one of the adult film stars who would be featured within Dave Naz's groundbreaking documentary Identity: In & Beyond The Binary alongside Buck Angel, Michelle Austin, Birdmountain, Matty Boi, Jonelle Brooks, Eva Cassini, Colten, James Darling, Afro Disiac, Jade Downing, Evie Eliot, Jenny Elizabeth, Michelle Firestone, Foxxy, Jamie French, Khloe Hart, Mia Isabella, Tara Jolie, Tasha Jones, Riley Kilo, Kristel, Jiz Lee, Eva Lin, Kelli Lox, Venus Lux, Chelsea Poe, Andre Shakti, Shawn, Kendra Sinclair, Stefani Special, Tiffany Starr, Wendy Summers, Tristan Taormino, Courtney Trouble and Wolfe Moon. Upon being asked about this pioneering project within an April 2014 XBIZ News press release, photographer Dave Naz revealed that;
"It's interesting hearing everyone's stories…For me the whole project has been a learning experience. I didn't know a lot about different gender identities before this…to raise awareness and tolerance within diverse gender expressions and queer communities…I've been shooting and interviewing some well-known people in the adult industry and hopefully you'll get to see a different side to them that you haven't seen before…To have everybody participating and believing in this project means a lot to me…This is something that I've been focusing a lot of time on. It's a lot of work, asking someone that you don't know to become a part of this project…But now that there are enough interviews on the site I think people can get an idea of what I'm trying to do. It's tough to get people's time, but I appreciate it and it's a good feeling when people respect your work and are willing to give you their time to be a part of something like this".
What started out as a photography art book evolved into an illuminating 60 minute documentary that was completed in September 2015. Identity: In & Beyond The Binary provided fans with a series of insightful interviews from Mandy Mitchell and her fellow adult film industry professionals as they revealed their individual experiences with gender identity and how it has impacted upon their personal and professional lives. As Dave Naz commented within a September 2015 XBIZ News press release;
"When I started photographing the subjects for this series and hearing their stories, I knew I needed a video camera rolling…I got that camera, and the result was an interesting and insightful glimpse into their lives".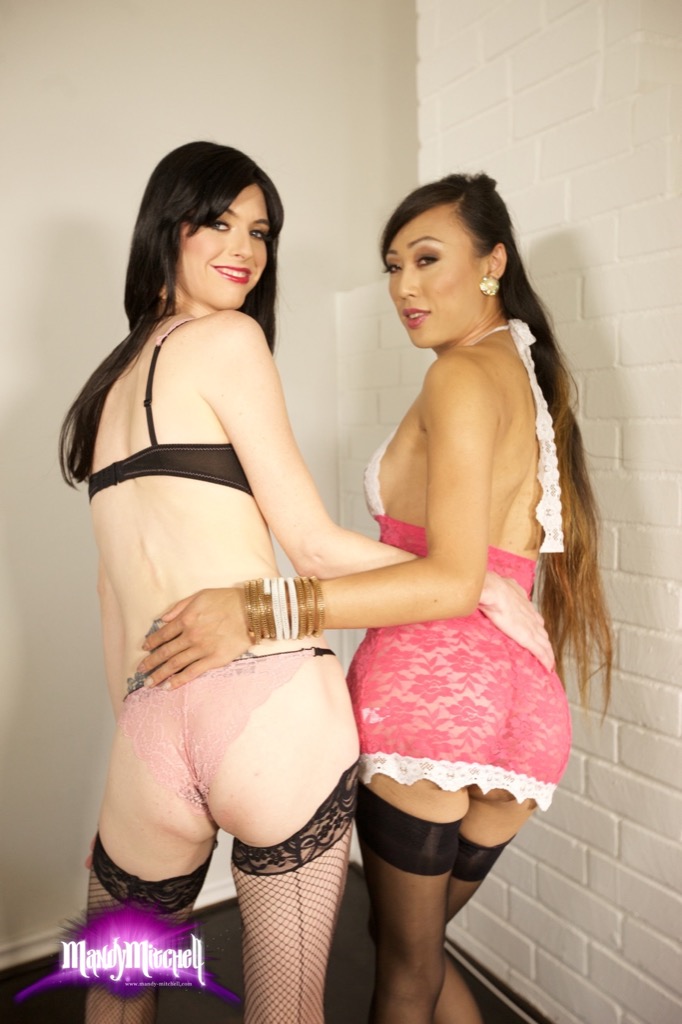 Mandy Mitchell and Venus Lux at Mandy-Mitchell.com
In recent months Mandy has continued to upload all manner of exciting new web content to her official solo site and has also starred within the latest instalment of femdom fatale Aiden Starr's Evil Angel TS DVD series Hot For Transsexuals 3 (2016) alongside Alexa Scout, Chelsea Marie, Tori Mayes, Chad Diamond, Mike Panic and Lance Hart. Aiden Starr praised Mandy and her co-stars within a January 2017 XBIZ News press release, exclaiming how;
"On-set comfort and intimacy are very important to me…The goal is to glorify talent in the best possible sexual scenarios. These ladies are goddesses to me. I want them to feel divine. I was lucky to work with some of the most beautiful talent in the industry. From icons like Mandy Mitchell to teenage newcomers like Alexa Scout, this latest volume of 'Hot For Transsexuals' continues to deliver the most desirable performers".
Most recently, Mandy has performed in the TransSensual Studios taboo relations DVD titles TS Girls In Charge (2016) with Jessy Dubai, Venus Lux, Jessica Fox, Sarah Vandella, Sovereign Syre, Heather Vahn and Dana Vespoli, TS Girls On Top Volume 2 (2017) with Venus Lux, Freya Wynn, Jenna Tales, and My Dad's TS Girlfriend 2 (2017) with Tori Mayes, Venus Lux and Jaxton Wheeler. Upon being asked about her broad spectrum of TS DVD titles and fetish porn productions during her YNOT interview, Mandy divulged that;
"I have terrible ADD and I am incredibly headstrong. You combine the two, and it means I'm always trying something new and I want to do what I want to do. This has its drawbacks when it comes to working with other people, but the major benefit is it causes me to constantly experience things that most people don't…I don't really understand most taboos, and I genuinely love making people feel amazing. So I've shot a lot of fetish, BDSM, scenes with women, scenes with men, scenes with other TSes, and scenes with people whose gender can't be summed up neatly into boy or girl…Sometimes I explore heavy masochism, rough sex and sex that is still considered taboo by many people. But at the end of the day, I want to try it all, and I want to dream up ways to fuck that I've never seen before. It keeps me horny; keeps me sane…I love having great sex with hot, amazing people…I love that in some small way I'm contributing to improving people's sex lives and making them feel okay about their desires — that sort of feel-good, sex-positive stuff".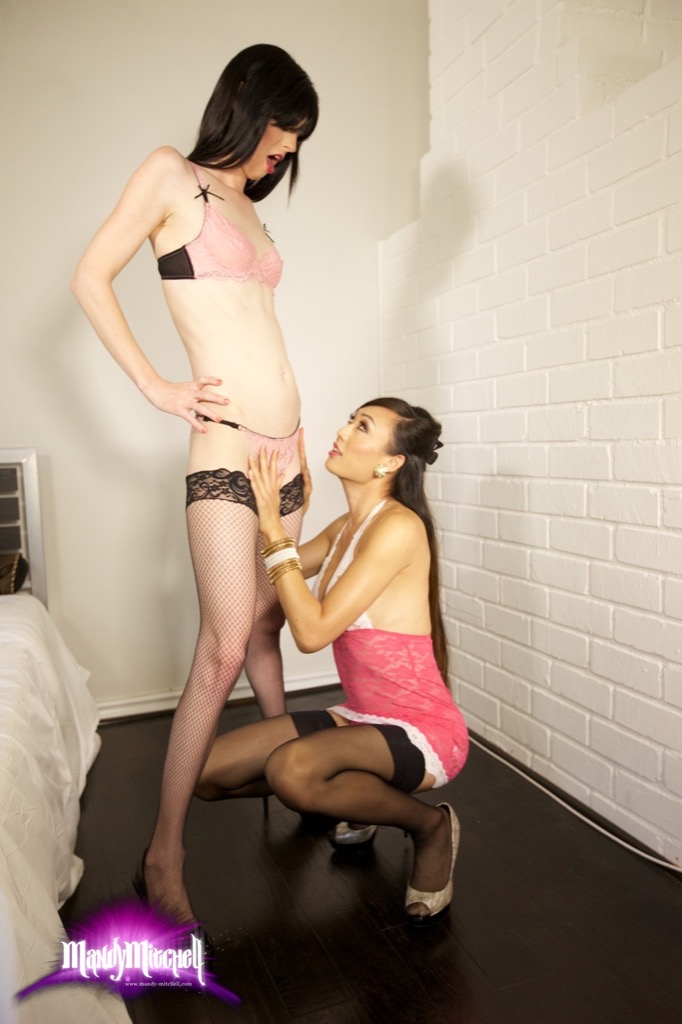 Mandy Mitchell and Venus Lux at Mandy-Mitchell.com
Mandy latest DVD feature release is the Grooby Platinum production All My Mother's Lovers (2017) within which she stars alongside Delia DeLions, Freya Wynn, Bianca Stone and Arabelle Raphael. All My Mother's Lovers was directed by femdom fatale turned award-winning TS porn director Mona Wales. Given that Mona Wales' latest TS DVD title Real Fucking Girls (2016) has just won "Best Transsexual Movie" at the 2017 AVN Awards and "Trans Release of the Year" at the 2017 XBIZ Awards, fans can expect big things from All My Mother's Lovers!
Ultimately, over the past decade Mandy Mitchell has established herself as one of the most popular transsexual performers in the adult film industry due to her award-nominated DVD feature releases, pioneering fetish lifestyle web content and jaw-dropping solo modelling shoots. What does the future hold for Mandy Mitchell? The sky's the limit for this pioneering porn star! So why not catch up on Mandy Mitchell's latest DVD feature releases and exciting new web content by visiting her official social networking channels online today? All of the links for Mandy's official solo website, Grooby Girls, Frank's TGirl World and Kink.com profiles have been provided for you in the section below. Enjoy!
Social Networks
Official Website : Mandy-Mitchell.com
Twitter : @strangerswmandy
Kink Profile : Mandy Mitchell Femdom & BDSM Scenes
Grooby Girls : Mandy Mitchell at Grooby Girls
Frank TGirl's World : Mandy at Frank's TGirl World
Niteflirt Profile :

Phone Sex — Call TSMandyMitchell
IMDB Profile : Mandy Mitchell Filmography