Twitter : @IsaSorrentiXXX  Two TGirls : Isabella  Grooby Girls : Isabella Sorrenti  Kink : Isabella Sorrenti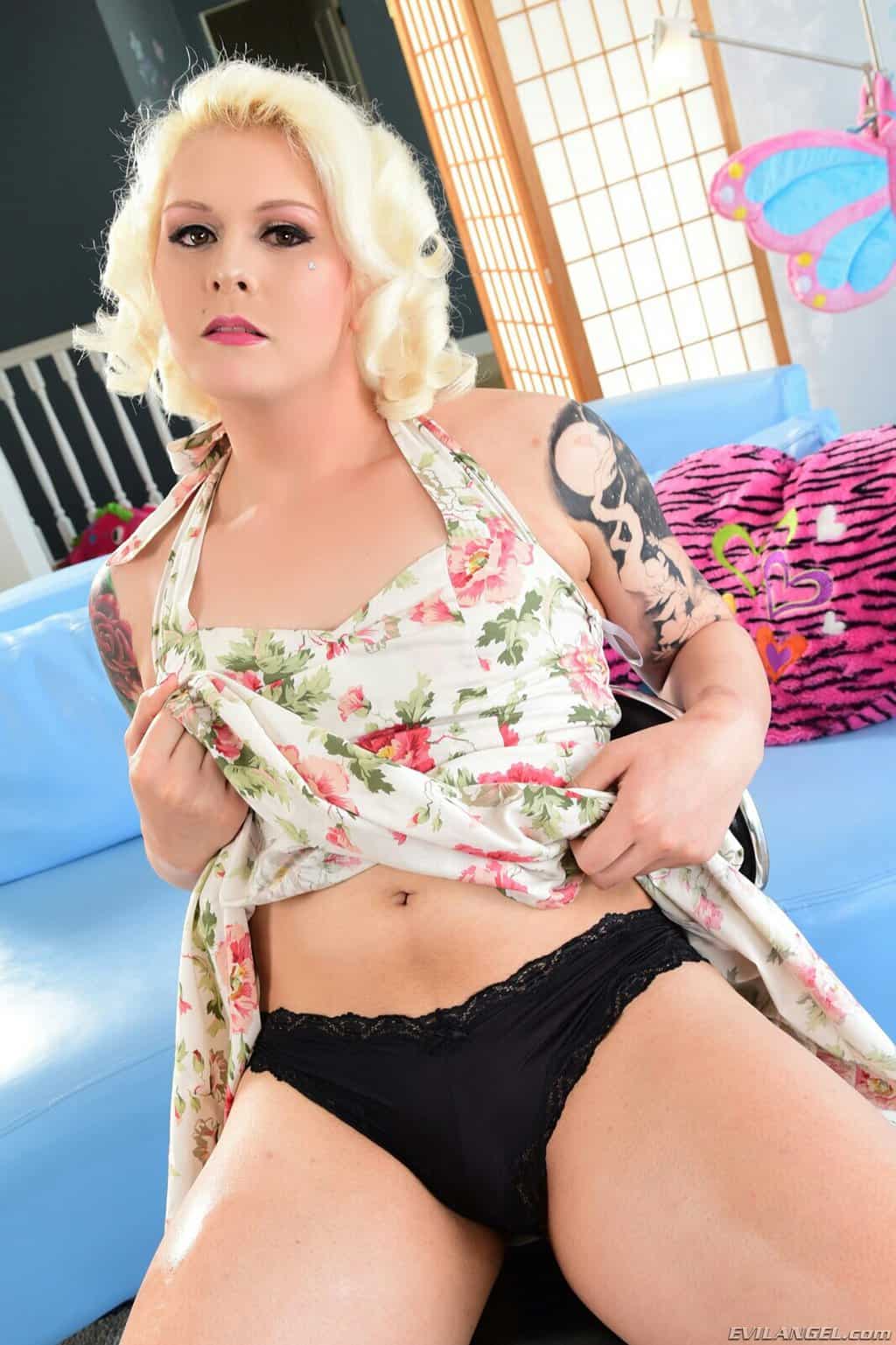 (Courtesy of Evil Angel from TS Factor 4)

All images in this bio have been used with the kind permission of Isabella Sorrenti (@IsaSorrentiXXX)
Personal Info



Name : Isabella Sorrenti
Alias: Isa, Isabelle, Bella, Goddess Persephone
Birthplace : Florence, Italy (EU)
Hometown : Long Beach, California (US)
Date of Birth: December 7th 1988
Measurements : 38B – 28 – 38
Bra/ Cup Size : 38B
Boobs :  Natural
Height : 5'10 (1.78m)
Weight : 150lbs (68kg)
Hair Colour : Blonde
Eye Colour : Light Brown
Tattoos :  A fox half sleeve on her left upper arm and a multi-coloured roses design with a portrait piece from a Margaret Keane painting on her right upper arm as well as an infinity symbol that has been adorned with her initials and those of her close friend. You can read more about Isabella's tattoos within the Tattoos & Piercings section of this bio
Piercings : Two piercings in each ear
Years Active : 2015 – present
Number of Scenes : 30+
Introducing Isabella Sorrenti –  a stunning adult film star with mesmerizing pin-up girl looks and an ever-expanding international fan following!
Before she became the blonde bombshell that her fans know and love, Isabella Sorrenti was born in Florence, Italy. When she was four years old Isabella moved to the United States and was raised on a farm in Kearney, a small town in North-western Missouri. Isabella has always been a country girl at heart and expressed within her February 2016 PornOCD interview how much she loved living on a farm and raising horses;
"We had about fifty acres of land and horses. I loved it and I would eventually like to live in a similar environment. Some of my best memories were at the farm".
As well as having Italian roots, Isabella is also of Spanish, Greek and French descent. This multicultural heritage blessed Isabella with stunning natural beauty and has also encouraged her to learn Spanish, French and Italian. As Isabella highlighted within her Porn OCD interview;
"I speak Spanish, a little bit of French and some Italian. For the most part I've always spoken English as my first language. However, I do know American Sign Language… I wouldn't necessarily say that these ethnicities make up who I am as an individual. They may be a part of who I am and what my genetic makeup is, but I'm simply just "me". Extroverted, sassy, kinky, sweetheart, adventurer and a good friend".
Unfortunately, Isabella divulged within her June 2016 Fleshbot interview how her Italian roots often made her the victim of bullying in high school and she often felt like the 'nerdy outcast' throughout her teenage years. As Isabella explained in her own words;
"I was the nerdy outcast that didn't have that many friends. You see, although I grew up in Missouri, I was actually born in Florence, Italy. I was a victim of bullying and because of my olive/tan complexion (at that time) people would be racist towards me. High school was definitely not a good time in my life. The few friends I made have kept in touch with me ever since I left Missouri for the Marines. I mostly hung out with the nerds and the rednecks. I grew up in a very small town so there were a ton of those around the area. Dating-wise I was with the country girls because that's mostly what's out there. There were some preppy girls but they were a bit snobbish for my tastes".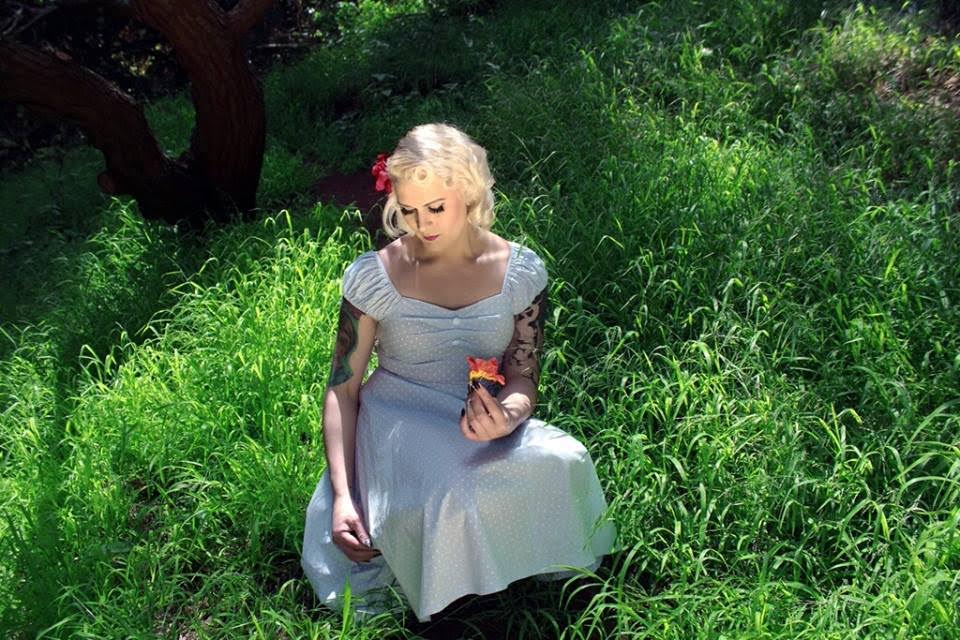 (Isabella at Castro Heights Park in San Francisco by Mona Wales XXX)
Despite feeling insecure within her high school years, from a very young age Isabella had always been aware of her true gender identity. As Isabella revealed within her PornOCD interview;
"I was about 4-5 years old and although I didn't know that term, I was still comfortable in women's clothing and makeup. My mom was actually the one who used to play dress up and again, I just felt comfortable. I continued dressing low-key until I joined the Marines, which is when I tried shutting out that side of me, but it didn't work out all that well".
As mentioned above, after graduating from high school Isabella enlisted in the military where she served as a US Marine for three years. During this time Isabella also trained as an MMA fighter and participated in a few cage fighting bouts. When asked about this tumultuous period of her life within her XXXBios interview, Isabella divulged how she had to face a barrage of transphobic and homophobic behaviour from the members of her artillery unit;
 "Good question. The thing about the Marine Corps is I only did about 3 years of my enlistment. My artillery unit was extremely transphobic/homophobic. I recall confiding in one of my fellow Marines and telling him exactly how I felt and what I wanted to do, as far as transitioning. He actually promised he would keep it to himself but instead told the chain-of-command when he got drunk with his buddies one night. For the next week I felt I had a red target on my back and I received a multitude of scrutiny, psychological evaluations and counseling from the officers in the command.  By the end of the week the commanding officer felt no progress was made and decided to get the paperwork ready with headquarters to administratively discharge me as I was unfit for duty. I think if I can be a public speaker for military commands in order to educate them things may go a bit smoother and I know for a fact there are many military personnel who can relate to my situation..
I focused on Mixed Martial Arts when I was stationed out in 29 Palms and developed a strong affinity to it. I did a little bit of underground cage fighting but didn't last long as it got too dangerous. At this point I'm focusing on conditioning myself. I don't really feel I want to put myself through any dangerous situations. I just want to lead a healthy lifestyle and spar with friends every now and then. There was actually a time when I was training with a Gunnery Sergeant, who was a second-degree black belt, and ended up fracturing my left arm. Definitely not a fun experience".
Upon leaving the military, Isabella had originally planned to become a doctor. However, Isabella soon found that undergoing hormone replacement therapy caused her to develop an aversion to blood. As Isabella explained within her Porn OCD interview;
"I was originally going to be a doctor, but when I started the hormones, I wasn't able to tolerate blood and other things. I'm a bit of a germaphobe. I did take the MCATs and scored well, but after that, I didn't want to go to med school".
Although Isabella has publicly embraced her true gender identity, she has revealed that it has taken a toll on her relationship with her family and friends. As Isabella herself commented;
"I don't keep in touch with my family. We have issues with each other. That requires a very long and complex explanation. Maybe another time. I lost 50% of my friends, but I gained a lot more. My best friend Kenisha is a big influence in my life. I love her so much and without her I'd be lost".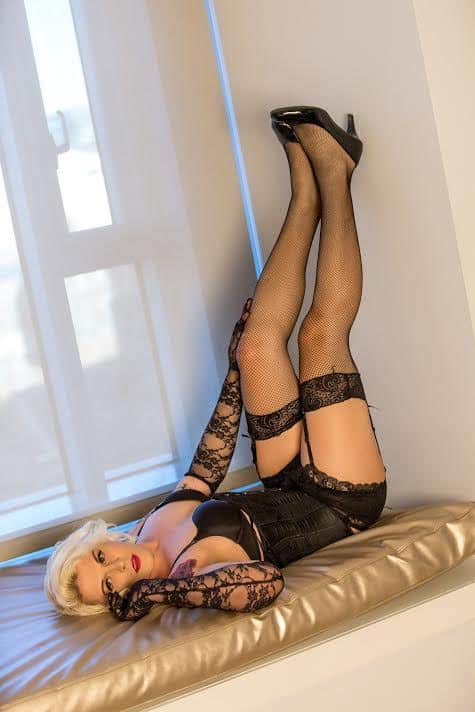 (Isabella in a boudoir Shoot with ALTOMIC VISUALS)
Surrounded by her new support network, Isabella decided shortly after her birthday in 2015 that she would pursue a career as a porn star. Unfulfilled and disillusioned with her existing career prospects, Isabella made a promise to herself that she would forge ahead with her modelling and adult film career. Isabella described this personal epiphany within her PornOCD interview, conveying how;
"Right after my birthday last month, I felt that my life was going nowhere and I made a promise to myself I'd begin my modelling and porn career at the end of December. And I always accomplish my goals. I'm very determined and dedicated".
Even before she became an adult film star, Isabella has always had an intense passion for porn. As Isabella mentioned within her Fleshbot interview, she will often watch a variety of transsexual and mainstream pornographic productions;
"I was actually a very big porn fan before I got into the industry. I always told myself I had a problem because if I wasn't doing anything productive with my time I was in the bathroom or my room fapping to porn. I had a strong desire towards a lot of TS porn stars and even some mainstream ones. I remember staying up late and watch the random porn movies they aired on Cinemax (Skinemax). My favourite TS porn stars before joining the industry were Venus Lux, Tiffany Starr, Eva Lin, Danni Daniels, Vaniity, Bailey Jay, Foxxy and Sarina Valentina. Most of the well known ones. Mainstream-wise I had a thing for Asa Akira, Taylor Rain, Angelina Valentine, Nikki Benz, Madison Ivy and Alexis Texas. I never really had a favourite porn movie. I just watched whatever looked appealing to me".
Consequently, in late 2015 Isabella began to research the adult entertainment industry by immersing herself within blog sites and discussions forums. Through these social networking channels Isabella discovered Grooby Productions and decided to submit an application. As Isabella explained within her Fleshbot interview;
"I had actually been doing a lot of research months before I shot my first scene and after reading endless blogs I decided to apply to Grooby. I got an e-mail from Steven a week after I applied and had a solo booked the week after Christmas with Blackula. Many people wonder why I didn't pursue medicine and instead resorted to going into porn. I didn't wanna be tied down for another four years of school and then doing a two to three year residency somewhere. I wanted to live and have fun. I wanted to have a taste of what it was like to be a porn star. I chose to transition instead of applying to medical schools after I had taken the MCATs. At this point, would I consider going back to school to become a doctor? Probably not. My tolerance to blood and internal organs irks me. I would not be a good health professional at this point".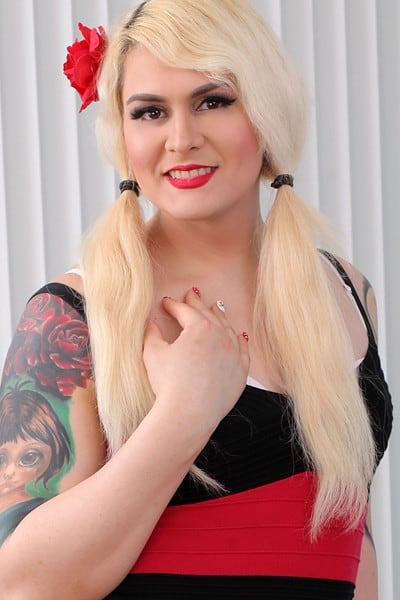 Isabella Sorrenti at Trans 500
Isabella Sorrenti : Adult Film Career
In December 2015 Isabella Sorrenti was booked to appear within her first ever adult film shoot; a solo scene with award winning adult film photographer Blackula. Isabella recounted her first ever venture into the adult entertainment industry during her XXXBios interview, commenting that;
"The first adult scene I did was for Grooby Productions with photographer Blackula. It was a solo so it wasn't anything big. Looking back at then and now there's been a lot of changes. In fact I laugh a little. It was shortly after my birthday and a week or two before Christmas. I decided I would do something daring, something to help get my name out and something to have fun with. Grooby contacted me and had something set up the week after Christmas. I remember the drive to the photographer's set and how nervous and excited I was. This is something not everyone has the balls (boobs too) to do.  I was obviously a bit amateur-ish about it and had no clue what I had to do so I winged it. Overall, it went very well and as soon as I left I felt empowered and fully aware of my surroundings. I had clarity and knew exactly what I needed to do at that point".
After filming her first ever adult film shoot, Isabella was booked to feature within the Devil's Film DVD feature release TS Gloryholes 2. Isabella recounted how much fun she had filming this particular DVD within her XXXBios interview;
"The first DVD I ever did was for Devil's Film called TS Gloryholes 2. My male talent was Eli Hunter. I had already done about 8-9 shoots at that point so I had a good idea of how it was gonna do. I was confident and blasted right through it without any issues. Eli was awesome and made laugh a lot of the time. Overall, the staff at Devil's Film was very nice and accommodating. I honestly feel like I'm doing a review for Yelp right now but it's true. These guys were/are awesome!".
Following on from her Grooby Productions adult film debut and the commercial release of TS Gloryholes 2 in March 2016, Isabella proceeded to collaborate with some of the biggest transsexual production companies in the adult entertainment industry including Strokers, Evil Angel, Grooby Girls, TGirls.XXX, Pure-TS, Bob's T-Girls, Tranny Pros, Devil's Film and Two T-Girls among others.
Happy to work as both a top and bottom, Isabella is also a highly accomplished dominatrix who has filmed all manner of femdom and BDSM content for Severe Sex Films and the fetish porn site Kink.com. In fact, in March 2016 Isabella made her Kink.com debut in a steamy spa scene with Artemis Faux titled TS STARLET DEBUT: Isabella Sorrenti Massages More Than Just Muscles for their popular TS Seductions web series. In March 2016 Isabella also made her Pure-TS.com debut when she shot a saucy sex scene with prominent male porn star Christian XXX titled Blonde Bombshell Isabella Gets Dicked Down.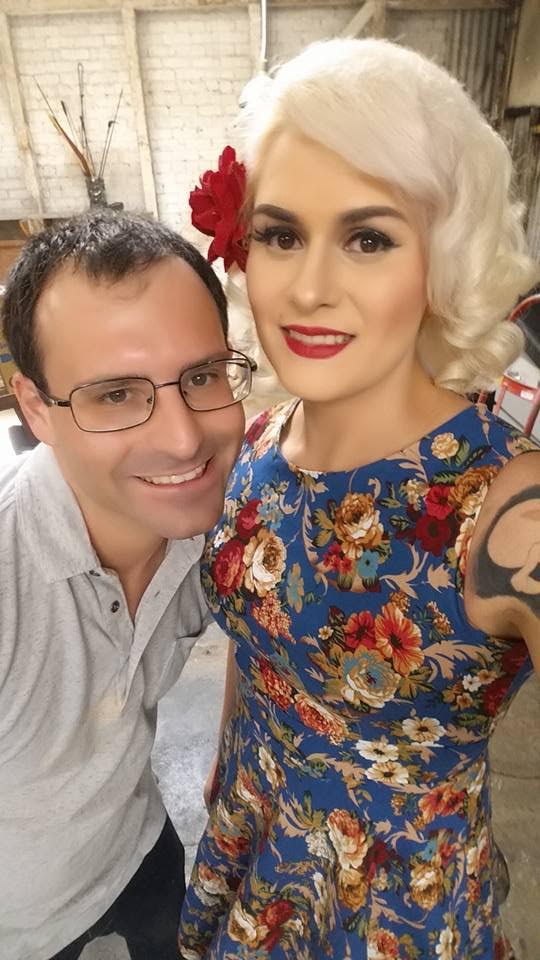 (Isabella Sorrenti and Marcelo XXX before their Heavy Femdom shoot for Severe Sex Films)
Since making her Kink.com debut within their TS Seduction web series in March 2016, Isabella has also appeared within Kink.com's long-running TS Pussy Hunters web series in a July 2016 life action role-play scene titled LARP comic book Fans fuck and suck ass pussy and cock wherein she featured alongside the famous femdom performer and director Mona Wales.
An ardent fan of the fetish lifestyle market, Isabella has always stated that she would love to work with femdom superstars Maitresse Madeline Marlowe and Lorelei Lee as well as mainstream porn stars such as James Deen, Lexington Steele, Ava Addams, Veronica Avluv, India Summer and Kelly Madison. Isabella loves filming BDSM content and continues to work within fetish dungeons as a professional dominatrix when she isn't filming her latest pornographic productions.
In addition to filming online content for various fetish porn sites, in March 2016 Isabella made her first appearance within Sammi Mancini's famous She Male Strokers DVD series. Not only did Isabella film a sexy solo shoot for this DVD feature release, but it also enabled her to collaborate with prominent transsexual performers such as Jessy Dubai, Aspen Brookes, Sasha Skyes, Emy Amethyst, Summer and Alexa Scout. Enthusing about the commercial success of She Male Strokers 79 within an April 2016 AVN press release, Sammi Mancini commented that;
 "I can see She-Male Strokers hitting 200…There's no stopping us any time soon. The fans love the series and just can't get enough. I love that the enthusiasm level is still is very high".
She Male Strokers was a commercial success and was nominated for "Best Transsexual Release" at the 2016 Nightmoves Awards . Another of Isabella's March 2016 DVD feature releases, Transsexual Babysitters 28, was also nominated for "Best Transsexual Release" and went on to win the award for "Best TS Release (Fan's Choice)". Most notably, Isabella herself won the prestigious accolade of "Best TS Performer (Fan's Choice)".  There's just no stopping Isabella Sorrenti!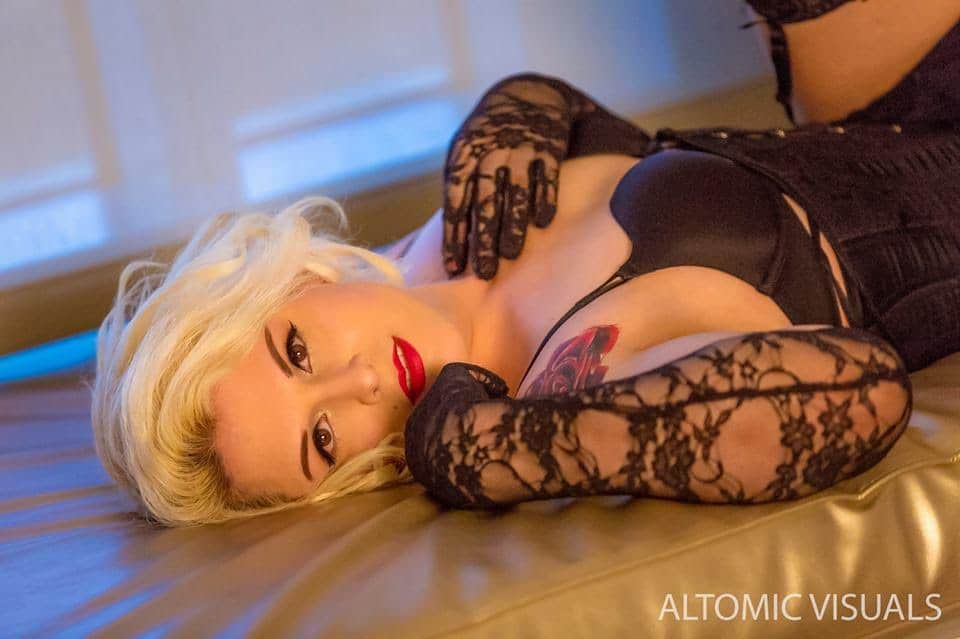 (Isabella in a boudoir Shoot with ALTOMIC VISUALS)
Following her string of successful pornographic productions, in May 2016 Isabella was thrilled to find out that she had won an award at the Transgender Film Festival (TFF) Awards in Kiel, Germany. Nominated for her TGirls.XXX shoot with Robert Axel titled Robert Axel Does Isabella Sorrenti, Isabella was awarded with the TFF accolade "Best Transsexual Performance In A Short Clip". Isabella expressed her joy and surprise at winning this adult film award via Twitter, commenting that;
"So apparently I won an award at a German Film Festival for Best Trans Performer. Guess I'm gaining popularity worldwide  ".
Isabella has already begun to amass a wealth of international adult film awards for her show-stopping performances. As matters stand, Isabella has been presented with the following adult entertainment accolades;
2016: Transgender Film Festival Awards winner "Best Transsexual Performance In A Short Clip" Robert Axel Does Isabella Sorrenti
2016: Nightmoves Awards winner "Best TS Performer (Fan's Choice)"
2016: Nightmoves Awards winner "Best TS Release (Fan's Choice)" Transsexual Babysitters 28
2017: AVN Awards nominee "TS Performer of the Year"
2017: AVN Awards nominee "Best Transsexual Sex Scene" Bang My Tranny Ass 14 (with Korra Del Rio)
In June 2016 Isabella reunited with Sammi Mancini and her former Pure-TS.com co-star Christian XXX when she starred in the Mancini Studios production Bang My Tranny Ass 14. Isabella starred alongside Korra Del Rio as well as Chanel Santini, Barbie Jo, Evie Eliot, Oxcetalane Jane and Joe Hammer.
Isabella swiftly followed this popular pornographic production with another successful Sammi Mancini DVD feature release in July; She Male Strokers 81. Isabella posed as the DVD cover model for She Male Strokers 81 alongside Chanel Santini. This latest installment of the popular She Male Strokers DVD series also starred many of Isabella's former co-stars including Aleena Grace, Alexa Scout, Luna, Stefani Special and Korra Del Rio in all manner of raunchy solo shoots.
In June 2016 Isabella collaborated with award-winning femdom performer turned director Aiden Starr on the latest instalment of her Evil Angel DVD series; Hot For Transsexuals 2. Isabella was thrilled to collaborate with Aiden Starr and commented within her Fleshbot interview how;
"She was very chill and definitely knew what she was doing with the camera. I think I learned a lot from her since she is extremely knowledgeable. If anyone gets the chance to be in one of her shoots then you're extremely lucky. Miss Aiden Starr picks the girls she finds appealing. There's nothing wrong with being picky either. Would I do another scene for her? Absolutely!".
Hot For Transsexuals 2 featured a star-studded cast of transsexual performers including Aubrey Kate, Kylie Maria and Stefani Special who filmed with popular male porn stars Mike Panic, Jonah Marx, Rob Yaeger and Lance Hart. Isabella fondly recounted her Hot For Transsexuals 2 scene with Lance Hart within her Fleshbot interview, noting that he was;
"An absolute sweetheart! We both arrived at the same time at the location we were shooting the scene and I liked him from the get-go. He has this spark in eyes that really draws people towards him. You can sense he has no negative aura and he's the definition of a gentleman. At least the ideal gentleman I would want to be with 🙂 He was definitely very submissive towards me which I really liked because I'm a lifestyle domme outside of the industry. His performance as a bottom was more than exceptional".
Soon after Hot for Transsexuals 2 was distributed, Isabella performed with Natalie Mars in a She Male Idol online sex scene titled Watch TS-On-TS: Which Beauty Was A Bodybuilding Marine? Isabella loves working with Natalie Mars and, when asked to name her favourite trans performers, Natalie was one of the first on the list! As Isabella stated within her Fleshbot interview;
"I think out of all the trans performers I would have to pick between Mayumi Sparkles and Natalie Mars. They were absolute dolls and total sweethearts. I think I connected well with Natalie because she's from the Midwest like myself and we have that country girl persona. She was very chill and sweet. Same with Mayumi. She lives away from a lot of the major cities and just has a very lax and caring personality".
Isabella was able to share another saucy sex scene with Natalie Mars for the latest installment of Joey Silvera's Evil Angel DVD series; TS Factor 4. This popular pornographic production starred Isabella and Natalie along with a stellar cast of transsexual performers and male partners including Aspen Brooks, Candy B, Chanel, Grace, Johnny UK, Korra Del Rio, Natalie Mars, Robert Christian and Lance Hart.

Want to know the best part? Isabella reunited with many of her TS Factor 4 co-stars on the August 2016 Devil's Film production Transsexual Girlfriend Experience 2. This transsexual romance sequel was directed by Jim Powers and enabled Isabella to collaborate with Aspen Brooks, Chelsea Poe, Gabriel D'Alessandro and Robert Christian.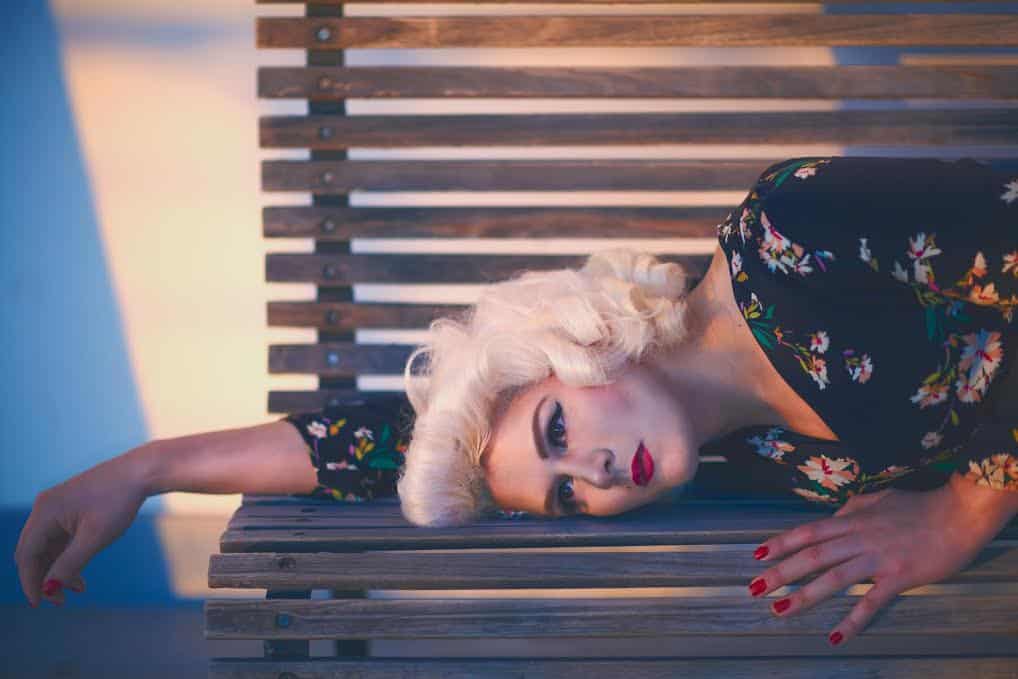 (Photograph was taken by REMY X at the Queen Mary and featured in a Newcomer's article in Transformation Magazine back in March 2016)
Isabella Sorrenti : Transgender Spokesperson
As well as performing within a wealth of popular pornographic productions, Isabella has also begun to use her prominent adult film star status to raise awareness towards important issues that impact the transgender community. Isabella explained within her XXXBios interview that she hopes to become more involved in public speaking projects for LGBT advocacy groups in the coming months;
"At the moment I'm not involved with any advocacy groups. I'm trying to find sponsorship to start speaking on behalf of the transgender community and to start teaching schools, businesses and other organizations on what's right and what's wrong. I have a knack for being a great public speaker and teaching people new things. It's very rewarding when you see other's applying what you teach to them".
With regards to her own transition process, Isabella has always been happy to share her life's story in order to support and advise others who may be experiencing the same hardships that she has faced. For instance, when asked about her transition process within her XXXBios interview, Isabella divulged that;
"I began my transition about 2 years ago. Honestly, I had struggled with my identity ever since I was a child. I was around 4 or 5 years old when my mom started dressing me up in some of her dresses and putting makeup on me. The moment she put all of that on and I started to walk in heels I felt super comfortable. It confused me so much because I wanted to go out in public like that but in the eyes of my family and the strangers surrounding me it was considered demeaning and sinful. I grew up Mormon so that made things more difficult for me. As I got older I would sneak into my mom's wardrobe and makeup cabinet and go wild! Like, I seriously felt super sexy majority of the time… 
 I never thought I would make this far but I can't imagine being anywhere else and doing what I'm doing. I have nothing to lose and want to make the most of who and what I am. It's all about building my name the right way, and along the way gaining the respect and admiration of my peers and fans…
Most would say I'm a glamour goddess that travelled thru time from the 40's to the present: A classic Pin-up Beauty that makes gals and guys a-like do a triple take as I walk the every enchanting red carpet and I intend to flaunt it while I've got it!! I'm a sweet, intelligent, sensitive and generous spirit that enjoys a glass of cabernet while reading a steamy romance novel on a faux fur rug next to the fireplace ready to please in every way imaginable".
During this XXXBios interview Isabella was also eager to offer some advice and support to younger people who may be feeling insecure about their gender identity or who may be unsure how to start their own transition process. As Isabella conveyed in her own words;
"To the younger crowd who may feel conflict about their gender identity or unsure where to start; There are many resources you can utilize in order to get that process happening. Especially here in California. I understand it's a bit difficult in some places but there is always someone out there willing to help you become you truly are. There are going to be a lot of people who "throw words at you like rocks" but you have to be strong enough to deflect them and prove to not only them, but to yourself, that you will be able to partake on a new adventure. A rigorous but rewarding adventure. Never look back and always keep your chin up looking forward. Never look down. Remember, I've been there and I understand you wholeheartedly".
Eager to advise aspiring transsexual performers who may be trying to forge a career within the adult entertainment industry , Isabella reinforced her words of support within her Fleshbot interview and expressed that;
"There will be a lot of performers out there who will treat you like crap. They will all they can to put you down. DO NOT allow them to do this. They are just setting themselves for failure and the only reason they are doing this is because they are jealous of you. There will be times where you may not have a shoot for a long period of time. That's okay, this is normal. Porn really isn't a job anyways so make sure you have something to fall back on that can help you survive but you won't be doing that with porn. Lastly, feel free to direct message my Twitter @IsaSorrentiXXX if you have any questions or concerns. I want to help anyone who is lost find their way".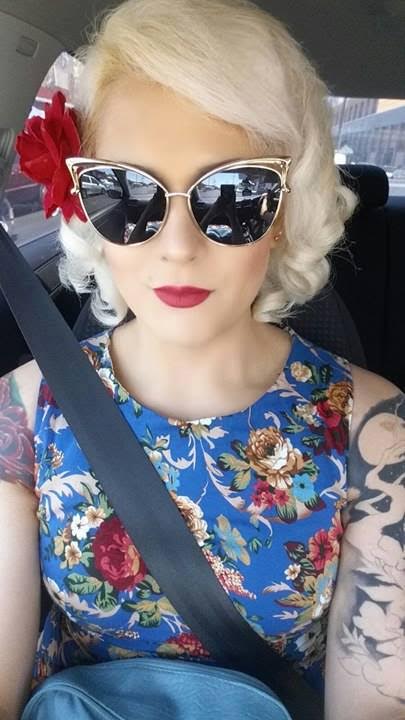 (The beautiful Isabella Sorrenti in sunglasses)
Isabella Sorrenti : Tattoos & Piercings
Isabella Sorrenti is instantly recognisable by her stunning pin-up girl looks and her vibrant body art. Many of Isabella's tattoos have been inspired by her spirit animal, the fox, as well as her love of flowers. When asked about her future tattoo plans within her XXXBios interview, Isabella hinted that;
"I'm actually planning on finishing my fox half sleeve and extending it into a full sleeve with more flowers and maybe a portrait of a beautiful flower goddess. I've always had a fascination for flowers and animals. Especially the fox, my spirit animal.  The benefit of the fox being my spirit animal is I can also turn into a teacher providing guidance on swiftly finding your way around obstacles. Foxes are notorious for adapting to different situations and their ability to be quick thinkers. Being a night person I too have affinity for engaging in nocturnal activities. I mainly go out at night-time. I have four piercings right now, two on each ear. I've been contemplating about getting a belly-button piercing and a tongue piercing but I'd rather wait awhile until I certain that' s what I want".
Within her previous PornOCD interview Isabella revealed that she has actually had two tattoos on her left and right arms covered up;
"I actually covered up two of the three tattoos I already had. The tribal tattoo was covered up because it had no meaning and I had gotten it because my ex-girlfriend wanted me to. She wanted a matching tattoo which was an absolute mistake. The fox is actually my spirit animal. I feel that the fox being a symbol of adaptability, intense loyalty, a joy to watch and be around and I can be foxy at times…
The Eagle Globe and Anchor tattoo was covered up with roses and a portrait piece from a Margaret Keane painting. Although people admire my service, I didn't have a good three years in the Marines. Towards the end there was a lot of judgement…I feel that the experience was great and it helped me grow, but the tattoo was a mistake so I decided to cover it up with something that fit my personality…back when I was in about six years ago, they were extremely trans and homophobic. I saw a lot of LGBT military members being treated like animals. I'm just happy they allowed trans to freely serve in all branches last year. It's been awhile since I've followed military politics on that matter, so I'm sure there's a lot more acceptance now…
I also recently got an infinity symbol with mine and my friend's initials. She's very sick and could actually pass away soon. I wanted something that I could remember her by…She really does mean a lot to me. She's my mentor. If it wasn't for her I probably wouldn't have began my transition when I did. She's taught me how to do makeup, dress like a woman, be a woman etc. I love her very much".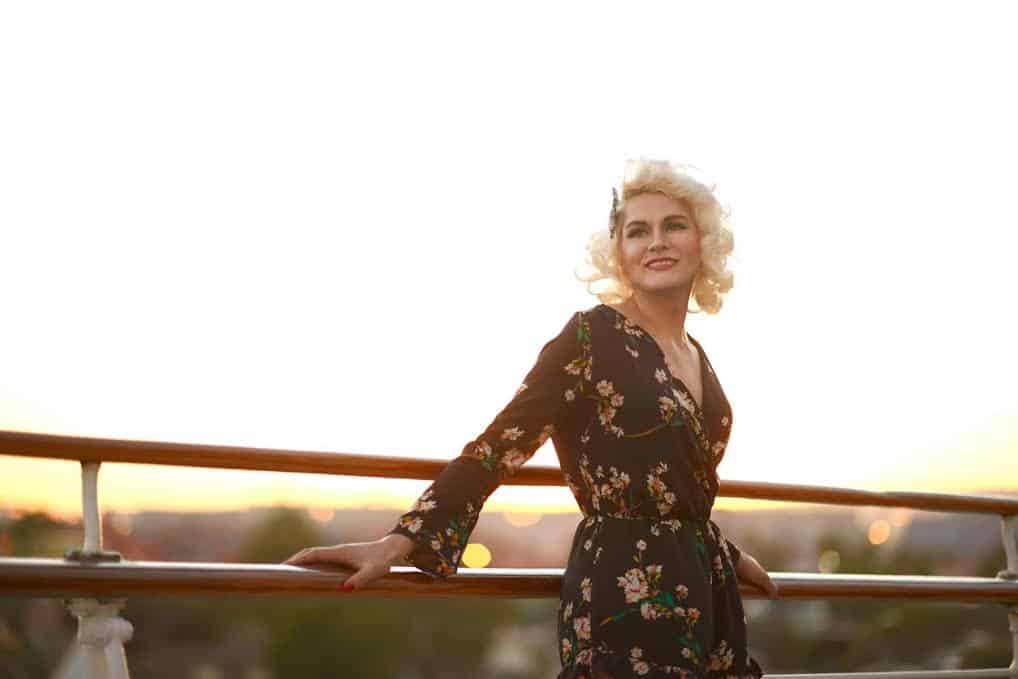 (Photograph was taken by REMY X at the Queen Mary and featured in a Newcomer's article in Transformation Magazine back in March 2016)
Isabella Sorrenti : Personal Life & Upcoming Projects
When she isn't filming her latest pornographic productions, or interacting with her fans via social media, you can find Isabella curled up at home with her dog Clover! Isabella is an ardent animal lover and, when asked if she had any pets within her XXXBios interview, she enthused;
"Yes I do! I have a little Pomshi lap dog named Clover. He's like a cute little mop that roams around the house. The most adorkable living thing you'll ever meet. I think he's helped ease things with my transition and my day-to-day life. His love and comfort make living worth it".
As well as adoring animals, Isabella loves to cook and to explore all manner of international cuisines. When asked about her hobbies and interests outside of the adult film industry during this XXXBios interview Isabella conveyed how;
"I think my favourite hobbies and interests outside of the industry are shopping, skin-care, cooking, baking, travelling, and trying new foods. The reason I put skin-care down is because I feel that it's a bit of a hobby. There's a lot of different regimen's a person has to go through in order to make their skin look supple and conditioned".
In fact, within previous interviews Isabella has divulged that she hopes to eventually launch her own vegan makeup line. Isabella noted within her PornOCD interview that it is this vegan lifestyle, combined with her love of dance, that has enabled her to keep her 'Italian Barbie' physique;
"I'm vegan and planning on going raw vegan this year. I definitely do a lot of ballet and choreography. Definitely keeps me in shape. I'm planning on taking some pole dancing and aerial aerobic classes to get that Nicki Minaj booty".
Throughout 2016 Isabella's adult film career has gone from strength to strength and she shows no signs of slowing down any time soon! Isabella has even hinted within her XXXBios interview that she would love to write, produce and direct her own pornographic productions in the future;
"Writing, producing and directing is actually something I've been wanting to tamper with for awhile so yes I do have plans to try it out in the near future and see what happens. I have a very artistic side to me so this could get interesting…
I do have an upcoming DVD coming out called TS FEMDOM. It'll be out at the end of October. It was directed by Dee Severe. It stars me, Aubrey Kate, Stefani Special, Kitty Doll, Brittany St. Jordan and Aly Sinclair dominating Jimmy Broadway, Ruckus and Marcelo".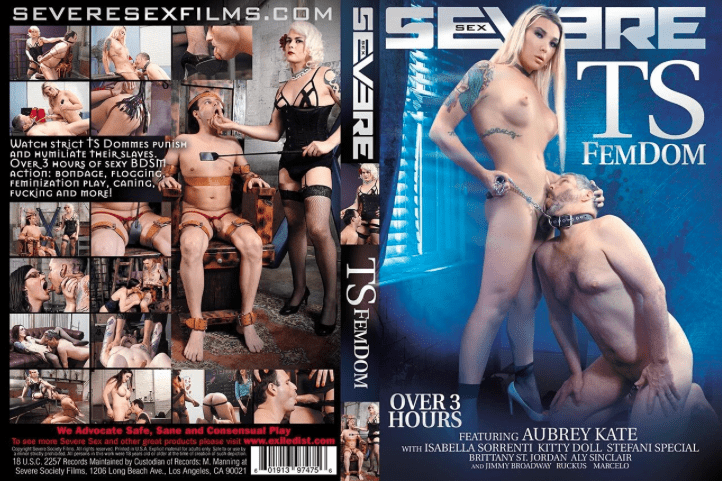 (Isabella Sorrenti's new upcoming DVD feature release)
TS Femdom was commercially released on October 6th and since then Isabella has continued to enthrall her fans across the globe with her femdom alter ego Goddess Persephone. In recent months Isabella has also filmed some sultry online sex scenes for Pure-TS.com such as Blonde Tops Enjoy Fucking That Man Ass which showcased Isabella in a thrilling three-way sex scene with Christian XXX and Cassie Blue. Fans of Isabella Sorrenti should also check out her latest TGirls.XXX solo sex shoot Isabella Sorrenti Strokes Her Cock! and her hardcore sex scene Isabella Sorrenti Enjoys Lance's Hard Cock! Both of these compelling video clips were shot by award-winning photographer Blackula and were promoted via TGirls.XXX in October 2016.
In December 2016 Isabella was ranked #1 in Die-Screaming.com's Best TS Pornstars of 2016 list. Among the famous transsexual performers named within this annual list include Aubrey Kate (#2), Venus Lux (#3), Jessy Dubai (#4) and Domino Presley (#5) among many more fan-favourite TS stars. Die-Screaming.com commented within this blog post that;
"Isabella Sorrenti is Die-Screaming's #1 ranked TS Performer for 2016.  If that surprises you…it shouldn't.  Her body of work over the past year is nothing short of incredible, having performed in several of the genre's biggest hits, including TS Factor 4 (Evil Angel), Transsexual Girlfriend Experience 2 (Devil's Film) and Blackula's Tattooed TGirls (Grooby).  She also won the NightMoves Best Transexual Performer Award (Fan Choice) and was nominated by both AVN and XBIZ for Trans Performer of the Year".
If you would like to keep yourself updated regarding all of Isabella Sorrenti's latest feature releases and upcoming adult film projects then why not check out her official social networking channels that have been provided in the section below? You can even pre-nominate Isabella for the 2017 Transgender Erotica Awards categories "Best New Face", "Ms. Unique" and "Best Scene" by following the links provided on her Twitter profile. Given that Isabella has recently been crowned as "Best TS Performer (Fan's Choice)" at the Nightmoves Awards, coupled with the fact that she has been spotted on set with rising TS starlet Chanel Santini, has hinted at filming a new shoot with Devil's Film, and has just been nominated for "Best TS Performer" for the upcoming 2017 AVN Awards, we think it's safe to say that it's going to be a busy winter for rising adult film starlet Isabella Sorrenti!
Social Networks
Twitter : @IsaSorrentiXXX
Two TGirls : Isabella-Sorrenti
Grooby Girls : Isabella Sorrenti at Grooby Girls
Kink Profile : Isabella Sorrenti Femdom & BDSM Content
Trans 500 Studios : Isabella Sorrenti at Trans500.com
TGirls.XXX : Isabella Sorrenti at TGirls.XXX