Website : TS-Jesse.com  Twitter : @jesseflo  Grooby Girls : Jesse  Kink : Jesse Flores  Shemale.XXX : Jesse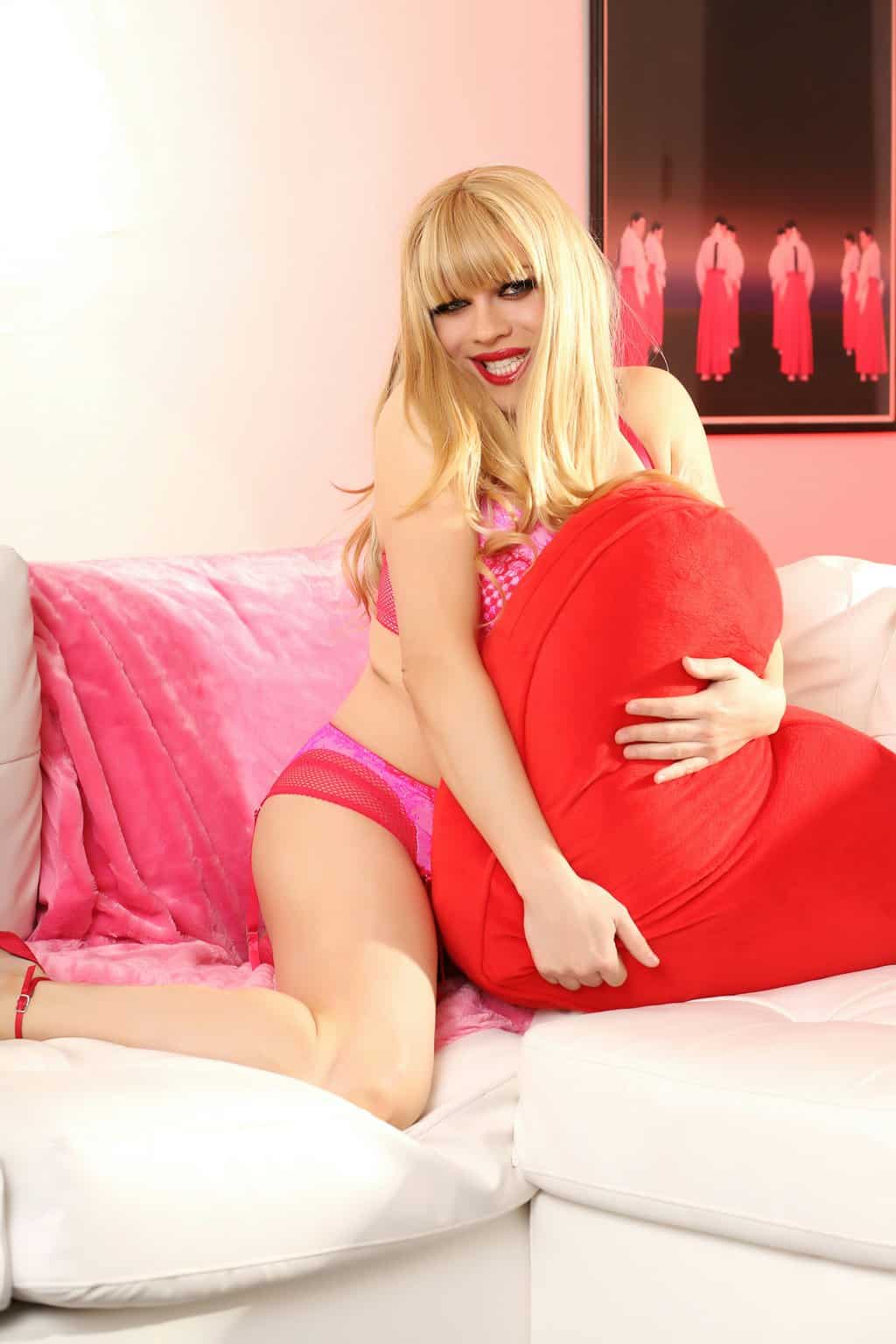 All images in this bio have been used with the kind permission of Jesse Flores (@jesseflo)
Personal Info
Name : Jesse Flores
Alias: TS Jesse, Jessie Monroe
Hometown : Norco, California (US)
Date of Birth: January 20th 1981
Bra/ Cup Size : 40DD (90E)
Boobs :  Enhanced
Height : 5'8 (1.73m)
Weight : 135lbs (6kg)
Hair Colour : Blonde
Eye Colour : Green/Blue
Years Active : 2006 – present
Number of Scenes : 14+ (Over 80 cinematic appearances)
Born in Norco, a city within Riverside County, California, Jesse Flores (aka "TS Jesse") is instantly recognisable due to her lusciously long blonde curls, piercing green/blue eyes and natural femininity. As such, Jesse has enjoyed a prolific adult film career that has thoroughly cemented her status as one of the most popular hardcore transsexual porn stars to grace the adult entertainment industry.
However, the path to establishing a formidable adult film career with countless adult award nominations has not always been an easy one. Jesse has recounted in previous interviews how she was often the subject of bullying whilst at school. Due to her naturally feminine looks, Jesse reveals how;
"I had no friends and was tormented every day, was called names on a daily basis because people didn't know what to think of me, looking like a girl but being in the boys lines/locker room. It also was a very hypocritical situation guys would be mean to me in public but in private be nice and flirty. Being so lonely didn't help as I was very depressed and attempted suicide several times. luckily failing!".
However, this adversity has never caused Jesse to falter in her confidence about her own gender identity. When asked in a 2010 interview about how she officially started living as a transsexual woman, Jesse explained how;
"Well I kind of always lived this way. I never really transitioned as I don't take hormones and have always looked like this, but I guess official would be 8 yrs ago when I got a boobjob".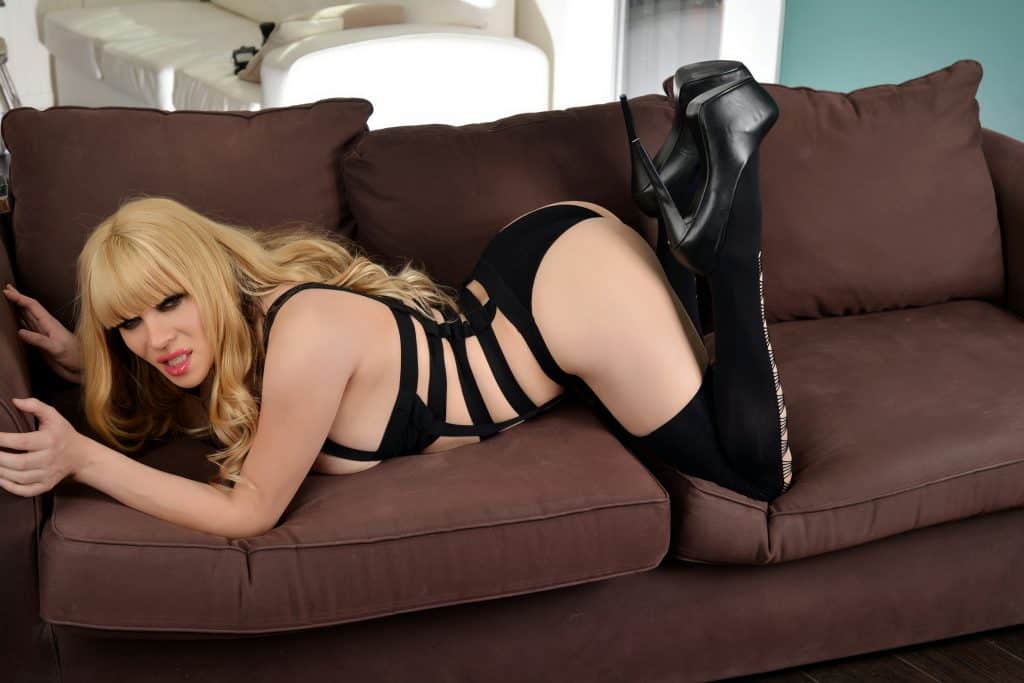 Jesse Flores : Adult Film Career
Resilient in the face of this adversity, Jesse decided to use her naturally femininity to her advantage and decided to pursue a career in the adult film industry. After undergoing breast augmentation surgery and posting a modelling profile via an adult jobs site, Jesse was approached by Grooby Girls (formerly Shemale Yum)  with whom she filmed her first pornographic shoot. Speaking to Wendy Williams in an interview posted on her official blog site, Jesse commented that;
"I kind of always knew I'd be in the adult industry in some form, I was always a sexual person naturally and I always wanted to be a model/actor and this was the closest I could get to that dream".
Jesse's first ever sex scenes, titled Coed Looking Jesse, were filmed by popular porn photographer Tony Vee and promoted via Grooby Girls/ Shemale Yum in January 2006. Following a successful first shoot, Jesse proceeded to appear in a series of extremely popular pornographic productions such as Brittany's Transformation, Buddy Wood's Hazel Does Hollywood, She-Male Strokers 18, 22 and 24, Bitch Got Balls 2, Transsexual Prostitutes 43, 49 and 50, Transsexual Babysitters 3, Transsexual Gang Bangers 14, Tony Vee's New York Shemales 2 as well as Joey Silvera's Big Ass She-Male Road Trip 12 and 14.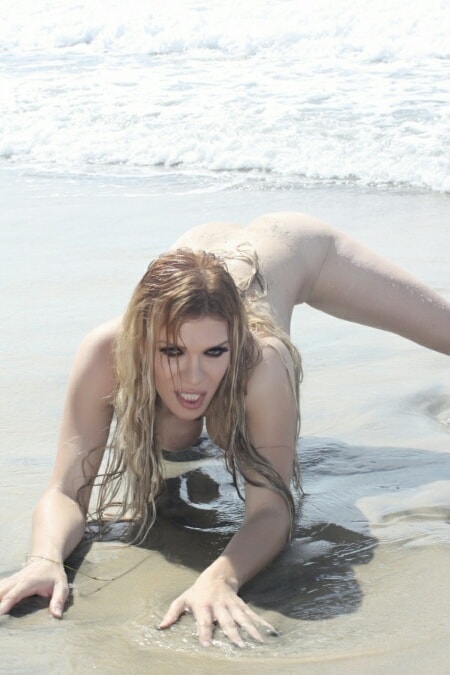 Although she had to take some time off throughout her career to undergo a total of seven breast augmentation surgeries, Jesse has worked for almost every major production company within the adult film industry; including Devil's Film, Evil Angels, Kink.com, TS Seduction and Grooby Productions amongst many others. When she asked to pick her favourite scene out of all of her popular pornographic productions, Jesse has stated;
"Hmm, hard to pick a fav scene as I enjoy all my movies I'm in. I do love my fan fuxxx series a lot as I get to involve the fans and they appreciate it and enjoy seeing the realness, but if I had to pick a scene not from my site, I'd say it was my scene with John Magnum for Shemale Pornstars. He had a yummy ass so I loved eating it and fucking it for quite a long time. lol".
As well as enjoying herself, these cinematic appearances have earned Jesse a loyal fan following and multiple adult film award wins and nominations. Some of Jesse's most prestigious adult film accolades have been listed below;
2010: AVN Awards nominee — "Transsexual Performer of the Year"
2011: AVN Awards nominee — "Transsexual Performer of the Year"
2011: Tranny Awards nominee — "Best Hardcore Model"
2011: Tranny Awards nominee — "Best Hardcore Performer"
2012: Transgender Erotica Awards winner — "Best Solo Website"
2012: XBIZ Awards winner — "Transsexual Performer of the Year"
2012: AVN Awards nominee — "Transsexual Performer of the Year"
2012: Tranny Awards nominee — "Best Solo Model"
2012: Tranny Awards nominee — "Best Hardcore Model"
2013: The Fanny Awards nominee — "Transsexual Performer of the Year"
2013: Tranny Awards nominee — "Best Solo Website"
2014: XBIZ Awards nominee — "Transsexual Performer of the Year"
2014: The Fanny Awards nominee — "Transsexual Performer of the Year"
2014: AVN Awards nominee — "Transsexual Performer of the Year"
2015: Transgender Erotica Awards nominee — "Best Solo Website"
2016: AVN Awards nominee — "Favourite Transsexual Performer (Fan Award)"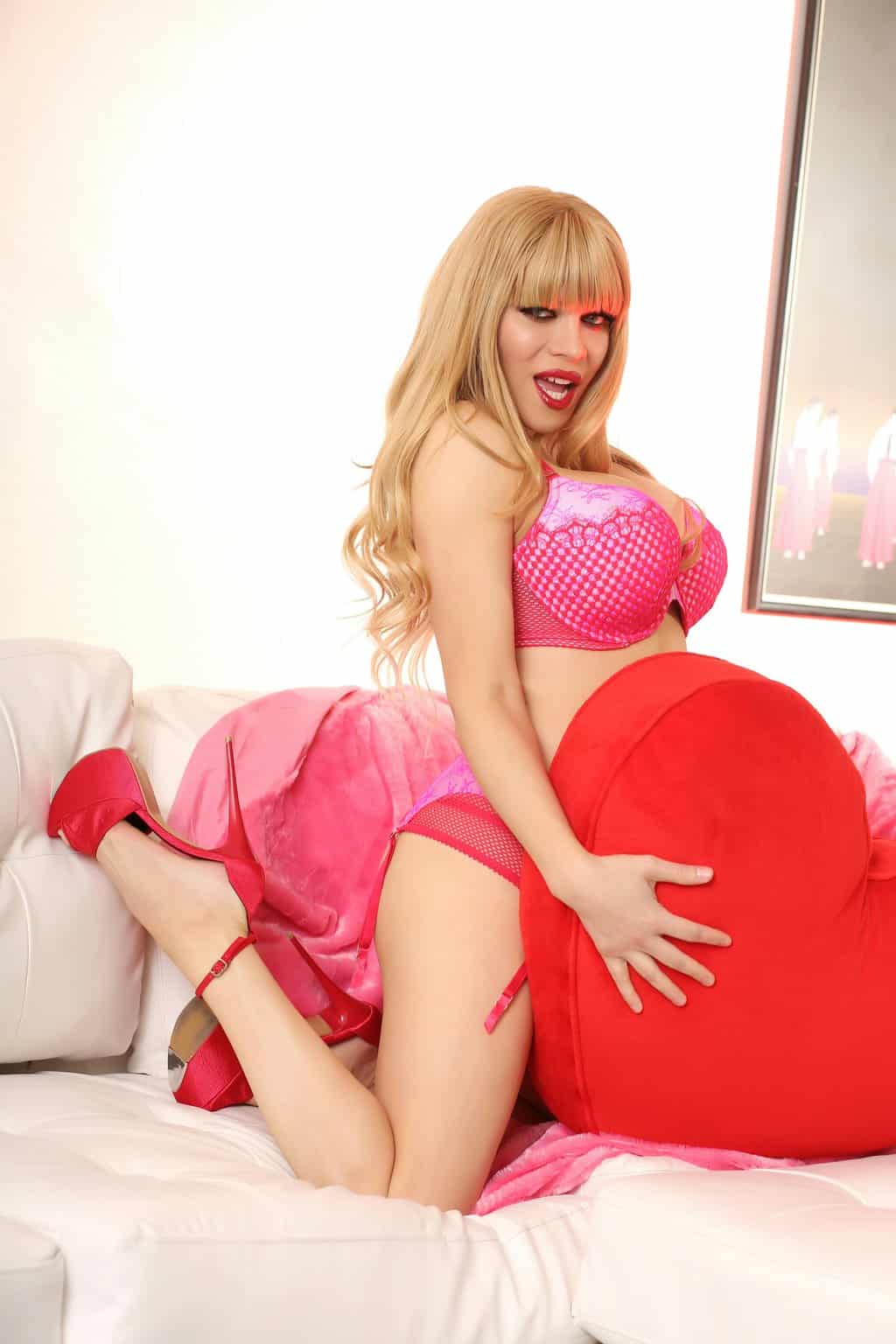 Talking about these impressive adult film awards nominations, Jesse has enthused that;
"I work very hard and always deliver a great scene and do my best. It's all real enjoyed sex and I think fans appreciate not seeing a robotic performance so I give it my all. Hopefully one year soon I'll win that AVN, as it's been a goal of mine and means a lot to me".
In addition to her successful adult film career, Jesse has joined the increasing number of transsexual porn stars who have launched their own business ventures. Joining the ranks of Gia Darling, Allanah Starr, Wendy Williams, Mia Isabella and Bailey Jay, in 2010 Jesse decided to release her own official sex toy line. Describing this exciting new business venture, Jesse conveyed in a 2012 interview how;
"My toy line is with California Exotics and was a huge honour to be chosen. I was super excited to do it and be in the company of the few great it's to have toy lines. I thought it was cool and a bit weird to see myself in toy form. I saw the packaging recently(sadly couldn't share with anyone yet due to them being the demos but soon I can share the photos) it was weird seeing my dildo as it looked exactly like my dick! so that's good for the fans who want my real cock(or the closest thing)lol. I have 3 products so far, a dildo, a deluxe blow up doll, and a masturbator sleeve of my ass. I believe all is due to come out in January. I'm very excited and hope it does phenomenal so I can extend the toy line into other products".
In May 2011, Jesse hosted a "Toy Release Party" at the Blue Moon nightclub in North Hollywood, California, to announce the release of her official sex toy line. Fans and friends of Jesse, including fellow transsexual porn stars Mia Isabella and Wendy Williams, attended this event to sample and win some of Jesse's new and exclusive dolls, dildos and masturbators. Two days later, Jesse visited the Speakeasy Bar Radio Studio in order to appear on the live broadcast of "Dr Susan Block Show " where she showcased her new sex toy line and dished the dirt on her prolific porn star career! Also appearing on this popular radio talk show were transsexual porn stars Domino Presley, Morgan Bailey, TS Foxxy and Aly Sinclair.
Throughout her porn star career Jesse has made several guest appearances on radio talk shows and within nightclubs. For instance, in May 2010 Jesse guest starred on The Howard Stern Show wherein she was showcased as one of the hottest TS performers in the United States as part of his Miss Hottest Tranny Contest. Moreover, in 2011 Jesse appeared on the Sister Dick Radio Talk Show to discuss transgender issues, her sex toy line and all of her adult film awards nominations. Jesse also made regular appearances at Buddy Wood's "Topless T-Party"; Los Angeles' only transsexual strip club night which continues to be hosted on Sunday evenings at the Industrial Strip Club.
Despite these xxx-rated nightclub appearances, Jesse has always abstained from drinking, smoking and drugs. In fact, you will be far more likely to spot this buxom blonde beauty at a comic-con convention! After all, in previous interviews Jesse has divulged how;
"I'm a big comic nerd. I try to go to comic con every year but it seems I've been going every other year as 2008 and 2010 I missed due to breast implant surgeries. In 2007 I was photographed for a book called the women of comic con, I was also interviewed on msnbc that year. In 2009 I was on spike TV as one of the hottest girls at comic con and interviewed and both years was on many blogs as one of the hottest at comic con. Little did anyone know.lol. I always had fun and have always expressed my inner comic geek. I love it all comics/cartoons/movies…I had a tradition of being a different Cat woman each year I went but am not sure about this coming years costume".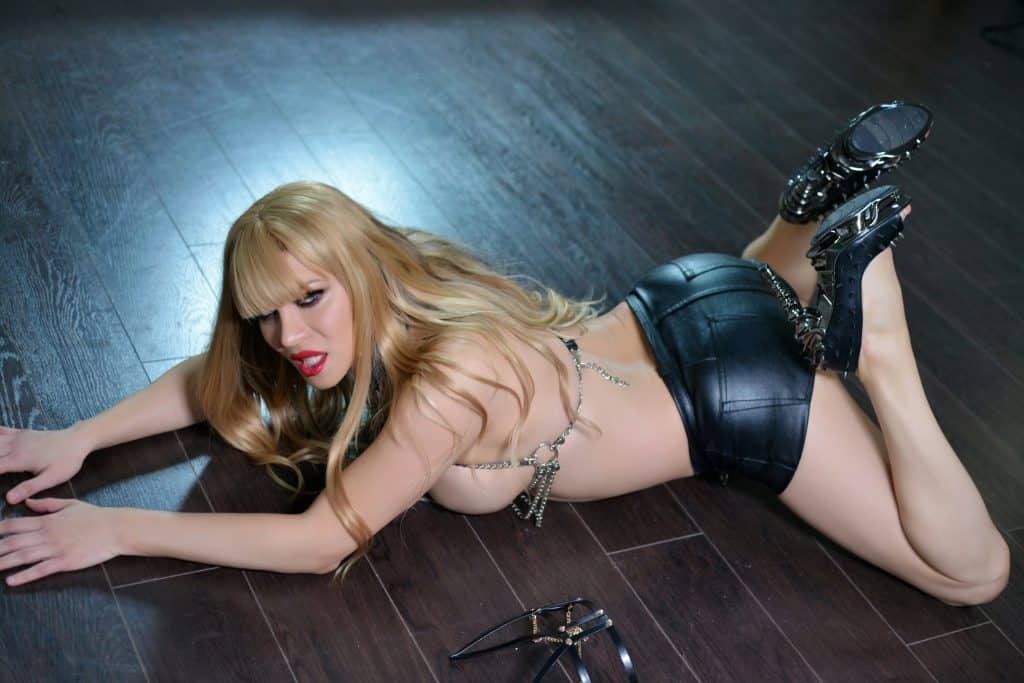 Within these interviews Jesse has always remained perfectly candid about her past relationships, modelling and film career as well as her opinions on transgender issues. For example, when asked about how she feels the adult film industry has changed in relation to transsexual porn stars over the years, Jesse has commented that;
"I think we are getting into a bit more creativity in our "storylines". I love a story where you can create a parody, or revision characters. it's fun to dress up and make more of a "story" movie. I've noticed more people appreciate the hard work/effort that goes into films, sadly I've also notice we aren't shooting like we used to due to the economy, hopefully that turns around soon".
Similarly, Jesse has earned countless adoring fans due to her honesty about her love life. Speaking about past relationships, Jesse has divulged in previous interviews;
"Well I've always had real boyfriends the entire time I've been in the adult business up until this yr.(still looking) it's pretty easy for me to separate my two lives. I keep work at work and my private life stays private. I don't shoot movies for my site or anything with my boyfriends as that's for us only. I also don't share my work with boyfriends or talk about it. The only thing they ever see is a solo photo set or something like that, it keeps them from getting jealous as they don't have to think about me with other guys. It's just like I'm going off to the office, work is work".
In recent years Jesse has continued to promote her sex toy line, make regular appearances at transsexual nightclubs and update her official blog site with raunchy content. As Jesse herself describes;
"I like being hands on with my image and what I put out myself so I do a lot of work on my own for my site including shooting my own photos myself(with a little help sometimes), my own videos and doing my own photo editing and learning to video edit soon. Due to filming scenes myself is where I created Jesse's Fan Fuxxx, a series where I shoot with my fans and help them have a ultimate fantasy with me, all real(non actors), all hardcore, and shot by me. I'm in my 3rd season of it now(filming starts DEC/Jan). I also do my own makeup/hair/costumes and ideas for my shoot. I try to be creative and try to please all the fans. I top/bottom, shoot with guys/girls/ts and experiment with different fetishes as best I can to be versatile and diverse".
Most recently, Jesse has starred in raunchy Jesse gives a hotel worker the Best Day Ever! role-play with DJ and a thrilling TS Dominatrix Jesse Fucks and Punishes a Submissive Man AND a TS Man! three-way with Corbin Dallas and James Darling that were both promoted via Kink.com's critically acclaimed TS Seduction web series in April 2017 and June 2017. Jesse has also filmed some exclusive web content for the popular porn site Trans Angels; not to be missed!
Ultimately, when you combine her adult film résumé with her successful sex toy line and ongoing online projects, you cannot doubt that TS Jesse has had a significant impact on the adult film industry. If you'd like to check out more of Jesse's hardcore content then please feel free to use the links provided below to explore Jesse Flores' official social networking channels online today You can even send Jesse and her fellow transsexual porn stars gifts via these adult-cam sites in return for raunchy private chat sessions. As it states on Jesse's official website; "if you spoil her, she will spoil you back!".
Social Networks
Official Website : TS-Jesse.com
Twitter : @jesseflo
Grooby Girls : Jesse Flores at Grooby Girls
Shemale.XXX : Jesse Flores at Shemale.XXX
Kink Profile : Jesse Flores BDSM & Femdom Content
Email : jesseflo2003@aol.com